Packed with Vitamins and protein, my vegan palak paneer - a mild and creamy spinach and tofu curry - is really easy to make, takes around 35 minutes to cook, and makes for a perfect weeknight meal!
Do you like spinach?
My granddad loved spinach, and we grew loads of it in our garden. He would always tell me that it would make me grow up big and strong, like Popeye. Trouble was, I never liked Popeye, and I liked spinach even less. Especially the way my gran cooked it!
That deep green flaccid pile of soggy vegetable matter on my plate was something to be endured, rather than enjoyed. But my granddad was a wise man. He taught me to be grateful for the food on my plate, and thankful that someone loved me enough to want to cook for me.
Even though I never liked it, I still ate it all because it would have broken my heart to upset my grandparents. I still can't bear soggy spinach but I have come to love it in other forms. In salads, quiches, soups, smoothies, samosas, falafel, lasagne, frittata, stir-fries etc. And in curries too.
Palak paneer recipe
My vegan palak 'paneer' (AKA saag paneer) is one such spinach curry. And it's one that wasn't actually taught to me by Usha!
I did, however, learn to make it when I lived in Fort Kochi, and once again, I learned two very important lessons.
Even in India, some restaurants make bad spinach dishes.
There is no excuse for making palak paneer badly because it's basically foolproof!
I make no claims as to the authenticity of my palak paneer (c'mon, I use tofu, not cheese!) but this is more or less how my local greengrocer taught me to make it. I know not whether it's his mother's recipe or his wife's but it's a family recipe nonetheless.
Vegan palak paneer
Of course, I've made a few adjustments to make this spinach curry vegan - using tofu instead of paneer (in India, I just omitted it altogether, and it made zero difference to the taste), coconut oil instead of ghee, and cashew milk and cream instead of dairy.
As long as you fry the tofu before adding it to the spinach gravy, I can more or less guarantee you won't be able to tell much difference between it and home-made paneer.
Is this the same as you'd get from your local curry house? Possibly not. Is it better? Definitely, IMNSHO!
Ingredients
My vegan palak paneer can be made with basic store cupboard and spice box ingredients.
tofu
chickpea flour
cashew milk & cream
spinach
coconut oil
onion
garlic & ginger
sugar
lime juice
herbs and spices (red chilli, cumin seeds, Indian bay leaf, curry leaves, turmeric, salt & pepper, garam masala, fenugreek leaves)
How to make vegan palak paneer
Although it seems like a lot of steps, making this curry is actually really, really easy.
Drain, rinse, and press the tofu.
Make a batter with the chickpea flour and some cashew milk batter.
Blitz the spinach, chilli, and some cashew milk in a blender to make a coarse purée.
Splutter the seeds and curry leaves in a little hot oil, then fry the onion, garlic, and ginger, plus the chilli powder for a few minutes, and then add the turmeric and some pepper.
Next into the pan goes the spinach purée, the rest of the cashew milk, and the batter. Season with salt and a pinch of sugar, give it all a good stir, and cook for 15 mins.
While that's cooking, cut the tofu into cubes, and fry until golden.
Mix the cashew cream into the spinach gravy, then stir in the tofu.
Finish by adding the fenugreek leaves and a dash of lime juice, and then serve!
Tips
If you can get it, tofu in salted water is ideal for this recipe. If you can't, not to worry, you can add a little salt when you're frying it.
You can use a different plant milk if you prefer but the cashew milk makes this dish really creamy, which is why I prefer it.
It's entirely up to you whether you use virgin or refined coconut oil. Virgin will impart a slight coconutty flavour, which I actually really like but if that's not your thing, use refined, which is flavourless. If you'd rather use a different oil, go ahead - just don't use olive (it just does not taste right in Indian food).
Leftovers can be kept in an airtight container in the fridge for 3-4 days. I haven't tried to freeze this curry but I'm not convinced it would be suitable.
Curry leaves
If you can't get curry leaves, leave them out. If you can get them, fresh are best but dried will work too. Curry powder is not ground curry leaves!
Chillies
Some people advocate removing the seeds and pith from chillies (the pith is where the heat is) but that's depriving yourself of so much of the flavour. Better to keep them intact, and use less chilli if heat is a problem. Or use a milder chilli pepper.
Kashmiri chilli powder is very mild, so I use about a teaspoon but you may wish to use less, especially if making this for people who aren't used to chilli. I also prefer to grind my own from dried chillies, as it's fresher that way.
What is the difference between Indian bay and Mediterranean bay?
Indian bay (cinnamomum), or tej patta, is not the same as Mediterranean bay (laurel), or bayleaf, so if you don't have it, or can't find it, just omit it. It will make a subtle difference to the taste but it won't be a disaster. Don't use Mediterranean bay, the two are not interchangeable.
Indian bay leaves have vertical veins running from the top to the bottom of the leaves, whereas Mediterranean bay's veins run diagonally from the centre out to the sides.
Be aware that some sellers market the cheaper Mediterranean bay as tej patta.
Do check out these other Indian recipes too!
I normally serve this with a dal and a dry curry, such as aloo masala, plus naan but it's great with rice too. If I'm feeling lazy, I'll just eat it with some hot buttered toast - it's fab comfort food! Enjoy!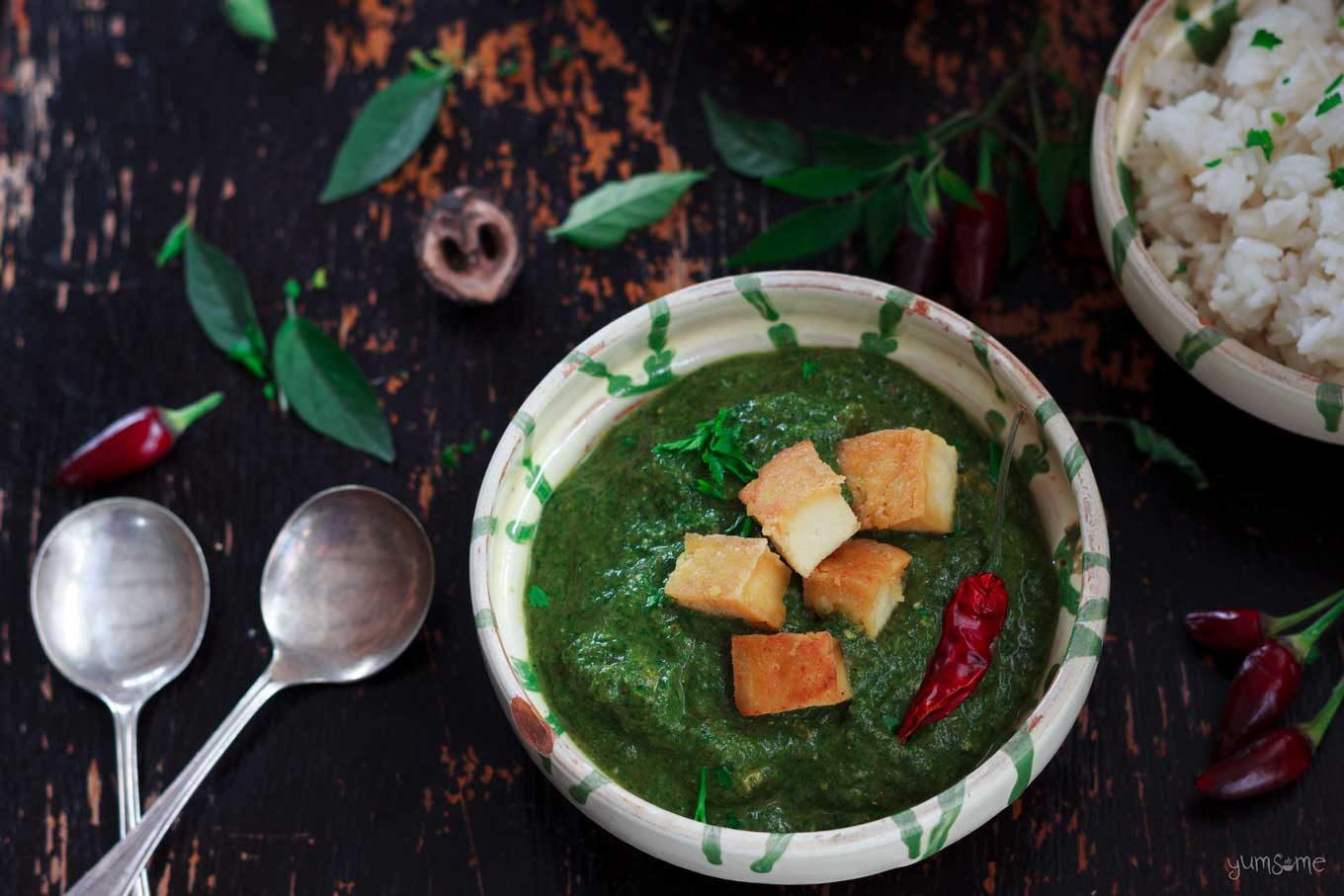 📖 Recipe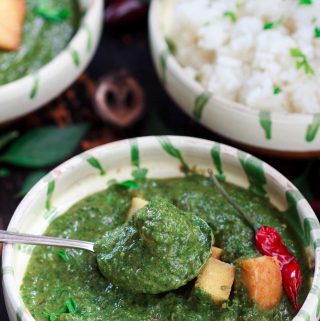 Vegan Palak Paneer
Packed with goodness, my vegan palak paneer is really easy to make, and takes around 35 minutes to cook.
Print
Pin
Rate
Makes (slide to adjust):
4
servings
Ingredients
500

g

extra-firm tofu

2

tablespoon

chickpea flour

(besan)

750

ml

cashew milk

divided

500

g

fresh spinach

washed

1

large red chilli pepper

seeds and pith removed if desired

3

tablespoon

coconut oil

divided

½

teaspoon

cumin seed

1

Indian bay leaf

tej patta

6

curry leaves

1

large onion

finely sliced

5

large cloves garlic

smashed to a paste

2.5

cm

piece ginger

smashed to a paste

1

teaspoon

Kashmiri chilli powder

¼

teaspoon

turmeric powder

½

teaspoon

ground white pepper

½

teaspoon

sea salt

pinch

palm sugar

4

tablespoon

cashew cream

1

teaspoon

garam masala

1

teaspoon

kasuri methi

(dried fenugreek leaves), crushed

dash

lime juice
Instructions
Drain, rinse, and press the tofu in order to remove as much moisture as possible. Set aside.

Place the spinach, chilli, and another 120 ml (½ cup) cashew milk into the blender, and blitz for 30 seconds or so, until you have a purée. I like mine to be a little coarse but if you want yours to be completely smooth, then just blend for another few seconds.

Over a medium flame, heat 2 tablespoon oil in a wok or kadai, and splutter the cumin seeds, Indian bay leaf, and curry leaves for 30 seconds or so.

Add the onion to the pan, and fry for around 5 mins, until it starts to turn translucent.

Add the garlic and ginger paste, plus the Kashmiri chilli powder, and continue to fry for another 3-5 mins, until the raw aroma has gone.

Stir in the turmeric and white pepper, and cook for another minute.

Add the spinach purée, the rest of the cashew milk, salt, a pinch of coconut sugar, and the chickpea batter (give it a quick stir before adding). Mix everything together well, lower the heat slightly, and cook for 15 minutes, stirring occasionally, until the gravy has thickened slightly.

While the gravy is cooking, cut the tofu into cubes, and fry in the remaining tablespoon of coconut oil. Make sure each face is a a pale golden brown. You'll probably need to do this in two batches unless you're using a very large skillet.

Mix the cashew cream into the gravy, and then stir in the fried tofu cubes. Turn the heat right down, and allow the tofu to heat through for a couple of minutes.

Turn off the heat, and rub the methi (fenugreek leaves) between your palms over the curry - this releases their oils, and adds more flavour. Add a squirt or two of lime juice, give the whole thing one last stir, and then serve.
Nutrition Facts
Vegan Palak Paneer
Amount Per Serving
Calories 414
Calories from Fat 252
% Daily Value*
Fat 28g43%
Sodium 556mg23%
Carbohydrates 29g10%
Protein 22g44%
* Percent Daily Values are based on a 2000 calorie diet.
Did you make this recipe?
Do mention @yums0me and/or tag #yums0me - I'd love to see how yours turned out!
Disclaimer
Measurements in parenthesis are approximate; it is beyond the scope of yumsome to be able to provide pinpoint-accurate ingredient quantities for every type of measuring utensil. As a guideline however, I make the assumption that:
1 cup = US cup = 240 ml
1 tablespoon = US/UK = 15 ml
1 fl oz = US = 30 ml
Further information may be found here