Founded in 1383 by the Lanna king, Keu Naone, to house the relic of Buddha's shoulder bone, the beautiful temple, Wat Phra That Doi Suthep is home to one of Northern Thailand's most sacred shrines.
(This post contains affiliate links. For more information, please see my privacy policy.)
As you'll know from my post about Pai, when a wat has the words, Phra That in its name, it means there is a sacred relic of Buddha housed there, so Wat Phra That Doi Suthep is the Suthep Mountain Temple with the Buddha relic. Doi is the Thai word for mountain.
The monk and Buddha's shoulder bone
Legend tells of a monk - Sumanathera - from the Sukhothai Kingdom, who dreamed he had to go to Pang Cha to look for a holy relic. Convinced that his vision was real, Sumanathera travelled to Pang Cha, and did indeed find a relic; a shoulder bone, believed to be from Gautama Buddha himself.
Allegedly, this bone had mystical powers, including the ability to glow, to vanish, and eventually, to replicate itself. The monk took the bone to the king of Sukothai, Dhammaraja; however, despite holding all the usual ceremonies and making offerings, the bone remained just a bone, and displayed no supernatural or divine properties at all.
Very disappointed and sceptical, Dhammaraja told the monk to keep the bone.
Enter one King Keu Naone of La Na: in 1368, upon hearing about the relic, he called for Sumanathera to bring it to him in Lamphun, where a temple was built in the king's flower garden to house the relic. As it was being interred, the relic broke itself in two. The smaller piece was placed in the chedi in Wat Suan Dok (flower garden temple) - which, incidentally, is very close to my local market in Chiang Mai, and one of my favourite temples.
A white elephant goes up a mountain...
Unable to decide where to build a temple worthy of holding the larger part of the relic, King Keu Naone placed the bone into a small chedi on the back of a white elephant (an auspicious animal in Thai culture), intending that wherever the elephant chose to settle, the temple would be built.
Said elephant set off from what is now Chang Puak (Elephant Gate in the northern part of Chiang Mai's Old City) and walked up to the top of Doi Aoy Chang (sugar elephant mountain, now Doi Suthep - named after a hermit who lived there), trumpeted three times, turned around clockwise... and knelt down to die.
Doi Suthep temple
Rising 1676m (5,499 ft) above sea level, the first temple was completed in 1383, with a chedi to house the relic. Over the centuries, Wat Phra That Doi Suthep has been added to and enlarged, and is now home to hundreds of Buddhas which are donated from all over the world. In addition to Buddhist icons, you'll find Hindu ones too.
The main chedi (reliquary), made from gleaming copper plate, now stands at 48m (157 ft) high, and is surrounded by four golden chatra - filigree umbrellas, which are said to be auspicious symbols of divinity (much like the Christian halo).
Getting to Doi Suthep
Songthaew
From Chiang Mai's Old City, the temple is around 15km away, and the easiest route by far is to flag down a red songthaew - aka rot daeng (red car), which will take you up the mountain for around 100 baht per person (about $3,20)... assuming there are other passengers.
If you are the sole passenger, or there are only a couple of you, expect to pay a bit more.
For around 400 baht, you could hire the songthaew to drive you up to the temple, wait, and then drive you back down to your hotel (or wherever you're staying).
Cabs
Alternatively, for something a bit more luxurious, a cab will cost around 500 baht for the same service. Personally, were I a visitor to Chiang Mai, I'd go for the songthaew to get the full experience. If you're lucky, you may even get the chance to chat with some locals on the way.
GrabCar, GrabTaxi, & GrabRotDaeng
You could also hire a Grab (get the app on iTunes and Google Play); it works the same as Uber, and you can pay cash if you don't want to enter your credit or debit card details into the app.
The cool thing about Grab is that you can choose the type of vehicle, according to your budget. GrabCar (Economy), GrabCar (Premium), GrabTaxi, or GrabRotDaeng (songthaew). The economy and premium cars are mid-size sedans and luxury cars, respectively, while GrabTaxi are regular metered taxi cabs.
All options show the price in advance but GrabTaxi will give an estimate, based on what the traffic is like when you book. Both types of car and the songthaew give an exact price. Expect to pay between 340-610 baht from the centre of the Old City to Wat Phra That Doi Suthep, depending on which mode of transport you choose. GrabCar Premium is not the most expensive option, BTW - that distinction belongs to GrabTaxi!
Your own personal driver in Chiang Mai
If you get a good driver, be sure to take their business card so you can hire them again. I used to have two regular songthaew drivers who'd take me to work, which was really handy because the children's home was in a really awkward location along the superhighway - a trip that most drivers balked at!
Hiking up Doi Suthep
If you're feeling fit, you could hike up the mountain, following the Monks' Trail, which isn't nearly as daunting as it sounds. In fact, every year there is a big hike up to the temple, undertaken by hundreds of people.
The trek takes a couple of hours through the forests, passing waterfalls, a smaller temple, and a shrine. The path is clearly marked by bright orange strips of fabric tied around the trees. More information can be found by clicking the link below...
Biking up Doi Suthep
If you're feeling really fit, you could hire a mountain bike, and use pedal power. It's very common to see members of the local cycling clubs going up and down Doi Suthep.
It's also not uncommon for one to hitch a ride by grabbing hold of one of the luggage rails on a passing songthaew, and giving their legs a rest!
Mopeds
Of course, you could hire a moped but unless you are experienced with driving around mountains, and dealing with Thai drivers, I really wouldn't recommend it.
Hire a car!
We've driven our car up the mountain many times, and I have to say that it's my favourite way of getting up there - not least because there's plenty more to see and do on the way to, and beyond the temple. Plus, when it's foggy, it's really fun driving through the clouds!
Once you're at Doi Suthep...
Thai souvenirs
At the base of the temple, you'll find no shortage of stalls selling all kinds of souvenirs. A lot of the vendors will tell you that their brother, or some other relative, makes them... it's usually not true.
My mother-in-law completely believed the man who sold her a couple of marionettes - until we sent her photos of the exact same ones we found in Laos. And Cambodia. And Myanmar. Ha ha!
Regardless of who makes them, some of the souvenirs you can buy at Doi Suthep are pretty cool.
Street food
Naturally, being Thailand, food is never far from anyone's mind, so of course, there are plenty of street food stalls at the foot of the temple too.
There actually used to be a lot more in years gone by but the last time we visited, a lot had gone, and in their place, more souvenir stalls.
That said, you can still get great food there, and at a good price too. It's slightly more than you'd pay in the city but not much, and is very good value. In my experience, you can probably expect to pay 10-15 baht more for a dish than you'd pay at a street cart on the side of the road.
How to order vegetarian and vegan Thai food
Just make sure you tell them when ordering veggie-seeming food, "Mai ow nam pla, ka" (or "Mai ow nam pla, krup" if you're male). This means "I don't want fish sauce".
If you've read my vegan fish sauce post, you'll know that nam pla is ubiquitous in Thai cuisine!
Or you could just say, "Chan ghin jay, ka" or "Pom ghin jay, krup" (if male) to let the cook know you're vegan. 'Jay' is the Buddhist equivalent of being vegan, although do be aware that fish and oyster sauce are still fair game, as is honey.... and sometimes egg!
You could also say, "Mai ow kai, ka/krup" - "I don't want egg". (Kai/gai means chicken, BTW, so there you are, you can be doubly sure!)
Visiting the temple itself...
Once you've walked up the steps, past the giant memorial to Khruba Sri Vichai - the much-venerated monk responsible for building the road up the mountain to the wat (as well as for building many other temples), you can either take the funicular, which costs 20 baht, or you can ascend the 309 steps, flanked on either side by beautiful nagai, whose bodies form the balustrade of the steps. Entry to the wat costs 30 baht.
Phra Mae Thorani
The monument in the image above shows the Earth deity, Phra Mae Thorani. According to legend, as the Bodhisattva meditated beneath the Bodhi tree, the demon, Mara - The Evil One - jealous of the Bodhisattva, tried to remove him from the vajrisana (platform of enlightenment), and thus prevent him becoming enlightened.
Bodhisattva reached down to the ground to summon the Earth deity to witness Mara and his warriors, and to affirm his right to sit upon the vajrisana. Mae Thorani wrung out her hair, which contained all the libations the Bodhisattva had offered up, and caused a flood, which swept away Mara and his army, thus freeing the Bodhisattva to attain enlightenment.
Wat Doi Suthep - lower terrace
The lower terrace is home to various statues of the auspicious elephant, kings, monks, Buddha, several buildings (where you can learn about the history of the temple), and the gardens.
There are also bells, which are said to bring good luck if you ring them. Apparently, there are now signs asking people not to but the last time I was there, it was OK to do so. It may just be that people I've spoken to lately have visited during times when there have been ceremonies or meditation going on.
Opposite the bells is a lookout point, where you can see most of Chiang Mai's city area. On a clear day, that is! As you can see from the following photos, it's not always possible to get such a great view. The first one was taken in March, during the burning season, the second at the end of June. What a difference!
The big yellow arrow is pointing to my first condo - the pink one with the rainbow car park!
The upper terrace
Before entering the upper terrace of Wat Doi Suthep - the most sacred part of the temple, and home to the chedi - visitors are obliged to remove their footwear. You can either leave your shoes outside on the racks, or stash them in your backpack or bag. It's perfectly safe to leave your shoes outside, although you may find that they've been shoved around so someone else can put their shoes in their place!
As with any holy place, you are expected to dress modestly, which means no bare shoulders or knees. Nor plunging necklines, of course. If by any chance you forget, you can borrow a sarong or wrap for a few baht. I've always made a point of keeping a couple of light sarongs in my bag for impromptu temple visits!
Naturally, once inside, visitors are expected to be polite and respectful, just as they would in any other religious establishment. Not least because it's a working temple, which means that at any given time, there may be people at devotion, as well as monks praying or meditating. Wat Phra That Doi Suthep is not just a tourist attraction!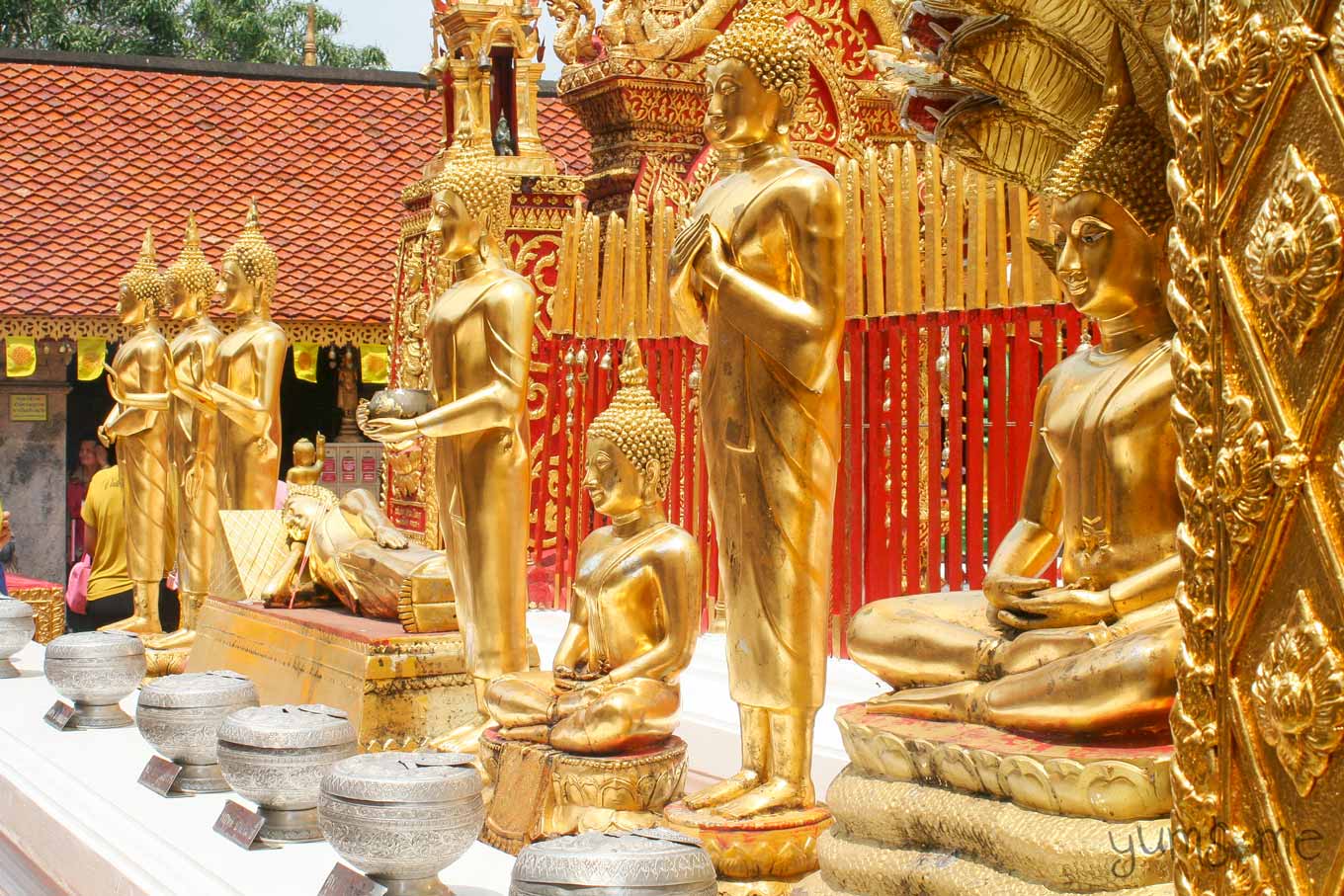 Muchalinda-Buddha
One of my favourite depictions of Buddha is Muchalinda-Buddha - where he is seated in the meditation pose, with a canopy of serpents above his head. It's one of my favourite Buddha stories too....
Siddhārtha Gautama or Gautama Buddha - the founder of Buddhism - having attained enlightenment, is protected from a week-long storm by Muchalinda (aka Mucalinda), the Nagaraja (King of Serpents).
According to legend, while meditating beneath the Bodhi Tree, the skies opened up, and torrential storms ensued for seven days. Muchalinda rose up from his palace below the earth, and sheltered the already-weakened (from fasting) Buddha under his hood. Once the storms had passed, Muchalinda assumed human form, and returned to his palace.
Buddhism vs Christianity
Interestingly, while in the Christian tradition, a woman and a serpent are blamed for The Fall, in Buddhism, a woman and a serpent are responsible for saving the world because they save Buddha from death.
The woman is called Sujata (who later becomes a Buddhist nun), and finding Buddha starved almost to death under the Bodhi Tree, feeds him some rice porridge. Muchalinda, you already know about!
I know which stories I prefer!
Venerated Buddha statues
While I'm really fond all the statues at Wat Doi Suthep, the ones I've always loved the most are the old ones. The ones with the fading, flaking gold leaf. The ones which have been lovingly repaired and repaired over the years. The ones which countless fingers have deftly patched up. I don't know why - perhaps because they're the ones which show the most care.
They serve, I think, as a reminder that although they, like us, are not perfect, they are nevertheless loved by those whose hearts and souls they touch.
Wat Doi Suthep Opening Hours
Wat Doi Suthep is open every day between 06.30-18.30 (6.30 am - 6.30 pm) - basically, dawn till dusk. The best time to visit is early in the morning. Not only will you beat the tourist crowds but you'll get there before the sun has heated up the floor tiles in the upper terrace.
If by chance, you do find yourself there mid-afternoon, some respite from the burning ground may be had in the shaded cloisters (where there are some beautiful murals and more statues to admire).
Best time to visit the temple for photographers
If you want the best light for photography, then an evening visit is your friend. There will still be a lot of visitors but if you bring a tripod, and use long exposures and an ND filter, you'll be able to get some truly stunning shots.
If my photos aren't enough to whet your appetite, then do enjoy this video I found on YouTube!