Life in Pai was, for me, as close to perfect as it's possible to be. The locals were kind and friendly, the countryside stunning and peaceful, and the town itself just brimming with great food. Not only of the walk-down-the-street-stuffing-my-face-with-all-the-yums variety but also the incredible fresh produce market where I used to buy everything from fruit and veg to spices, herbs, and noodles.
If you've read my post about Kad Ton Payom, you'll know how much I love Thai markets! However, it was in the village of Mae Hee that I found true peace.
As some of you know, we moved to Chiang Mai at the beginning of March 2012, and by mid-2104, were ready for something more rural. In fact, when we first moved to Thailand, we were originally going to live in Doi Saket, in a veritable paradise of flora and fauna...
Unfortunately, just before we were due to move into our rented house, some enterprising person across the fields decided to open a karaoke bar, which was open all week, and didn't close until 4am. After several sleepless nights, we decided that as idyllic as our new house was, we might actually be better off in the city. So off to Chiang Mai we went.
It was epic! And so incredibly easy to live there. Nothing like the culture shock I imagined, and had steeled myself for. It was actually quite remarkable how quickly I felt at home.
In Mid 2014, we decided to head even further north, to Mae Hee, a small village 2,5km outside Pai. It was heavenly; we lived in a little bamboo house on a lake, surrounded by nature, and overlooked by a giant white Buddha statue on the mountain (the little white dot to the right of centre). Sitting on the veranda at sunrise, this was my view...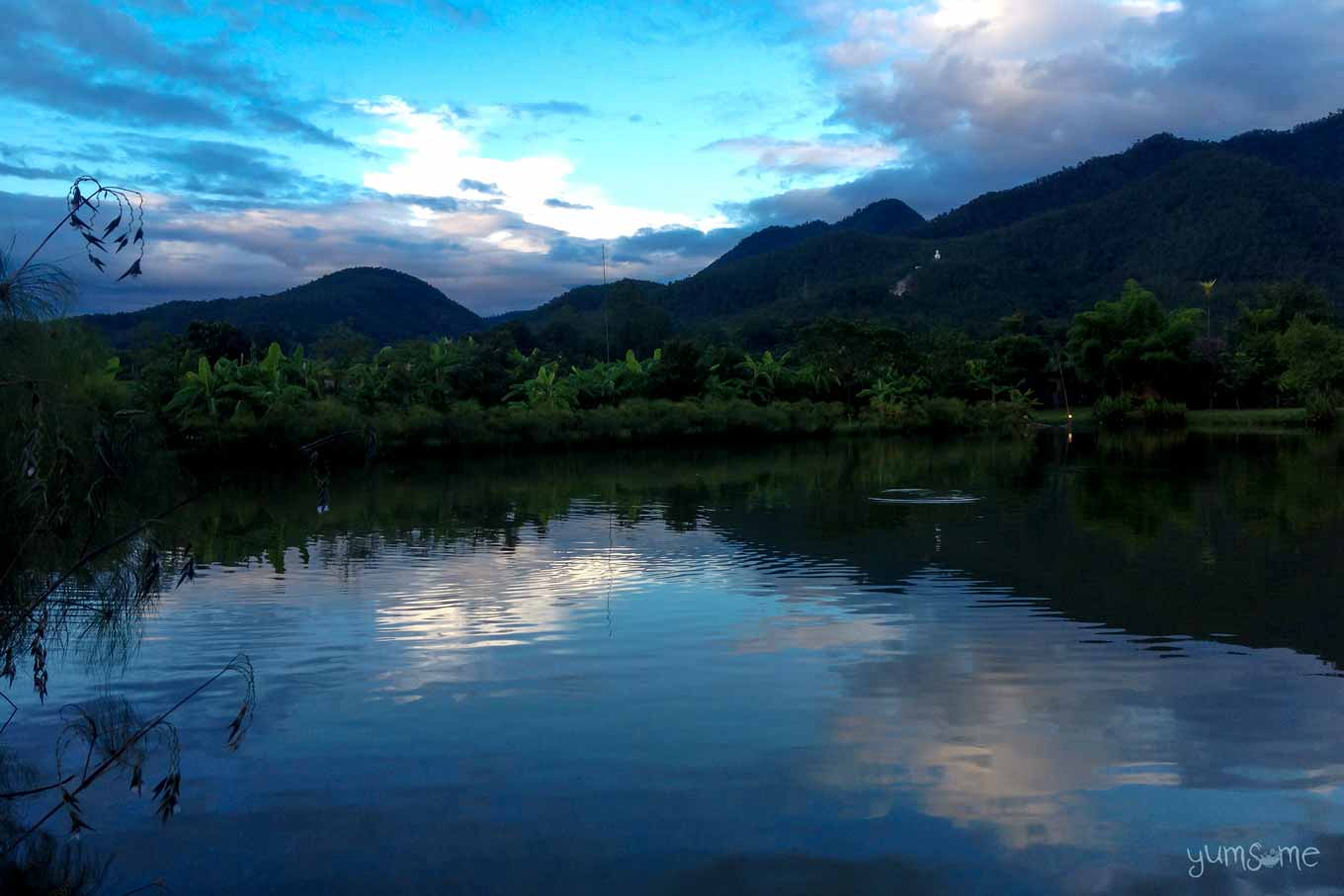 The giant Buddha statue is in Wat Phra That Mae Yen - literally, the cool river temple of Buddha's relic. The river (Mae Yen) - and waterfall - are actually really warm...which is most welcome when you've hiked for 7km (and crossed said river 30 million times) just to get to the falls. There are less arduous ways to cool off.
BTW, if you're thinking of doing this hike, don't do it during the rainy season. Don't ask me how I know.
Also, if you want to read about other cool Buddha statues, do check out my post about Wat Doi Suthep.
Back at our little house though, we were surrounded by so many kinds of fruit trees in our garden; banana, kaffir lime, dragon fruit, avocado, mango, jack fruit, pomegranate, star fruit, plus lots of herbs and chillies too.
The rice fields by us were teeming with wildlife - including little crabs (yes, really) - and everywhere we looked, lemongrass grew wild along the sides of the tracks. My favourite flowers, frangipani, grew everywhere too, and their heady scent filled me up with gladness!
Another rainy season tip; if you're going to walk into Pai from Mae Hee, unless you enjoy having your flip-flops sucked off your feet by the mud in the fields, and end up ankle deep in goo, use the road. It's a longer walk, and you do have to go up the mountain a bit before descending into the town but its a far, far cleaner walk.
The downside is that if you do this, you won't get to meet some of the local doggies, who are, as it turns out, very good guides! This lovely chap, for instance, showed us the way to town, and then a few weeks later, to where the bridge blessing party was. More about that below.
Each morning we'd wake up to the songs of more birds than we could even begin to count (or identify), and every night were lulled to sleep by cicadas, frogs, lovelorn tokays, jingjoks, and many more creatures whose identity will probably always remain a secret to us. You know when there's a movie scene set in a jungle? That sound... that's what we heard every day and night. And we never tired of it.
I miss that so much.
And these blue-crested dragons. Beautiful, aren't they?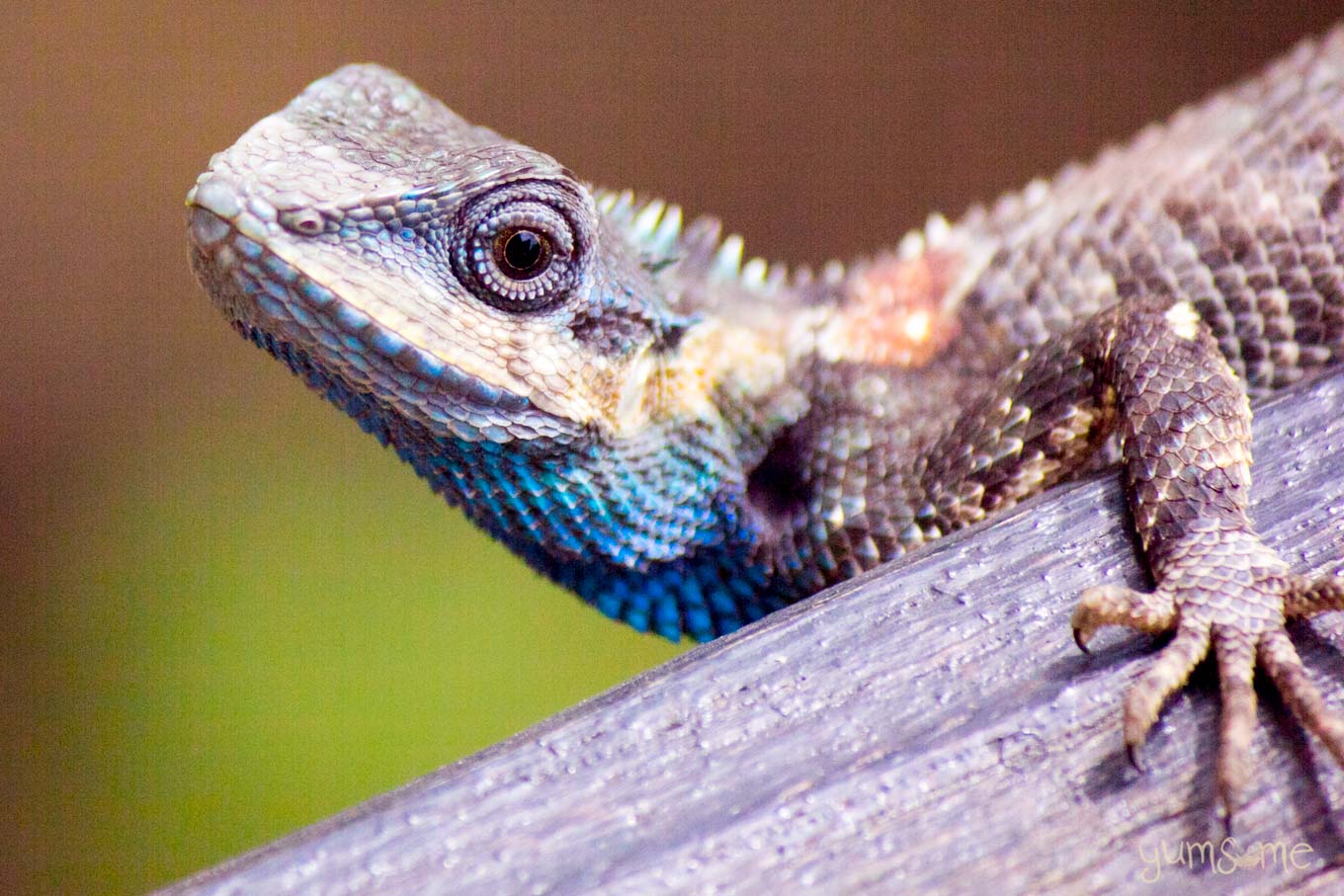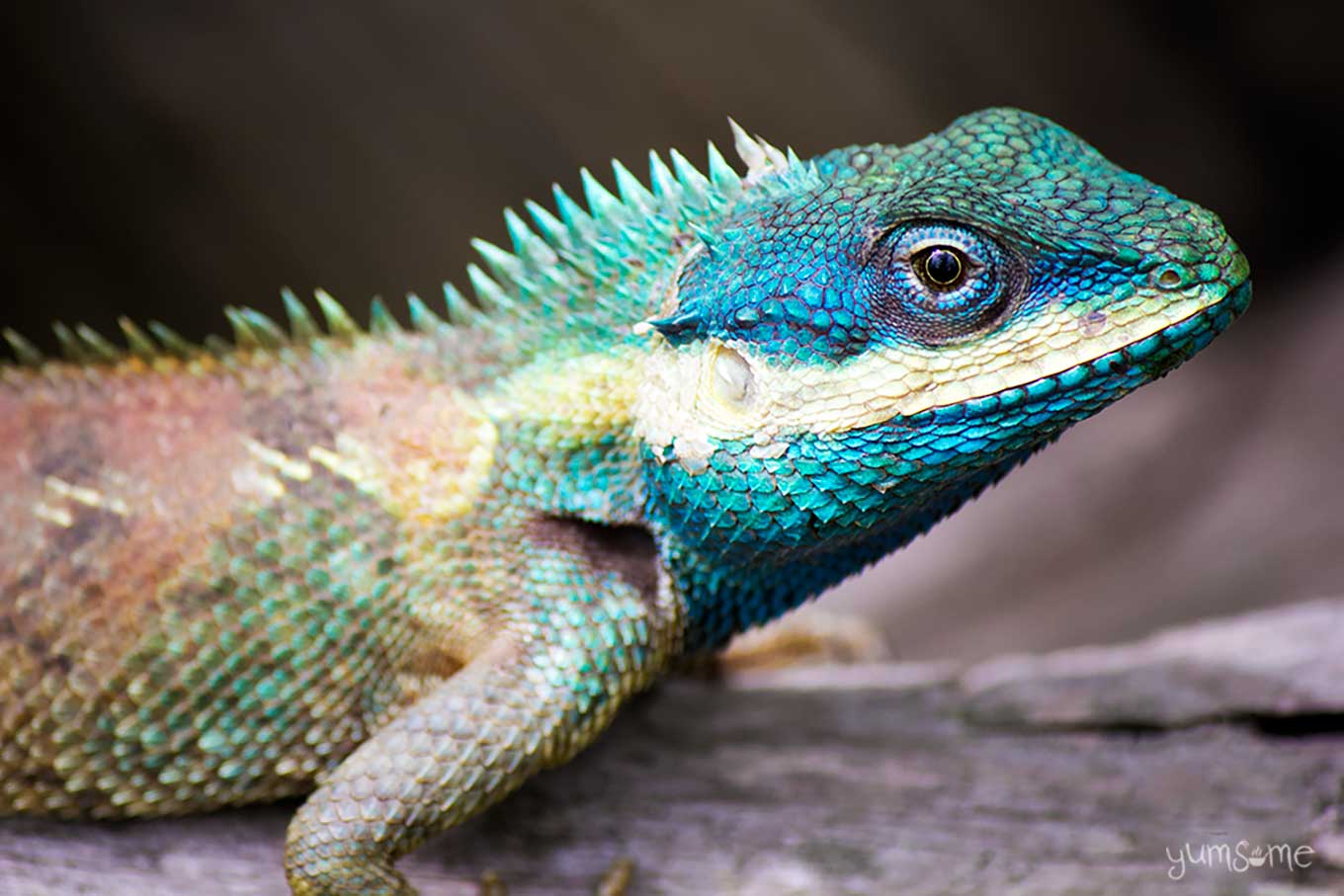 One morning, we were awoken by the sound of chanting, drumming, and fireworks - it turned out that there was an all-day celebration for the opening of the new bridge, which connected the two halves of the village which were either side of Mae Yen.
Prior to the new one, people had to make do with a very rickety bamboo bridge if they wanted to cross the river.
There's a big concrete one now, and while it may not have the rustic charm of the bamboo bridge, it's a good deal safer, and far more practical. The old bamboo one is still there, alongside the new one!
Early in the morning, there was the blessing ceremony, and then in the afternoon, it was party time. Despite feeling a bit poorly, I really wanted to join the villagers in celebrating such a momentous and wonderful occasion, so we popped along for an hour or so... I can honestly say it was a wonderful party. And I say this as someone who generally does everything possible to avoid having to go to parties.
So many of the old folks got up and danced to the music, the kids were playing on the riverside, and the teens were on their 'phones! In true SE Asian fashion, food and drink stalls were in abundance, and a fantastic time was had by all.
Always time for a smile and a cool drink!
These ice cream carts are so cool, and they appear everywhere - even halfway up the mountains!
... and coconut milk ice cream sandwiches are fab!
I was first introduced to them when I was working with Kids Home International, co-running art classes at a local home in Chiang Mai. One day, I tried to teach the Thai and Burmese kids how to play Twister.
We had no board or equipment, nor any common language, and yet somehow we all managed to make everything we needed, and actually have a game. It was good fun, and a great opportunity for me to learn the names of Thai colours and shapes. And for the kids to roll around laughing at my pronunciation!
They, in turn, introduced me to ice cream sandwiches!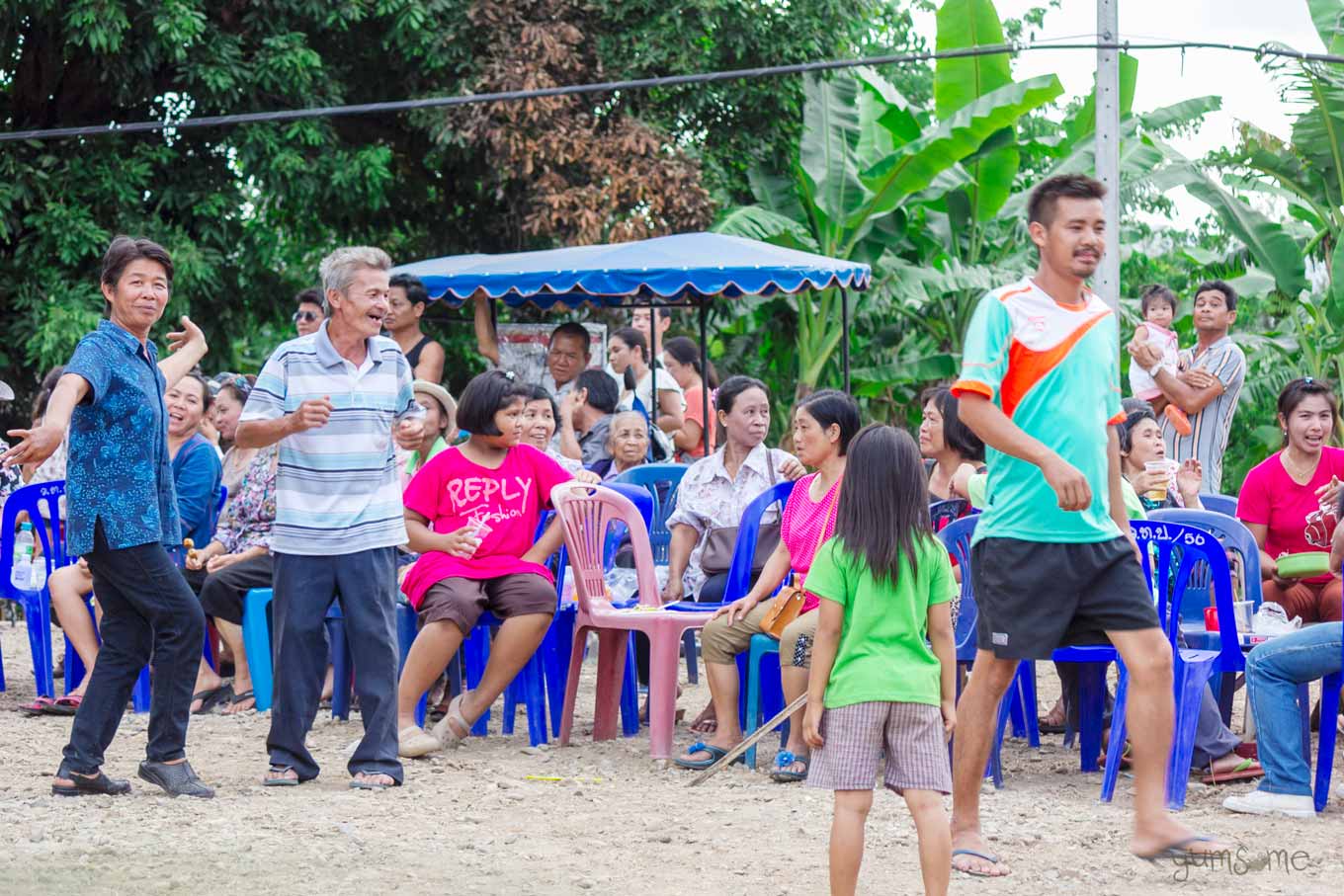 I had many people inviting me to dance but I left it to the experts!
When we left, the party was in full swing, and it didn't actually end until the rain came at around 8pm. By that time, they'd been going for 12 hours or so! Far more stamina than I.
We walked home along the rice fields as the sun was beginning to set, and it was truly magical.
I wish I'd been feeling better because it was such a great photo opportunity but to be honest, I just took a few shots, and then headed for my bed. I was pleased with this one though - for me, this sums up the tranquillity of the Pai countryside.
I don't think I shall ever stop missing Thailand. Until I return, that is.
(Part of this post first appeared on Pretty Thai for a White Guy - my old travel blog, now merged with yumsome.)