Ton Payom is a small local market in Chiang Mai, full of amazing scents, wondrous tastes, and where the food is as colourful as the characters who sell it!
Going to Chiang Mai's Ton Payom market every few days was always an adventure for us because we never knew what gems we might find there. As well as seasonal produce from the regular traders, sometimes there would be Hilltribe ladies selling a glorious patchwork of colourful mushrooms (het in Thai) and herbs that they'd gathered that morning from the jungle up on the mountain.
Much to the chagrin of some of our friends in Chiang Mai, I used to buy some of the most brightly-coloured ones, take them home to our apartment, and cook them. Amato mio and I not only lived to tell the tale but thoroughly enjoyed them!
In addition to 'extreme' veggies, we would of course, seek out our staples, and we had regular sellers that we would go to. They would always greet us with a smile, and talk to us in Thai, although I suspect that was a ploy to catch us out, and unmask us for the language-frauds we really were.
We did always feel so pleased with ourselves though, whenever we managed to successfully avoid resorting to English at Ton Payom. Because it's a tonal language, Thai is difficult for Westerners to get right, and many were the times when we were convinced we were doing fine, only to discover that the opposite was true! Fortunately, buying food was not too much of a minefield. Pointing helped a lot too.
From vibrant, succulent rambutan (ngo in Thai - and my absolute favourite fruit) and young coconuts (ma-phrao), full of delicious, sweet water, and subtle-tasting jelly-like flesh (see the lead image) to delicious yellow mangoes (ma muang) - amato mio's favourite.
When we first moved to Thailand, at the beginning of 2012, the first time we bought mangoes at the market, we misunderstood the pricing, and thought they were 10 baht each, so asked for six. It turned out they were 10 baht per kilo, and we ended up with just over six kilos of delicious ripe mangoes for around £1.50! We had lots of smoothies that weekend.
The wonderfully sweet little Asian bananas (kluay) are without doubt, the best bananas I've ever eaten in my life. No other bananas can compare to them, especially not when these little beauties are picked fresh every morning.
Bananas outside Asia are a constant source of disappointment for me, so much so that when we left Thailand in July 2014, I just didn't eat bananas for well over a year. I needed my taste buds to 'forget' Asian bananas!
All kinds of other fruity wonders abound at Ton Payom market, it's truly a fruit-lover's paradise. And let me tell you, until we moved to Thailand, there were so many fruits I'd previously tried, which I thought were bland an pointless - e.g. dragon fruit - and yet, at source (as it were), suddenly a whole new world of yum opened up to me. I should have known; when I was in Turkey, I was blown away by figs fresh from the tree, which were so vastly different to those I'd eaten anywhere else. I should have foreseen that in Thailand it would be a similar story!
There's a plethora of delicious vegetables too - great news for vegans!
I had never seen pink eggs before we moved to Thailand - we never bought them of course.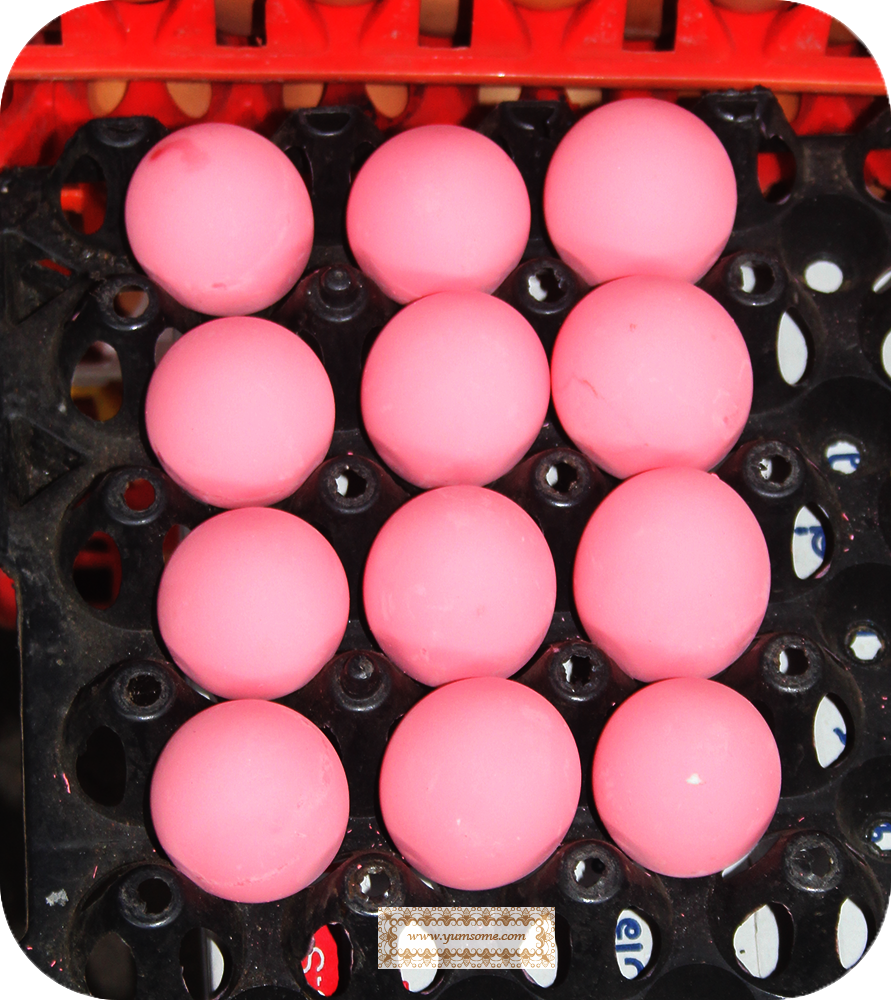 But we did buy oodles of rice noodles...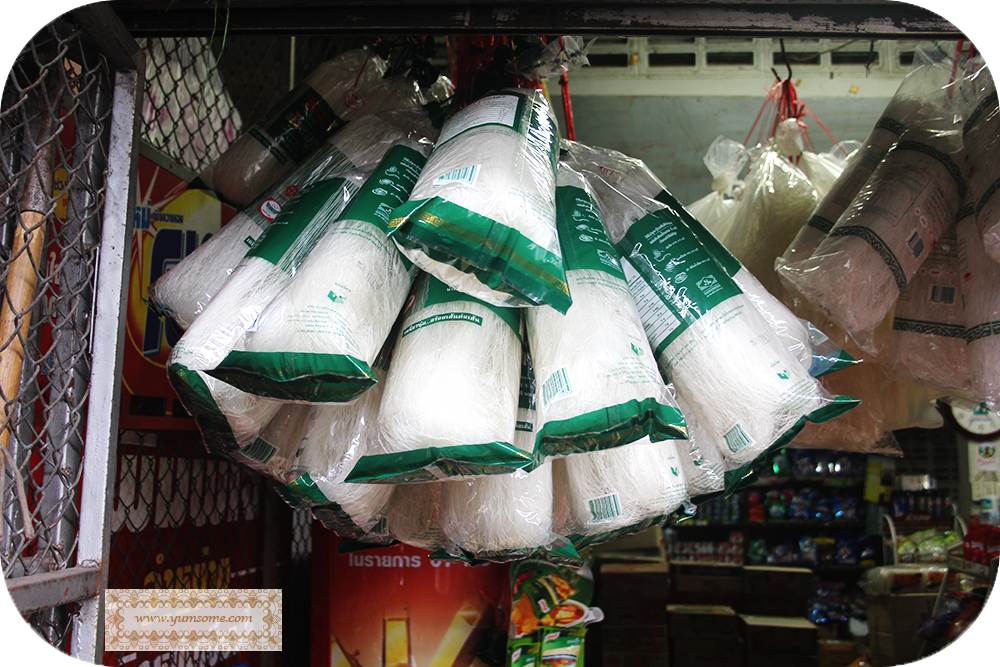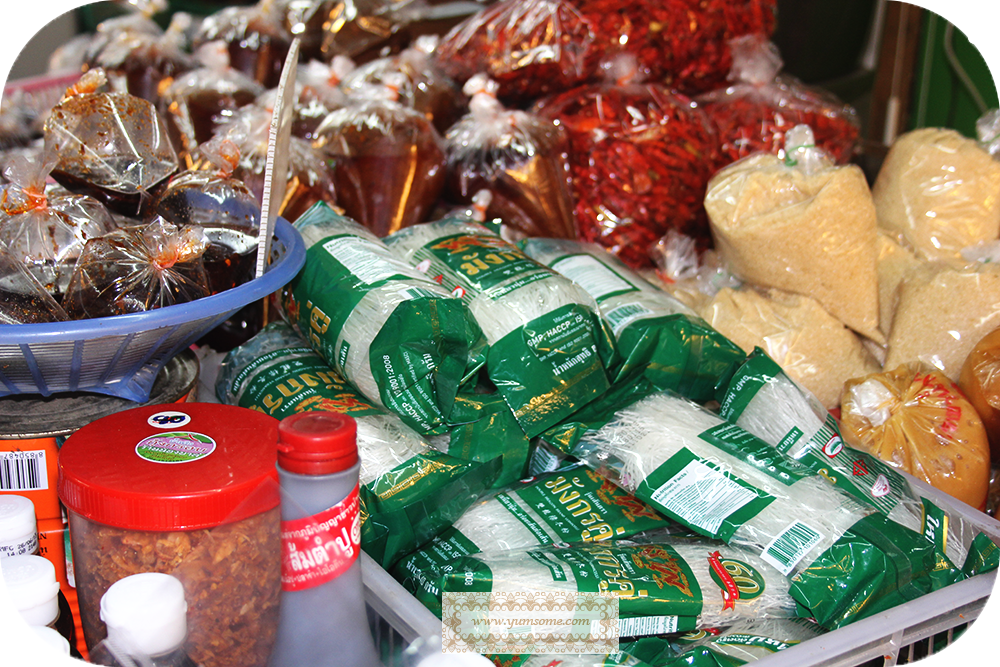 And more tofu than you can shake a wok at (om nom nom!).
In actual fact, see those cylindrical white packets in the top left of the image above? Those are full of fresh rice noodles, and the ones I would buy the most. The lady who owns this stall also always has a vat of iced water and fresh bean sprouts. For 5 baht, I could buy enough sprouts to last for a couple of days. Those blocks of yellow and white tofu were 6 baht each (half a block is sufficient to make phad Thai for the two of us). I forget how much the packs of fresh noodles were - about 20 baht, I think, and again, enough for several meals. The owner also had sheets of fresh rice noodle pasta, which she would cut to size; for example, into very wide noodles for phad si io. I miss that stall!
There was no shortage of rice, although sometimes it was a bit disconcerting to get home, decant it into a storage container, and discover unwelcome visitors, in the form of weevils. Just one of the many joys of living in Asia!
And no shortage of curry pastes an' stuff. Evil-hot curry pastes....
I once bought a bag of each of these pastes; they cost me 6 baht per bag (about 12p/18 cents), and there was easily enough for 10 curries in each bag. As a rule, I make my own pastes but I was glad to have had the chance to try these ones. The green one was my favourite.
Omnomnomnivores!
For meat-eaters, in the centre of the covered area of the market, inside what is essentially a very large cage, is where you can buy all kinds of meat to take home to cook. I never ventured in, of course, because I had no cause to. I don't suppose the meat was very expensive but if, like lots of Thais, you prefer to buy your meat ready-cooked, you can get all kinds of meat-on-a-stick for 10 baht a pop. You can also buy deep-fried fish, and barbecued fish, coils of cooked sausage, deep-fried pig skin, frogs on sticks, and many, many kinds of completely unidentifiable cooked foods of dubious animal origin.
I admit that I was disturbed to see several stalls selling live animals (fish, birds, frogs, and turtles) for people to eat. I honestly don't know whether the stall-holder despatches said animals prior to handing over to the customer, or whether the customer does the deed once they get the animals home. I never hung around long enough to find out (and once I knew where those stalls were, I avoided going near them).
It's one thing to see butchered flesh for sale but quite another to see an animal actually killed... it's not something I'd ever want to see, to be honest. On the other hand, if customers are doing it themselves, I guess it could be argued that at least they are not shying away from it. Unlike most meat eaters in the West, who very often eat things which no longer resemble the animal they originate from, and who then coo over lambs in a field.
Also on offer at Ton Payom are lots and lots of cooked curries and stews - plus steamed and/or sticky rice, of course - which you can take home in a plastic bags, in order to re-heat at your leisure.
If fiery-hot curries aren't your thing, you could just go for some dried fruits, or candies, or cookies. Like so many places I've lived where savoury food is highly-spiced, there is also a very, very sweet counterbalance.
I do have to admit however, that in general, baked goods in Thailand suck! In Chiang Mai and Pai, there were one or two Western bakers who made great bread, cakes, and cookies, but in general, Thais just don't understand baking because it's simply far too new a concept for them to have got a real handle on. Most homes don't actually have an oven.
(And by the same token, there are very few Westerners I've come across who can cook a proper phad Thai. In fact the only ones I've ever come across who can, are those who've actually lived in Thailand, been taught by Thais, and who use Thai ingredients!)
Veg Out!
One of the things I really loved about shopping at Ton Payom, was getting home and unpacking the food. There was something very, very beautiful about putting it all on the table so that I could work out where everything was going to go.
And something very gratifying knowing that the haul below (including several kilos of fruit that aren't in the photo), which was enough to feed us for a week, cost around 300 baht (6 GBP/9 USD approx).
I know I've said before that I prefer to shop daily but once we moved apartments, Ton Payom was a 20 minute walk away, and I didn't always have time to do that every day; if I did, I absolutely would have done!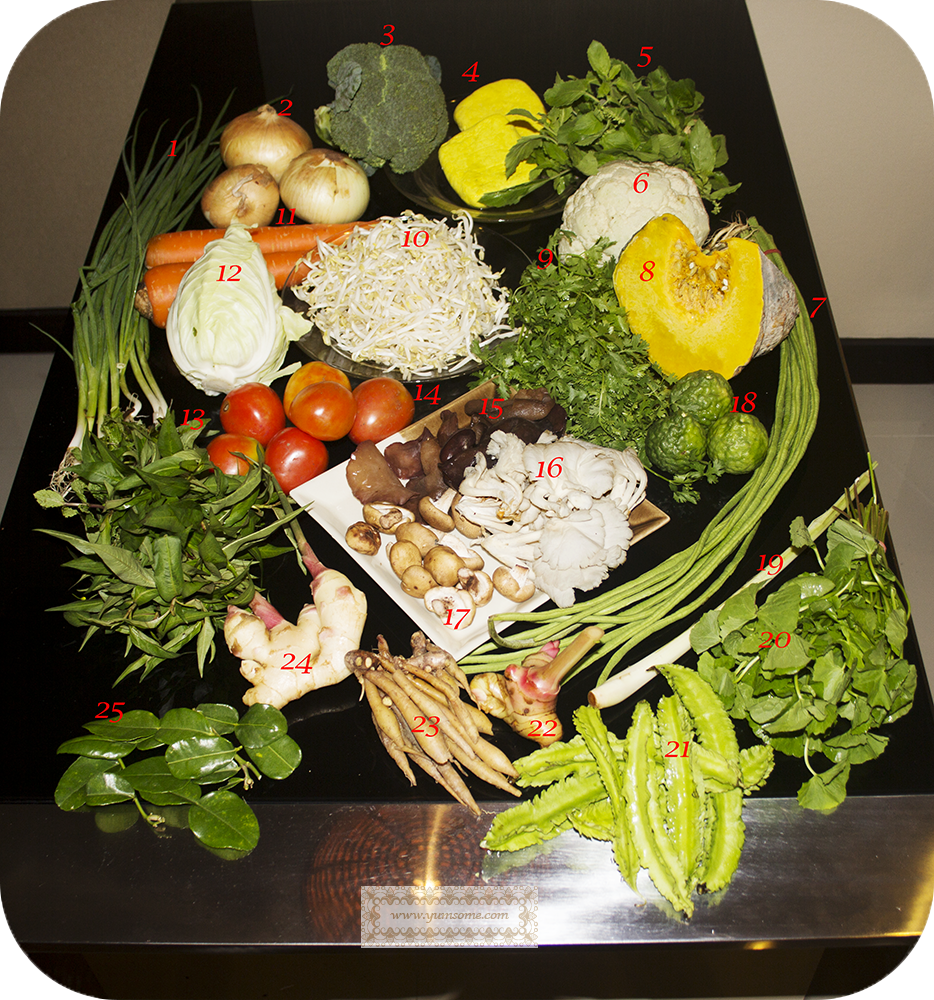 1. spring onions
2. white onions
3. calabrese
4. firm tofu (dyed with turmeric)
5. holy basil (ka phrao)
6. cauliflower
7. snake/yardlong beans
8. pumpkin
9. coriander/cilantro (phak chi)
10. beansprouts (thua ngok) - 5 baht for a big bag ... enough for two meals each for two adults!
11.carrots
12. white cabbage (kalam pli)
13. culantro (phak chi farang) + spearmint (sa ra nae)
14. plum tomatoes
15. cloud ear fungus (het hu nu) - my favourite!
16. oyster mushrooms
17. brown mushrooms
18. kaffir/wild limes (ma krut) - definitely my favourite limes!
19. lemongrass (ta khrai)
20. pak nork (I don't know what this is called in English)
21. wing beans (thua phu) - amato mio thought wing beans were runner beans because in Thai language, the word 'wing' means to run. I think he was a little disappointed to discover that the 'wing' in the name refers to the frilly edges!
22. galangal (kha - as in the delicious galangal and coconut milk soup, 'tom kha')
23. finger root (krachai)
24. green ginger (khing)
25. kaffir lime leaves (bai ma krut) - one of my favourite flavourings!
And just to show you exactly how beautiful this food is...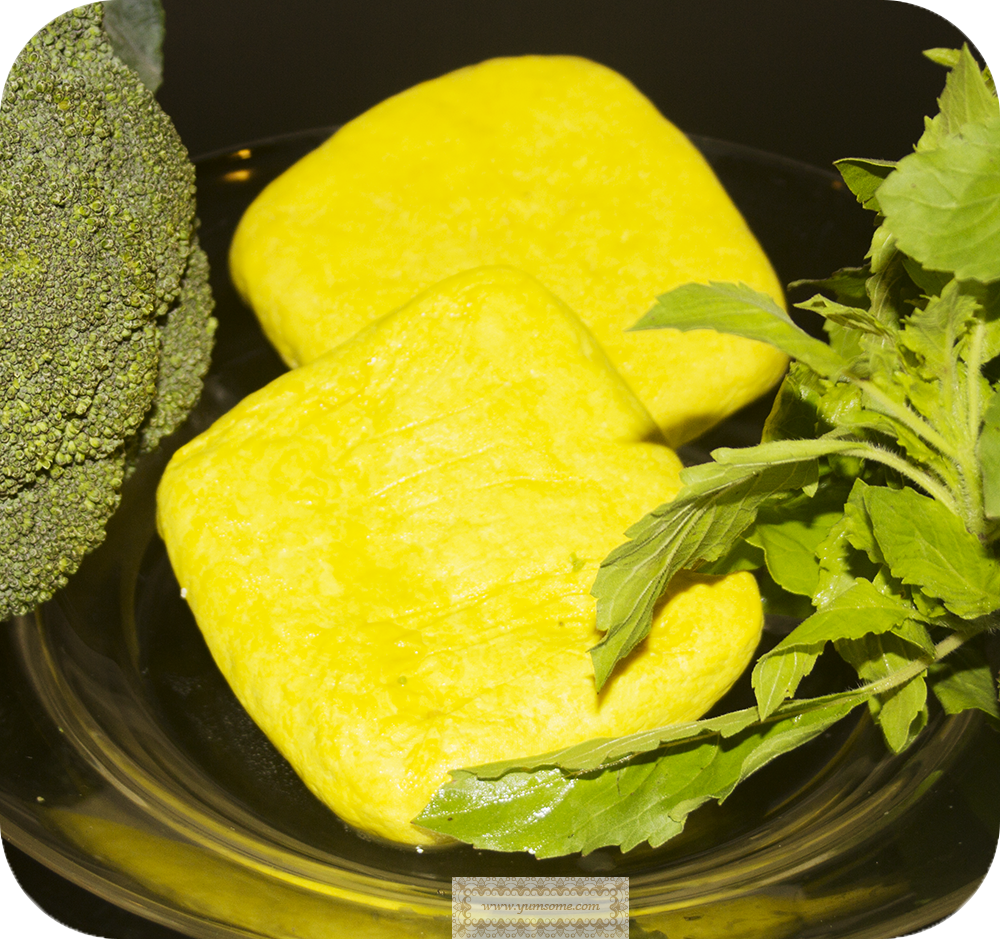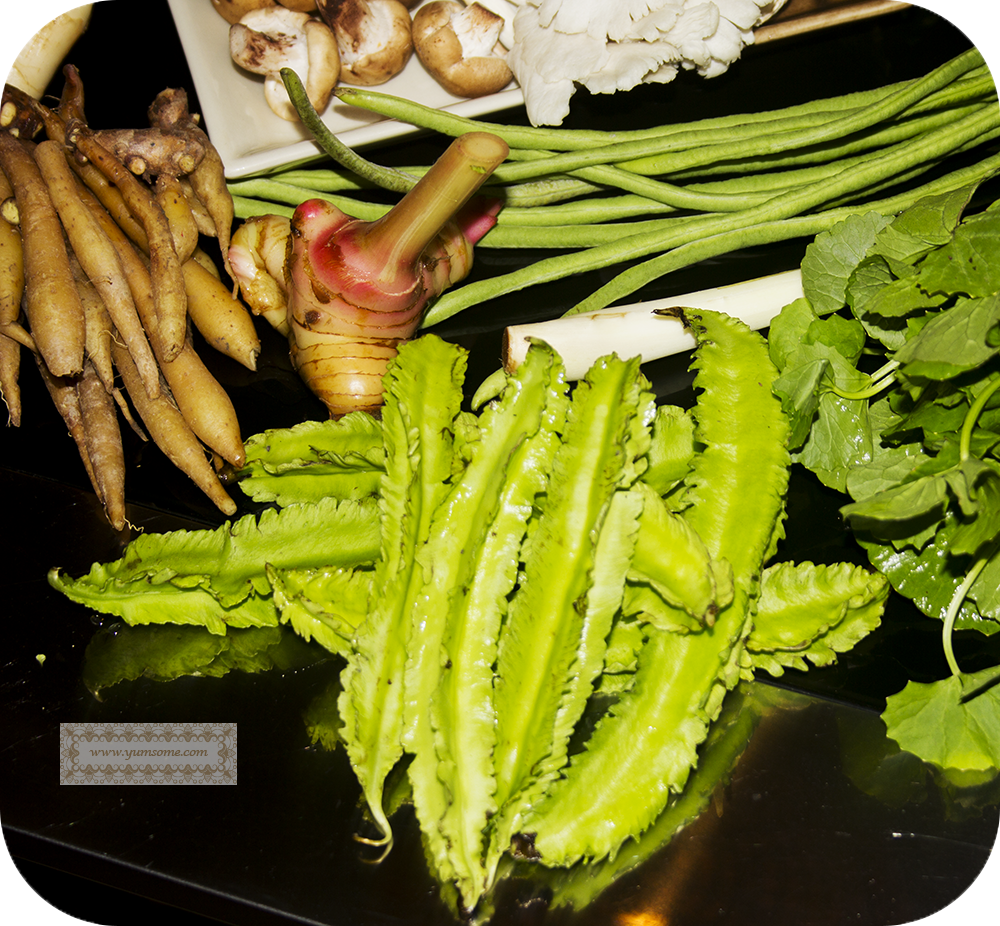 What do you love about your local market?