Thailand's ubiquitous fried noodle dish, phad Thai, is fast, cheap, and easy to make, and very filling. Serve with fresh bean sprouts and spring onions, plus a dash of lime juice, and finish it in true Thai style, with crushed peanuts, chilli flakes, a little sugar, and some spicy vinegar. Delicious!
Before we went to live in Thailand, most of the Thai food I'd tried was eye-wateringly spicy at best, and downright painful at worst. My first time of chilli-wimpish embarrassment was back in 2003, when amato mio and I had been seeing each other for a couple of months, and he took me to one of his favourite Thai restaurants. Although the flavours were amazing, the food was far too hot for me: I did my best but honestly, after only a few forkfuls, I thought I was going to cry.
I'd never had anything that painful in my mouth before!
I felt so embarrassed admitting that I've always been a chilli wuss… but he didn't think badly of me. I think I realised then that he was a keeper. After that, we tried a few other Thai restaurants, and I discovered that phad Thai suited me very nicely.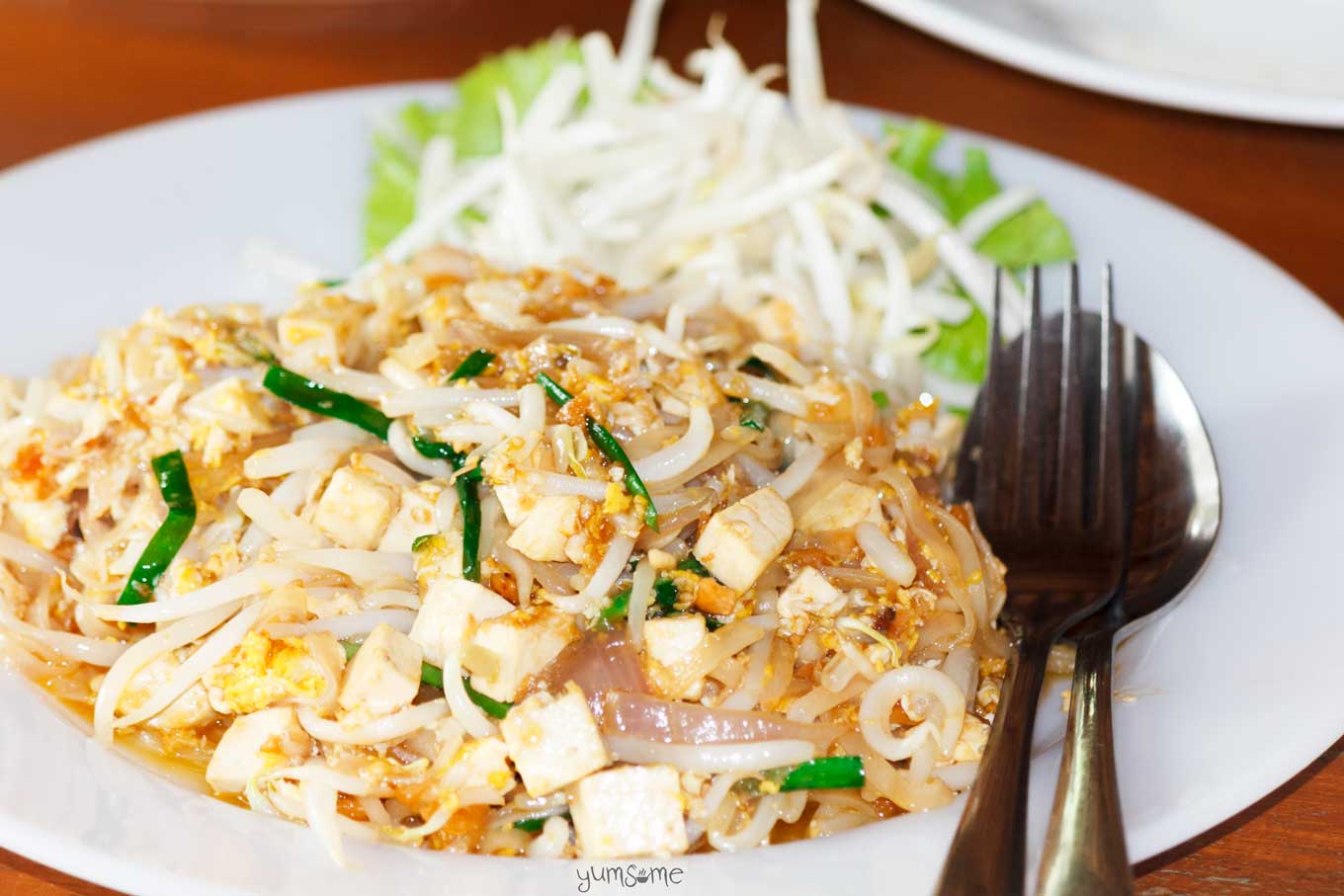 When we moved to Thailand, I was really looking forward to discovering all the foods I'd not been able to try – the foods you never see on restaurant menus in the West. I wasn't disappointed... although there were many times when I found dishes which were even more evil than the ones I'd tried in Britain.
Fortunately, there were also plenty of times I discovered foods which weren't trying to kill me.
What I didn't realise prior to moving to Thailand was that phad Thai - which was popularised during WWII by prime minister, Plaek Phibunsongkhram*, as part of his efforts to promote Thai nationalism - is such a ubiquitous dish that every other street food cart and hole-in-the-wall café serves it.
Each to their own recipe too - no two people cook phad Thai the same.
As someone who has now eaten literally hundreds of plates of phad Thai from one end of Thailand to the other, I feel I am pretty qualified to make this statement!
(*He actually staged a coup in order to become prime minister... we lived through the latest coup in Thailand, which rather ironically, happened a couple of months after we'd finished filming with Pierce Brosnan, Lake Bell, and Owen Wilson in their then-titled movie, The Coup. It's now been released, and the name has been changed to No Escape. It's not very good.)
I also discovered that without exception, phad Thai from a street cart or little café, served up on a plastic plate or a small basket made from a banana leaf, was not only far superior to anything found in swanky restaurants, but also cost considerably less (around 25 baht/50p).
For me, phad Thai is one of my favourite comfort foods, and whenever we return to the Land of Smiles, this delicious dish of fried noodles, bamboo shoots, and tofu is always the first thing I want to eat.
Some people put cabbage or other greens in, some like to add a few crisp green beans or carrots. Some serve it accompanied by a thin vegetable broth, some with a dish of raw cabbage, herbs, and pak nork on the side. As is so often the way, there are as many ways to cook phad Thai as there are towns in Thailand.
That said, there are still some basic rules which need to be followed; you still need to get the balance of hot, sour, salty, and sweet, although what generally happens is that once the dish is cooked, you use the condiments on the table to season your phad Thai the way you like it.
By the time we left Thailand, I was actually adding chilli flakes to mine. Go me!
Where to buy extra-firm pressed tofu
Extra-firm pressed tofu, by the way, can be bought pretty cheaply at Asian supermarkets, and usually comes wrapped in plastic, not in a tub of water. Sometimes it's bright yellow on the outside – don't worry, it's only turmeric, which is used as an anti-bacterial agent. I suspect this is more common in places like Thailand, where blocks of tofu are just piled up on the market stall, without any kind of packaging.
Of course, this being a Thai dish, fish sauce (nam pla) is usually used, however, here is my recipe for vegan fish sauce (mai nam pla).
Vegan Phad Thai
Is...
simple
quick
sweet and sour
customisable
packed with protein (more when you add crushed peanuts)
full of Vitamin C
really delicious
Whether you have this with some broth, a side of raw veggies, or on its own, this vegan phad Thai is a dish that will have you longing to visit the Land of Smiles.
Gin hai aroi kha!
Do you like phad Thai? What's your favourite Thai dish?
📖 Recipe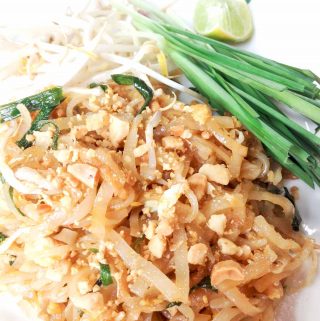 Vegan Phad Thai
Thailand's ubiquitous fried noodle dish, phad Thai, is fast, cheap, and easy to make, and very filling. Serve with fresh bean sprouts and spring onions, plus a dash of lime juice, and finish it in true Thai style, with crushed peanuts, chilli flakes, a little sugar, and some spicy vinegar. Delicious!
Print
Pin
Rate
Makes (slide to adjust):
1
serving
Ingredients
A handful of dried rice noodles

c.50g/2 oz

1½ 

tablespoon

palm sugar

1½

tablespoon

vegan fish sauce

2

tablespoon

tamarind paste

2

tablespoon

vegetable oil

rice bran, peanut, rapeseed etc.

50

g

extra-firm tofu

(or extra firm, pressed to remove excess moisture), cut into bite-sized pieces

3

cloves

garlic

sliced

1

Thai shallot

sliced

A handful of fresh bean sprouts

c.50g/2oz

A few fresh coriander

cilantro leaves, torn
To serve (also optional):
A few extra bean sprouts

Whole spring onion

Wedge of lime

Crushed peanuts

Chilli flakes

White sugar

Chilli vinegar
Instructions
Place the noodles into a large bowl, pour over enough warm water to cover, leave to soak for around 10 minutes, and then drain once softened. Don't over-soak!

Prepare the phad Thai sauce: In a wok, over a medium-low heat, dissolve the sugar in the

vegan fish sauce

. Once there are no grainy bits left, add the tamarind, and mix well, so that everything is blended.

Taste the flavour balance; if it needs to be a bit more salty, sour, or sweet, add a little more 'fish' sauce, tamarind, or sugar.

Tip into a suitable container, and set aside. Turn up the heat to its highest setting, and get the wok good and hot.

Add the oil to the wok, and once it's hot, add the tofu, and stir-fry for 60 seconds or so. Add the garlic and shallot, and fry for another 30 seconds.

Drain and add the noodles, and stir fry for around 2 minutes, until soft, then mix in enough sauce to just coat everything (you may have some left over).

Add the beansprouts, pieces of vegan omelette if using, and again, stir-fry for 30 seconds.

Turn out onto a plate or shallow dish, topped with the coriander leaves.

Serve with spring onion, a few raw bean sprouts, some tomatoes if desired, and a wedge of lime. Traditionally, crushed peanuts, chilli flakes, white sugar, and chilli vinegar are used as condiments to season phad Thai at the table.
Notes
If you don't have, or can't get tamarind, you could use white vinegar or lime juice instead. It won't be exactly the same but it will do in a pinch.
I don't advise using tamarind sauce because it's very watery. Instead, I recommend either using a ready-made paste, or get a block of tamarind, break some off, soak it in hot water for 5-10 minutes, and then squeeze out the pulp (discard the seeds and fibres). This is my preferred method because I know that I am getting pure tamarind, nothing else.
Don't over-soak the noodles! All you have to do is put them into a bowl, pour over some warm water, and leave for 10 minutes or so. Once they have softened, drain and set to one side until you're ready to use them. Don't use boiling water - if you do, the noodles may go overly soggy, even when left for only five minutes.
Nutritional information does not include the optional vegan omelette, and condiments (because I have no way of knowing how much you'll use).
This post has been updated with recipe improvements and better images.
Nutrition Facts
Vegan Phad Thai
Amount Per Serving
Calories 648
Calories from Fat 288
% Daily Value*
Fat 32g49%
Sodium 403mg17%
Carbohydrates 77g26%
Protein 15g30%
* Percent Daily Values are based on a 2000 calorie diet.
Did you make this recipe?
Do mention @yums0me and/or tag #yums0me - I'd love to see how yours turned out!
Disclaimer
Measurements in parenthesis are approximate; it is beyond the scope of yumsome to be able to provide pinpoint-accurate ingredient quantities for every type of measuring utensil. As a guideline however, I make the assumption that:
1 cup = US cup = 240 ml
1 tablespoon = US/UK = 15 ml
1 fl oz = US = 30 ml
Further information may be found here
If you like this vegan phad Thai recipe, why not check out these yums while you're here?