As soon as we arrived at Shanghai Mansion, we felt felt as though we had stepped into a different world; the hotel is a haven of calm, and a most welcome respite from the hustle and bustle of Bangkok's Chinatown. Having stayed there many times now, Shanghai Mansion has become our go-to hotel in Thailand's capital.

Deep in the heart of Bangkok's Chinatown, on Yaorawat Road, is a welcome respite from the noisy, dusty, bustling streets of Thailand's capital city. A place where it seems that time has stood still. A place that instantly transports you back to the golden era of Hollywood movies; of intrepid adventurers and femmes fatale; of intrigue and espionage; of jazz music floating on the perfumed air; and of high jinks and tales of derring-do.
Stepping over the threshold, our bags are taken by the attentive porter, and we're shown into the reception lounge where we're given cool, scented flannels with which to freshen up, and a glass of chilled chrysanthemum tea, served on a golden platter, complete with a beautiful fresh orchid.
After we check in, we're shown to our Mu Dan suite... a wow moment indeed! To say it's beautiful would be an understatement. With its black wood and tiles, and turmeric-yellow walls, it immediately feels very opulent, and we instantly feel at home.
(Mu dan, BTW, means peony.)
The enormous free-standing bathtub is a definite plus, as are the complementary toiletries, fluffy bathrobes, and slippers. The bed is also enormous - much larger than the king size we have at home! It's incredibly comfortable too. The kind of bed you could spend all day in, just chilling out, playing games, and watching movies.
If y'know, there wasn't a huge city just waiting for you to explore!
We love that the air-con is really powerful, so even in the heat of the Bangkok summer, we turn the temperature down, and thoroughly enjoy snuggling under the fluffy duvet! A bit childish perhaps, but we revel in the novelty of it!
Our suite has a complementary mini-bar with snacks, alcohol, soft drinks, and water, which is re-stocked every day. There's also a hairdryer, a coffee and tea maker (with plenty of free coffee, tea, sugar, and milk), and a safe which can accommodate laptops. There are umbrellas too - especially handy during the rainy season, when downpours can be both sudden and torrential.
There's also a butler service, should you wish to have your luggage unpacked for you! In addition, this service is available to book excursions, put together an itinerary, and even provide a guide around Chinatown's markets (which I highly recommend you visit).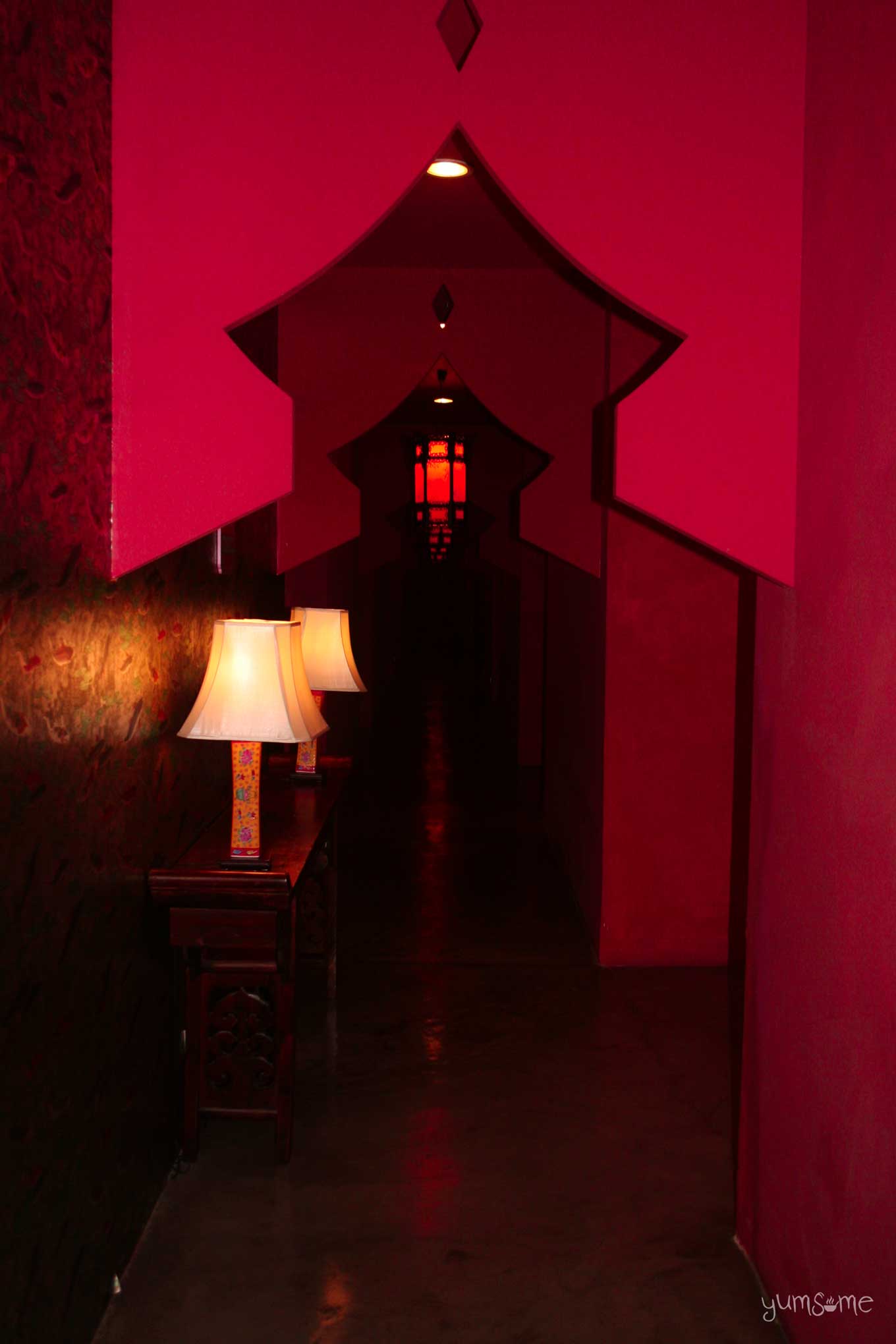 The rest of the hotel is equally as luxurious as our suite; from the central atrium with its beautiful and calming fish pool and myriad coloured lights suspended above, to the grand sweeping staircase leading up to the library and reading area, business centre, restaurant, upper floors, photoshoot nook (complete with period costume to don), and ballroom, there is a distinct atmosphere of bygone opulence. It's somewhere between a Merchant-Ivory film, Indiana Jones, and Tales of the Golden Monkey.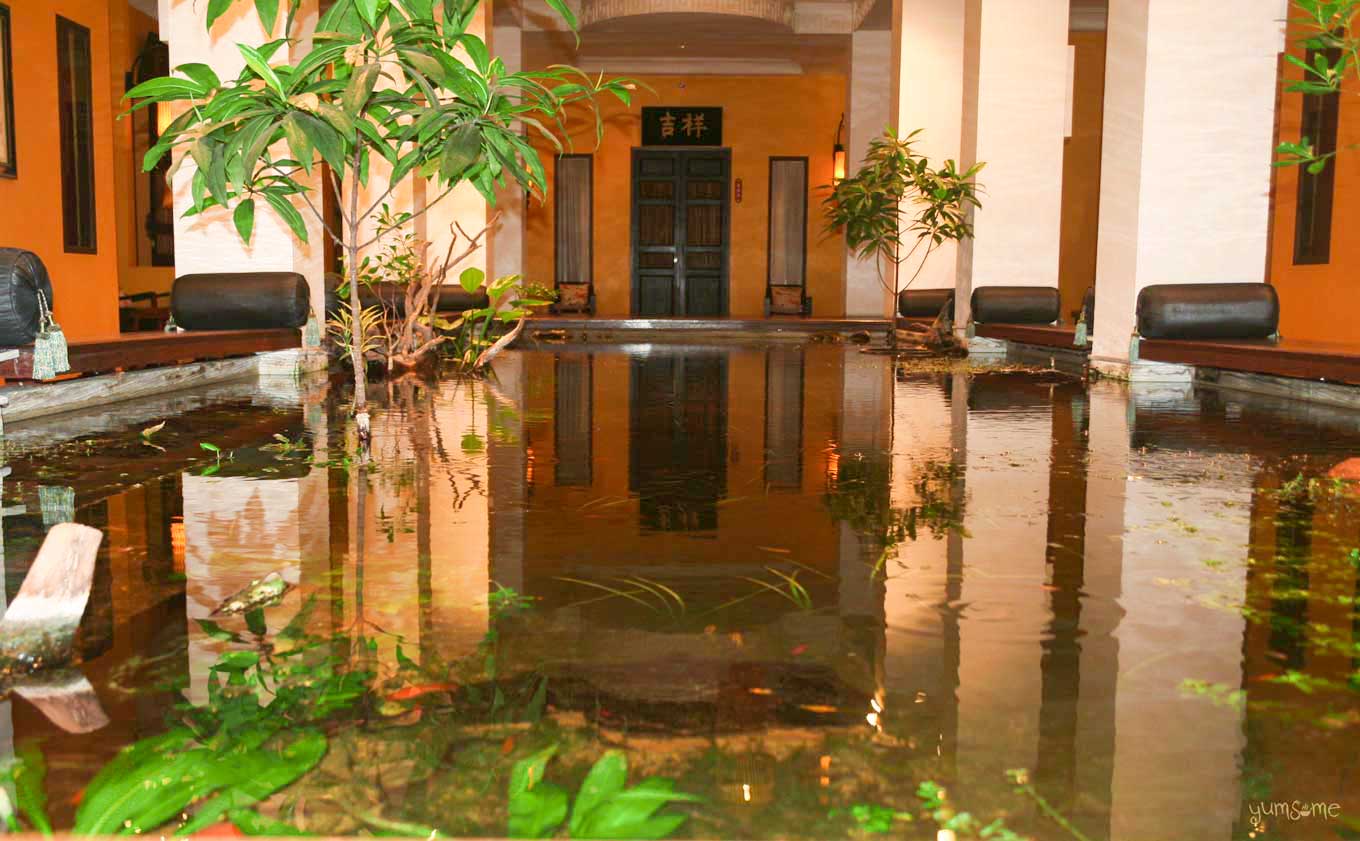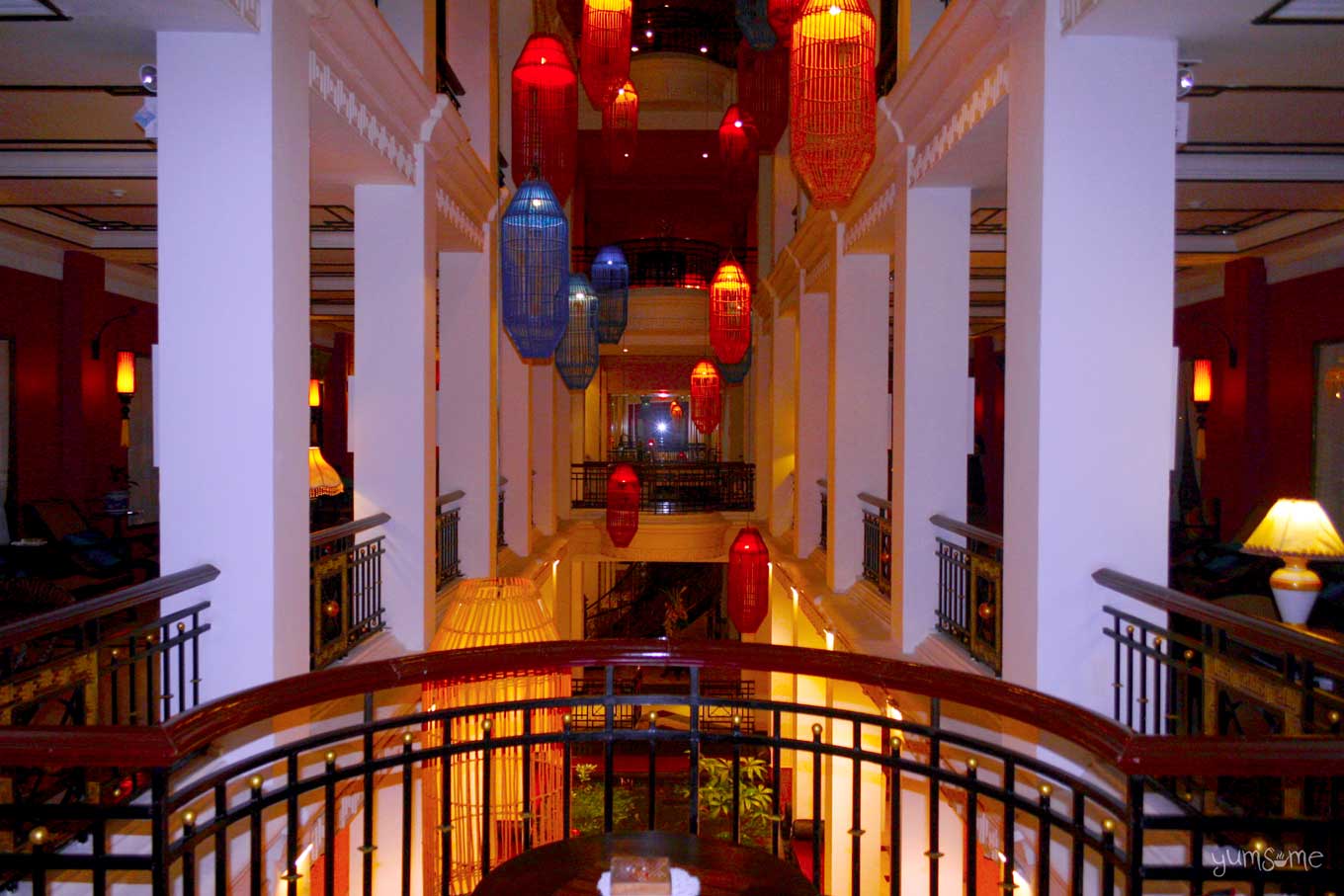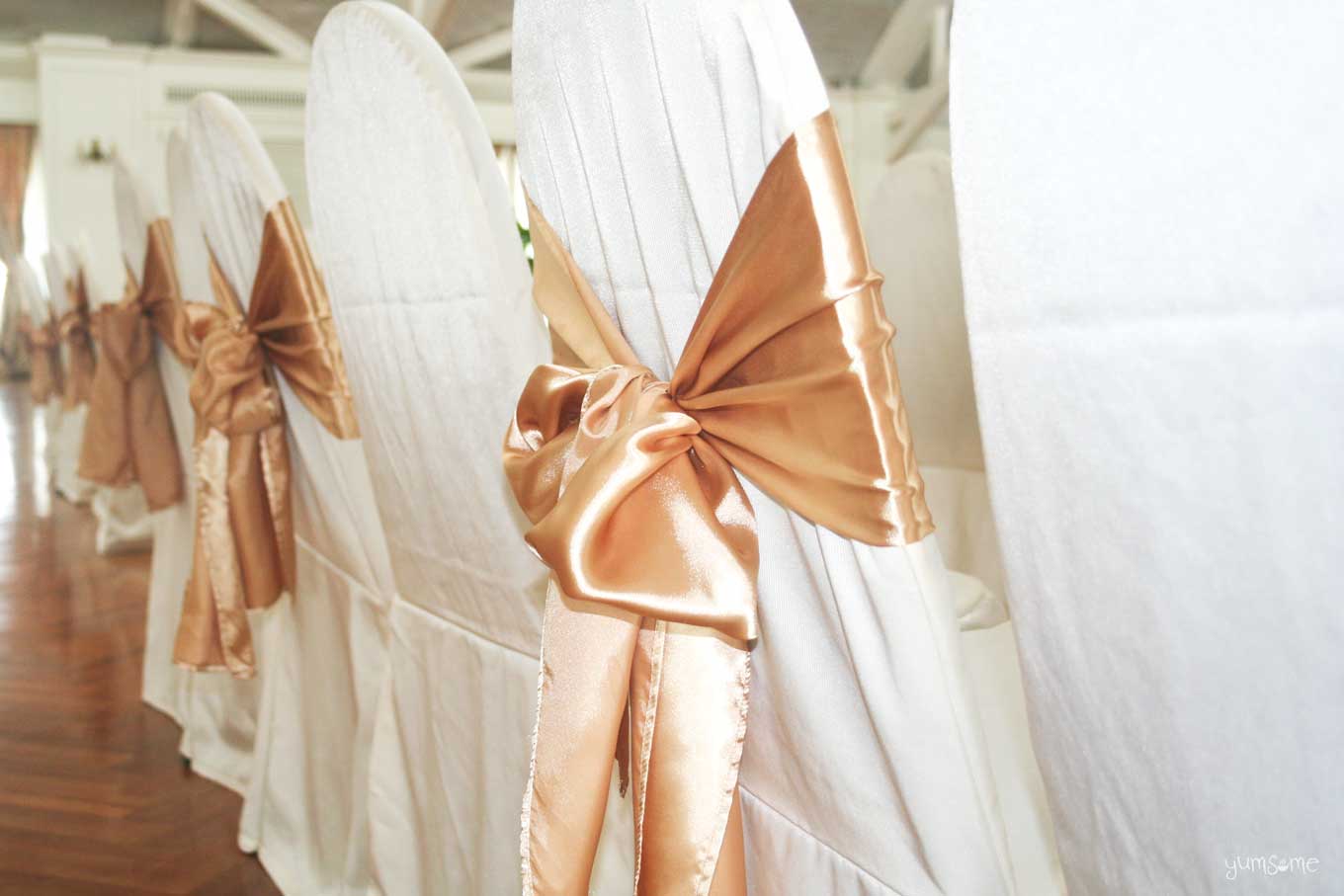 Staying here, I often find myself wishing I were petite enough to wear a Suzie Wong-type figure-skimming Chinese dress. But alas, I am far too tall!
Shanghai Mansion boasts a lovely breakfast restaurant called The Cotton Club, where it serves good Chinese and Western food during the day. The prices are very reasonable - cheaper than some of the street cafés outside. This used to be the main restaurant and jazz club but the hotel has recently been refurbished, so for evening dining, there's now the darkly dramatic Red Rose Restaurant.
Just beware of 'businessmen' named Lao Che.
Service is fantastic, and each member of staff is polite and attentive, without being in any way intrusive. The food is served to diners' requirements, which is a big plus, especially for us. The bar has a fantastic range of cocktails, both contemporary and traditional, alcoholic and non-alcoholic, as well as a good selection of wine, beer, and other soft drinks.
And yes, I have conducted extensive research into this because I am nothing if not cognizant of the needs of my readers. 😉
In the evenings, you can listen to the house band in the Shanghai Terrace Jazz Club on the ground floor. This fab trio performs their own versions of favourites from the likes of The Inkspots, The Platters, Tommy Dorsey, Gene Kelly, Dean Martin, Count Basie, etc. Trust me, if you've never heard jazz classics covered by a Thai ensemble, you really haven't lived.
Also downstairs is a café, the aptly-named Coffee Bean & Tea Leaf, plus a small convenience store. And, be sure to buy a bag of hot chestnuts from one of the sellers just outside the hotel entrance - they're a real delight!
Shanghai Mansion History
In 1892, the trading house opened its doors, making way, in 1908 for the first Chinese opera house in Bangkok. The opera house, with its stunning interior and sets, was frequently visited by members of the Thai royal family, and other nobles, who enjoyed classic Chinese theatre productions.
By the mid-20th century, the opera house had made way for Thailand's stock exchange, itself in turn, becoming the department store-cum-shopping-mall, Yaowarat Square - home to shops, restaurants, and Chinese herbalists. By the end of the century, however, the shops were gone, and the building was well past its glory days. In 2005, the Burasari Group bought the almost-derelict property, and completely renovated it in a beautiful Chinese art deco style, reminiscent of its theatrical heyday, blended with 1930s Shanghai.
From the moment we arrive to the moment we leave, we are treated as though we are the only guests in the hotel. I really cannot praise the staff highly enough. I would absolutely recommend Shanghai Mansion to anyone visiting Bangkok.
Shanghai Mansion Information
Shanghai Mansion Boutique Hotel
479-481 Yaowarat Road
Samphantawong
Chinatown
Bangkok 10100
Thailand
+66 (0) 2221 2121
+66 (0) 2222 8822
[email protected]
http://www.shanghaimansion.com
Getting there: a taxi from Suvarnabhumi International Airport will cost around 500 baht (11 GBP / 14 USD). You'll need to get a ticket from the desk outside the airport, in the taxi car park, and then give the ticket to the driver. This ensures you don't get charged too much. A 10% tip on top of the taxi fare is usual.
We find it's best to take a screenshot of Google Maps to show the driver because Chinatown can be a bit of a maze. If in doubt, Shanghai Mansion is close to the Hua Lamphong Railway Station.
Booking:
Rooms start at 2,970 baht per night, per room (c.67 GBP / c.88 USD)
Airports
Don Mueang International Airport (DMK) - 22 kilometers
Suvarnabhumi International Airport (BKK) - 27 kilometers
Public transport
Hua Lamphong Railway Station - 500m
Hua Lamphong MRT Station - 600m
Medical
King Thaksin Hospital - 1.1km
Ying Sae Pharmacy - 450m
Shanghai Mansion Facilities
General
On-site ATM
On-site convenience store
Spa
Tour desk
Conference/meeting rooms and business facilities
Photoshoot area with a selection of period costumes
24-hour Porterage
24-hour reception
Bar/lounge
Coffee shop/café
Restaurants
Jazz club
Library
Concierge
Dry cleaning & laundry service
Elevator
Free WiFi in public areas
Wheelchair access
Free tuk-tuk shuttle to major attractions
Rooms/Suites
Non-Smoking Rooms
Complementary unlimited WiFi in all rooms
Complementary coffee & tea maker
Complementary mini bar
Complementary toiletries
Bathrobes
Slippers
Hair dryer
Air conditioning
Daily housekeeping
Flat screen TV and DVD player
Freestanding bathtub and separate shower and WC rooms
Safe big enough to hold a laptop
Umbrella