Who says you can't have curry when trying to lose weight? At only 356 calories a serving, my vegan paneer butter masala is a perfect balance of spiciness and creaminess. If you're not watching your waistline, why not have it with naan or rice, or starchy curry dishes, such as aloo masala and dal fry!
I had the genius idea of making paneer with plant milk - I always used to always make my own paneer, so how hard could it be to make it from non-dairy milk?
Do you know what you get when you try to make paneer from soy milk?
Tofu, that's what.
So I suppose it would be more accurate to call this Tofu Non-Dairy-Butter Masala... but it doesn't really have the same ring about it, does it?
Nevertheless, regardless of what it's called, this is flimmin' gorgeous.
I mean, really, really gorgeous. Just look at it...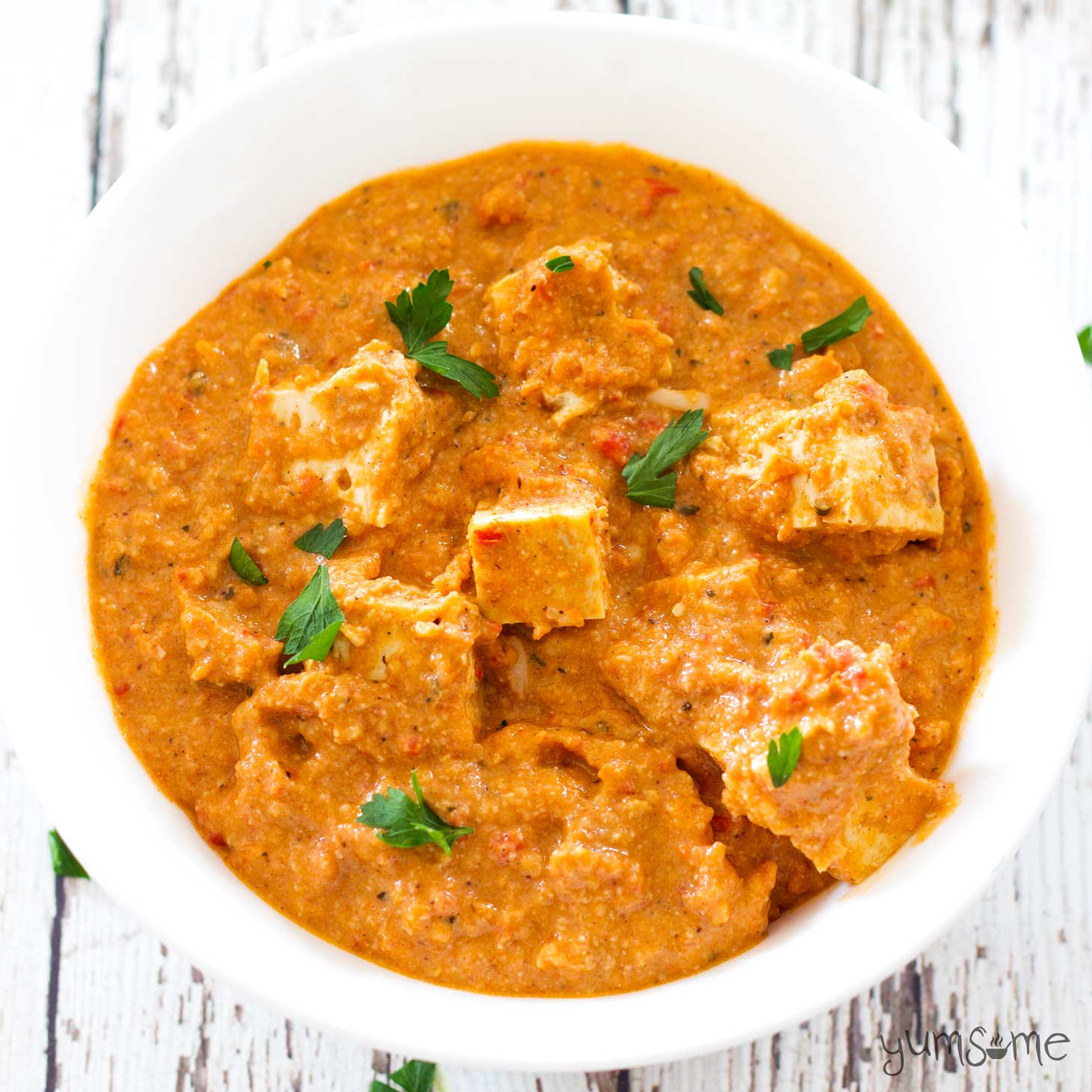 Couldn't you just?
OK, the tofu is not an accurate, 100% substitute for paneer but who cares? It still works perfectly. It also works wonderfully in my vegan palak paneer.
By the way, if you can't get super-firm tofu, you can press firm tofu (not silken) to firm it up. My local Asian store only has firm tofu, so when I get it home, I drain and rinse it, then wrap it in a clean tea towel, place it in one of the sinks, and then put a kilo bag of rice on top. I leave it for 20-24 hours, and then it's really firm, and ready to be used.
At some point, I'm going to try again to make paneer but I think next time, I'm going to use a nut milk, such as cashew. After all, cashews produce an excellent ricotta that really does taste like dairy, so maybe it'll work for something a bit more solid, right? Ha ha!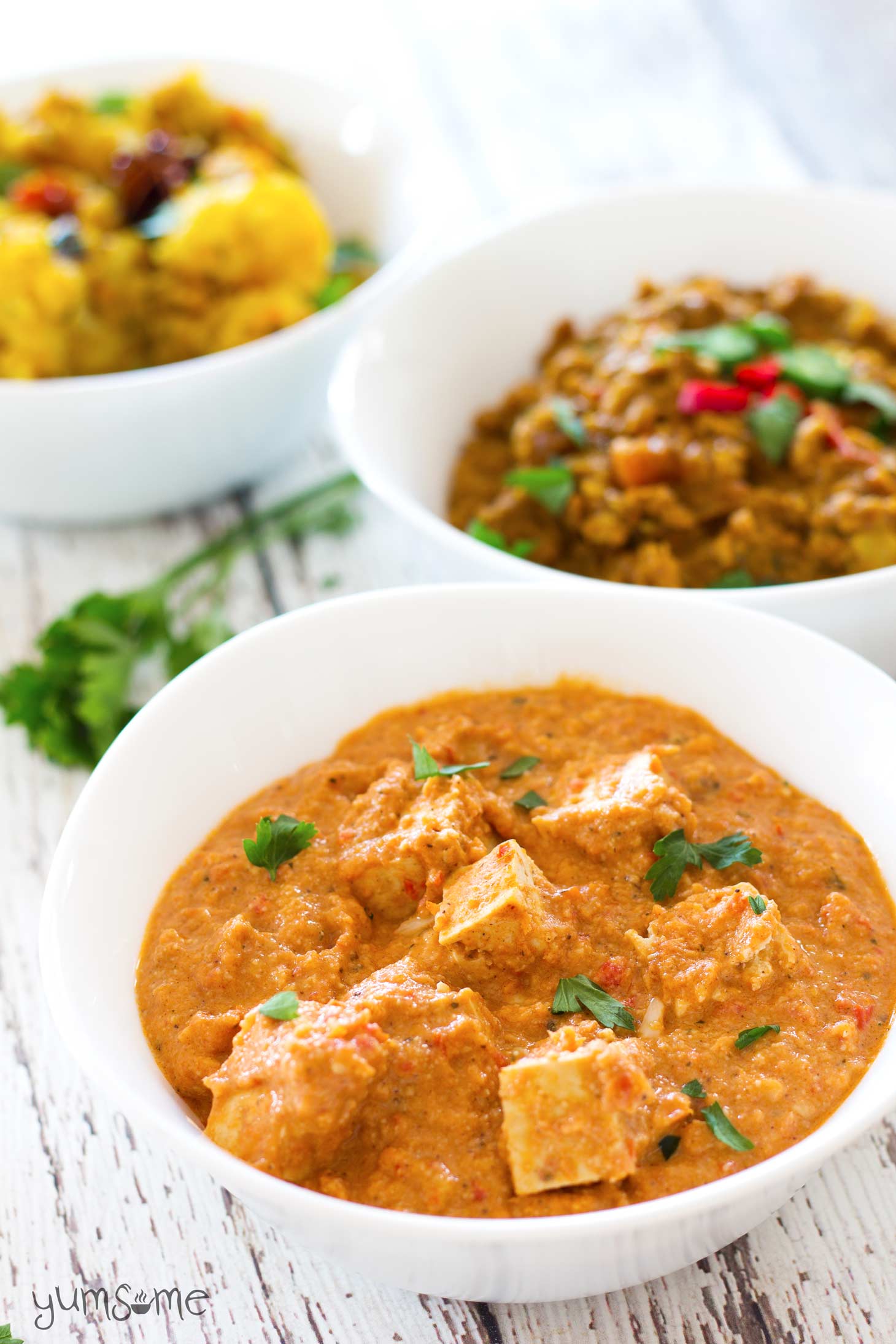 Vegan paneer butter masala
Is...
gluten-free
dairy-free
full of Vitamin C
creamy
spicy
tomatoey
simple
quick
delicious
Make it as hot or as mild as you like - however you make it though, enjoy!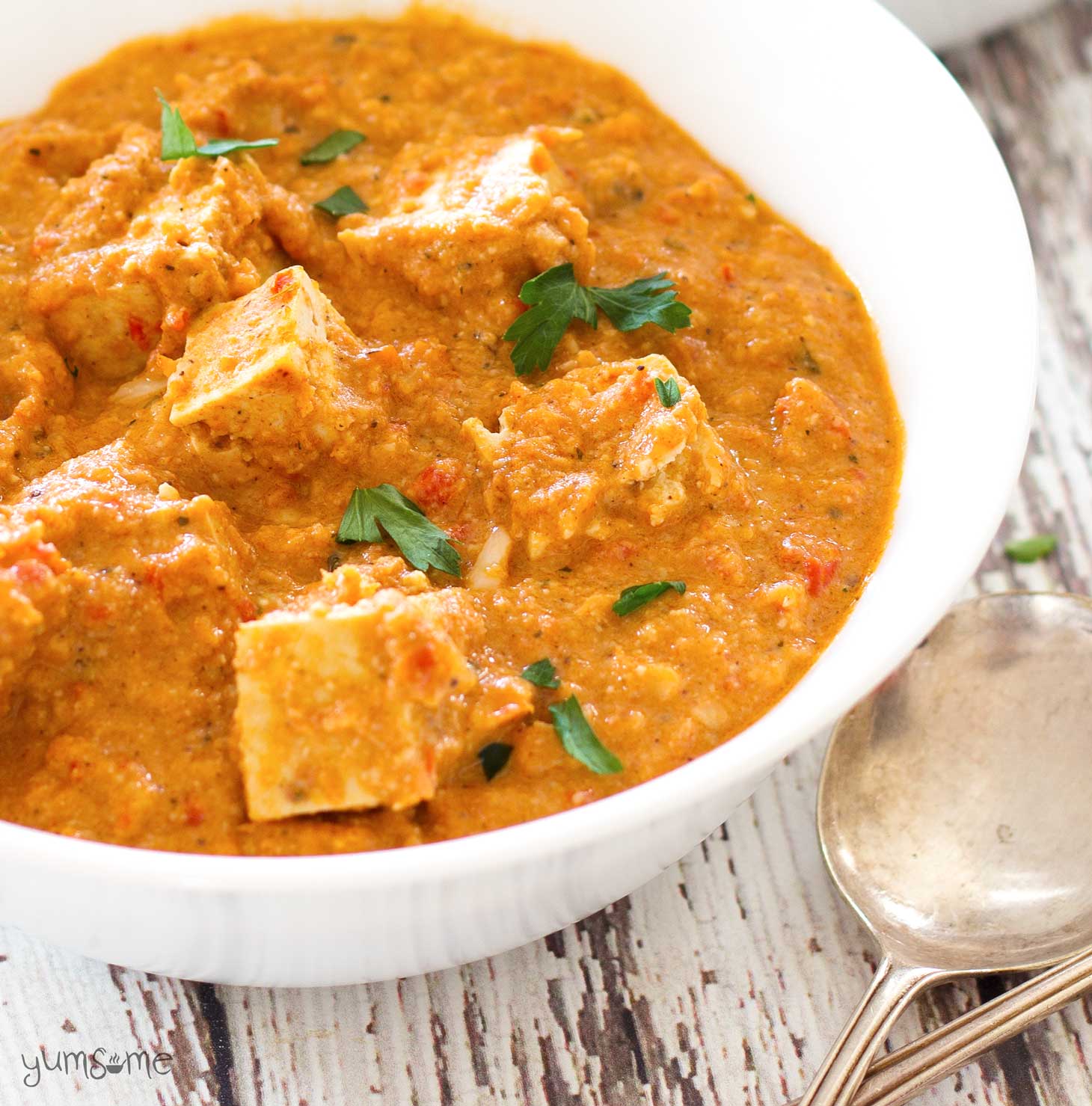 📖 Recipe
Vegan Paneer Butter Masala
My vegan paneer butter masala is a perfect balance of spiciness and creaminess, and works really well with Indian breads or rice, and starchy curry dishes, such as aloo masala and dal fry.
Print
Pin
Rate
Makes (slide to adjust):
4
servings
Ingredients
200

g

extra-firm tofu

drained and pressed to remove as much moisture as possible

1

large onion

finely-chopped

2.5

cm

piece of ginger root, roughly chopped

4

cloves

garlic

peeled and roughly chopped

5

medium-sized tomatoes

roughly chopped

2

tablespoon

coconut oil

1

Indian bay leaf

(tej patta)

1

green chilli

split

½

teaspoon

turmeric

½

teaspoon

Kashmiri chilli powder

2

tablespoon

cashew cream

1

teaspoon

palm sugar

finely chopped

1

tablespoon

ground coriander

1

teaspoon

garam masala

250

ml

canned coconut milk

125

ml

water

1

tablespoon

vegan butter

dash

salt

A

few

fresh coriander leaves

chopped
Equipment
food processor

blender

wok

kadai
Instructions
Cut the tofu into cubes, and dry-fry in a skillet, until golden brown. Remove and set aside.

While the tofu is browning, blitz the chopped onion, ginger, and garlic in a food processor or a high-speed blender for couple of minutes, until you have a thick paste. Remove from the processor, and also set aside.

Add the tomatoes to the processor, and blitz for a few seconds, until you have a coarse purée.

Heat the oil in a wok or a kadai (or similar), add the bay leaf and the green chilli, and fry over a medium heat for a minute.

Add the onion, garlic, and ginger paste, and fry - stirring all the time - until the raw smell has gone, and the paste starts to turn golden-brown. This should take around 5-7 minutes.

Add the turmeric, and stir-fry for another 30 seconds or so.

Add the Kashmiri chilli powder and the cashew cream, and continue to stir-fry for another couple of minutes.

Add the puréed tomatoes and palm sugar, mix well, reduce the heat slightly, and continue to cook until the oil starts to separate out (around 5 mins).

Mix in the ground coriander and garam masala, and allow to cook in for another 2 mins or so.

Add the coconut milk and water, mix well, and leave to cook for another 5-7 minutes, until the oil rises to the surface of the gravy.

Add the tofu and the methi leaves, stir, reduce the heat to its lowest setting, and simmer for 5 mins to heat the tofu.

Turn off the heat, taste, stir in the vegan butter, and season with salt.

Place into a serving dish, and sprinkle the chopped coriander over the top.
Notes
If you don't have Indian bay, leave it out, do not sub Mediterranean bay - it's a completely different beast, and will not work in this recipe!
Nutrition Facts
Vegan Paneer Butter Masala
Amount Per Serving (1 portion)
Calories 356
Calories from Fat 234
% Daily Value*
Fat 26g40%
Sodium 112mg5%
Carbohydrates 23g8%
Protein 11g22%
* Percent Daily Values are based on a 2000 calorie diet.
Did you make this recipe?
Do mention @yums0me and/or tag #yums0me - I'd love to see how yours turned out!
Disclaimer
Measurements in parenthesis are approximate; it is beyond the scope of yumsome to be able to provide pinpoint-accurate ingredient quantities for every type of measuring utensil. As a guideline however, I make the assumption that:
1 cup = US cup = 240 ml
1 tablespoon = US/UK = 15 ml
1 fl oz = US = 30 ml
Further information may be found here
If you like this paneer butter masala, why not check out these other Indian yums while you're here?