My easy and comforting ribollita (aka Tuscan bread soup or minestra di pane toscana) is a hearty vegan pottage, full of seasonal vegetables, bulked out with bread. It's easy to make, incredibly frugal, and perfect for filling you up on a chilly day!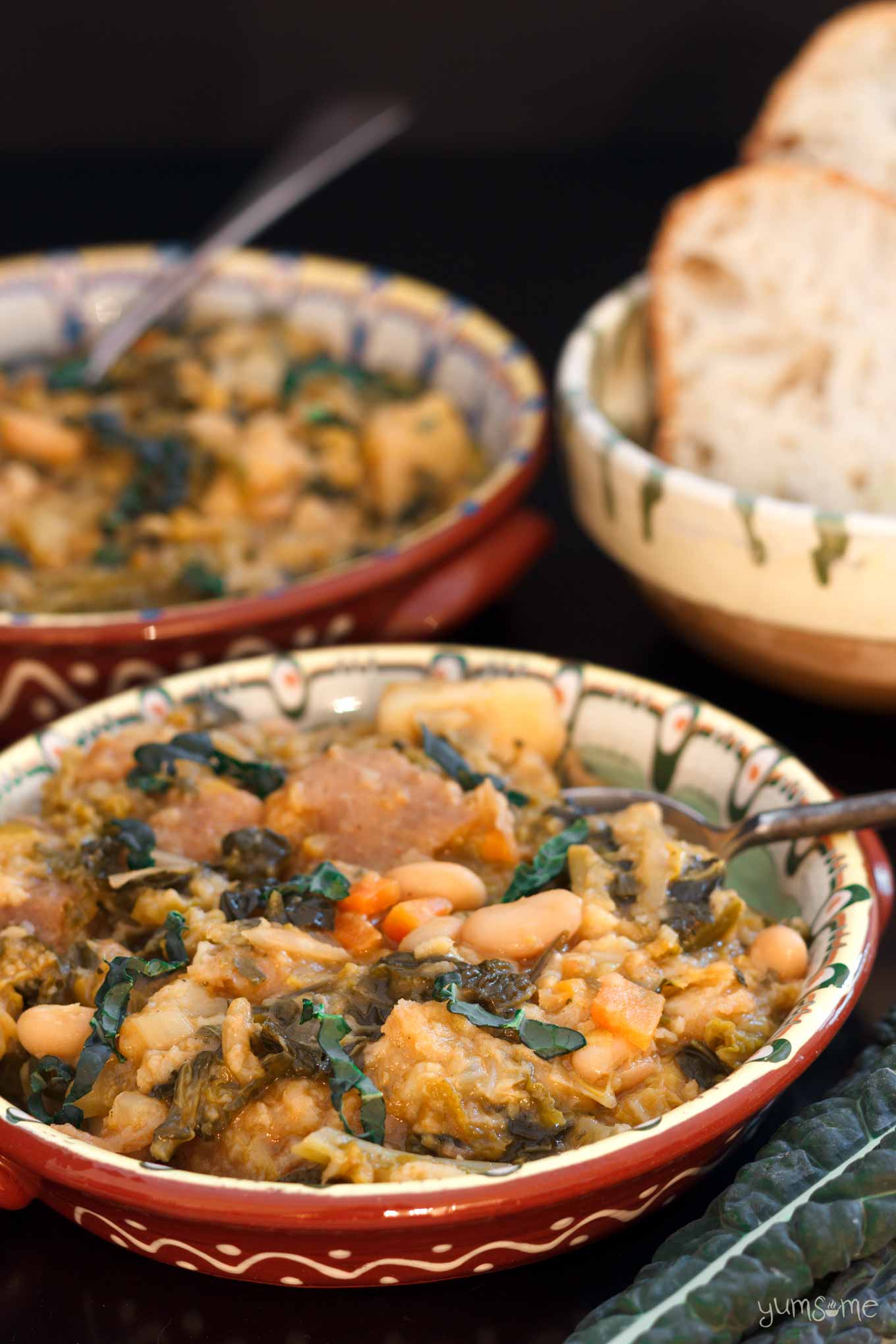 What is ribollita?
Like most cucina povera, this ribollita (or Tuscan bread soup) is made with whatever is to hand. Or what the garden yields.
That said, ribollita being a traditional northern Italian country dish that every mamma has her own recipe for, there are still guidelines!
To be truly authentic, ribollita must contain cannellini beans, and it must have cavolo nero (black cabbage). And bread, of course.
If you can't get cavolo nero, and believe me, the only places I've ever been able to find it outside Northern Italy are Serbia, Slovenia, and Britain, you can use kale. After all, if this were a dish from Campania, it would be made with friarielli (aka rapini), so if you have to replace the cavolo nero, don't feel bad about it. Your ribollita will still be fab!
By the way, if you're making this recipe with produce from your garden or allotment, the cabbage or kale will be best after a frost. The frost breaks down the brassica fibres, making the leaves more tender, and therefore ideal to go into a soup or pottage.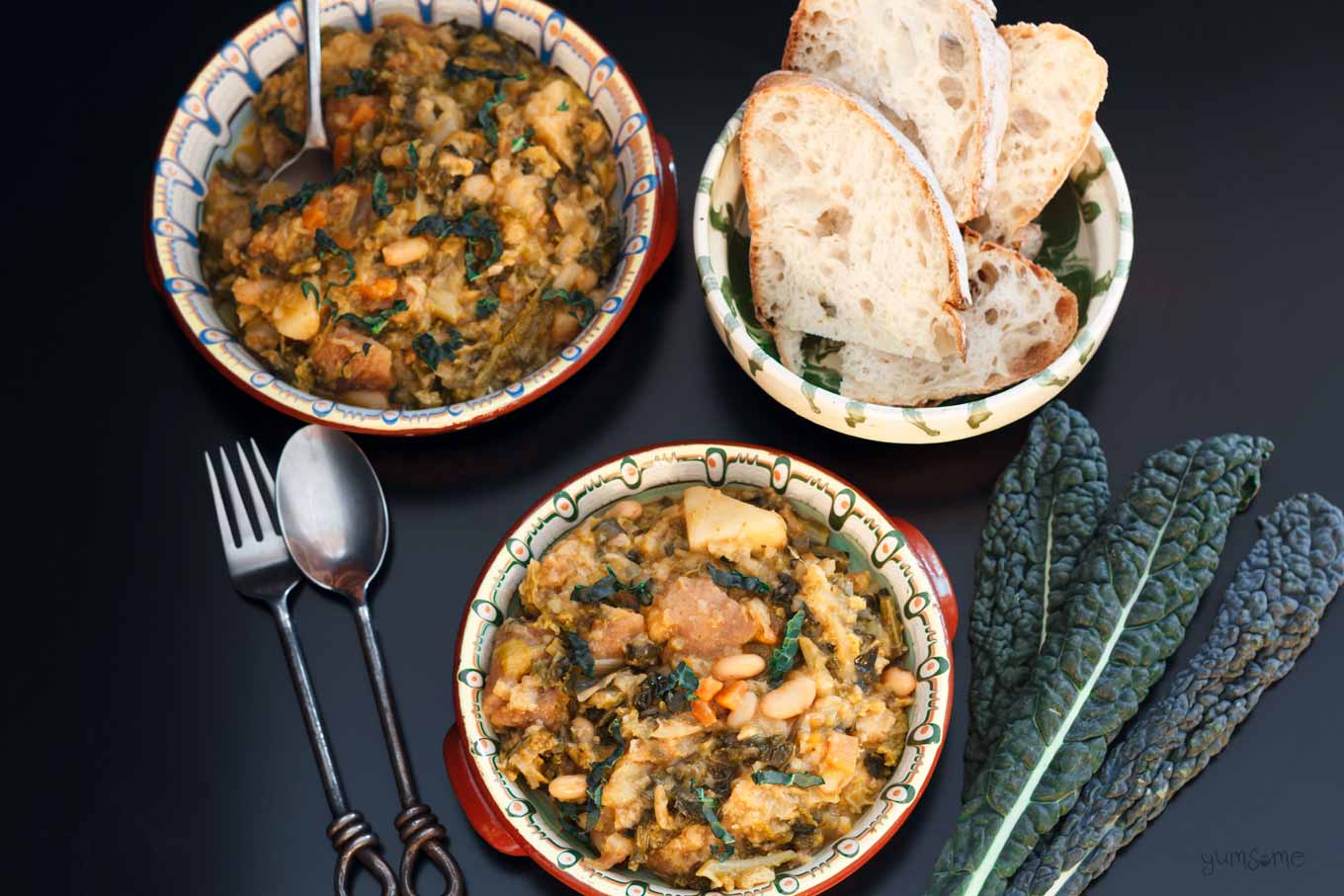 Is ribollita vegan?
This Tuscan bread soup is indeed vegan. As I've mentioned in other posts, Italian cuisine is full of naturally vegan recipes. For example, caponata and Tuscan bean soup. There are also myriad vegetarian recipes that easy to veganise. Recipes such as pesto, parmigiana di melanzane, and insalata caprese.
What is the origin of ribollita?
Ribolla means to re-boil, and refers to the practice of making a large potful of this soup (often on a Friday), and reheating it to eat it all weekend.
This not-very-soupy soup is said to have originated in medieval times, when the peasants would add trenchers, left over from wealthier folks' meals, to their pots of vegetable stew.
Another school of thought is that ribollita was originally conceived as a way to stretch out leftover minestrone. However, given that minestrone was originally a thin broth of leftovers, eaten by servants*, it seems unlikely that there'd be much in way of leftover leftovers. If you see what I mean.
How true either of these stories are, I know not but I do know that adding stale bread, cabbage, and beans to make a chunky soup is a great way of eking out a meal, and making it more nutritious. It's something I've done for as long as I can remember. As did my grandparents. I bet you do too!
(*Originally called minestrare - food served to servants - see my
minestra di pasta e fagioli recipe
for more info.)
Don't rush the ribollita!
As with my caponata and sarmale, ribollita is even better the next day, so don't be put off by the amount of time it takes to prep and cook. Most of it is hands-off time, and the pottage will reward you for several days.
Don't do this at home, kids!
Some heathens people advocate toasting the bread*, and then placing alternating layers of toast and ribollita into a casserole dish, and baking for an hour. Oh, I think not!
Listen, it's called ribollita, not minestra di pane al forno!
(*They say that about
panzanella
too, and they're no more right about that, either!)
Think about it. In the bad old days, most paesani did not have ovens. They took their bread to be baked in the village oven. Why would they make a pottage that had to first be cooked in a pot (duh!), then toast some bread, then decant the whole lot into another container, AND THEN take it all the way to the baker to be cooked again? >Spock eyebrow<
That makes no sense at all, and it sounds like a non-Italian, post-modern 1970s thing to me, ha ha! However, if you want do the whole faux-rustic '70s thing, you could serve your ribollita inside hollowed out loaves of bread. Buon appetito!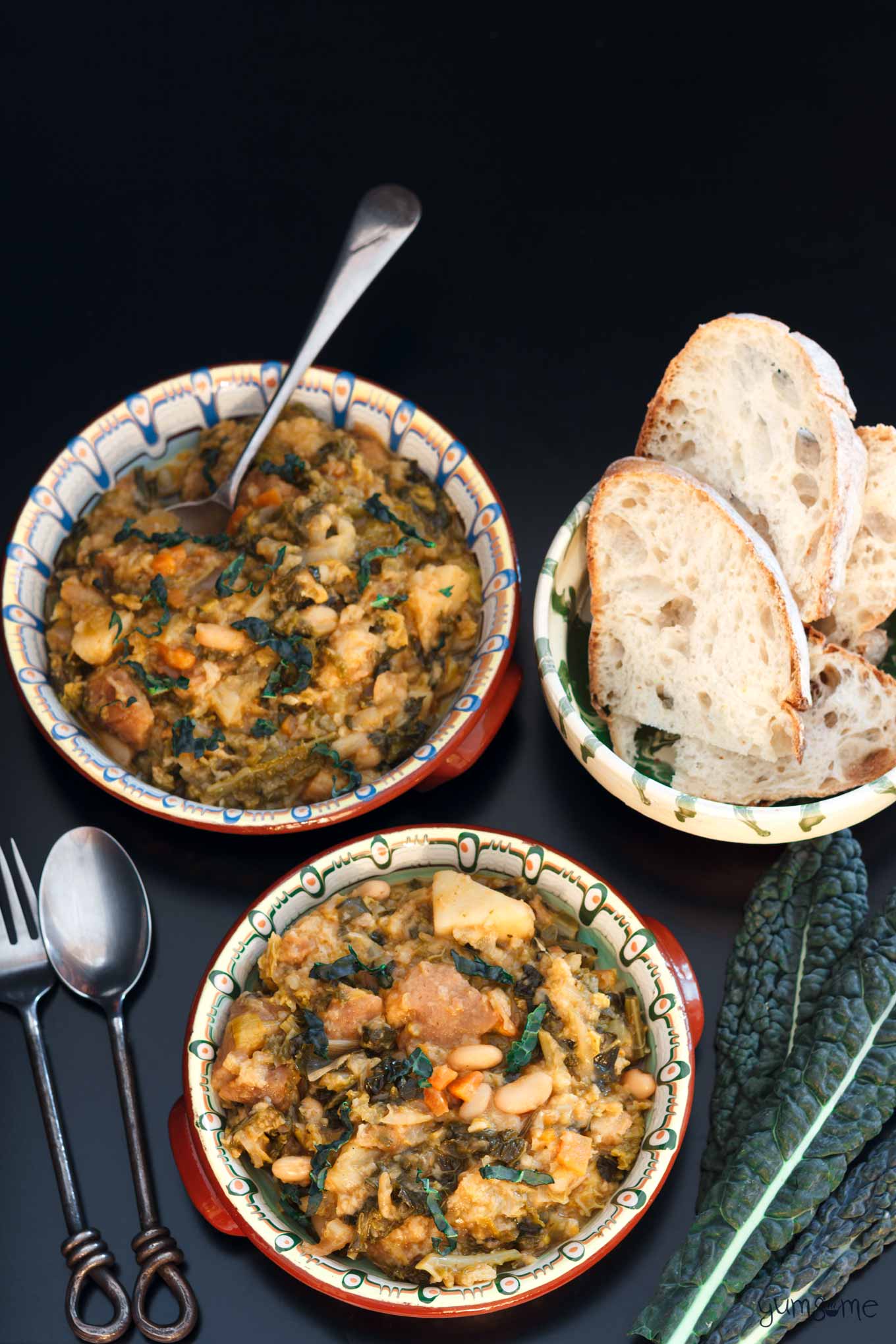 Ingredients
Like many great Italian recipes, ribollita starts with a soffritto, which means you'll need some finely chopped onion, carrot, and celery. You'll also need some olive oil, a couple of bay leaves, and a sprig of rosemary.
To make the actual soup, you'll need a few more basic ingredients, such as garlic, leeks, and potatoes. Nothing weird here!
Some people like to use blanched, peeled, and de-seeded plum tomatoes but honestly, I prefer tomato purée (aka tomato paste) diluted with a bit of water. It gives a richer flavour, in my opinion. Plus, it's less faff.
For the greens, it's traditional to use cavolo nero in Tuscany. It is after all, native to the area. Because I am no longer living in Italy, I find that cavolo nero is quite expensive, so I like to bulk it out with dark cabbage and chard (when it's available).
To really bulk out the ribollita, cooked beans are added. Cannellini beans are de rigeur but if you can't get them, use your favourite white beans. For convenience, I generally use canned beans but if you want to be truly frugal, you can use dried beans, and cook them the day before making this soup.
Vegetable broth is a must, and something I don't compromise on. And given that it basically costs nothing to make from scraps, there's little reason to not make your own. However, if this is not feasible, then go for a good bouillon powder, such as Marigold or Massel.
Of course, this would not be a Tuscan bread soup (or more properly, a Florentine one) without the bread, so for true authenticity, you'll need some pane sciocco, which is a non-salted bread. Outside Tuscany, it's known as pane toscano.
It's very robust, which means it's really good for recipes where there's an amount of moisture, such as bruschetta or panzanella.
You'll also need a little salt and pepper to season the ribollita.
How to make ribollita
Make a soffritto by frying onion, carrot, celery, bay, rosemary, and a pinch of salt in a little oil.
Add garlic, potatoes, leek, and a bit more oil, and cook for another 10 minutes before stirring in some diluted tomato purée and the shredded greens.
Make the broda dei fagioli by blending the entire contents of one can of beans with the aquafaba from the other can, and a little vegetable broth. Stir half of this into the pan, and bring it to the boil. Reduce the heat, and simmer for a couple of hours, until the veggies are cooked. You'll need to periodically stir in more broth during this time, to stop it drying out.
Once the vegetables are cooked, stir in the rest of the beans, add the bread, cover, and set aside to rest for around 30 minutes before serving into bowls, and seasoning with a few grinds of black pepper and a drizzle of extra virgin olive oil.
FAQs
What is cavolo nero? This is a member of the cabbage family that's also known as also known as lacinato kale and dinosaur kale (so cute!).
What is another name for chard? (And which parts do I use?) Chard is also called leaf beet or silver beet. Use the whole thing, stalks an' all!
What if I can't get all these different greens? Feel free to sub your own favourite kale, cabbage, etc. I don't recommend spinach though, as it's not really robust enough for ribollita.

If you want to add more cabbage and less kale, then by all means do. If you want to forego the chard, and use extra kale, that's fine. If you only want to use one type of brassica, then do!

How much is 200g (7oz) kale, etc? The measurements are really only a guideline, to be honest. 200g (or 7oz), for example, is about a decent-sized handful.

Do I absolutely have to use pane toscano? Nope, you can use any hearty bread that's gone a bit stale.

Steer clear of pre-sliced, packaged bread though because it will be too wimpish, and fall apart. You need good, hearty, thick bread to put into ribollita!

How long will leftover ribollita keep? Leftovers can be kept in an airtight container in the fridge for up to a week, or frozen for up to three months.

Is there anything else I can do with leftover ribollita? I'm glad you asked because actually, yes, there is!

You can turn any leftovers into ribollita Fiorentina by tipping the pottage into a hot skillet, pressing down, and frying until you have a firm-ish pancake (you'll need to flip it over halfway through the cooking). It's great for breakfast!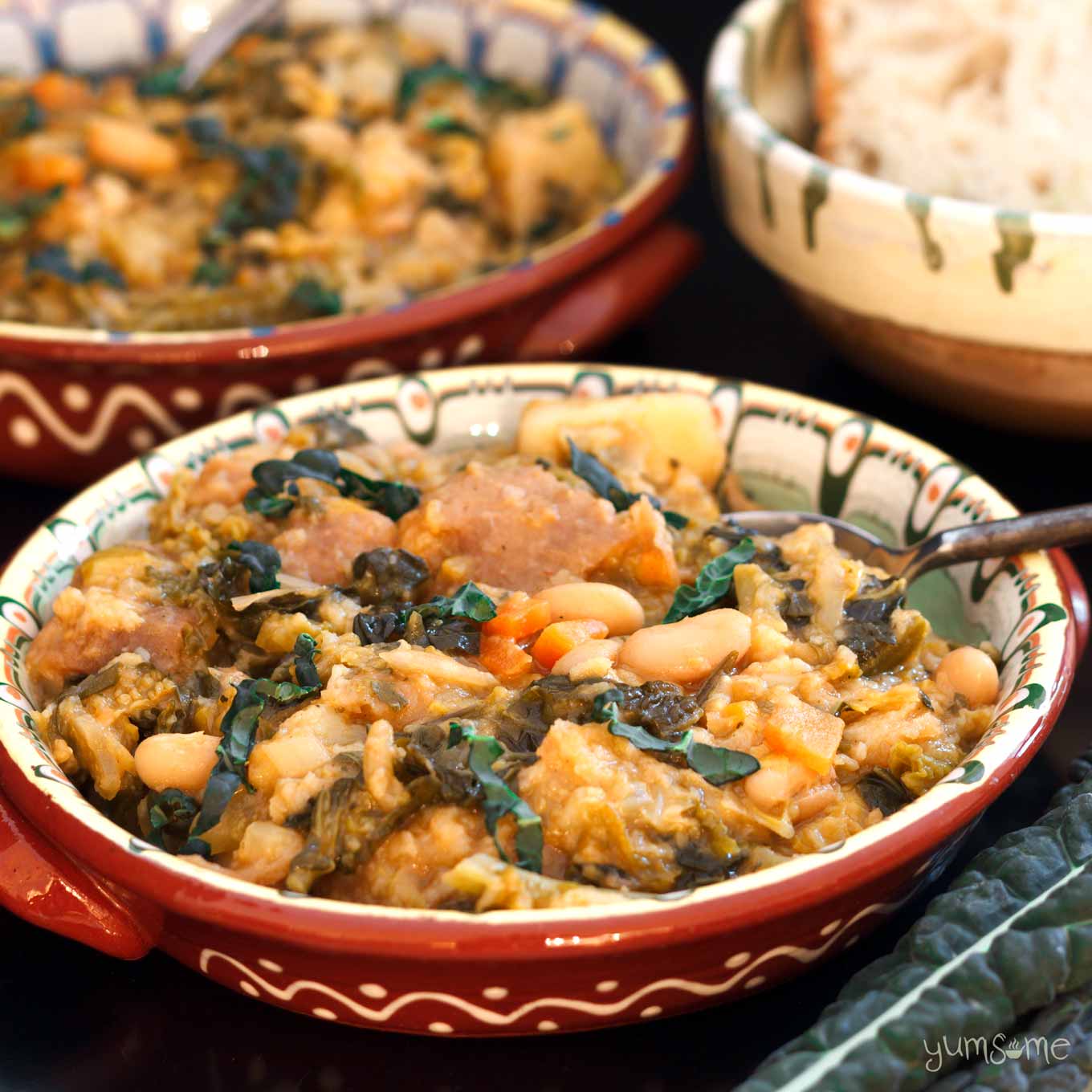 📖 Recipe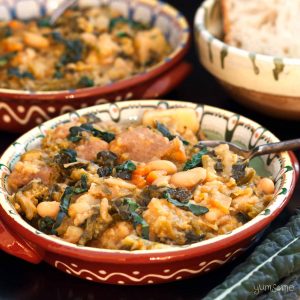 Easy and Comforting Ribollita (Tuscan Bread Soup)
Ribollita is a hearty vegan pottage, full of seasonal vegetables, and bulked out with bread. Easy to make and incredibly frugal, it's perfect for chilly days!
Print
Pin
Rate
Makes (slide to adjust):
8
servings
Ingredients
7

tablespoons

olive oil

, plus a drizzle for finishing

1

large onion

, sliced

1

large carrot

, washed and cut into bite-sized chunks

200

g

celery

, cut into bite-sized chunks

2

large bay leaves

1

large sprig fresh rosemary

, or 1 teaspoon dried

Dash

sea salt

6

large cloves garlic

, smashed

2

medium potatoes

, washed and cut into bite-sized chunks

1

medium leek

, washed and cut into 2.5 cm (1") slices

2

tablespoon

tomato purée (tomato paste)

, mixed with 240ml (1 cup) water

200

g

dark green cabbage (e.g. Savoy)

, cut into strips

200

g

cavolo nero (or other dark kale)

, cut into strips

200

g

chard

, cut into strips

800

g

canned cannellini beans

(do not drain!)

1.5

litre

vegetable broth

300

g

pane toscano / pane sciocco

(or sourdough, or other robust, stale bread), cut into 2.5 cm (1") cubes

ground black pepper

, to taste
Instructions
Add the garlic, potatoes, leek, and remaining oil, and continue to cook for another 10 minutes, stirring occasionally.

Add the tomato purée mixed with water, and the cabbage, kale, and chard, and stir well.

Tip the entire contents of 1 can of beans into a blender or food processor, plus the aquafaba from the other can, and 1.5 litres (6 cups) broth. (Set the drained beans aside for now.)

Blend for a few seconds, until you have a smooth bean broth (broda dei fagioli). Stir half of this into the pan.

Bring the soup to the boil, then reduce the heat, and simmer for around

2 hours

, occasionally stirring in more bean broth until it's used up.

When the vegetables are cooked, and the soup is creamy, stir in the rest of the beans, plus the bread.

Cover, and set aside to rest for around 30 minutes, before serving into bowls, and seasoning with a few grinds of black pepper and a drizzle of extra virgin olive oil.

Store any leftovers in an airtight container in the 'fridge for up to a week.
Nutrition Facts
Easy and Comforting Ribollita (Tuscan Bread Soup)
Amount Per Serving
Calories 372
Calories from Fat 126
% Daily Value*
Fat 14g22%
Sodium 367mg15%
Carbohydrates 54g18%
Protein 12g24%
Vitamin A 3430.47IU69%
Vitamin C 51.14mg62%
Calcium 101.83mg10%
Iron 3.51mg20%
* Percent Daily Values are based on a 2000 calorie diet.
Did you make this recipe?
Do mention @yums0me and/or tag #yums0me - I'd love to see how yours turned out!
Disclaimer
Measurements in parenthesis are approximate; it is beyond the scope of yumsome to be able to provide pinpoint-accurate ingredient quantities for every type of measuring utensil. As a guideline however, I make the assumption that:
1 cup = US cup = 240 ml
1 tablespoon = US/UK = 15 ml
1 fl oz = US = 30 ml
Further information may be found here
This post was originally published in 2017 but has now been updated with more comprehensive information and clarification.