Resembling egg white in appearance and consistency, aquafaba (AF) is simply the viscous liquid which is left over from cooking dried chickpeas and other legumes.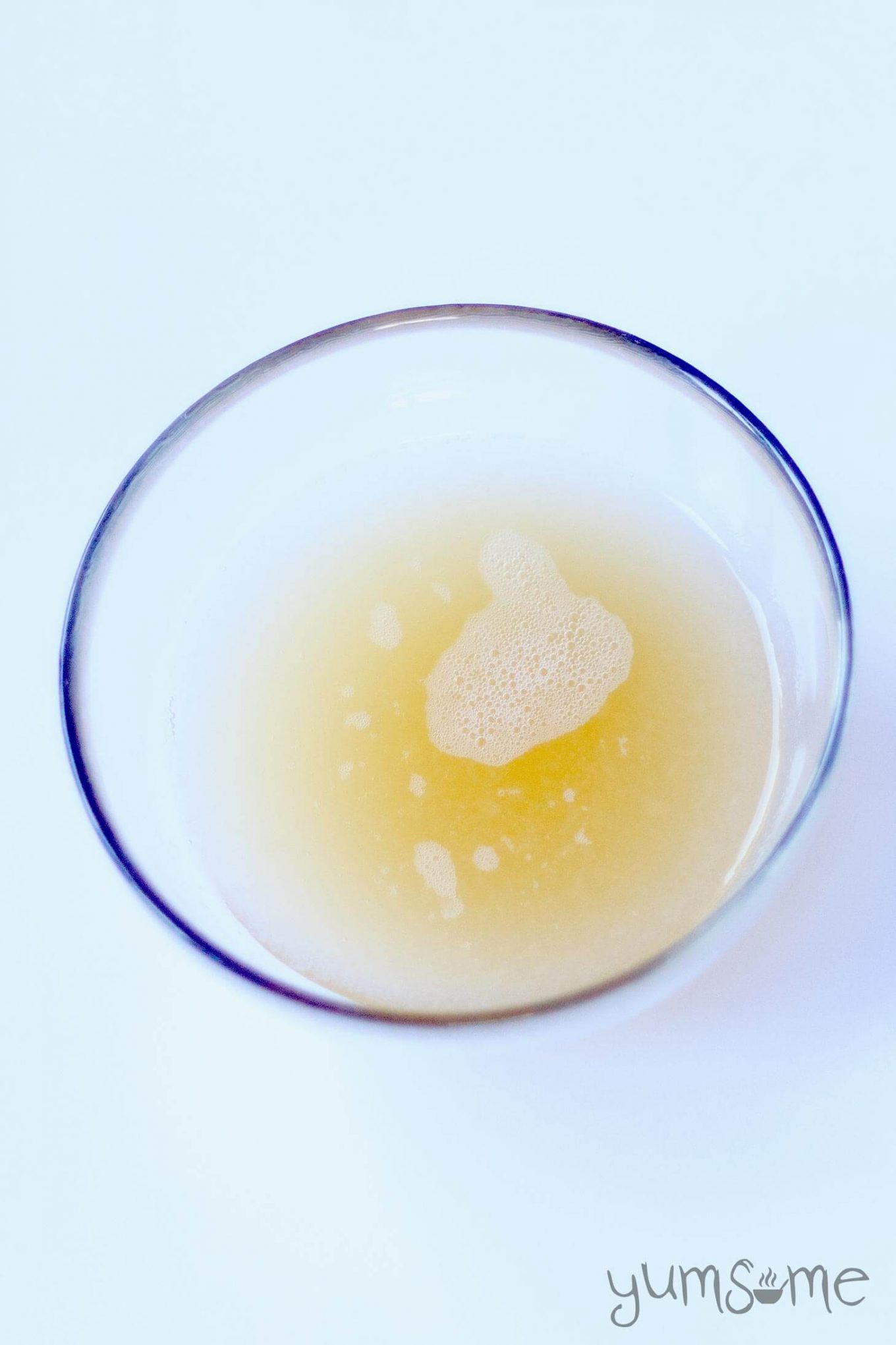 Who discovered aquafaba?
Although chickpeas have been consumed right across Asia for at least 7,500 years, it wasn't until 2015 that the water from tinned chickpeas began to be used as an egg substitute.
French tenor, Joël Roessel, discovered that chickpea water had similar properties to eggs, and shortly after this, an American by the name of Goose Wohlt, found that if he whipped up this water it looked and behaved just like egg white.
He casually remarked on a Facebook vegan food group that he'd used bean water to make meringues, and of course, people immediately wanted to know more. In the blink of an eye, aquafaba (as Goose called it - literally, water of beans), became a thing,
The rest, as they say, is history, and aquafaba as a vegan egg substitute is now used all over the Western world.

If you want to know more about aquafaba, do head over to Goose's aquafaba website.
What are the best beans for making aquafaba?
Butter beans are actually my favourite for making AF... plus they are great in Middle Eastern dishes too! In almost any given recipe, I prefer to use butter beans to chickpeas, anyway. Except in perhaps hummus.
Making your own aquafaba
If you're making aquafaba at home, and using it for sweet recipes, don't add salt to the cooking water. Similarly, if you're going to use the aquafaba from a can or jar of cooked beans or chickpeas, choose the unsalted variety, or at the very least, reduced salt.
What can aquafaba be used for?
Like egg whites, aquafaba can be whipped to make fluff, as a substitute for egg in baking - both as a binder and as a leavener, used to make meringues, macaroons, macarons (yes, they are two different things), and in a whole lot of other ways.
Check out these vegan recipes using aquafaba!
Facebook groups
There are two very good Facebook groups, Vegan Meringue Hits and Misses and Aquafaba Everything, where lots of people experiment and submit their recipes, tips, and photos.
Also, my chum, Zsu, has just published a book all about AF, called, appropriately, Aquafaba. Check out her other books too - they are all excellent.
Tips for making aquafaba
If you find that your aquafaba is a bit thin, you can reduce it by boiling it rapidly for a few minutes; however, if you've stored it in the same container as the cooked beans or chickpeas, you shouldn't have this issue.
If you want to reduce the cooking time, soak the chickpeas or beans overnight. There are some folk who claim this doesn't make a difference… they have clearly never cooked bullet-like dried chickpeas from Serbia!
A pressure cooker will, of course, reduce the cooking time but since I don't have access to one, I can't tell you how long the chickpeas will take to cook.
You could also use a slow-cooker to cook the chickpeas; cook on high for 6-8 hours, or low for around 12.
Cooking with aquafaba
Something which people always ask me is whether food made with aquafaba takes on the taste of the legumes from whence it came - the short answer is no, not in my experience.
I've used aquafaba for plain meringues, cookies, cakes, brownies, mousse, puddings, as well as in savoury dishes such as sausages, mayo, and fried green tomatoes, and not one person who has tried any of my creations was able to tell the difference between the aquafaba versions and those using egg white. I've never had beany-tasting cakes!
The only thing I will say is that from an aesthetic point of view, do match up your aquafaba to its intended use; it's not good to use aquafaba from black beans to make pavlova because no matter how good it tastes, grey meringue just looks icky!
How much aquafaba for one egg?
In general, 3 tablespoons of aquafaba is the equivalent of one egg.
📖 Recipe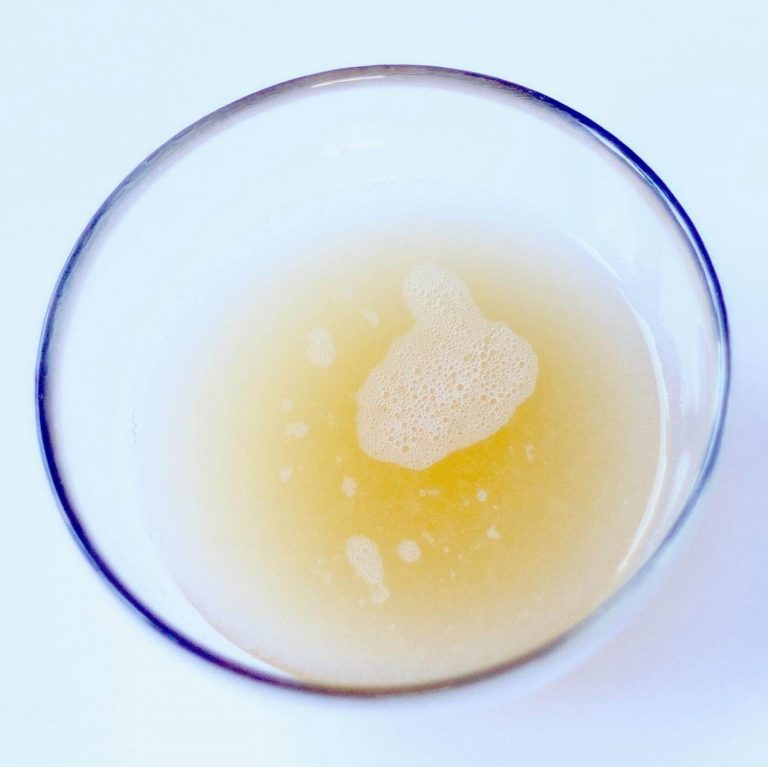 How To Make Aquafaba
Similar to egg white in appearance and consistency, aquafaba is simply the viscous liquid which is left over from cooking dried chickpeas and other legumes, and is used to replace eggs in a variety of baked goods, and savoury dishes.
Print
Pin
Rate
Makes (slide to adjust):
250
ml
Instructions
Place the dried chickpeas into a large pan, and add the water.

Bring to the boil, cover the pan, then lower the heat.

Simmer for a couple of hours, until soft, keeping an eye on the pan to make sure it doesn't boil dry. If necessary, add a little more water.

Turn off the heat, and allow the chickpeas and aquafaba to cool in the pan.

At this point, you can decant the AF into a suitable container, and store in the 'fridge, plus do the same for the chickpeas (or use them in a meal or hummus, or even brownies). You can also freeze the AF in individual portions. Or do what I do, and store the whole lot in an airtight container, and remove the AF as and when needed. Doing it this way, I find, gives me a much nicer and thicker AF.

If stored properly in an airtight container, both chickpeas and aquafaba will keep in the 'fridge for up to a month. Frozen aquafaba should be good for around three months.

To use; simply sub 3 tablespoons of aquafaba for each egg or egg white.
Nutrition Facts
How To Make Aquafaba
Amount Per Serving (1 tbsp)
Calories 2.7
% Daily Value*
Fat 0.03g0%
Sodium 0.48mg0%
Carbohydrates 0.44g0%
Protein 0.15g0%
Calcium 1.1mg0%
Iron 0.08mg0%
* Percent Daily Values are based on a 2000 calorie diet.
Did you make this recipe?
Do mention @yums0me and/or tag #yums0me - I'd love to see how yours turned out!
Disclaimer
Measurements in parenthesis are approximate; it is beyond the scope of yumsome to be able to provide pinpoint-accurate ingredient quantities for every type of measuring utensil. As a guideline however, I make the assumption that:
1 cup = US cup = 240 ml
1 tablespoon = US/UK = 15 ml
1 fl oz = US = 30 ml
Further information may be found here