Ready in 30 minutes, crammed with nourishing veggies and spices, and served with fresh bread, my vegan chickpea shakshuka - a twist on the traditional Berber dish - makes a perfectly delicious and comforting brunch or supper. Add potatoes or grains on the side, and a green salad, and you have a hearty, filling dinner.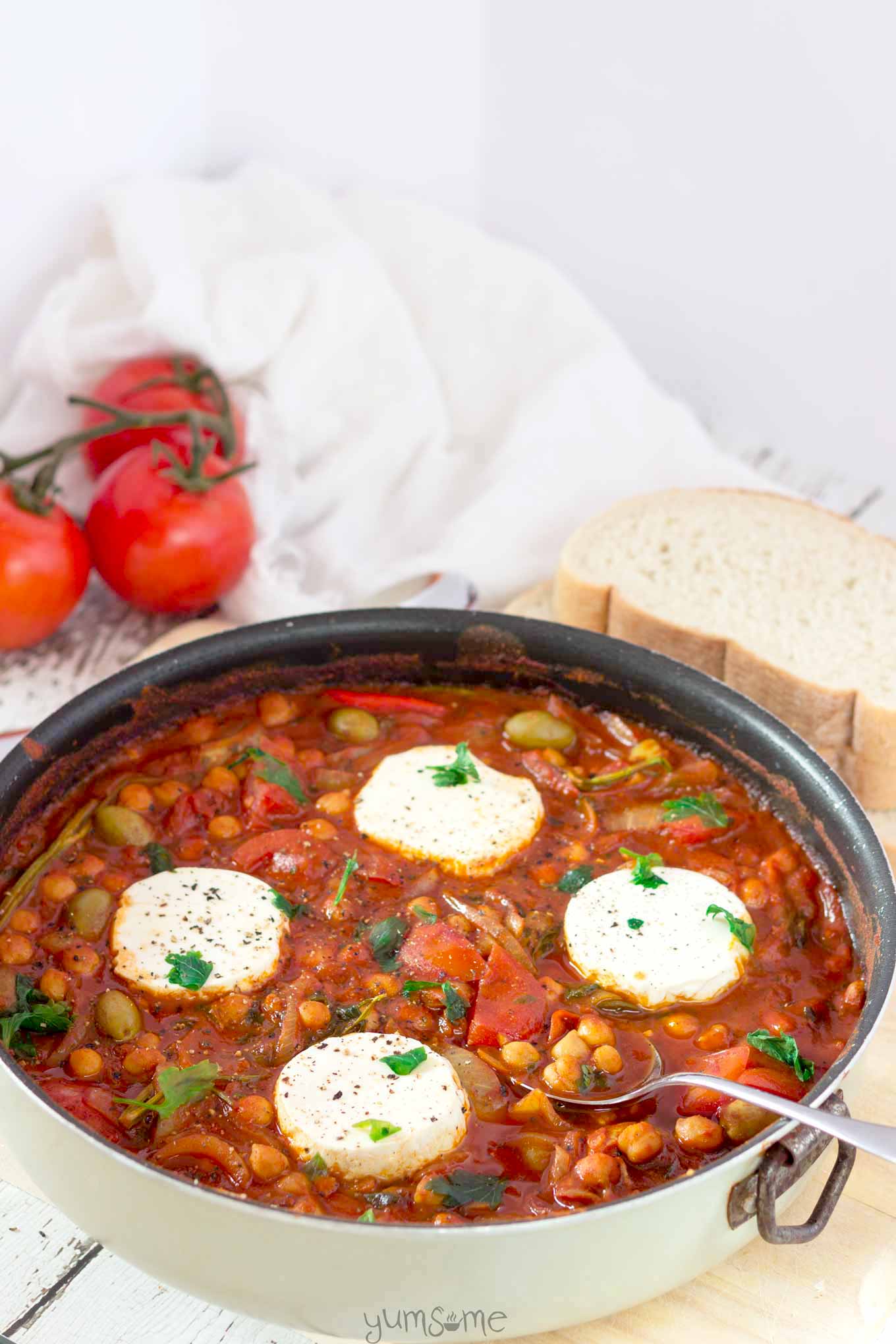 This post contains affiliate links. For more information, please see my privacy policy.
So, you know how last week I was talking about what a great time I had when my friends came over from Britain? What I didn't tell you was how exhausted I felt afterward. Yes, I know it sounds incredibly lame but I've not been sleeping properly, and all the excitement and activity really took its toll.
Then amato mio got sick. He rarely gets ill; one lurgy every other year or so, 24 hours bed rest, and he's usually right as ninepence, as they say. Not this time. Quite apart from the fact that this is the second time he's been stricken this year, it's been over a week now, and he's still really rather poorly. He's almost lost his voice, he's coughing so badly that he's currently sleeping in the spare bedroom, and he has zero energy.
And then I got sick. Not as bad but I still ache all over, and my limbs feel like lead. It's all a bit pants, really.
We might both be feeling a bit better if we hadn't driven to Sarajevo at the weekend... 14 hours each way. Gaaahhhh. And, rather disappointingly, there was a marked lack of Ottoman food to console ourselves with once we got there.

Apart from one falafel place we found, the food was basically bog-standard Balkan fare. Which means meat. Meat. Meat. And a bit of dairy. Sarajevo is probably the most un-veggie-friendly city I've ever been to.

We did find somewhere selling really good falafels though, so all was well!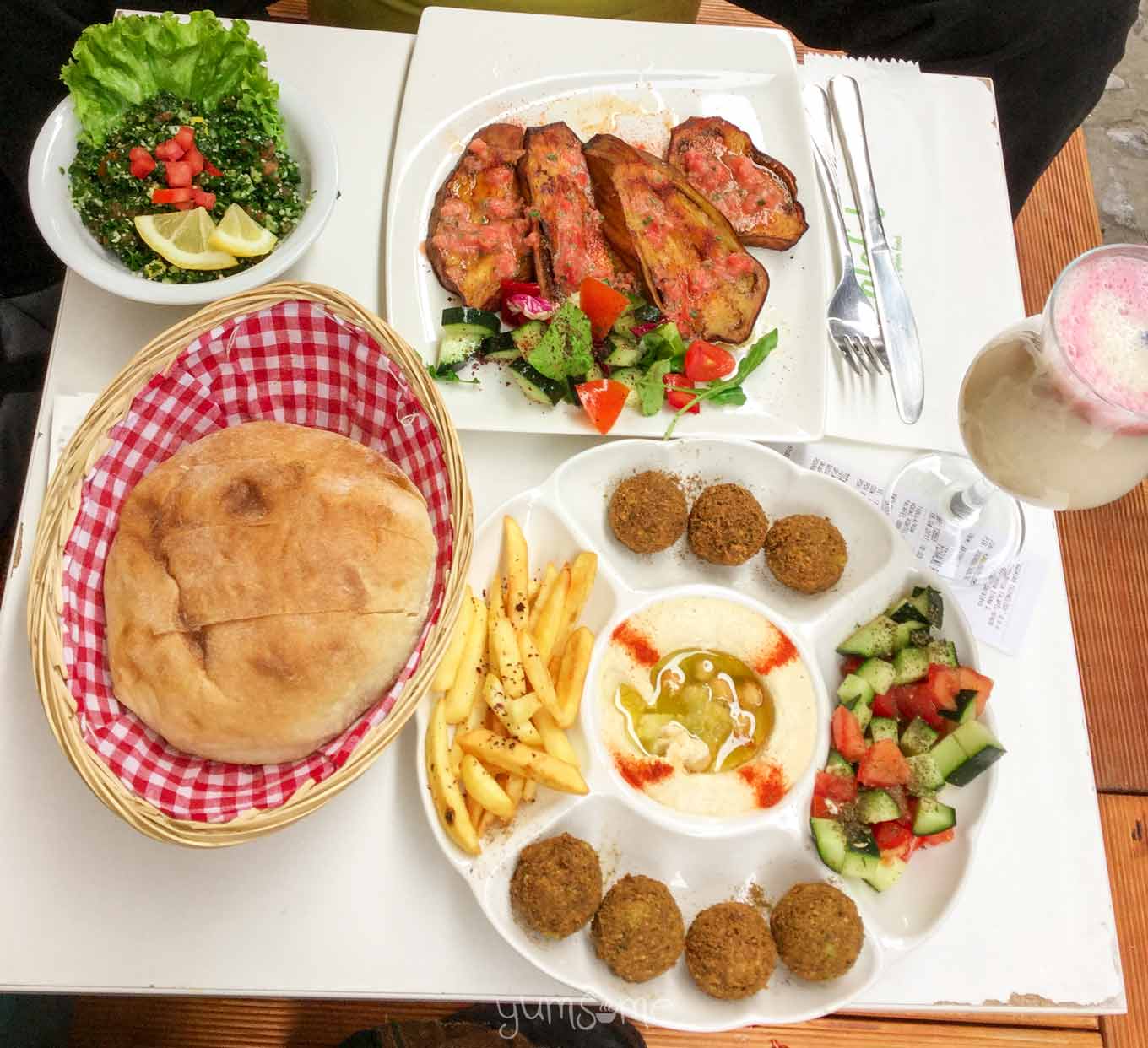 (I'm not complaining - Bosnia is still recovering from the devastation of the war 25 years ago, so it's hardly surprising that veggie food is not exactly high on its agenda.)
But still, what's a gal to do when she's feeling poorly, and has a hankering for something Levantine? She makes shakshuka, of course! Yay!
Shakshuka. Shakshouka. Chakchouka. Menemen.
All the names for this one very simple dish! In Arabic, shakshouka just means 'a mixture' - essentially, a mixture of veggies and spices.

In Berber, chakchouka is the word for a vegetable stew. Since I used to live in Morocco, in the Berber town of Taroudant, I'm going with the latter. Call me biased if you will.

Oh yes, and in Turkish, it's called menemen*. Go on, admit it, you're now singing this in your head, aren't you?
*Not to be confused with the Turkish şakşuka, which is pronounced 'shakshuka' but is similar to ratatouille. But much better because ratatouille is meh. Şakşuka is usually eaten as part of a meze. It's also totes deelish!
Then of course, you have the Italian version, uova in purgatorio (eggs in purgatory), which is subtly different to shakshuka but still similar enough for most people to lump it in with its Levantine counterparts. My version is a kind of cross between shakshuka and hellish eggs!
Whatever you call it, and however you jazz it up, shakshuka is basically a stew made from tomatoes, olive oil, garlic, chillies, paprika, a bit of salt, and of course, eggs which are poached in the stew itself. It's generally eaten as is, with some fresh bread, often for breakfast or supper. I admit that I'm not averse to having it for lunch or dinner either!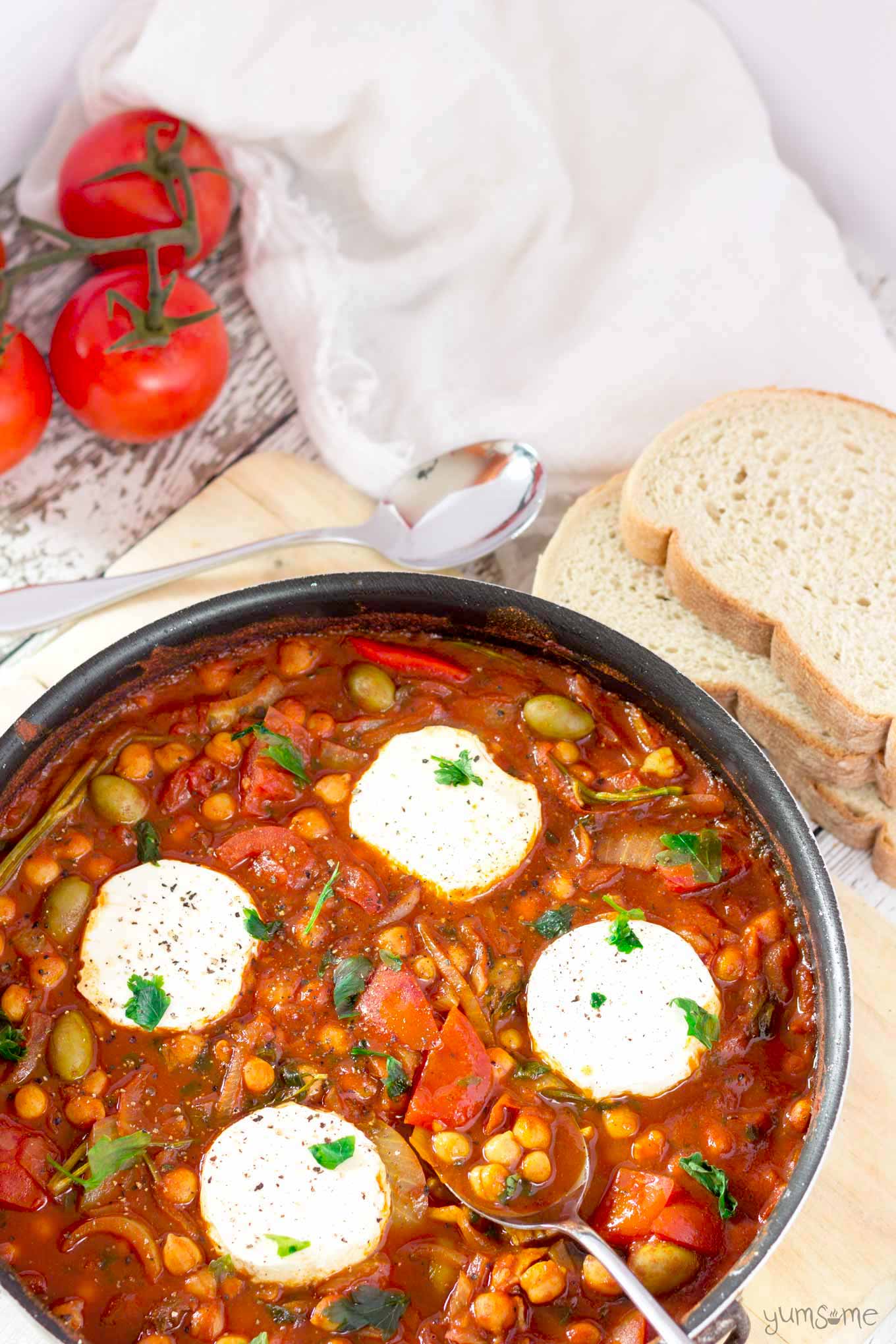 I'm sure I've said this before but I rarely eat eggs (because they're generally disgusterous), so I've never had a problem with finding a substitute to add to my shakshuka because I usually just enjoy the stew on its own with some khobz. That said, when I saw my friend, Mel, over at A Virtual Vegan, use tofu to make her Tofu in Purgatory, I thought it a genius way of getting even more goodness into this dish.
And what a great way to eat even more tofu. I just had to do it (minus the kala namak, of course). I am nothing if not all about the tofu.

And not the bass. (Bet you're singing that now, too!)
Why not check out these spicy recipes, too?
One-pan vegan chickpea shakshuka
Is...
tomatoey
smoky, spicy
rich, hearty, filling, comforting
high in protein and fibre
full of goodness
gluten-free, nut-free
really easy to make
sooo delicious
Whether you make this with just a few traditional ingredients, add a few more spices, or load it up with all the yums, I'm pretty sure you're going to fall in love with this. Besseha!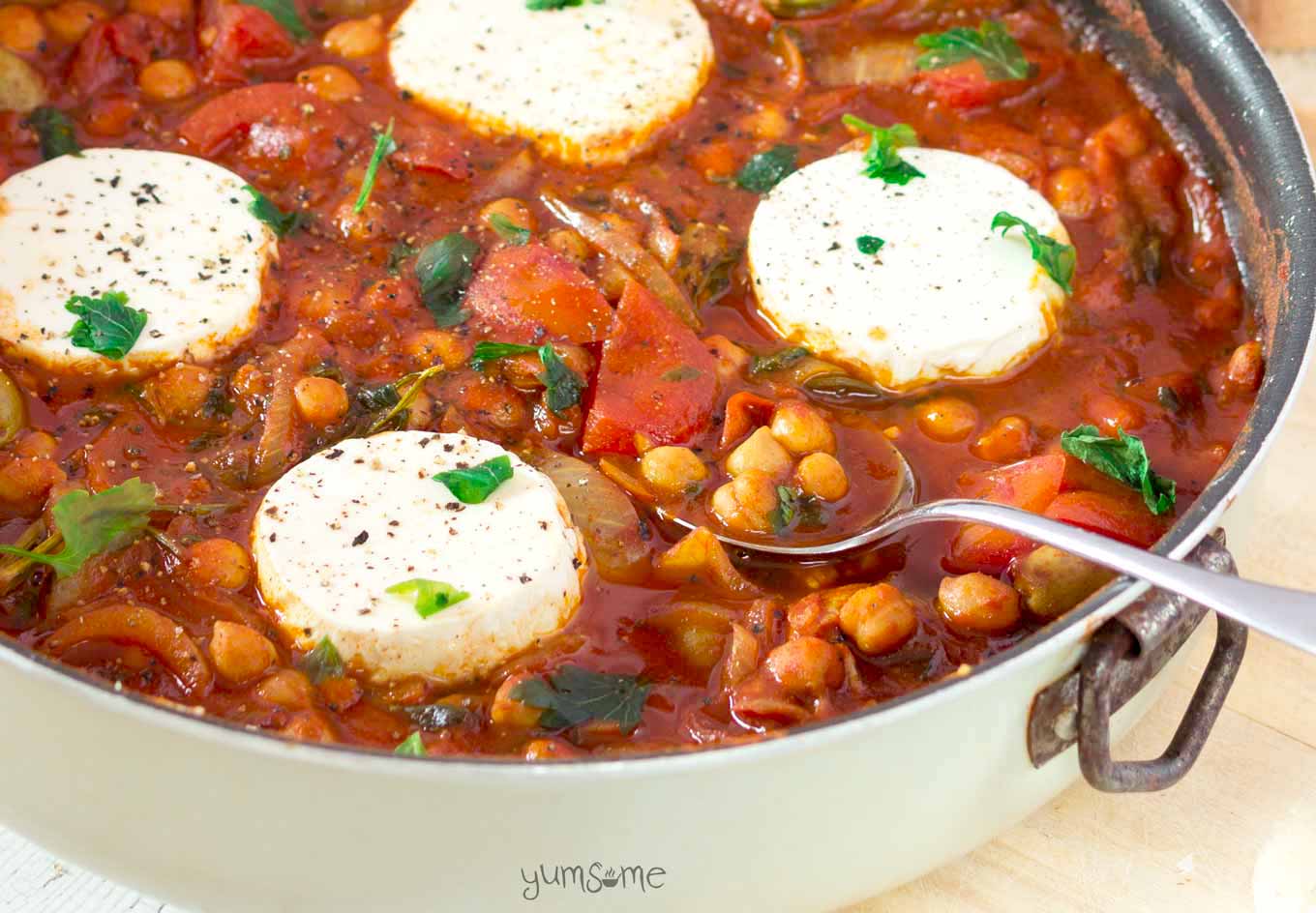 📖 Recipe
One-Pan Vegan Chickpea Shakshuka
Ready in 30 minutes, crammed with nourishing veggies and spices, and served with fresh bread, my vegan chickpea shakshuka makes a perfectly delicious and comforting brunch or supper. Add potatoes or grains on the side, and a green salad, and you have a hearty, filling dinner.
Print
Pin
Rate
Makes (slide to adjust):
4
servings
Ingredients
2

tablespoon

olive oil

1

large onion

sliced

2

large red chillies

sliced

½

teaspoon

palm sugar

5

cloves

garlic

smashed

300

g

passata

240

ml

water

2

medium tomatoes

roughly chopped

2

tablespoon

tomato purée

1

tablespoon

ground cumin

1½

tablespoon

smoked paprika

½

teaspoon

cayenne pepper

½

teaspoon

sea salt

¼

teaspoon

ground black pepper

plus a few grinds for finishing

300

g

cooked chickpeas (garbanzo beans)

100

g

whole (or stuffed) olives

2

tablespoon

fresh parsley

chopped

2

tablespoon

fresh coriander (cilantro)

cilantro, chopped (save a little for finishing)

200

g

firm silken tofu

cut into rounds
Instructions
Heat the oil in a large

skillet

, and then sauté the onions, chillies, and sugar over a medium heat for 5 mins or so, until the onions start to brown.

Add the garlic, and continue to sauté until the raw garlic smell has gone.

Stir in the passata, water, chopped tomatoes, and the tomato purée. Bring to the boil, then immediately reduce the heat.

Mix in the cumin, paprika, cayenne, salt, black pepper, chickpeas, and olives, and give everything a good stir.

Check the seasoning, adding more salt, pepper, and/or cayenne if desired.

Simmer for 10 minutes, then stir in the parsley and coriander.

Place the tofu rounds on top of the shakshuka, and gently press down so that they're partly submerged.

Cover the skillet, and simmer for another 7-10 mins, until the tofu is warmed through.

Finish with few grinds of black pepper and some torn coriander leaves.

Serve immediately with fresh bread.

Leftovers can be kept in an airtight container in the 'fridge for up to 3 days.
Notes
You can use as many chillies as you like!
I don't bother to de-seed chillies, or remove the veins, as you lose a lot of the flavour - I'd rather keep that flavour, and just use fewer chillies.
Instead of passata and fresh tomatoes, you could use canned chopped tomatoes.
If you don't have smoked paprika, use the same amount of regular paprika + 1 teaspoon liquid smoke.
Carefully slice the block of tofu in half lengthways, so that you have two flatter blocks. Using a glass or cookie cutter, cut out two rounds from each block. Use leftover tofu in Asian soups, smoothies, etc.
Nutrition Facts
One-Pan Vegan Chickpea Shakshuka
Amount Per Serving (1 portion)
Calories 337
Calories from Fat 135
% Daily Value*
Fat 15g23%
Sodium 728mg30%
Carbohydrates 43g14%
Protein 14g28%
* Percent Daily Values are based on a 2000 calorie diet.
Did you make this recipe?
Do mention @yums0me and/or tag #yums0me - I'd love to see how yours turned out!
Disclaimer
Measurements in parenthesis are approximate; it is beyond the scope of yumsome to be able to provide pinpoint-accurate ingredient quantities for every type of measuring utensil. As a guideline however, I make the assumption that:
1 cup = US cup = 240 ml
1 tablespoon = US/UK = 15 ml
1 fl oz = US = 30 ml
Further information may be found here