Deliciously hearty, this spicy dal, aubergine, and kale casserole is simple to make, and not only fills your tummy with its warming goodness but also fills your kitchen with its comforting aroma!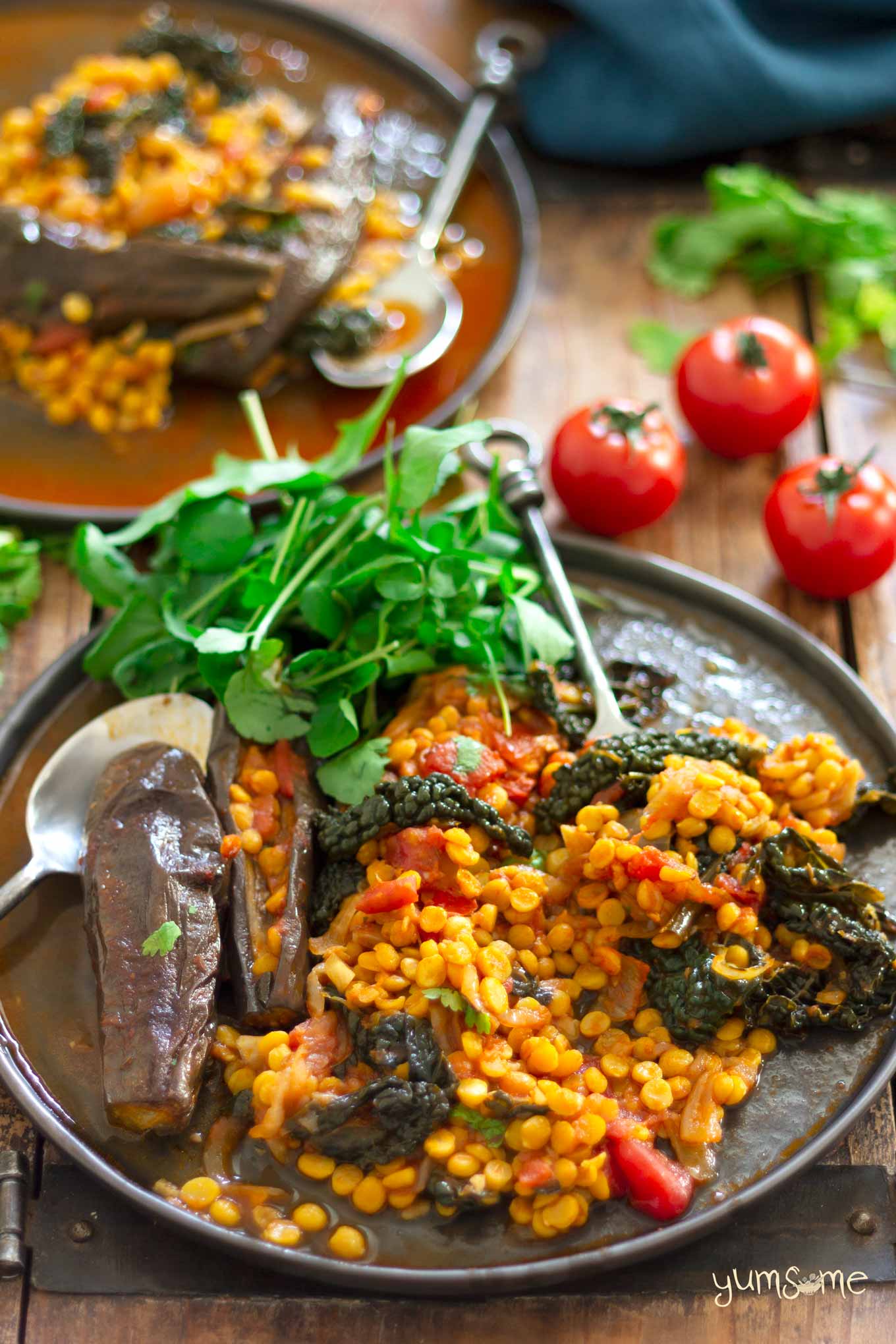 There's something really special about the combination of lentils, tomatoes, and chilli, isn't there? It's among my favourite throw-together dishes... y'know, the kind you make when you haven't been out shopping, and really don't have the wherewithal to make anything overly creative with what's in the fridge. Just fry up some onions, garlic, and a couple of fresh chillies in a biggish pan, chuck in a tin of tomatoes and some herbs & spices (or just spices if you like), add lentils, bung a lid on top, simmer away for a little bit, and before you know it, you have a delicious and filling meal that's taken minimal effort, and creates almost no washing up.
Who doesn't love a meal like this, right?
Making this spicy dal, aubergine, and kale casserole really doesn't involve much more than that - other than pre-cooking your dal and aubergines, which is a total no-brainer - but will reward you with truly spectacular results. And a very happy tum!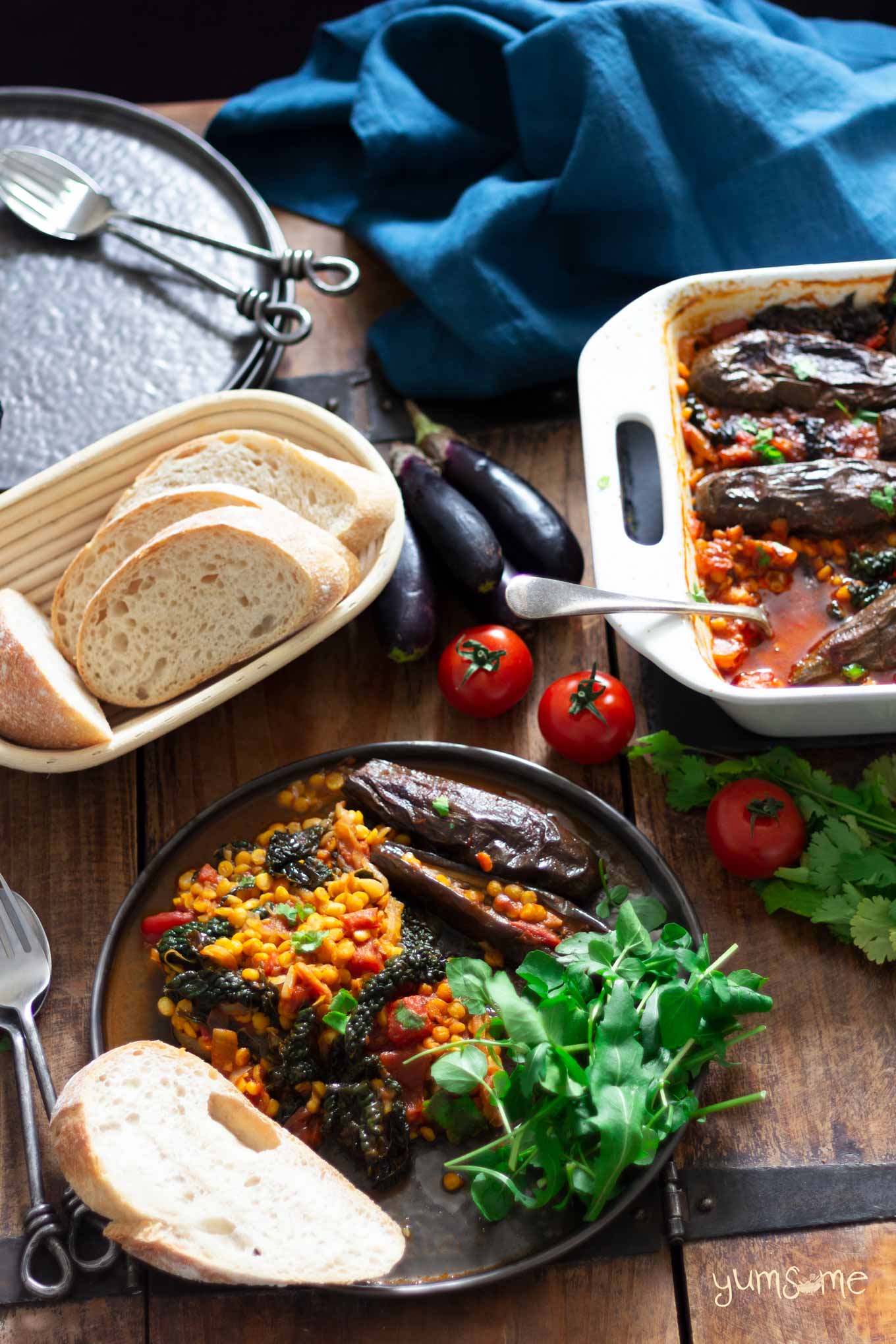 I know that a lot of people, when making aubergine dishes, will roast, bake, or fry it first (I bake it for my ajvar, and fry for my parmigiana di melanzane) but something I learned while living in Thailand was to steam the aubergine first. It literally takes five minutes to steam, and there's no greasy skillet to clean up, plus you don't burn your fingers when trying to extract the flesh from the skin. Also, steamed aubergine is brilliant in spicy Korean salads (more on those in the near future).
For this recipe though, you don't need to remove the skin, nor even dice the aubergine - just use baby or Asian aubies, slice them lengthways down the middle, and steam away. No muss, no fuss, just creamy aubergine deliciousness! Add some cavolo nero, and you have a truly wonderful and nutritious meal that's as frugal as it is easy to make.
Cavolo Nero
Cavolo nero is far and away my favourite brassica, and one of the fabbest* things I do with it is to flash-fry in a little olive oil with some sliced garlic. I've been known to just eat a plate, cooked like this, on its own! I also make a massaged kale salad with it, dressed with a creamy sesame and Romano pepper dressing. Again, I could quite happily eat it by the plateful!
*Fabbest totally is a word. A word I may have made up. 😉
But where does cavolo nero come from? I mean, obviously Italy but most notably, Tuscany - hence another of its names, Tuscan kale. It's a key ingredient of ribollita, and is also used in Tuscan bean soup.
However, until relatively recently, for the average Brit, cavolo nero was pretty much unheard of. So is it a new thing? Actually, no, not at all - in fact, it's been around for centuries. Some claim that Italians have been growing and eating cavolo nero since the 18th century but there is also some suggestion that it's been around a lot longer, since around 600BC.
Whatever the truth of the matter, there can be no denying that along with being one of the most delicious members of the brassica family, cavolo nero, like other kales, is choc-full of goodness; plenty of Vitamins A, C, and K, plus as well as a whole bunch of Bs too, it's a great source of calcium and fibre as well. Not to mention all that iron!
In short, cavolo nero is, for me, a super food.
(Not a superfood - you know I don't go in for all of that fancy-schmancy marketing spiel!)
Oh, and if you need yet another reason to love it, in the US, apparently they call cavolo nero, dinosaur kale because its bumpy leaves look like dino skin… or rather what some folk think dino skin may have looked like.
Since I learned this a few years ago, I've had an image in my head of a lollopy herbivorous kaleosaur, munching his way through a prehistoric landscape, with a big grin on his face, and being just generally lovely to all the other dinosaurs. He has no predators because he's far too good-natured and cute, and everyone loves him. Aww!
Spicy dal, aubergine, and kale casserole
Is…
Hearty and warming
Filling and comforting
Packed with protein and goodness
Super-easy to make and customisable too
Really, really delicious
Serve with some fresh sourdough, a pile of buttery mashed potatoes - or over a fluffy baked one - steamed couscous, quinoa, bulgur wheat, or sweet potato wedges. Or on its own - it's up to you. Enjoy!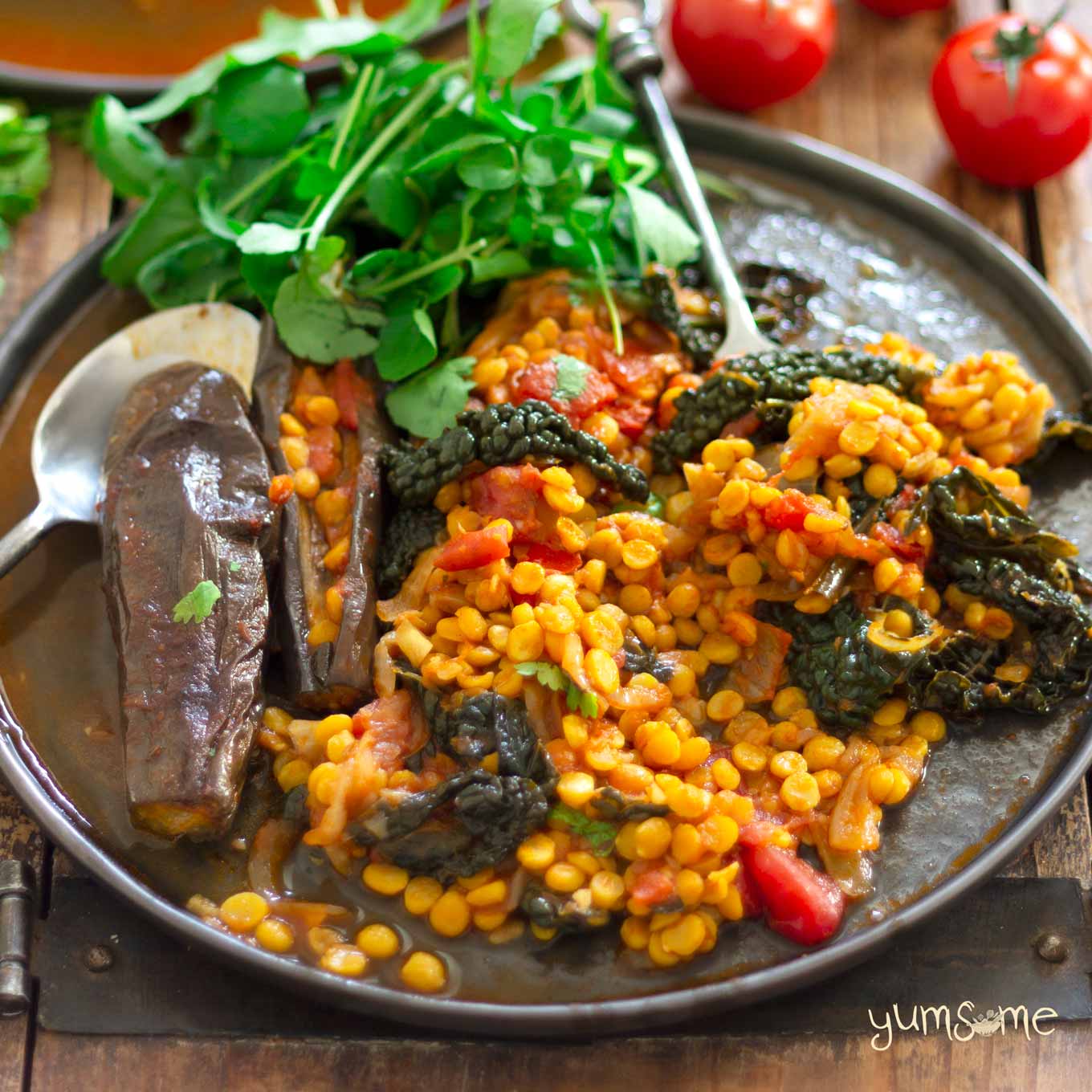 📖 Recipe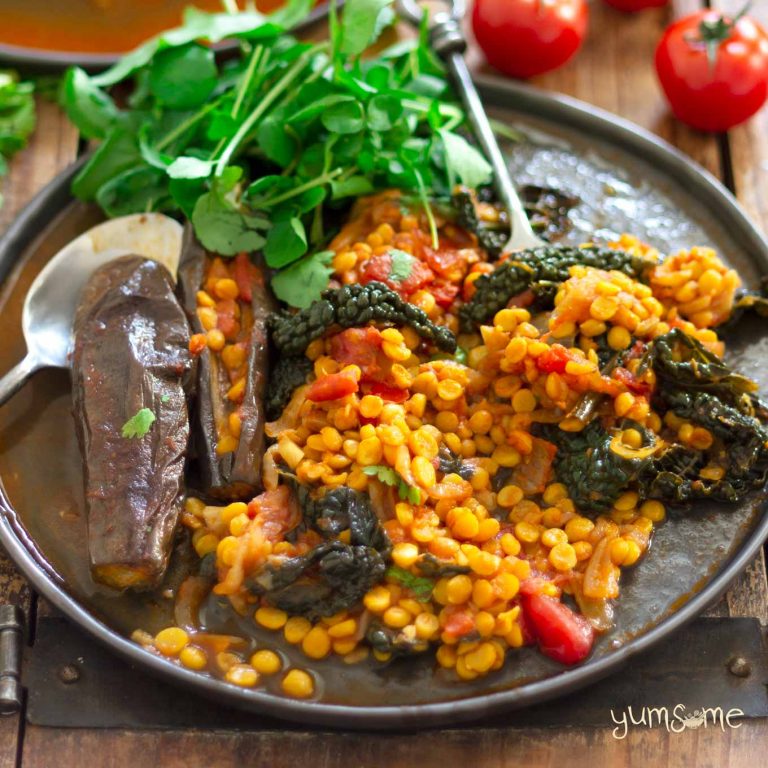 Spicy Dal, Aubergine, and Kale Casserole
Deliciously hearty, this spicy dal, aubergine, and kale casserole is simple to make, and not only fills your tummy with its warming vegan goodness but also fills your kitchen with its comforting aroma!
Print
Pin
Rate
Makes (slide to adjust):
6
Ingredients
250

g

channa dal

½

teaspoon

ground turmeric

4

large-ish Asian/baby aubergines (eggplants)

sliced in half, lengthways - note 1

4

tablespoon

neutral oil

your choice; I use sunflower or rice bran

½

teaspoon

cumin seed

10

fresh curry leaves note 2

1

large onion

thinly sliced

½

teaspoon

salt

2

tablespoon

garlic ginger paste

note 3

¼-½

teaspoon

gochujang (Korean chilli paste) according to taste - note 4

2-4

tablespoon

harissa paste

according to taste

1

tablespoon

smoked paprika

2

medium fresh tomatoes

coarsely chopped

400

g

can chopped tomatoes

500

ml

vegetable broth

300

g

cavolo nero

stem removed, leaves roughly shredded - note 5

1

teaspoon

toasted sesame oil

A

dash

lime juice

A

few

fresh coriander (cilantro) leaves

torn
Instructions
Rinse the channa dal in cold water, then place into a pan with the turmeric and enough water to cover. Bring to the boil, then cover the pan (leaving a small gap to prevent overspill), reduce the heat to low, and simmer for 10-15 mins, until the dal has softened but not cooked through. Remove from heat, drain, and set aside.

While the dal is cooking,

steam

the sliced aubergines for 5 mins, until soft. Set aside.

Pre-heat your oven to 180°C (350°F/gas mark 4).

Immediately add the onion and salt, and fry for 5 mins, until it starts to become translucent.

Stir in the garlic ginger paste, and continue to fry for another 2-3 mins.

Reduce the heat to medium-low, and stir in the gochujang, harissa, smoked paprika, and the fresh tomatoes. Fry - stirring occasionally - for another 5-7 mins, until the oil starts to separate, and the mix comes cleanly away from the pan.

Add the canned tomatoes, cavolo nero, and cooked dal, and mix well.

Transfer to an oven-proof baking dish or casserole, and arrange the steamed aubergine slices over the top, pressing them down slightly, so that they're partially submerged.

Drizzle over a little sesame oil, then bake in the centre of the oven for around 30 mins, until sizzling.

Serve immediately, with a dash of lime juice, and sprinkled with a few torn coriander leaves.

Any leftovers may be kept for 3-4 days in an airtight container in the fridge, or in the freezer (minus the aubergines) for up to three months.
Making this in a slow cooker
Steps 1-8: Follow the recipe as written, omitting pre-heating your oven. If you use the

CrockPot

that I have, you can sauté in it too. If not, use a wok (etc.).

If using a different slow cooker to mine, transfer to the slow cooker bowl, then arrange the aubergines as above. You can leave out the sesame oil if you wish, as the aubergines won't dry out in the slow cooker.

Cook for 6 hours on high, or 12 on low.

Serve written above. Ditto, refrigeration and freezing.
Notes
If you can't get Asian or baby aubergines, use slices of regular ones - you want the slices to be about 1,5cm (c.⅔") thick.
If you can't get fresh curry leaves, frozen will work just as well. If you can get neither, then dried will work but you may need to throw in an extra two or three.
Make garlic ginger paste by pounding together 4 large cloves of garlic with a thumb of fresh ginger root. You could also make it in a food processor or high-speed blender (e.g. VAC2), in which case, make more than you need, and store in an airtight jar in the fridge.
Regular chilli flakes can be substituted but if you can get Korean gochujang, you'll find it has a greater depth of flavour. Similarly, Korean chilli flakes (gochugaru) could also be used.
AKA black kale, Tuscan kale, black cabbage, dinosaur kale, lacinato kale. You can use other kale, or even dark green cabbage, if you prefer - I use cavolo nero because it's my favourite!
Nutrition Facts
Spicy Dal, Aubergine, and Kale Casserole
Amount Per Serving (425 g)
Calories 349
Calories from Fat 117
% Daily Value*
Fat 13g20%
Sodium 900mg38%
Carbohydrates 26g9%
Protein 14g28%
Vitamin A 7100IU142%
Vitamin C 86.6mg105%
Calcium 80mg8%
Iron 5mg28%
* Percent Daily Values are based on a 2000 calorie diet.
Did you make this recipe?
Do mention @yums0me and/or tag #yums0me - I'd love to see how yours turned out!
Disclaimer
Measurements in parenthesis are approximate; it is beyond the scope of yumsome to be able to provide pinpoint-accurate ingredient quantities for every type of measuring utensil. As a guideline however, I make the assumption that:
1 cup = US cup = 240 ml
1 tablespoon = US/UK = 15 ml
1 fl oz = US = 30 ml
Further information may be found here
Check out these spicy yums, too!