The Taj Mahal, Fort Kochi (Fort Cochin) is not just a fantastic restaurant, serving the best food we had while living in Kerala. It's also a homestay, and runs cookery classes too.
One of the best aspects of living in Fort Kochi is that the majority of the food on offer is vegetarian. In fact, meat-based dishes are very definitely in the minority there. This was great news for us!
Amato mio and I first discovered the Taj Mahal, run by Usha Anil, as we wandered around some of the back streets and alleys, exploring areas away from the main tourist streets. And what a great discovery it turned out to be.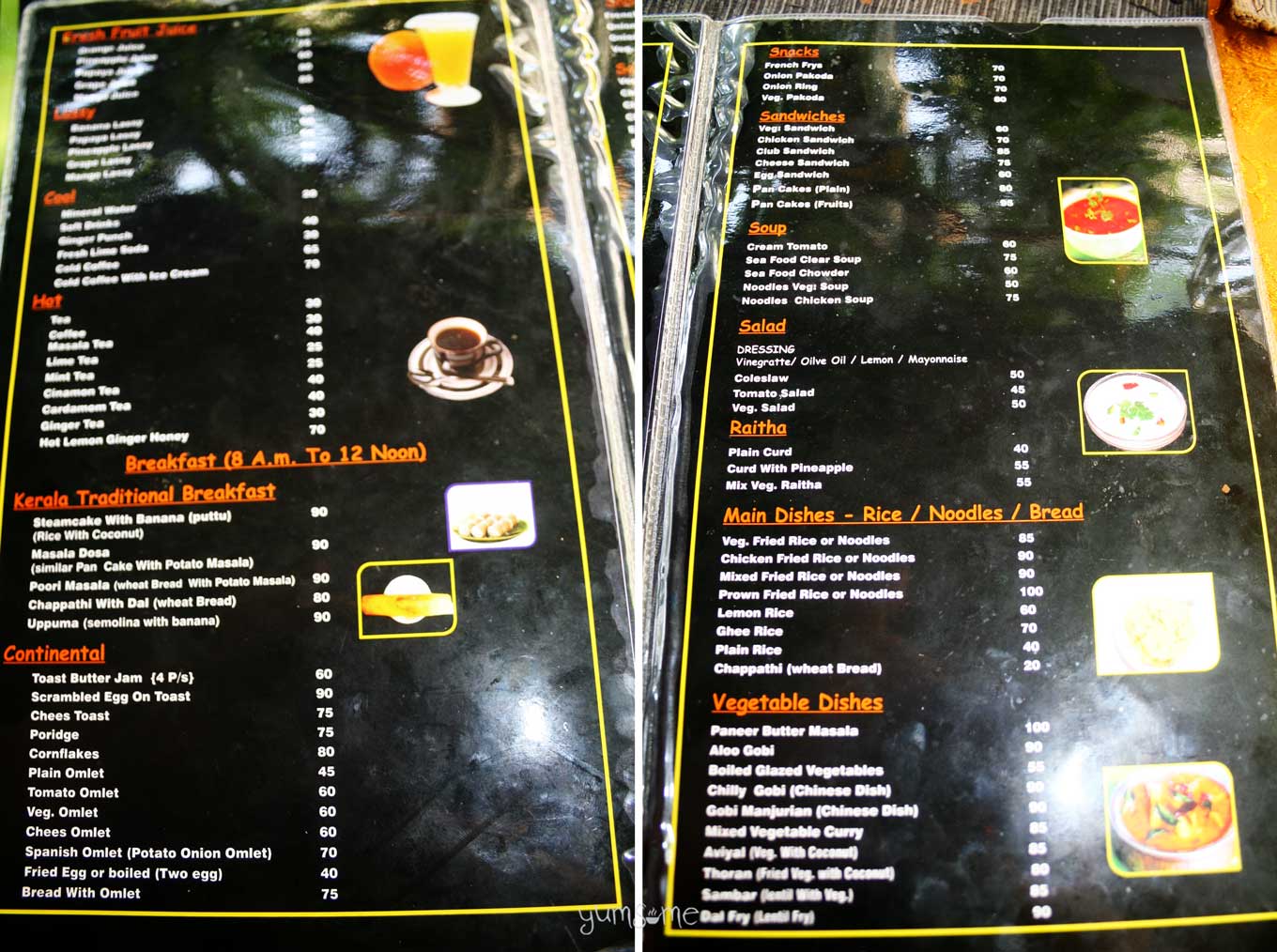 At first glance, it looked rather basic, which is something we often look for because invariably, the food will be more authentically local, and less likely to be toned down for tourists. After all, why would you go to another country, and not want to sample local fare, right?
(In Thailand, our favoured lunchtime haunt, which served the best phad Thai, was nothing more than a large shack with a corrugated steel roof and cement floor. And no menus in English.)
BTW, see those photos outside the entrance? They in no way reflect the food within - they do not do Usha's cooking skills any justice at all.
While it's far from being a shack, the Taj Mahal is nevertheless devoid of upmarket frills, all of which would of course, increase the price of the food. Instead, diners sit at tables in Usha's garden, which is covered by a rudimentary tarpaulin and bamboo roof. The only thing separating the dining area from the kitchen is a bamboo blind, so it's possible to see your food being prepared and cooked.
I love to watch other cooks at work, don't you? 🙂
On our first visit, we ordered aviyal - a mixture of vegetables cooked with coconut and curry leaves, plain boiled rice, and for amato mio, chemeen olathiyathu - roast prawns with spices, curry leaves, coconut, and kodampuli. According to amato mio, that prawn dish was quite possibly the best he'd ever tasted.
Apparently, the mild and slightly sweet aviyal was the perfect foil for the slightly fiery chemeen, and both went extremely well with the freshly-squeezed lime juice soda we both had. When the food was ready, it was brought to our table by Usha's family - all carrying a dish each; it was lovely to meet them, and to say hello!
Another of my favourite dishes at the Taj Mahal is the thoran - traditionally, a dry dish made with spices, coconut, cheera, and various vegetables, such as gourd, yam, beans, jackfruit, etc. It's very mild, creamy, and full of flavour. It's something we still eat an awful lot of on a regular basis!
For breakfast, Usha also makes a fantastic masala dosa. While they may not be paper-thin and crispy, Usha's dosai are nevertheless some of the best I've ever eaten. Her aloo masala filling really cannot be beaten... even by me (and she taught me to make it)!
On our last night in Fort Kochi, Usha cooked us a special, off-the-menu meal (much to the envy of our fellow diners!); apart from containing mushrooms and okra, and some form of ada (eda ada? Pazham ada? Not sure.), I actually have no idea what the individual dishes were but they were out of this world!
All in all, the Taj Mahal is not only THE place to go for excellent food in great surroundings but it is extremely good value for money. For example, the cost for our first meal there (aviyal, chemeen olathiyathu, plain rice, and two lime sodas) was 315 rupees (approx: £3.80 / € 4.30 / $5.80) - seriously, can you get any better than that?
Do check out Usha's video for more details.
(When Usha taught me to cook her way, I wasn't part of a class - it was just me and her, in the kitchen, making awesome food together, with amato mio taking pics. The little boy in the video is Madhav, Usha's son. He used to play Carcassonne with us on a regular basis. Such a lovely boy. He had a big photo of his mum and me as his computer desktop wallpaper! Ha ha!)
The Taj Mahal is close to the Santa Cruz Basilica, on K B Jacob Road, behind the Kerala Kathakali Centre, Fort Kochi.
Contact:
E: [email protected]
P: 04842215798
C: 09846011746
Here are just a few Indian dishes I cook on a regular basis: