My restaurant-style malai kofta recipe consists of fried potato and paneer dumplings in a creamy mildly-spiced gravy. Indian comfort food at its finest!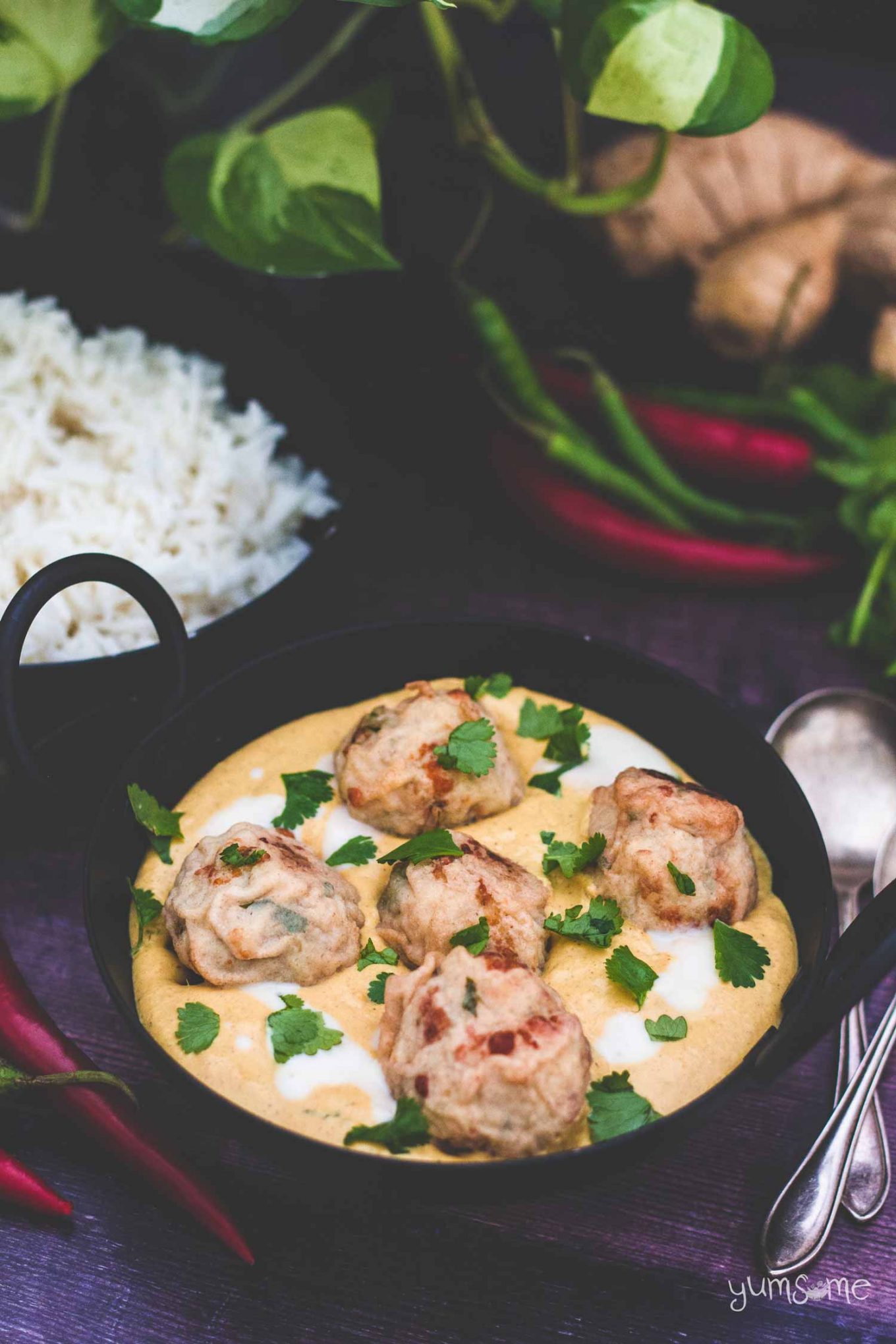 This post contains affiliate links. For more information, please see my privacy policy.
What is malai kofta?
Hailing from Northern India, this delicious mild curry rose to fame during the reign of the Mughals (1526-1876). It's one of the most popular vegetarian dishes on Indian restaurant menus today.

Kofta
Kofta usually refers to meatballs, and comes from the Persian word for rissole, kufta. They can be found in one form or another throughout West, Central, and Southern Asia, as well as in the South Caucasus and the Balkans.

As well as the usual meatballs, koftas may be shaped like sausages or cigars. They're generally made from ground meat, onions, and spices. Or, as with these ones from India, vegetables, spices, and cheese.

Malai
Malai is the Hindi word for cream, and is made by simply heating full-fat milk, and leaving it to stand for a short while. As it cools, cream forms a fatty layer on the top, which can simply be skimmed off. The process is then repeated until no more cream rises.

Water buffalo milk is considered to be the best for malai because it has a higher fat content than that of domestic cows. Malai made this way is richer than the cream you can buy in the shops. These days, however, even in India, people usually opt for the quick and easy route of buying a pot of cream instead of making it themselves!

Because it takes a bit of time to make, and is rather rich, this is generally considered a special occasion dish. If you've ever been to an Indian restaurant, and wanted to know how to prepare malai kofta at home, then look no further!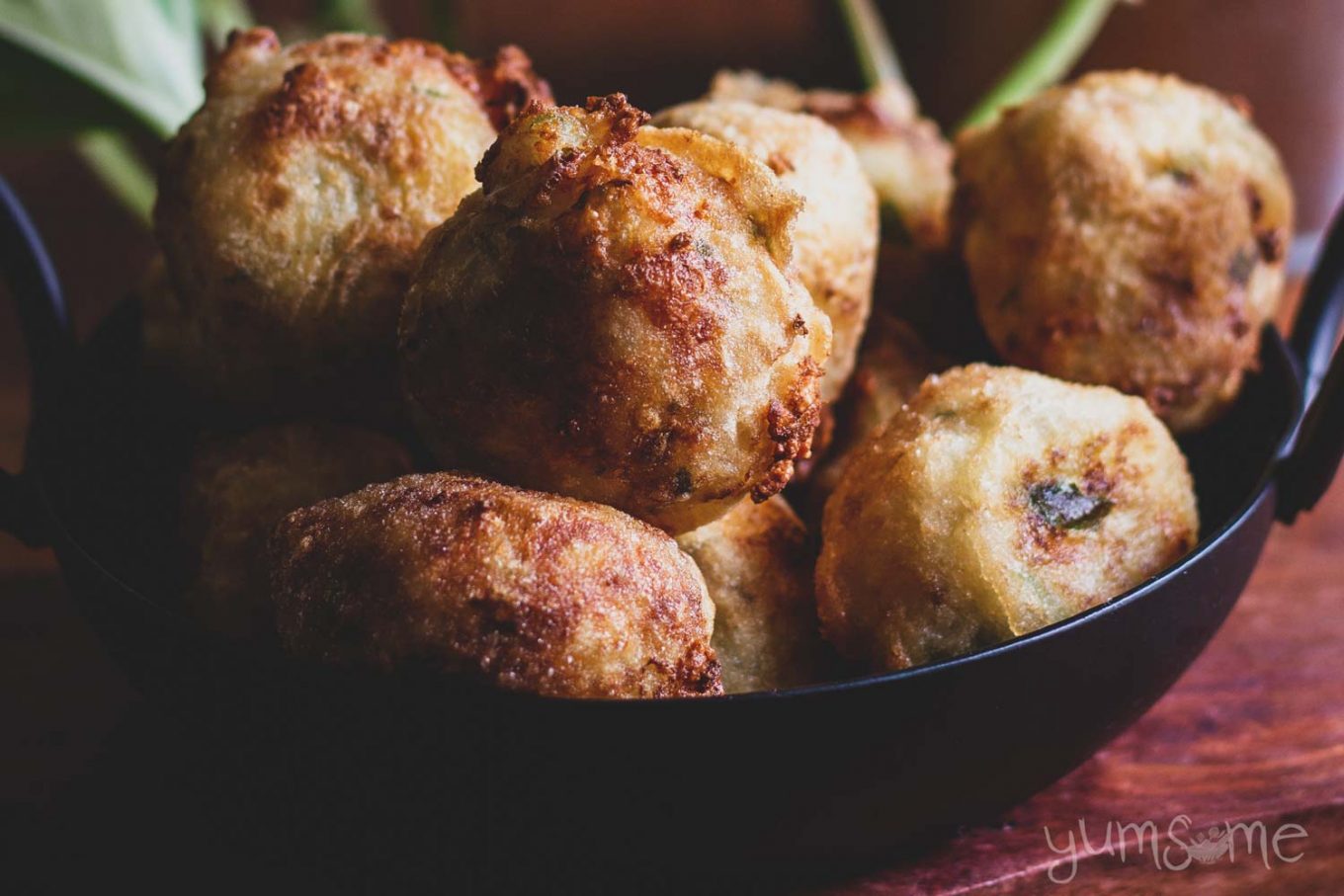 What is paneer?
Paneer is a semi-firm Indian cheese. Although it can be bought in the shops, it's better to make it at home because the flavour is far superior to store-bought. Plus you don't get all those preservatives that gives it a shelf life of months instead of mere days! In addition, it's really easy to make paneer at home!
Simply boil some milk, stir in a couple of tablespoons of lemon juice, then set aside for 20-30 minutes for the curds to separate from the whey. Carefully scoop out the curds, and place in a piece of muslin or cheesecloth. Gently squeeze out the remaining whey, shape the curds into a solid block, wrap in the cloth, then place in the fridge with a weight on top. After an hour, you'll have lovely firm paneer!
BTW, if you don't put it in the fridge, you may find it crumbles instead. For this recipe, it's fine but if you're making something like palak paneer, you really need to be able to cut it into cubes.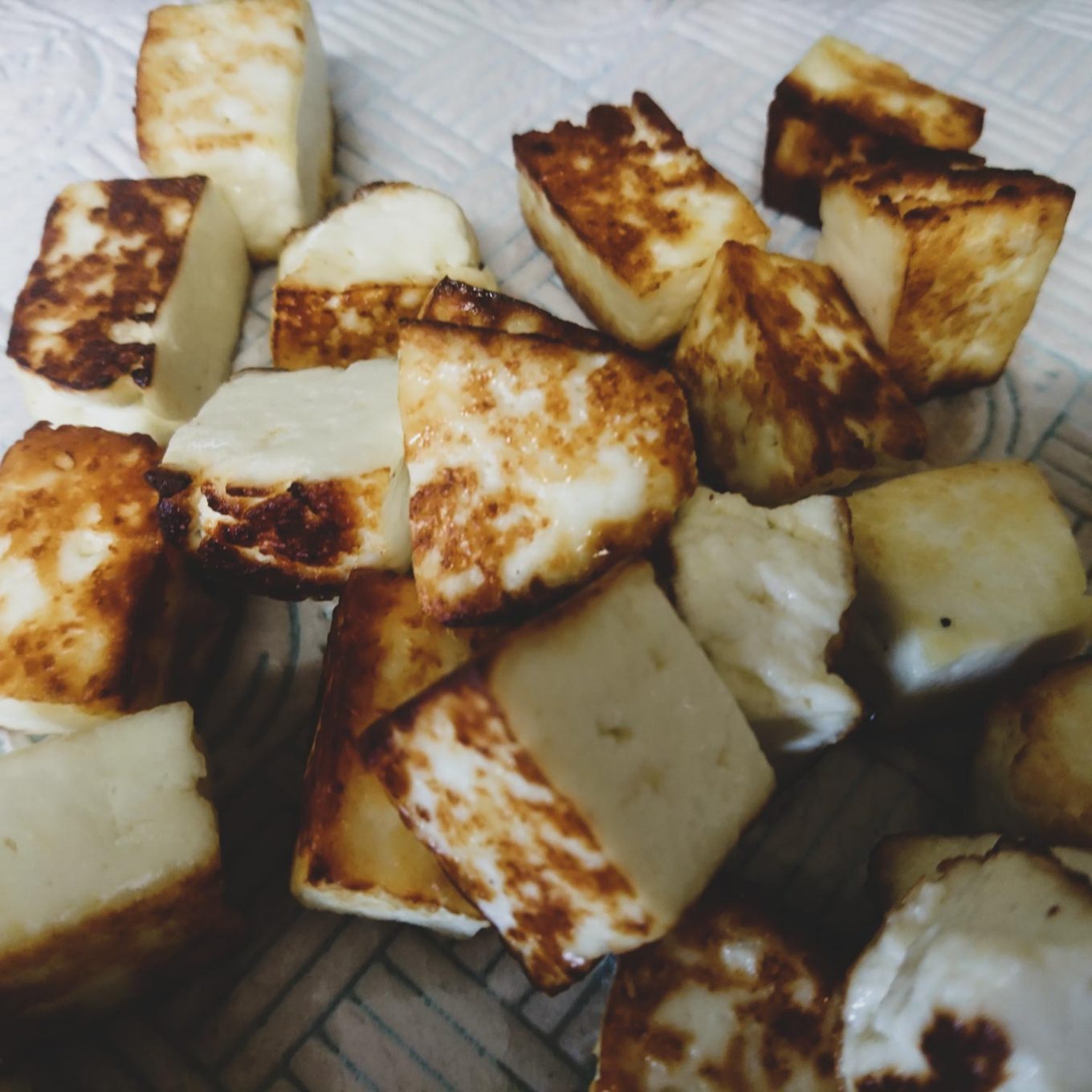 What is Mughlai cuisine?
The Mughals
, who reigned throughout India for around 350 years, originated in Central Asia, bringing their Turko-Persian culinary traditions with them.
Mughlai (Mughal) cuisine combines aspects of Persian and Ottoman cuisine with that of the Indian subcontinent. This very distinct form of cooking ranges from very mild, as with this malai kofta recipe, to quite hot and spicy.
What really sets Mughlai cuisine apart is that it is highly aromatic and often very rich. Which is what you might expect from dishes served to emperors!
The Mughal influence is seen (or rather, tasted) time and time again in the culinary offerings throughout Northern India, Afghanistan, and Bangladesh. In fact, much of the food served in Indian restaurants throughout the West, particularly in Britain, is of Mughal origin by way of Bangladesh.
Given how wide-ranging the Mughal Empire was, it's really not surprising that their food has become so popular throughout the world.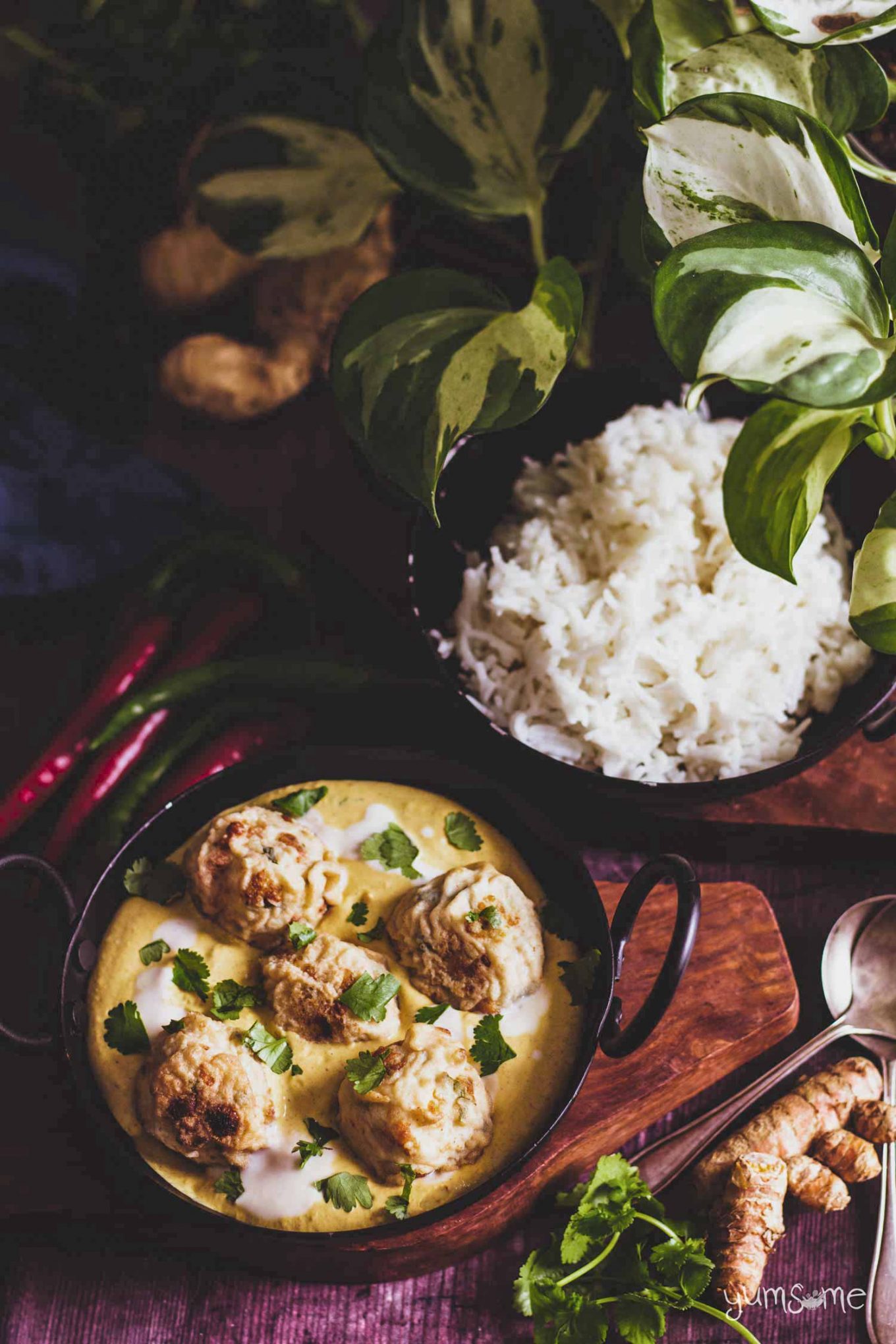 Other Indian recipes you may enjoy!
Aloo masala
Dal fry
Aloo gobi
Naan
Palak 'paneer'
'Paneer' butter masala
Masala chai
Mango lassi
Murgh makhani
Madras curry powder
Garam masala
Malai kofta recipe
Ingredients
paneer
mashed potato
onion, garlic & ginger
tomatoes
herbs and spices (coriander, chilli, cumin, salt, turmeric, garam masala)
cashews
raisins
flour
water
cream
oil
How to make malai kofta
Make the koftas by mashing together the paneer and potato, plus chopped coriander (cilantro) & chilli, cumin seed, and salt.

Take a golfball-sized amount, and roll it into a ball. Flatten, and fill with a couple of cashews and raisins, then roll up into a ball again. Repeat for the rest of the mixture.

Coat each kofta in thick batter made from flour and water, then deep-fry for a few minutes, until golden brown. Set aside on kitchen paper.

Make the gravy by frying the onions in hot oil with some garlic & ginger paste.

Add some turmeric, chilli powder, ground cumin and coriander, and tomatoes, mix well, and continue to fry until the oil begins to separate.

Add the contents of the pan to a blender, along with some water, and blitz for a few seconds to get a thick gravy.


Next, splutter some cumin seeds in a little oil, then add the blended gravy to the pan. Mix well, cook for around five minutes, then slowly add the cream.
Bring the gravy to a boil, then turn off the heat, stir in some ground cashews, garam masala, and the koftas.
Let stand for five minutes or so, until the koftas are warmed through.
Finish with a sprinkling of chopped coriander, and serve with your favourite accompaniment.
Do you have to fry the koftas?
In my opinion, these koftas are perfect when deep-fried. If they weren't, it wouldn't be how they are traditionally made! However, if you prefer not to, you can...

Pan-fry (shallow fry) - but you will have to keep turning them over, in order to brown them evenly.
Bake - my least favourite option, as they can become dry. Make sure to brush with oil when they go into the oven (centre shelf, 200°C / 400°F / gas mark 6 for about 20-30 minutes), and turn halfway through the baking.
Deep-frying is far easier, and because the oil is really hot, the koftas cook quickly, and absorb less oil than when pan-fried.
How to make vegan malai kofta
It's really easy to make vegan malai kofta. Simply substitute the same amount of grated or crumbled extra-firm tofu for the paneer, and use a plant-based cream instead of double (heavy) cream.

Cream substitutions:
cashew cream, thinned to the consistency of double cream
Oat or soy cream (in my experience, other types can be thin and insipid)
Creamed coconut, thinned to the consistency of double cream (this will give the gravy a slightly sweet edge, and a delicious coconut flavour)
Tips and tricks
I prefer to use virgin coconut oil because it gives a very slight coconut flavour to the dish but if you prefer to use something different, go ahead!
Once you've cooked the koftas, set them aside, and add to the gravy just before serving.
To make gluten and nut-free
The only gluten in this recipe is in the flour for the batter, so feel free to substitute with your own favourite gluten-free flour.
The cashews are entirely optional, so if you want to leave them out of the filling and the gravy, it's completely fine.
What to eat with malai kofta
Malai kofta is very filling, so I prefer to eat it with some naan, roti, paratha, or just plain boiled rice. If I'm going to have another curry with it, I'll sometimes have a simple dal fry.

I hope you love this as much as we do. Enjoy!
📖 Recipe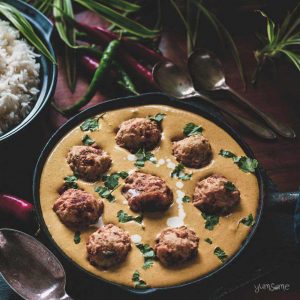 Malai Kofta
My restaurant-style malai kofta recipe consists of fried potato and paneer dumplings in a creamy mildly-spiced gravy. Indian comfort food at its finest!
Print
Pin
Rate
Makes (slide to adjust):
6
Ingredients
For the koftas
2

tablespoons

plain flour

(all-purpose flour)

4

tablespoons

water

200

g

grated paneer

300g

roughly mashed potato

(use floury potatoes, not waxy ones)

3

tablespoons

chopped fresh coriander

(cilantro)

1

large

green chilli

,chopped

½

teaspoon

cumin seed

¼

teaspoon

salt

Oil

for frying
Optional filling
2

tablespoons

cashews

,toasted then roughly chopped

1

tablespoon

raisins
For the gravy
3

tablespoons

coconut oil

,divided

2

large onions

,finely sliced

½

teaspoon

salt

4

cloves

garlic

2,5

cm

ginger root

½

teaspoon

ground turmeric

2

medium tomatoes

,chopped

1

teaspoon

Kashmiri chilli powder

1

teaspoon

ground cumin

1

tablespoon

ground coriander

125

ml

water

1

teaspoon

cumin seed

240

ml

double cream

(heavy cream)

1

tablespoon

ground cashews

(optional)

1

teaspoon

garam masala

1

tablespoon

chopped fresh coriander

(cilantro)
Equipment
wok

kadai

High-powered blender
Instructions
Koftas
Whisk together the all-purpose flour and water to make a smooth batter. Set aside.

Mash together the paneer and potato.

Mix in the chopped coriander and chilli, cumin seed, and salt.

You should now have a firm dough, so take golf ball-sized pieces, roll into a ball, then flatten.

Place a pieces of toasted cashew and sultanas into the centre of your piece of dough, then roll back into a ball. Repeat until you have used up all the dough. You should be able to make around 18 koftas.

Heat the oil in a large pan over a medium-high heat. It's ready when a small piece of dough bubbles and immediately rises to the surface.

Coat each kofta in the batter, then carefully place four at a time into the hot oil. Fry for a few minutes until they are golden brown all over.

Remove, and drain on paper towels.
Gravy
Heat 2 tablespoons of coconut oil in a large pan, add the onions and ¼ teaspoon salt, and fry over a medium heat until they start to become translucent.

Pound the garlic and ginger into a paste, stir into the onions, and keep frying for around 3 minutes, until the raw garlic smell has gone.

Stir in the turmeric, then add the chopped tomatoes, Kashmiri chilli powder, ground cumin, and ground coriander.

Mix well, and continue to cook (stirring occasionally) until the oil separates from the mixture (masala).

Place the masala and around 120ml (½ cup) water into a blender, and blend to a thick, smooth gravy. Add a little more water if needed.

Splutter the cumin seed in the rest of the coconut oil over a medium heat for 20-30 seconds, then pour the gravy into the pan.

Cook for around 5 minutes, then stir in the cream, a little at a time, making sure it doesn't curdle.

Bring to the boil, turn off the heat, and stir in the ground cashews and garam masala.

Place the koftas into the gravy, and leave to stand for 5 minutes, until they're heated through.

Sprinkle over the chopped coriander leaf, then serve with naan, roti, paratha, or rice.
Nutrition Facts
Malai Kofta
Amount Per Serving (1 sixth of the recipe)
Calories 531
Calories from Fat 396
% Daily Value*
Fat 44g68%
Cholesterol 75mg25%
Sodium 360mg15%
Potassium 540mg15%
Carbohydrates 26g9%
Protein 12g24%
Vitamin A 1421IU28%
Vitamin C 33mg40%
Calcium 298mg30%
Iron 2mg11%
* Percent Daily Values are based on a 2000 calorie diet.
Did you make this recipe?
Do mention @yums0me and/or tag #yums0me - I'd love to see how yours turned out!
Disclaimer
Measurements in parenthesis are approximate; it is beyond the scope of yumsome to be able to provide pinpoint-accurate ingredient quantities for every type of measuring utensil. As a guideline however, I make the assumption that:
1 cup = US cup = 240 ml
1 tablespoon = US/UK = 15 ml
1 fl oz = US = 30 ml
Further information may be found here