Whether you're making a vegan Thanksgiving meal, or will be a guest at someone else's, and want to contribute, I've put together a fantastic round-up of delicious recipes to make this your best-ever vegan Thanksgiving!
The winter holiday season is once again almost upon us, which means that as the days grow shorter, and the nights begin to draw in, many of us look forward to enjoying the warmth and comfort of get-togethers with our nearest and dearest.
And first, there's Thanksgiving.
Now, of course, I'm not American but does that preclude me from giving thanks for my extraordinarily wonderful life? I don't think so.
Not being from across the pond means that I don't have a big family celebration to look forward to until Christmas; however, that doesn't mean I can't appreciate all the delicious vegan Thanksgiving food all my American friends will be enjoying.
Not consuming animals should never be a bar to enjoying family meals, and nothing in the USA says family more than Thanksgiving, right? Here then are 32+* eats and treats to make your vegan Thanksgiving meal the best it's ever been.
Enjoy!
(*This post has been updated with a few more yums!)
Vegan Thanksgiving Nibbles
These Mexican Tortilla Roll-ups from Melissa at The Stingy Vegan are quick, easy, and frugal of course, and make for perfect pre-meal munchies. Yum!
Bianca's delicious Pumpkin and Basil Pinwheels are a snip to make with ready-made puff pastry. Head over to Elephantastic Vegan for the recipe.
If you're anything like me, you love to nibble on savoury roast nuts and the like, so do visit A Virtual Vegan, and check out Mel's yummy Cheese And Onion Roasted Chickpeas.
I absolutely love everything about these Smoky Tempeh Apple Bites from Catherine, over at A Seat At My Table. Let's just take a minute to appreciate everything that's going on on that humble wooden skewer; the smokiness of the baked tempeh, the sweet tartness of the apple, and the juicy charred onion, all united by herby, peppery yumminess. Honestly, this just makes me salivate so much!
Vegan Thanksgiving Starters
In the winter, I love to have soup as a starter, and nothing says winter comfort more than my mildly spicy Coconut Curried Butternut Squash Soup.
Jac from Tinned Tomatoes has a lovely warming Yellow Split Pea Soup that's not too heavy, so makes a great starter for any winter meal.
Vegan Thanksgiving Mains
I'm a big pastry fan, and I have to admit that Kare's pastry for this Rustic Sweet Potato And Beet Galette just looks like it would melt in the mouth. So very yum! Plus the filling consists of two of my favourite veggies, which just gives me a great big happy! Also, Kare gets extra bonus points for using the word, 'rusticpalooza' because it makes me grin! Grab the recipe over at Kitchen Treaty.
Hearty vegetables and nourishing buckwheat, topped with a layer of crisped creamy mashed potato, make my Mushroom And Buckwheat Shepherd's Pie a deliciously comforting, filling, and very frugal cool weather dish. It's so delicious, you won't miss the meat!
Josh and Katie from Delightful Vegans are two of my favourite bloggers; as well as being lovely people, they have so many delicious recipes on their site that I feel like the (not-so-)proverbial dog with four lamp posts whenever I visit! Katie's Pecan and Mushroom Wellington is no exception. And it's made with just nine ingredients. Fab!
I have two confessions to make; 1) the name of Lauren's blog, Rabbit and Wolves, instantly transports me back to the fairy tales of my childhood, and 2) the only reason I've ever heard of Salisbury Steak is because I'm a massive Fallout fan! Needless to say, I've never actually eaten it but Lauren's Vegan Lentil Salisbury Steak is now right at the top of my list of things-I've-never-eaten-but-I-just-know-are-delicious!
There are many, many things I love about my friend, Jojo: the fact that we often seem to make similar recipes at the same time; that her recipes are 100% excellent; that she is beautiful inside and out; that she is creative and artistic in ways I can only dream about; that she quotes Laura Ingalls Wilder! (As a child, it was my dearest wish to be a part of the Ingalls family!). And the fact that she understands lasagne (yes, that is the correct spelling!) is as a perfect a thanksgiving main as anyone can have! Head over to Sunnyside Hanne to check out her awesome Holiday Lasagna recipe.
Simple, economical, full of veggies, and totally delicious, my Roast Stuffed Seitan Roulade looks far more complicated to make than it actually is, which makes it the perfect showstopper for your vegan thanksgiving celebration!
Vegan Thanksgiving Sides
This Wild Rice Salad with Apple and Pomegranate from Amy at Veggies Save The Day is not what I immediately envision at the Thanksgiving table but y'know what? I reckon it totally works, and would be a nice, light contrast to more heavy sides, and buckets of gravy!
My Easy Thanksgiving Stuffing is not only simple to make, it's bursting with nourishing veggies as well. In addition, it's versatile enough to make into burgers or sausages too!
Apparently there are some people out there who don't like mashed potatoes; I've heard they exist but to be honest, I don't really understand it. What kind of insanity is that? (They probably pull the wings off dragonflies too.) For the rest of us, however, Alexa and Linda's Roasted Garlic Mashed Potatoes are sure to tick all the boxes. Go and check out the fluffy, garlicky yumminess over at Veganosity.
Still with the mashed potatoes theme, why not check out Mary-Ellen's Cauliflower Mashed Potatoes for something slightly different? On her blog, V-Nutrition, Mary-Ellen says; "They're so creamy and delicious, no one will even know they're hiding cauliflower!" I for one, am keen to test this out!
Dianne's delicious-looking Spinach Mushroom Polenta Stuffing is really easy to make. Like me, Dianne prefers her stuffing to be savoury, and also like me, she's rather fond of eating stuffing for breakfast. In all honesty, anyone in my home would be very, very lucky if this stuffing made it to the dinner table! Find the recipe at Dianne's Vegan Kitchen.
I have to admit that when I visited Moon And Spoon And Yum recently, and came upon Kristen's Creamy + Toasted Warm Spiced Potatoes, it was love at first sight. I mean, just look at them... They're also laced with garlic, cumin, and chilli - don't they look amazeballs?
If you still want more potatoes, my perfectly crispy vegan mayo-roast potatoes are really easy to make, and there's no nasty greasy baking tray to clean afterward!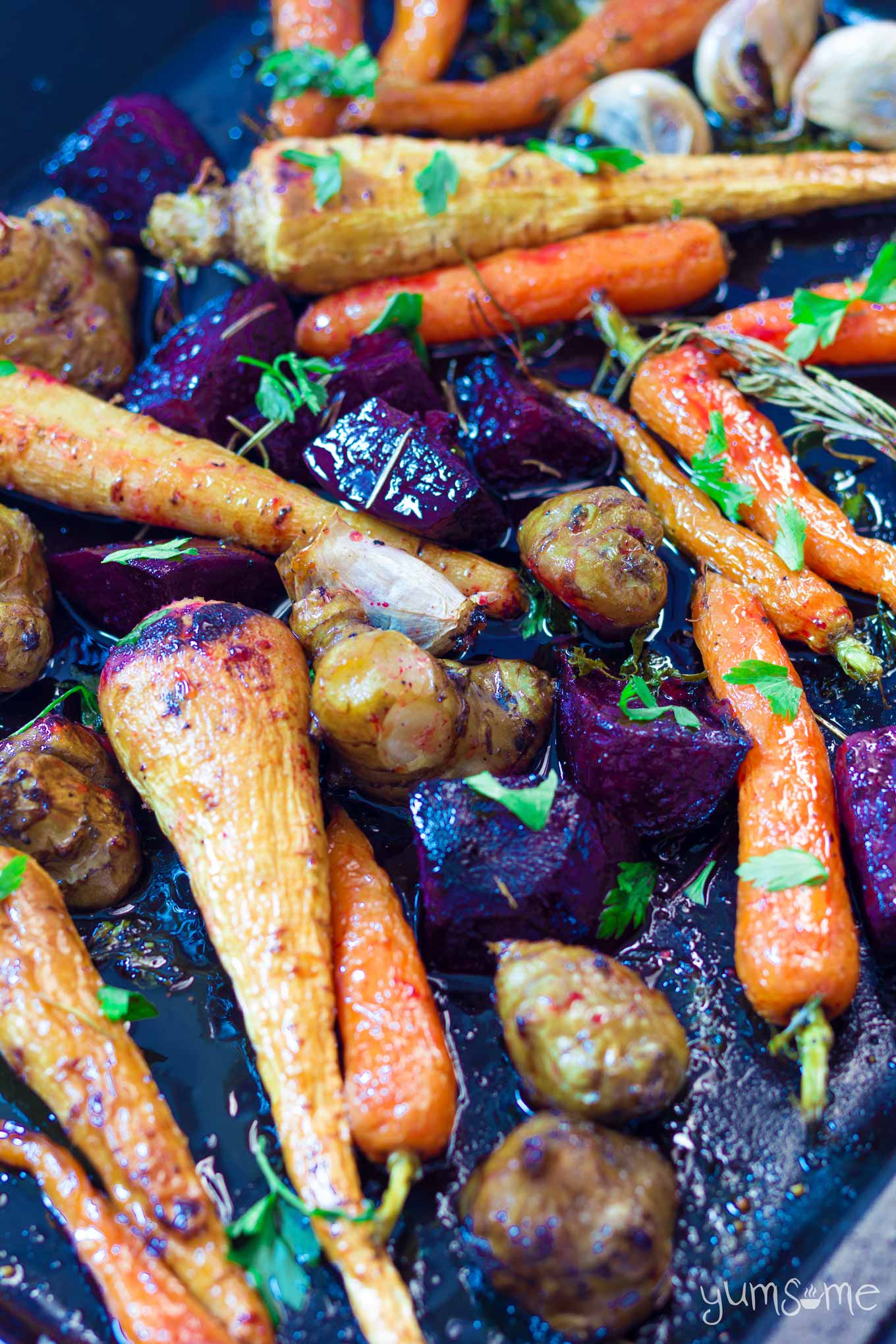 And no roast dinner is complete complete without a goodly pile of roast veggies, right? And there's little more goodly than these maple roasted root vegetables. Bung 'em in the oven, and then in your tummy – you won't be disappointed!
Vegan Thanksgiving Condiments
This Maple Cinnamon Cranberry Pear Sauce from Jenn over at Veggie Inspired looks so deliciously beautiful that I had to include it here for all of you who *are* able to have cranberries!
As anyone who's ever read any of my round-ups knows, Mel at A Virtual Vegan always comes up with the goods, and this round-up is no different. Her delicious Creamy Garlic Onion Dip should really be called *dreamy*, not creamy!
My Make-Ahead Mushroom Gravy owes its depth of flavour to the partially caramelised onions & leeks, coconut aminos (you could use soy sauce or tamari instead), and paprika, as well, of course, to the mushrooms themselves. It's thick and savoury, and is perfect with roast dinners, mashed potatoes… basically, if it's in need of 'meaty' gravy, this is totally up to the job!
Vegan Thanksgiving Desserts
OK, I'm going to be completely honest here, and say that I'm actually not entirely sure how I feel about sweet potato pies. Same with sweet potato casserole. I often use sweet potatoes in my desserts (check out my chocolate maple pudding below) but they're never the star of the show. That said, Emily's Purple Sweet Potato Pie looks utterly fabulous, so if anything is going to encourage me to get over my prejudices, it's this. And it totally lives up to Emily's blog name - Pretty Pies!
Katie and Kate's Pumpkin Cheesecake over at Well Vegan looks intriguing, doesn't it? I've not had cheesecake for a while, and I've never had pumpkin cheesecake ever. I'm keen to give this one a go, especially as it's made with cinnamon as well as pumpkin spice. Yum!
Chocolatey and rich, moist and fudgy, made with only 10 ingredients; my Perfect Vegan Brownies are ready in just 40 minutes, and are everything a great brownie should be! I don't actually know whether people eat brownies at Thanksgiving but hey 'Muricans, if you don't, you should! Especially these ones. 😉
From brownies to blondies - specifically, these Pumpkin Spice Blondies from Idriss at Broke Foodies. Don't they look good? They're moist and fudgy, and choc-full of healthy pumpkin, and yummy autumnal spiciness. What's not to love?
Still with pumpkin - of course we are, it's autumn/winter, right? Anyway, still with pumpkin, we have these fantastic Pumpkin Cinnamon Rolls from Gwen at Delightful Adventures. There's just something about them that makes me want to curl up in a duvet in front of a gently simmering log fire (do fires simmer?), bingeing on Netflix, while devouring the entire tray. Over the course of a day, I hasten to add, not all at once. I'm not *that* greedy! OK, maybe I am... but who wouldn't be when faced with these marvels?
Few things are as American as pecan pie... at least, that's how it seems to me, and Rhian's Pecan Pie ticks all the boxes. I've only ever had pecan pie a few times but I've always really enjoyed it. The splash of brandy makes this pie rather special but I imagine that if you don't partake of alcohol (as amato mio doesn't), you could use some brandy essence instead.
My easy healthy vegan Chocolate Maple Pudding is sweet and velvety-smooth, takes just 10 minutes to make, and is legitimately good for you too! Plus it's made with sweet potatoes, which means it's a totally legit Thanksgiving dessert, right? 😉
Vegan Thanksgiving Cheeseboard
Nele's Quinoa And Buckwheat Crackers With Pumpkin may as well have my name stamped onto each one! Don't they look delicious? I fear I could very easily munch my way through an entire batch in a very short space of time... especially with some of my own vegan cheddar! Visit Nutriplanet to find out how to make them.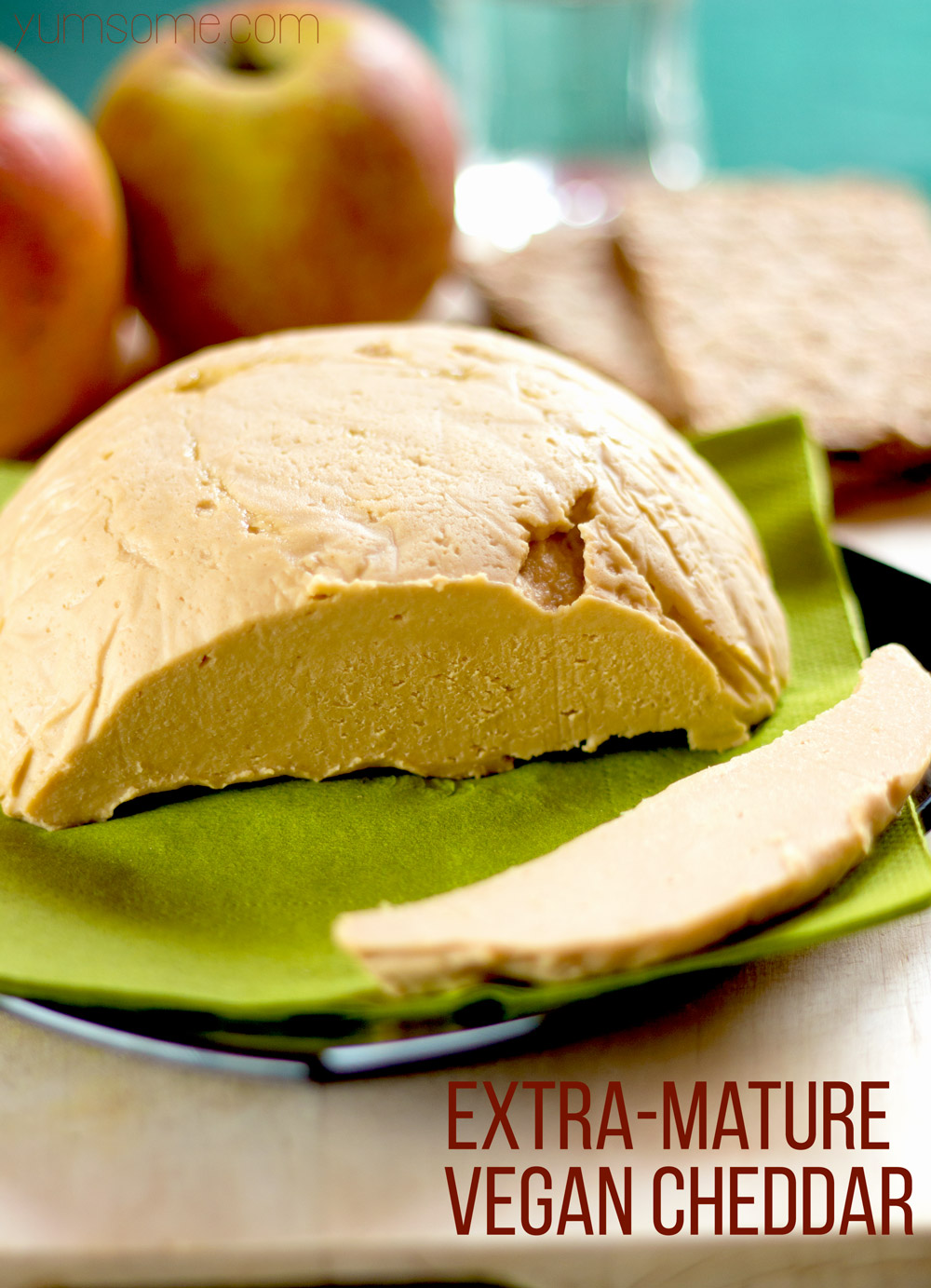 My Extra Mature Vegan Cheddar is simple to make, and is a mind-blowingly delicious, full-bodied, and robust dairy-free cheese. Leave it for a few days to ripen, and you'll find it's awesome on crackers!
Here's another wonderful recipe from Jojo at Sunnyside Hanne. I've made quite a few 'feta' recipes which I've found online, and this Herb Marinated Almond Feta is the best. It really is. I'm not saying that because Jojo is my friend, I'm saying it because it's true. And while I continue to tweak my own, this is my go-to vegan feta recipe for when I need to put together a cheeseboard or Balkan salad. You should try it, I'm sure you'll love it.
Finally, we have these lovely, crunchy, herby Kale Rosemary Super Seed Crackers from Kelly at Tasting Page. I love rosemary - it's such a wonderfully fragrant herb, and it works really well in these crackers. I also love that they're so simple to make - no complicated instructions, just make the dough, bake, and enjoy. Perfect!
I'm sending huge thanks to everyone who contributed to this post; do show them some seasonal love by visiting their blogs, won't you?
And have a very happy Thanksgiving, however you may (or may not!) be celebrating.
Will you be having a vegan Thanksgiving this year?
If you like my 32 (plus 3!) Recipes For Your Best-Ever Vegan Thanksgiving round-up, check out these other celebration yums!