The perfect gift for Mother's Day or Easter, my vegan chocolate matcha truffles are light and creamy, with a delicately refreshing green tea flavour. Made from a cashew cream base and raw cocoa butter, sweetened with agave, flavoured with matcha, and rolled in cocoa, these truffles are decadence itself.
This post contains affiliate links. For more information, please see my privacy policy.
(By the way, this is an image-heavy post!)
If there's one smell that reminds me of when we lived in Chiang Mai, it's matcha. Before we moved to Thailand, I'd never even heard of it, much less tried it, but thanks to my friends, LiLi and K'Poon, iced matcha latte rapidly became one of my all-time favourite drinks. I drank gallons of the stuff!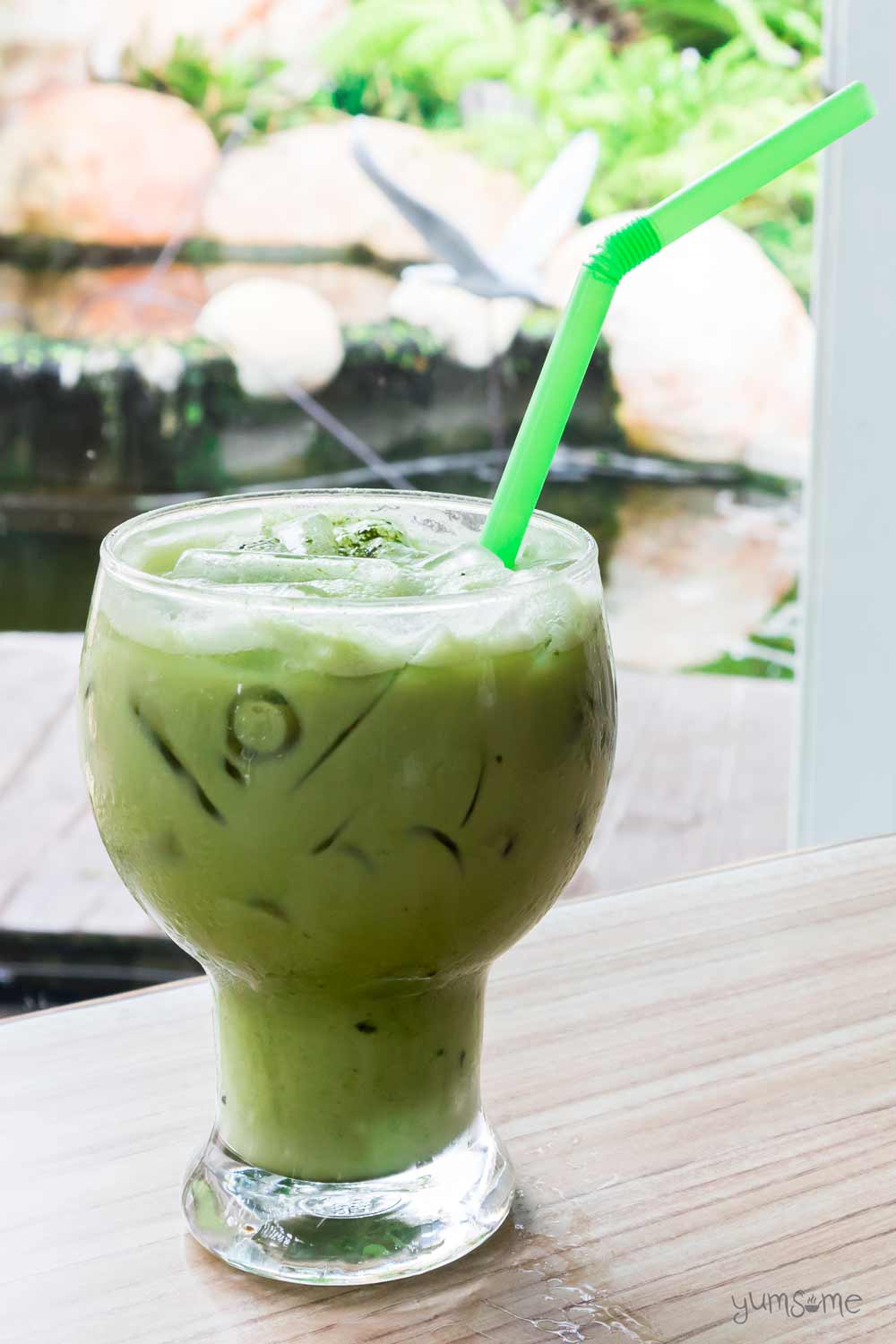 What is matcha?
Mat-cha (抹茶) is finely-ground green tea; however, if you're thinking, "Hey, I could just chuck some green tea leaves into my coffee grinder", you'd be wrong!

I mean, you could do that but you won't get matcha because it's not just any old green tea! The tea used for matcha is grown in the shade for several weeks prior to harvesting, which gives it its distinctive taste, as well as elevated levels of caffeine. In addition, the steams and veins (yes, tiny little veins!) are removed from the leaves before they're processed, leaving only pure tea leaves behind. You can understand why it's so expensive, can't you?
Matcha in Thailand
Matcha was the hippest thing when we lived in the Land of Smiles, and I discovered many other matcha yums...
matcha ice cream

matcha custard buns

a mountain of matcha-flavoured shaved ice

matcha and chocolate cake

matcha bao (they got a bit squished)

matcha and fruit cake
We left Thailand in mid-2014, and since being back in Europe, I've seen it become a thing here too. And it's really, really expensive. Lucky for me, I discovered some matcha at our local Chinese supermarket, and while it cost more than I used to pay back in Thailand, it was nevertheless a pretty reasonable price.
As soon as I opened the packet, and inhaled that beautiful matcha scent. I was instantly transported back to Thailand. Back to the floating markets of Bangkok, back to Chiang Mai, and back to Mae Hee.
Khlong Lat Mayom

Khlong Lat Mayom

Picnics on Huay Tung Tao lake with our friends (that's LiLi & K'Poon on the right, with Jo & Noi on the left).

Buddhist monk repairing a Naga statue at Wat Doi Suthep

My view at Mae Hee

Mae Hee has fantastic sunsets!
I miss my friends, I miss the food, I miss the sunshine, I miss the gentle Thai way of life but most of all, I miss the spectacular wildlife...
The Thai for butterfly is 'pi-sua', which translates as 'ghost shirt'. I love that!

We had legions of blue-crested dragons in our garden in Mae Hee.

This super-cute rock hyrax is related to elephants!

I found this pig-tailed macaque scavenging in bins!
That matcha aroma brought back all the longing to return to Thailand that I've been feeling for ages, and made me feel quite homesick. I look forward to the day that we return!
Vegan Chocolate Matcha Truffles
Are...
sweet
silky
creamy
healthy(ish)
melt-in-the-mouth
more-ish
gluten-free
soy-free
refined sugar-free
delicious
I bet you can't just eat one! Bon appétit!
What's your favourite way to have matcha?
📖 Recipe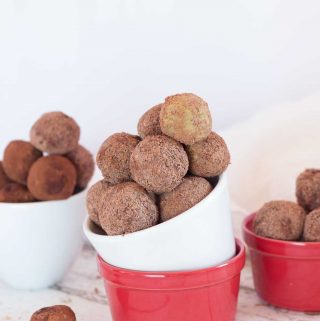 Vegan Chocolate Matcha Truffles
Light and creamy, with a delicately refreshing green tea flavour, these vegan chocolate matcha truffles make for a perfect gift... or a decadent treat for yourself!
Print
Pin
Rate
Makes (slide to adjust):
20
truffles
Instructions
 Bring a pan of water to a boil, add the cashews, and simmer for 15 minutes.

While the cashews are softening, put the cocoa butter into a heatproof bowl, and place on top of the cashew pan. Remove as soon as the cocoa butter has melted, and set aside.

Remove 3 tablespoon of the simmering water, and set aside. Drain and rinse the cashews under cold water. Add to a food processor, along with the reserved water, then process to a smooth paste.

Add the melted cocoa butter, agave nectar, matcha powder, vanilla, and sea salt. Pulse a few times, until everything is well-mixed.

Taste, and if desired, add a dash more matcha.

Place the truffle mixture in the 'fridge for a couple of hours to firm up.

Once firm enough to handle, divide into 20 pieces, and roll into balls.

Put the cocoa powder and grated chocolate into a couple of plastic bags, add the truffles, and give the bags a shake to make sure the truffles are all coated.

Store in an airtight container at room temperature for up to two weeks.
Nutrition Facts
Vegan Chocolate Matcha Truffles
Amount Per Serving (1 truffle)
Calories 78
Calories from Fat 63
% Daily Value*
Fat 7g11%
Sodium 8mg0%
Carbohydrates 4g1%
Protein 1g2%
* Percent Daily Values are based on a 2000 calorie diet.
Did you make this recipe?
Do mention @yums0me and/or tag #yums0me - I'd love to see how yours turned out!
Disclaimer
Measurements in parenthesis are approximate; it is beyond the scope of yumsome to be able to provide pinpoint-accurate ingredient quantities for every type of measuring utensil. As a guideline however, I make the assumption that:
1 cup = US cup = 240 ml
1 tablespoon = US/UK = 15 ml
1 fl oz = US = 30 ml
Further information may be found here
Check out these other vegan chocolate yums!