With just a handful of basic ingredients and no complicated preparation methods, my foolproof vegan choc chunk cookies are soft and moist, and can be slightly chewy or crumbly (depending on the fat and sugar you use) - everything a great cookie should be. And they couldn't be easier to make.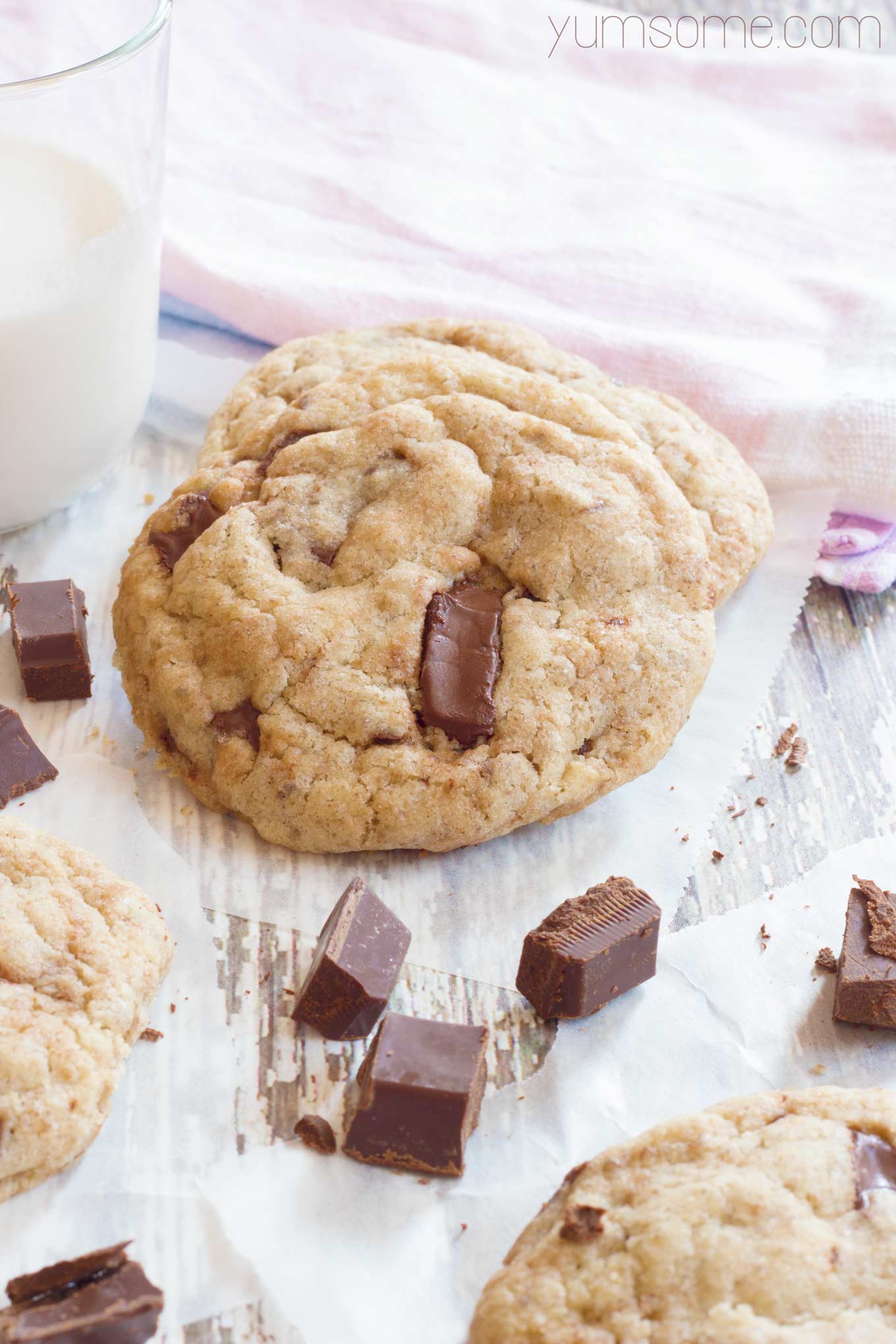 They are, quite simply, the best choc chunk cookies I've ever made. I'm not alone in this assessment either.
Eheheh.
I don't know about you but as much as I love chocolate (and make no mistake, I do!), I actually prefer it with something else. I'd rather have chocolate with something biscuit-ey than on its own.
One day I may get around to making my own versions of Twix and Kit-Kat - I've been telling myself for ages that I'll do it.
Amato mio doesn't understand my preference for 'adulterating' chocolate with other deliciousness... yet he was no stranger to snacking on these cookies, and declaring them to be awesome (his words, not mine).
I originally made these because while I may prefer savoury snacks, occasionally I develop a bit of a craving for something sweet. In Belgrade, where I was living when I first developed this recipe, although there are more health food shops than I'd ever seen in my entire life (seriously, they're every hundred metres or so), most of them don't have vegan cookies, and when I did find them, they were made from roof thatching and daub, and sweetened with unicorn tears.
No, really, they were. 😉
As far as I am concerned, like cake, cookies are a treat - I don't want them to be made with healthy, hippie-friendly ingredients, I want them to be indulgent and sinful.
As my good friend Katrina over at Plantified said, we don't want smelly armpit food, we want treats!
I eat a ton of fresh fruit and vegetables, I drink gallons of water, I almost never have processed foods... I think I'm allowed to have the odd cookie here and there. And I make no apology for it. I can't even say it's a guilty pleasure - it's just a pleasure.
A rich, sweet, gooey, chocolatey pleasure.
Which is why I make these cookies with large chunks of chocolate, and not wussy little lame-ass choc chips. If I'm going to indulge, I'm going to do it properly.
I mean really, look at them... couldn't you just?
These are the Mads Mikkelsen of the cookie world... for when you're unashamedly out to have a good time, and don't care what other people think. Job done, time to party. With cookies.
How to get chewy cookies
It's the fat that gives the cookies their slightly chewy aspect, so you'll need to use a vegan butter with a high fat content, or use coconut oil (but not too much or the cookies will be greasy). If you want a less chewy cookie, feel free to use margarine instead (which has a higher water content). Similarly, brown sugar will yield a softer cookie, while white will make them more crisp.
Being a complete softie at heart, I prefer to use palm sugar or jaggery.
Vegan Butter
Mattie at Vegan Baking has a great recipe for vegan butter, if you want to make it yourself. It's much better than anything you can buy in the shops, IMO. He also has a really useful page, detailing the science behind making butter.
My friend, Mel, over at A Virtual Vegan also has a fantastic vegan butter recipe, using only basic store cupboard ingredients, a blender, and a couple of minutes of your time.
Foolproof Vegan Choc Chunk Cookies
Are...
soft
chewy
sweet
a little salty
the big Kahuna of chocolatey-ness
perfect
good for you
OK, that last point may be a bit truthfully elastic but my cookies will definitely put a smile on your face and make you happy - and happiness is good for you, right?
See, I do have your best interests at heart! If you don't believe me, just go and make these cookies for yourself. You'll thank me, I promise.
Chocolate chip or chocolate chunk cookies? Which do you prefer?
📖 Recipe
Foolproof Vegan Choc Chunk Cookies
With just a handful of basic ingredients, my foolproof vegan choc chunk cookies are soft, moist, and deliciously chewy - everything a great cookie should be!
Print
Pin
Rate
Makes (slide to adjust):
12
cookies
Ingredients
You'll also need:
Instructions
Heat your oven to 180°C (350°F/gas mark 4).

Make a flax 'egg' by mixing the ground flax seed with water. Set aside to become gloopy.

In a large bowl, whisk together the butter and the sugar until it becomes fluffy. By hand this will take around 5 mins, with an electric whisk, approx 2, depending on its speed.

Whisk in the flax 'egg' for about 15 seconds, to make sure it's fully incorporated.

Add the flour, baking soda, and salt, and whisk together until you have a crumbly dough.

With your hands, bring the dough together to form a ball. It will be very soft.

Gently knead in the chocolate.

Divide and roll into 12 balls, and place onto the cookie sheet, making sure they're not too close together. There's no need to flatten the balls.

Bake for 10-12 minutes, until the cookies have flattened and spread, and are just becoming golden. They will be very soft at this point but will firm up as they cool.

Remove from the oven, and set aside to cool on the cookie sheet.

Once cooled, keep in an airtight container for up to a week.... as though they stand any chance of being around that long!
Notes
Or use ground chia seeds.
Depending on the type of flour you use, you may find that the dough is a bit too sticky - if that's the case, add a little more flour.
If you don't have baking soda, use ½ teaspoon baking powder and ¼ teaspoon bicarbonate of soda.
Chocolate: I've made these cookies with dark and milk chocolate (all vegan, of course) - both work equally well, so use your favourite. Unless you're a die-hard bitter chocolate fan though, anything above 65% cocoa solids may be a bit intense!
Nutrition Facts
Foolproof Vegan Choc Chunk Cookies
Amount Per Serving (1 cookie)
Calories 257
Calories from Fat 117
% Daily Value*
Fat 13g20%
Sodium 92mg4%
Carbohydrates 33g11%
Protein 3g6%
* Percent Daily Values are based on a 2000 calorie diet.
Did you make this recipe?
Do mention @yums0me and/or tag #yums0me - I'd love to see how yours turned out!
Disclaimer
Measurements in parenthesis are approximate; it is beyond the scope of yumsome to be able to provide pinpoint-accurate ingredient quantities for every type of measuring utensil. As a guideline however, I make the assumption that:
1 cup = US cup = 240 ml
1 tablespoon = US/UK = 15 ml
1 fl oz = US = 30 ml
Further information may be found here
Want more chocolatey yums? Check these out while you're here!