This mildly spicy pumpkin purée is really easy to make, and is very versatile. Use for sweet and savoury dishes alike.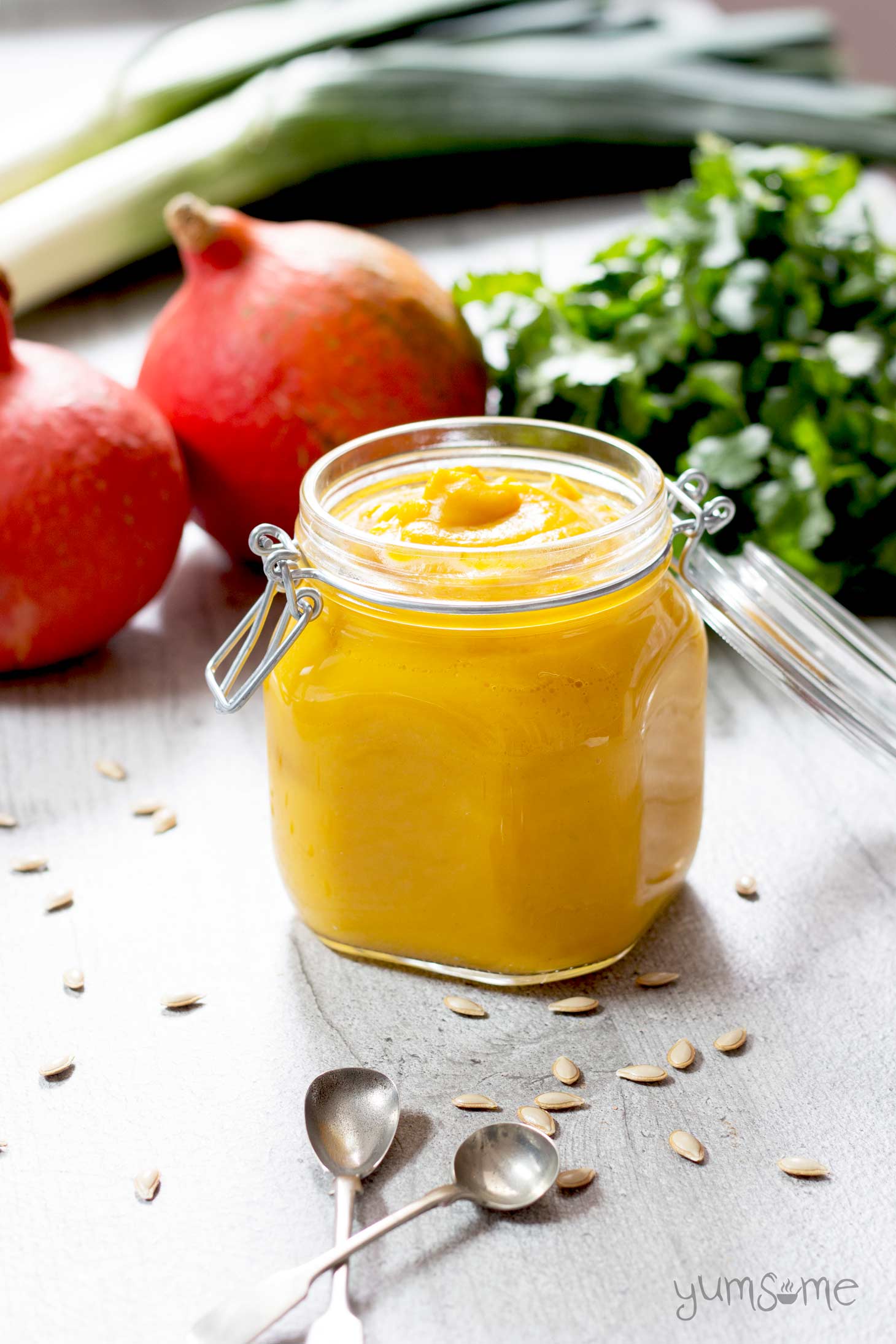 I must admit that until October last year, whenever I was making a recipe which called for pumpkin purée, I'd make as needed but when we moved back to Croatia for a while, the weather took a turn for the worse.
Almost two months of torrential rain, plus the Bura blowing up a storm, meant that in all honesty, I really didn't feel like going out to the market every morning, so each Monday, I braved the weather, and made all the purées, spreads, and sauces I'd need for the week.
This year, I've already been canning jars of ajvar and chutney, fermenting cabbage, and making jams and jellies, in case we have a harsh Transylvanian winter.
And since the pumpkins in my garden are now coming into their own, I've been making and canning pumpkin purée too. It's really easy to do, and a couple of hours spent doing this now will save you time later on in the year.
Spicy Pumpkin Purée
Is...
gluten-free
soy-free
nut-free
quick and easy to make
versatile
yummy
packed with Vitamin A (162% RDV)
This pumpkin purée is great in flans, pies, cookies (yes, really!), breads, terrines, stuffings, ravioli, gnocchi, risotto, etc.
Enjoy!
What would you make with spicy pumpkin purée?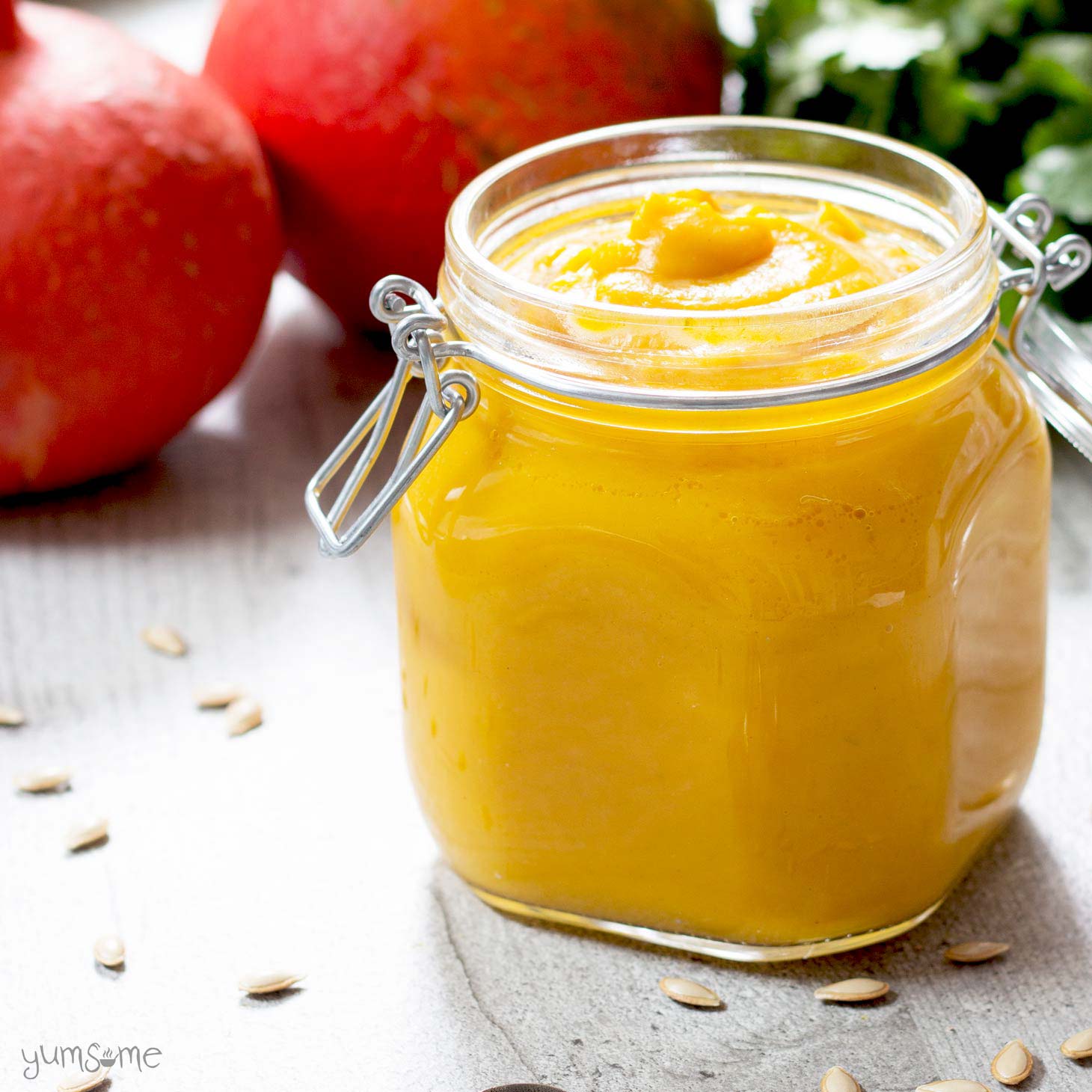 📖 Recipe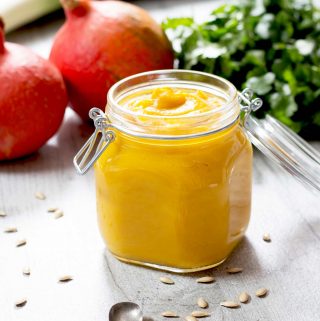 How To Make Spicy Pumpkin Purée
This mildly spicy pumpkin purée is really easy to make, and is very versatile. Use for sweet and savoury dishes alike.
Print
Rate
Makes (slide to adjust):
500
g
Ingredients
2

tablespoon

olive oil

500

g

1lb pumpkin - peeled and cubed (butternut/mantovana/chioggia are best for this)

¼

teaspoon

red chilli powder

note 1

A little hot water - enough to come about halfway up the pumpkin cubes

⅛ 

teaspoon

ground cinnamon

⅛ 

teaspoon

ground nutmeg

⅛ 

teaspoon

ground allspice
Instructions
Heat the olive oil in a

large skillet

over a medium heat; add the pumpkin and chilli powder, and gently fry - stirring occasionally to prevent sticking - until the pumpkin starts to brown.

Add the hot water, cover the skillet, reduce the heat, and gently cook until the pumpkin is soft.

Remove from the heat, and drain any excess water.

Once cooled, store in an airtight jar in the 'fridge for up to two weeks. It can also be frozen for up to three months. If you can it, it will last for a year or so.
Nutrition Facts
How To Make Spicy Pumpkin Purée
Amount Per Serving (100 g)
Calories 71
Calories from Fat 45
% Daily Value*
Fat 5g8%
Sodium 5mg0%
Carbohydrates 6g2%
Protein 1g2%
* Percent Daily Values are based on a 2000 calorie diet.
Did you make this recipe?
Do mention @yums0me and/or tag #yums0me - I'd love to see how yours turned out!
Disclaimer
Measurements in parenthesis are approximate; it is beyond the scope of yumsome to be able to provide pinpoint-accurate ingredient quantities for every type of measuring utensil. As a guideline however, I make the assumption that:
1 cup = US cup = 240 ml
1 tablespoon = US/UK = 15 ml
1 fl oz = US = 30 ml
Further information may be found here
Why not check out these other cool weather yums while you're here?