No roast dinner is complete without a goodly pile of roast veggies, right? And there's little more goodly than these maple roasted root vegetables. Bung 'em in the oven, and then in your tummy - you won't be disappointed!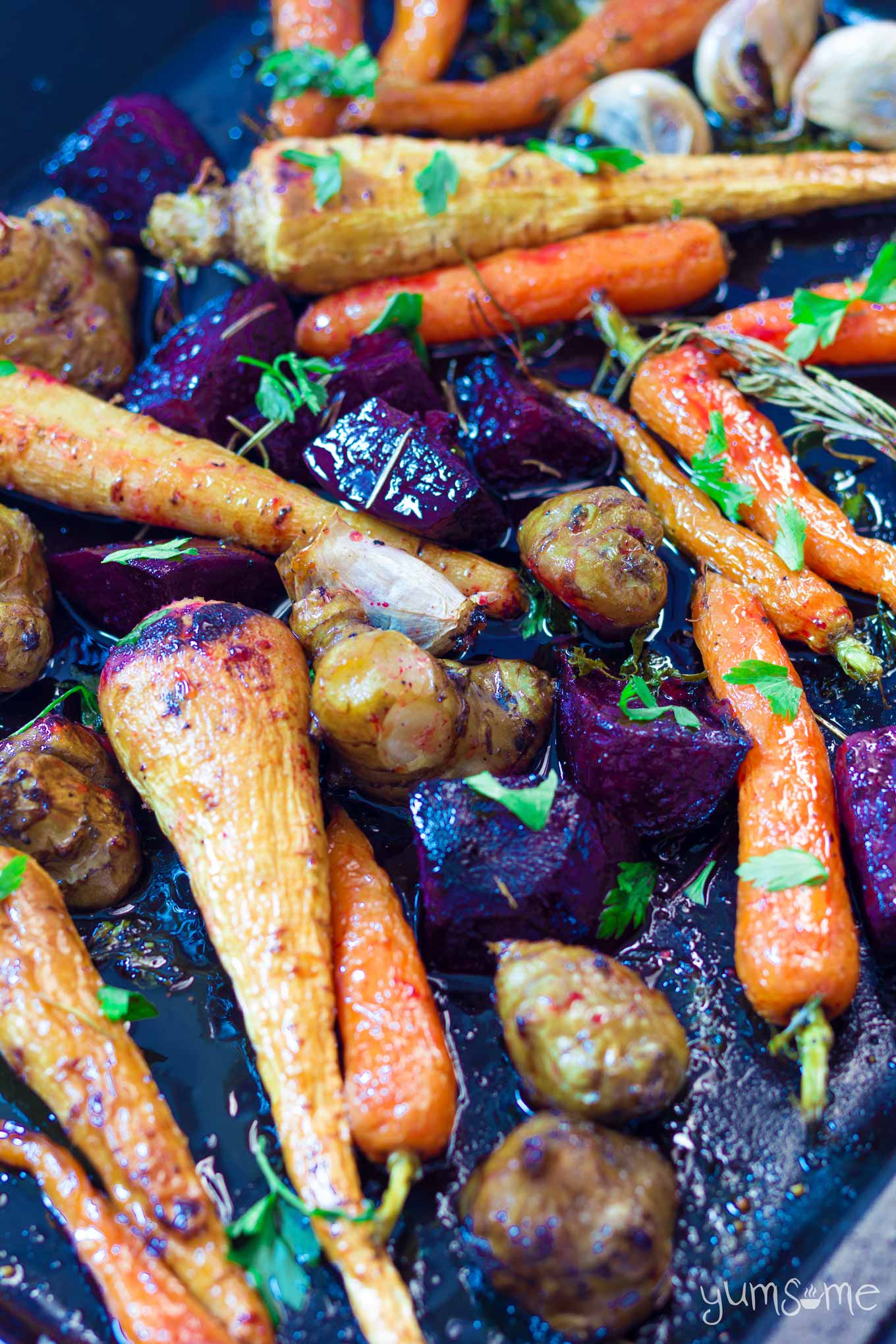 Y'know, I've only just realised that the last time I cooked a roast dinner was for Christmas, and prior to that, Christmas the year before, when I made three stuffed seitan roulades in two weeks, for different branches of the family we were visiting.
Since it's Mother's Day on Sunday here in Britain, and we are being visited by The Progeny, I thought it high time I made another roast dinner. Be rude not to, right? 😉
I don't know about you but roast dinners are one of those meals I hardly ever make but when I do, I always wonder why I don't do them more often. It's not as though they're more effort than any other meal I make.
Anywayyyy...
Making these maple roasted root vegetables is so easy - you don't even need to parboil anything first; just make sure the veggies are all clean, and of roughly the same thickness, massage in a bit of olive oil, salt, and black pepper, spread them out on a baking tray, throw over a few herbs, and chuck in a hot oven for 50 minutes. Take them out 10 mins before they're done, and mix them with some maple syrup, bung 'em back in the oven to caramelise.
Sorted!
Although I have given a list of veggies to use, do feel free to change things according to your own, and your family's, tastes. Not everyone is as enamoured of roast garlic as I am, for example.
Basically, think of this as less a recipe, and more like the Pirates' Code... A set of guidelines!
If you want make your roast dinner even more easy but no less impressive, why not chuck another tray in the oven, filled with button mushrooms and chestnuts, a little olive oil, a bit of balsamic, a few herbs, and a sprinkling of sea salt? I mean, it's a special meal, so why not go a bit overboard? Chestnuts aren't just for Chrimbo! 😉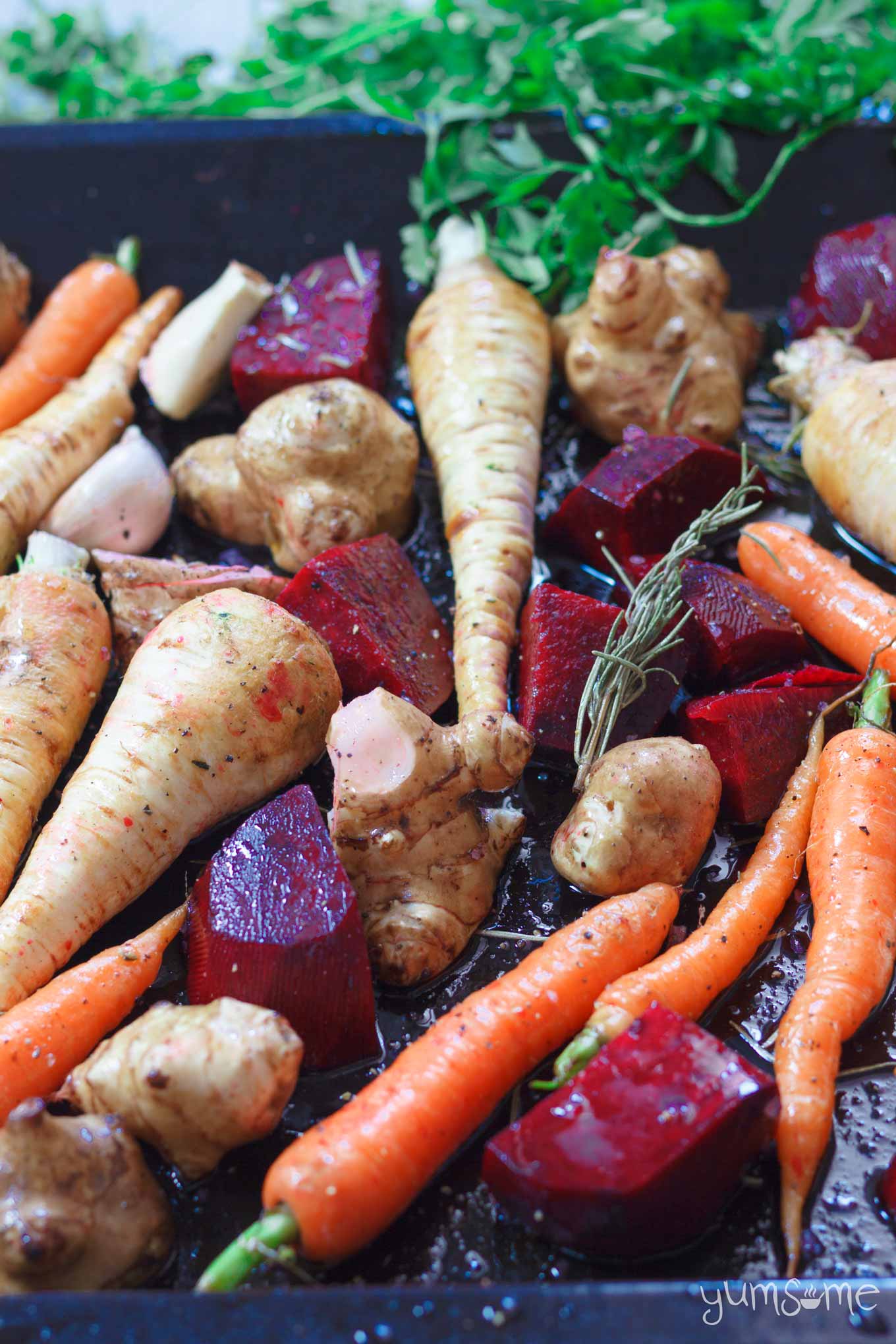 Maple Roasted Root Vegetables
Are...
herby
sticky
a little sweet
a little salty
high in fibre
full of vitamins
irresistible
completely moreish
Whether you make these for Mother's Day (whenever you celebrate it), for Easter (how did it get to almost be Easter already?), or just because you fancy some roasted veg, I just know these are going to be a big hit when you bring them to the table.
Enjoy!
Tell me about your favourite roasted root vegetables!
📖 Recipe
Maple Roasted Root Vegetables
No roast dinner is complete without a goodly pile of roast veggies, right? And there's little more goodly than these maple roasted root vegetables. Bung 'em in the oven, and then in your tummy - you won't be disappointed!
Print
Pin
Rate
Makes (slide to adjust):
4
Ingredients
500

g

Jerusalem artichokes

(aka sunchokes)

8

baby parsnips

8

baby carrots

4

large red onions

2

large beetroots

2

heads garlic

3

tablespoon

olive oil

¼

teaspoon

sea salt

½

teaspoon

ground black pepper

4

sprigs fresh rosemary or savory

small bunch fresh parsely

a few fresh sage leaves

4

tablespoon

maple syrup
Instructions
Pre-heat your oven to 220ºC (430ºF/gas mark 7).

Scrub the artichokes, and cut into large bite-sized pieces. No need to peel them. 

Wash the baby parsnips and carrots, and peel and quarter the onions.

Use a y-peeler to remove the skin from the beetroots, and cut the ends off. Give the beets a rinse, then cut into quarters.

Remove any excess paper from the garlic but keep the heads whole.

Place all the veggies into a

large mixing bowl

, along with the olive oil, salt, and pepper. Mix well (I use my hands), ensuring everything is well-coated.

Tip out onto a large

baking tray

, strew the herbs over the top, then roast in the centre of the oven for 40 minutes.

Remove from the oven, and drizzle over the maple syrup. Using a couple of large spoons, toss the veggies and herbs in the maple, and then return to the oven for another 10 minutes.

Serve immediately.

Any leftovers can be stored once cool in an airtight container in the fridge for up to a week. They don't freeze well though.
Notes
Although I've given a list of vegetables and herbs, feel free to use your own favourites.
Roasting times are based on my oven, your own may be different, so do check on the veggies to make sure they're not being charred to a crisp!
Nutrition Facts
Maple Roasted Root Vegetables
Amount Per Serving (1 portion)
Calories 353
Calories from Fat 99
% Daily Value*
Fat 11g17%
Sodium 182mg8%
Carbohydrates 63g21%
Protein 6g12%
* Percent Daily Values are based on a 2000 calorie diet.
Did you make this recipe?
Do mention @yums0me and/or tag #yums0me - I'd love to see how yours turned out!
Disclaimer
Measurements in parenthesis are approximate; it is beyond the scope of yumsome to be able to provide pinpoint-accurate ingredient quantities for every type of measuring utensil. As a guideline however, I make the assumption that:
1 cup = US cup = 240 ml
1 tablespoon = US/UK = 15 ml
1 fl oz = US = 30 ml
Further information may be found here
If you like this Maple Roasted Root Vegetables recipe, you'll love these other British yums!
I'm linking up my Maple Roasted Root Vegetables recipe to these link parties, hosted at the following blogs - do click on the pics to find more yummy delights!