With Mother's Day just around the corner, what better way to say 'I love you' than to make these decadent Mozart bonbons for your dear ol' Ma? Two layers of marzipan and one layer of nougat, wrapped up in a coat of silky smooth chocolate, make these exquisite little balls of gorgeousness the perfect Mother's Day gift!
I first discovered Mozartkugeln as a teenager, when I was invited to the home of a German friend one Christmas Eve. It was the most magical, fairytale home I'd ever visited, and it made me want to spend every Christmas in Alsace.
Fast forward to finding fairytale Christmas magic in Slovenia, and with it, the rediscovery of Mozartkugeln. Yay! I also discovered that Mozartkugeln are not actually just Christmas confections - that they are in fact, available all year-round. More yay!
Unfortunately, these little balls aren't always vegan, and the ones which are are often pretty expensive, so guess what? Yep, I make them myself.
While they may take a bit of prep, these bonbons are actually really easy to make. In fact, the most difficult part of making Mozartkugeln is to not actually stuff them in your face as fast as you make them!
What are Mozartkugeln?
Created in 1890 by Austrian confectioner, Paul Fürst, and originally called Mozart-Bonbons, Mozartkugeln consisted of a ball of pistachio marzipan which was surrounded by a layer of nougat, coated in dark chocolate, left to harden, and then wrapped in distinctive blue and silver foil.
Although many others have have copied Fürst's bonbons, his descendants continue to hand-make Mozartkugeln to this day.
Over the years, many confectioners around the world have not only produced Mozartkugeln on an industrial scale, they have also been subject to lawsuits, most notably relating to the name and shape. Legally, aside from Fürst, only one other company - Mirabell - is allowed to make perfectly round Mozartkugeln (the rest must have a flattened bottom), and only Fürst's may be called the Original Salzburg Mozartkugeln.
Why did Fürst name his invention after Salzburg's most famous son? Simple, because he was a fan of the composer, who, during the late 19th century, really wasn't at all popular in his home city!
I would say that I find that bizarre (Mozart, guys, Mozart!) but history is littered with people who weren't truly appreciated until centuries after their deaths... which surely means that by the time Captain Kirk embarks on his five year mission, I'm going to be soooo popular!
**snerkle**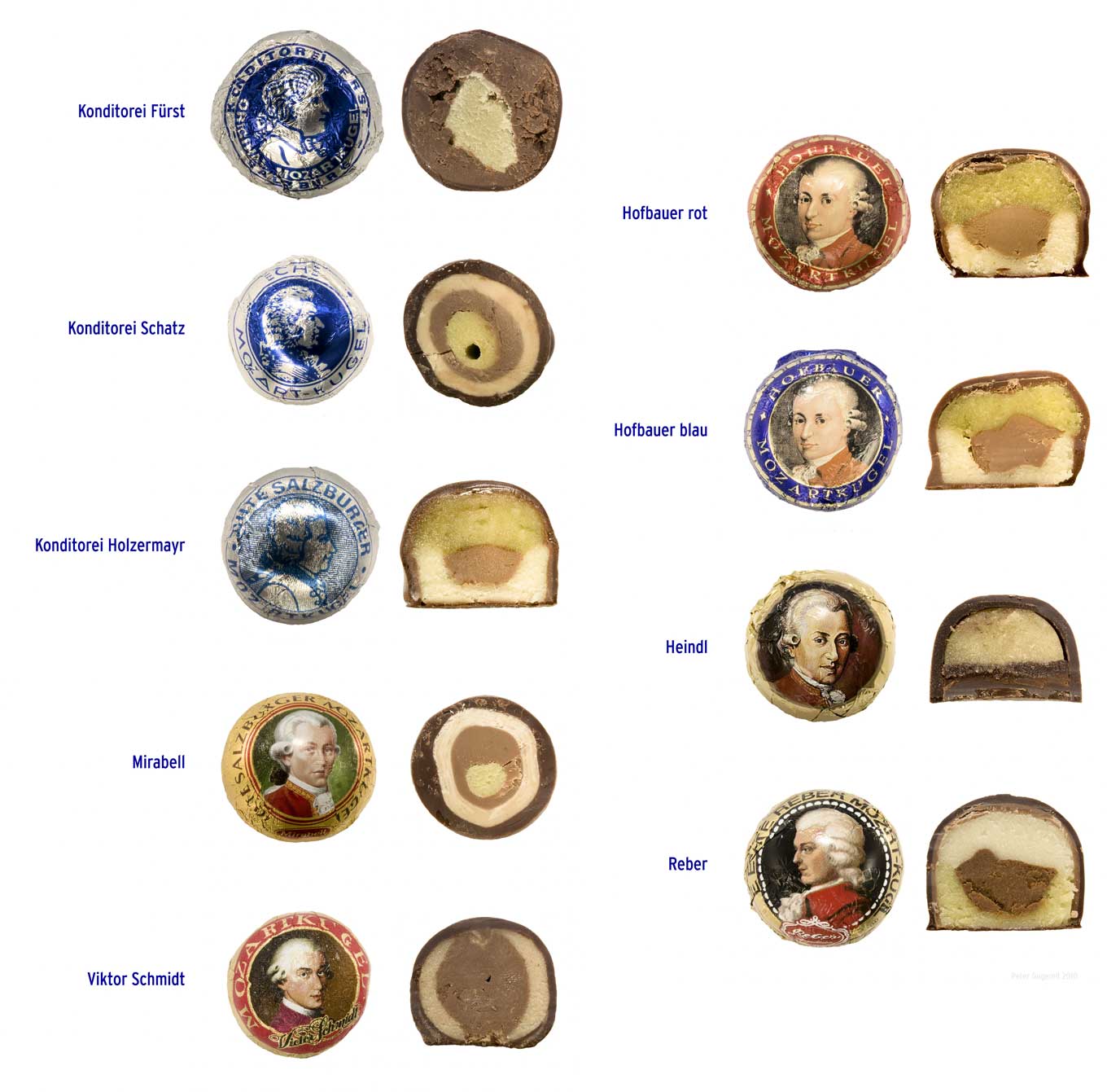 Making Vegan Mozartkugeln
Making these wonderful confections is really just a case of whizzing up some marzipan and nougat, rolling into balls, and dipping in chocolate.
Oh, I should point out that in Germany and Austria, nougat is nothing like the Venetian mandorlato (torrone in Italian) we are all used to - German nougat is a chocolate and hazelnut praline - not that dissimilar to my vegan Nutella.
To make marzipan, I normally use a bit of almond extract to ramp up the delicousness; however, since I had some Foodie Flavours' almond flavouring, I used that instead for these particular Mozarts. It works exceptionally well, and this may actually be the best marzipan I've ever made.
Unless you count the pistachio marzipan I made for these Mozartkugeln. Because y'know, pistachio kind of trumps everything, right?
BTW, did you know that pistachio is a member of the cashew family? And did you also know that if improperly stored, it can spontaneously combust?! Don't worry though, it's only been known to happen when pistachios are stored in bulk, so our pantries are safe.
Phew!
Mothering Sunday In Britain
In Britain, Mother's Day, or Mothering Sunday, is a Christian celebration held on the fourth Sunday of Lent, when you visit your mother church* for the laetare. Leatare, meaning rejoice, is a welcome relief from the austerity of the first half of Lent.
(*The primary church in a diocese, as opposed to local places of worship, called daughter churches.)
Of course, because everyone flocked to their mother church, Mothering Sunday meant that mothers were reunited with their offspring, who had often left home at an early age to become apprenticed, work as servants, or indeed, enter the church itself.
In later years, young people in service - mainly girls - were given the day off to visit their mothers on Mothering Sunday. Modernisation brought about a decline in Mothering Sunday customs, and by the mid 1930s, they had all but died out.
By the middle of the 20th century, however, thanks to our cousins across the Pond, and a goodly dose of marketing on behalf of those in the British retail industry, Mother's Day as we now know it was in full swing. However, in true Brit fashion, we've taken the best from two completely disparate celebrations, and merged them into one - the American practice of honouring our mothers, and our Christian tradition of breaking the Lenten fast with cake.
Or, in this case, Mozartkugeln.
(My blog, my way!)
Mother's Day In The United States
Unlike in Britain, in the United States, Mother's Day has no roots in Christian tradition; it's all about celebrating and recognising motherhood. We have a woman called Anna Marie Jarvis to thank for the celebration which we have - even those of us not raised in the US - come to know and love.
Throughout history there have been festivals and cults dedicated to motherhood, but in the United States, many mothers who had lost their sons during the Civil War formed peace groups, and in 1868, some of these women, led by Ann Reeves Jarvis (mother of Anna), created the Mother's Friendship Day, which effectively reunited communities torn apart by the war.
Prior to becoming a peace activist during the war, in 1858, Ann set up Mother's Day Work Clubs in five towns across her home county of Virginia to resolve the sanitation and health issues which led to typhoid, measles, and diphtheria epidemics. Ann herself was to eventually lose nine of her thirteen children.
During the civil war, Virginia experienced divided loyalties, which led to the western part breaking away to form a new state, yet Ann encouraged members of the Mother's Day Work Clubs to remain neutral, and focus their efforts on treating the wounded in both Union and Confederacy camps, which were also rife with disease.
After the Civil War, Ann tirelessly worked to have a day of recognition for the work that all mothers do - Mother's Day. We've recently celebrated International Women's Day, and Ann is a woman I believe should be remembered. She really was a remarkable woman, and I urge you to go and read more about her.
Ann died on May 9th 1905, and her daughter, Anna, took up the mantle. Believing that all mothers should be recognised as being...
the person who has done more for you than anyone in the world
she campaigned to have Mother's Day made an official holiday. Her efforts came to fruition on May 10th 1908, with the first official Mother's Day celebration.
On May 9th 1914, nine years after Ann Reeves Jarvis' death, President Woodrow Wilson made Mother's Day a national holiday, to be held on the second Sunday in May. The proclamation states that US flags should be prominently displayed as tribute to all mothers in the US.
While we Brits may have moved away from the ecumenical Mothering Sunday, we have nevertheless been making our mums breakfast in bed ever since American GIs came to our shores during the Second World War, and brought with them, their mum-honouring tradition.
And quite right too!
Even though the majority of lay people don't observe the religious aspect of the celebration, we still adhere to the liturgical calendar, which is why Mother's Day is a moveable feast.
Vegan Mozart Bonbons (Mozartkugeln)
Are...
sweet
nutty
chocolatey
decadent
perfect gifts
gluten-free
soy-free
refined sugar-free
utterly delicious
Whether you have a mother for whom to make these Mozartkugeln, or for someone else - or even keep for yourself (no judging) - I am absolutely certain they will be loved by all.
Enjoy!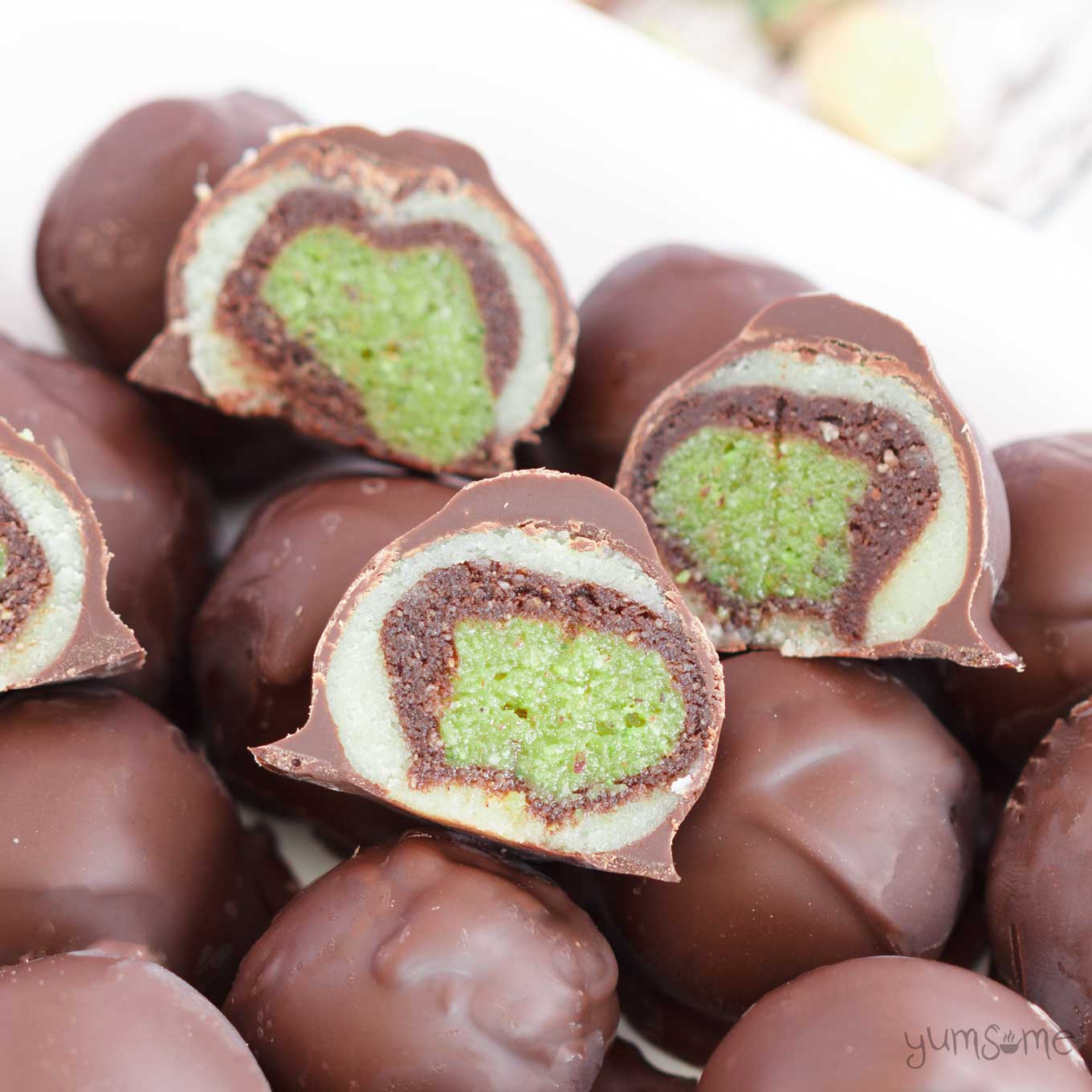 📖 Recipe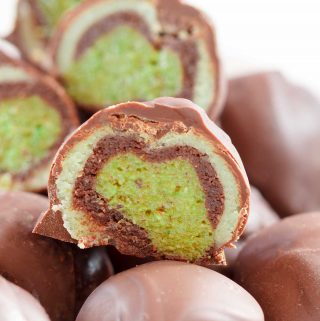 Vegan Mozart Truffles (Mozartkugeln)
Two layers of marzipan and one layer of nougat, wrapped up in a coat of silky smooth chocolate, make these exquisite little balls of gorgeousness the perfect treat!
Print
Pin
Rate
Makes (slide to adjust):
48
bonbons
Ingredients
Instructions
Roast the hazelnuts
Heat your oven to 175C (350F).

Spread the hazelnuts in a single layer onto a baking tray, and roast for 15 minutes.
Marzipan
While the hazelnuts are roasting, place the flaked almonds into a food processor or high-speed blender, and process for 3-5 minutes, until the oil begins to be released, and a little of the mixture can be formed into a ball.

Add the rest of the marzipan ingredients, and process for another 30 seconds, until everything is incorporated.

Turn out onto a board, and knead for 2-3 minutes, until you have a large, smooth ball. Set aside.
Pistachio marzipan
As with the plain marzipan, place the flaked almonds and pistachios into the food processor, and process for 3-5 minutes. When you can make a little ball, add the rest of the ingredients, and process for another 30 seconds. Turn out onto a board, and knead until your marzipan is smooth. Set aside.
Chocolate nougat
By now, the hazelnuts should be done, so place them into the food processor, and melt 25g cocoa butter. Process as before, and then add the rest of the ingredients, and process for another 30 seconds or so, until everything is well-mixed. Turn out onto a board, and knead for 2-3 minutes, until smooth.
Make a Mozart bonbon!
Pinch off a little piece of the pistachio marzipan, and roll into a ball. Take a slightly larger piece of the chocolate nougat, roll into a ball, and flatten. Wrap this around the pistachio ball. Make a ball from an even larger piece of plain marzipan, flatten, and wrap this around the pistachio-nougat ball. Roll the whole thing around in your palms to ensure there are no seams, and the ball is smooth.

(See the images within the post.)

Repeat until you've used up all the marzipan and nougat.

Melt together the dark chocolate and 40g of cocoa butter. Once the chocolate has melted, using a cocktail stick, carefully spear a Mozartkugel, and then dip into the chocolate, making sure it's evenly coated. Allow the excess to drip off before placing the bonbon onto a sheet of parchment or baking mat. 

Repeat for the rest of the Mozart bonbons, and set aside in a cool place for a couple of hours for the chocolate to harden.

Remove the sticks, and enjoy at room temperature.

These vegan Mozartkugeln will keep in an airtight container for up to 8 weeks.
Nutrition Facts
Vegan Mozart Truffles (Mozartkugeln)
Amount Per Serving (1 Mozartkugel)
Calories 133
Calories from Fat 81
% Daily Value*
Fat 9g14%
Cholesterol 1mg0%
Sodium 5mg0%
Carbohydrates 12g4%
Protein 2g4%
* Percent Daily Values are based on a 2000 calorie diet.
Did you make this recipe?
Do mention @yums0me and/or tag #yums0me - I'd love to see how yours turned out!
Disclaimer
Measurements in parenthesis are approximate; it is beyond the scope of yumsome to be able to provide pinpoint-accurate ingredient quantities for every type of measuring utensil. As a guideline however, I make the assumption that:
1 cup = US cup = 240 ml
1 tablespoon = US/UK = 15 ml
1 fl oz = US = 30 ml
Further information may be found here
I used my Optimum VAC2 Air Vacuum Blender for this recipe; if you want to try out this great blender for yourself (more information in my review), Froothie is offering yumsome readers an extra £20 discount, in addition to free shipping. Simply add the following code into the comments box when you check out, or if you order by 'phone, relay the code to the person taking your order. The discount will be refunded to your credit or debit card.
AMBASSADOR CODE 5252 + AMB20: £20 Discount
In addition, Froothie offers a no-risk 30 day trial, plus a no-deposit, interest-free payment plan on every blender on the Froothie website. The VAC2 is currently on special offer, with even more money off!
By the way, I get a small commission - at no extra cost to you - for every sale made using my affiliate code, so if you are thinking of buying something from the Froothie website, I'd really appreciate it if you use my link. Thanks so much! Affiliate sales and advertising, BTW, fund yumsome - without them, I wouldn't be able to provide you with free content.