Hearty veg, nourishing buckwheat, and creamy mashed potato make my vegan mushroom and buckwheat shepherd's pie a deliciously comforting dish, whatever the weather!
Why is it that whenever I think of autumn and winter comfort food, I think of my Gran? And in particular, her amazing casseroles and shepherd's pies? If we'd known about hygge back then, that's exactly how I would have described them.
My mushroom and buckwheat shepherd's pie is totally hygge!
Shepherd's?
Shepherds'?
Shepherds?
How many shepherds are we talking about? Do they all have pies? Or does only one have a pie, which he shares with his fellow sheepy watchers? Answers in the comments section, if you would. Ta muchly.
Anywayyyyyyyy…
I grew up absolutely loving casseroles and stews, pies and puddings, and my Gran's were THE best! Her shepherd's pies though… they were rich, creamy, full of veggies, and so delicious.
They set the benchmark for all my future shepherd's pies.
Traditional shepherd's pie
Shepherd's pie is traditionally made with minced lamb or mutton (hence it being called a shepherd's pie, and not, say, a cowboy pie), vegetables, lots of gravy, and topped with mashed potato.
By the way, if it's made with minced beef, it's a cottage pie (still not a cowboy pie). And if the mashed potato has breadcrumbs sprinkled over the top, it's a Cumberland pie.
Now you know.
I suspect, although I have no proof, that shepherd's pie may be to British households what meatloaf is to their American counterparts – that is to say that it's a frugal dish which goes far, and is very filling.
When I was a child, we often had shepherd's pie on Monday evenings because my Gran would make it with leftovers from Sunday dinner. And yes, she minced her own meat - not with a food processor, either. She used one of those metal meat grinders that you clamp to the table top.
I suspect that lots of people of my generation have similar memories.
Vegan shepherd's pie
Since giving up meat several decades ago, I've made a gazillion vegetarian shepherd's pies (or shepherdess/shepherdless pies, as they are sometimes called) – some have been great, some not so much.
I've made shepherd's pie with lentils, pearl barley, a ton of veggies, just mushrooms and onions, and once, with walnuts. That one wasn't so good.
This one, with buckwheat (AKA kasha... which simply means 'mash') is my favourite, and does not rely on veggie or soya mince, or seitan crumbles to give it substance. Not that there's anything wrong with any of those - I'm more than happy to have something plant-based which resembles meat - however, this is something I can make pretty much anywhere in central/eastern Europe, without having to make seitan, or having to trawl the health food stores in search of a mince replacer. And paying a small fortune for it.
(It may be mainstream in Britain and the US but veggie/soy mince is still 'new' enough here to carry a premium price tag.)
Besides, buckwheat is low in fat, and high in protein and fibre (around 20% of our daily needs for both), plus it's rich in complex carbohydrates and B vitamins.
Also, it's a staple food here, so is really easy to come by, and it's incredibly cheap. In fact, this entire dish is pretty frugal. And it's really filling too.
This vegan shepherd's pie doesn't have much in the way of gravy - just the natural juices from cooking the veggies - but that doesn't mean it's in any way dry. Quite the contrary. Were I to add gravy to this, the buckwheat would just be a horrible mush, and it really wouldn't be very nice at all.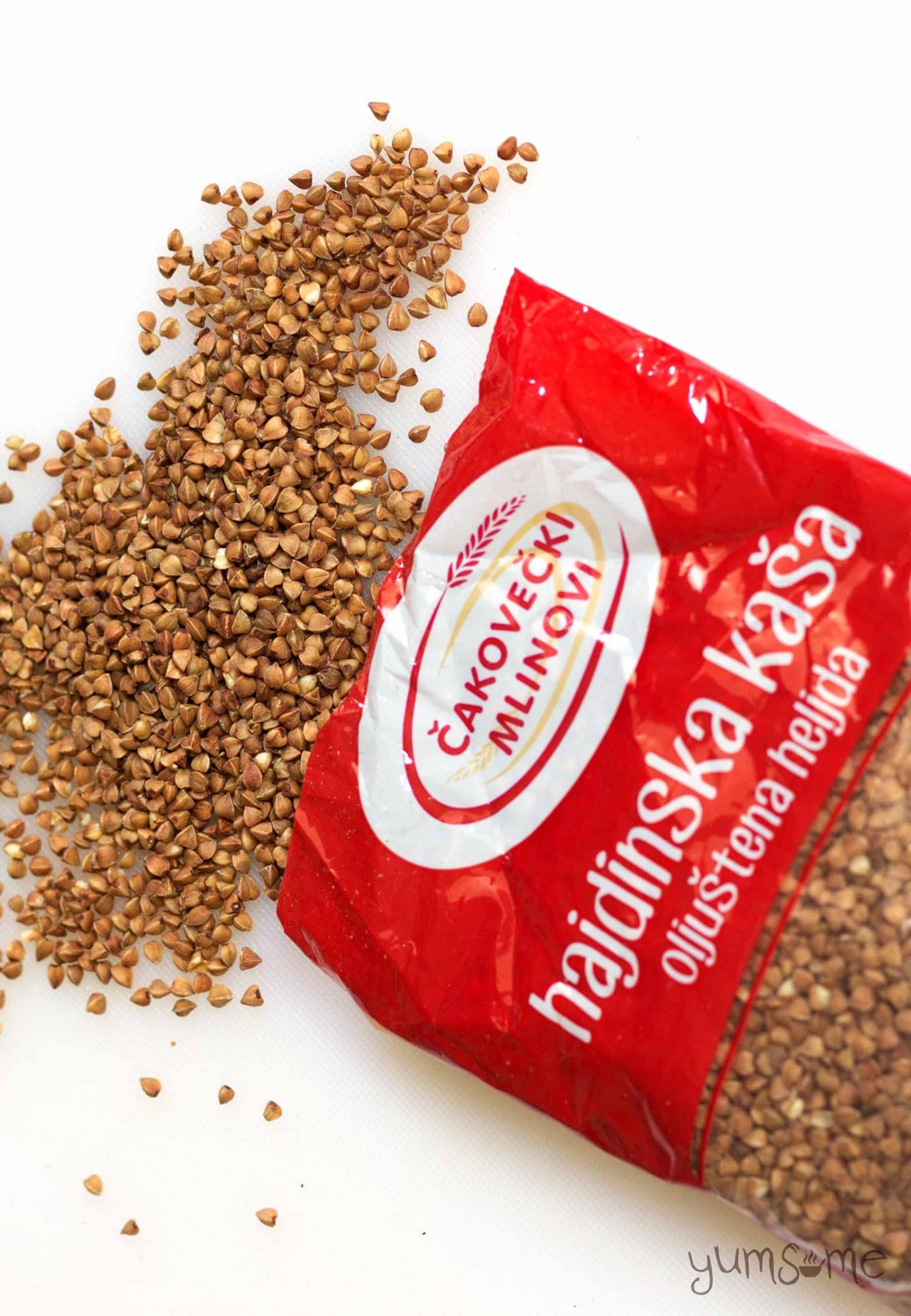 vegan mushroom and buckwheat shepherd's pie
Is…
filling
comforting
hearty
herby
full of goodness
gluten-free
soy-free (depending on which vegan butter/marg you use)
really easy to make
frugal
great for weeknight meals
totally hygge!
As ever, I hope you love this as much as we do. Enjoy!
Do you like shepherd's pie? Tell me your shepherd's pie stories in the comments below!
📖 Recipe
Vegan Mushroom and Buckwheat Shepherd's Pie
Hearty vegetables and nourishing buckwheat, topped with a layer of crisped creamy mashed potato, make my vegan mushroom and buckwheat shepherd's pie a deliciously comforting, filling, and very frugal cool weather dish. Plus, it's gluten- and soy-free too, and is so delicious, you won't miss the meat!
Print
Pin
Rate
Makes (slide to adjust):
6
servings
Ingredients
For the topping:
1.5

kg

floury potatoes

peeled, washed, and cut into bite-sized chunks

100

g

vegan butter or margarine

1

teaspoon

salt
For the filling:
100

g

dry buckwheat groats

2

tablespoon

vegetable oil

1

large leek

cleaned and sliced

2

large carrots

cleaned and diced

250

g

mushrooms

cleaned and cut into small chunks

1

tablespoon

dried mushroom powder

3

large plum tomatoes

roughly chopped

2

tbsp 

coconut aminos

or light soy sauce/tamari if you're OK with them

1

tablespoon

Vegeta

or other powdered vegetable seasoning

1

tablespoon

sweet paprika

small bunch parsley

chopped

ground black pepper

to taste

A few fresh rosemary needles
Instructions
Pre-heat your oven to 200°C (400°F / gas mark 6).

Place the buckwheat into a saucepan over a medium heat, and add around 500ml (2 cups) of cold water. Bring to the boil, reduce heat, cover, and simmer for around 10 minutes, until soft and plumped up. Drain, and set aside.

At the same time, bring a large pan of water to the boil, add the prepared potatoes, and return to the boil. Once boiling, reduce the heat, and simmer for around 20 minutes, or until potatoes are soft enough to mash.

While the potatoes and buckwheat are cooking, heat the oil in a

large skillet

, and gently stir-fry the leeks and carrots for five minutes or so.

Increase the heat, and add the mushrooms and mushroom powder. Fry for another five minutes, stirring all the time.

Add the tomatoes, soy sauce, Vegeta, and paprika. Mix in well, lower the heat again, and cook - stirring occasionally - until the carrots have softened. Add a little vegetable stock if you feel the mixture is too thick.

Mix the buckwheat, black pepper, and parsley into the veggies. Turn off the heat.

By now, the potatoes should be cooked, so drain and mash them. Stir in the butter/marg, and season with the salt.

Place the filling into a large oven dish, and smooth down. Sprinkle a few rosemary needles over the top.

Dot blobs of mashed potato over the filling, and gently spread out until it's all covered. Rough up with a fork.

Bake in the oven for 25 minutes, then brown the topping under a hot grill (broiler).

Serve immediately, on its own, or with a crisp, green salad.

Leftovers can be stored - covered - in the 'fridge for a couple of days. Either reheat in a moderate oven or the microwave.
Notes
You can of course, use less butter/margarine - I just like my mash to be buttery! If you are using salted vegan butter, you can reduce the amount of salt you add to the potatoes.
Nutrition Facts
Vegan Mushroom and Buckwheat Shepherd's Pie
Amount Per Serving (1 portion)
Calories 420
Calories from Fat 171
% Daily Value*
Fat 19g29%
Sodium 479mg20%
Carbohydrates 61g20%
Protein 9g18%
* Percent Daily Values are based on a 2000 calorie diet.
Did you make this recipe?
Do mention @yums0me and/or tag #yums0me - I'd love to see how yours turned out!
Disclaimer
Measurements in parenthesis are approximate; it is beyond the scope of yumsome to be able to provide pinpoint-accurate ingredient quantities for every type of measuring utensil. As a guideline however, I make the assumption that:
1 cup = US cup = 240 ml
1 tablespoon = US/UK = 15 ml
1 fl oz = US = 30 ml
Further information may be found here
If you like my Vegan Mushroom and Buckwheat Shepherd's Pie recipe, check out these other comforting yums!