My vegan jota is a hearty smoky bean and sauerkraut hotpot, is simplicity itself to make, and is perfect during cooler weather!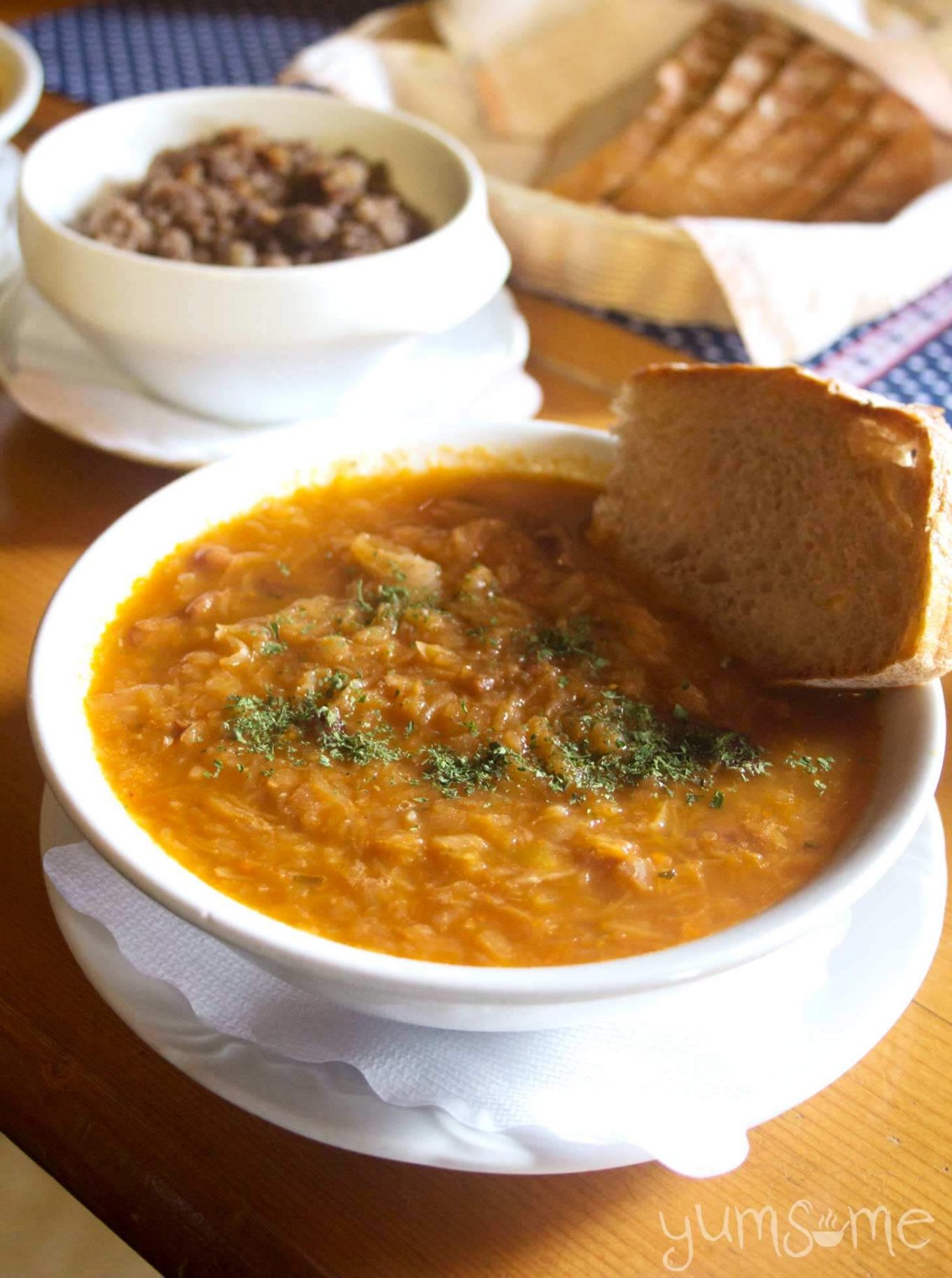 I'd never ever eaten sauerkraut before we moved to Slovenia, and if I'm honest, it's something that's never really appealed to me; I'm not a lover of fermented or pickled foods, and sauerkraut seemed to me fall into these categories. However, I'm so glad I bit the bullet, and gave it a try because I can honestly say that I pretty much love it now.
Which is good news, since it's a key ingredient in this vegan jota.
The first time I had sauerkraut, I bought a big jar of it - in for a penny, in for a pound, right? Actually, the shop I went to only had large jars, so I hoped I'd like it.
I did... I loved it!
Discovering Slovenian Jota
Not long after my first taste of sauerkraut, however, amato mio and I went for a drive up the Vršič Pass...
... where halfway up, we discovered a little place called Tonkina Koča, which, simply put, is the stuff of fairy tales.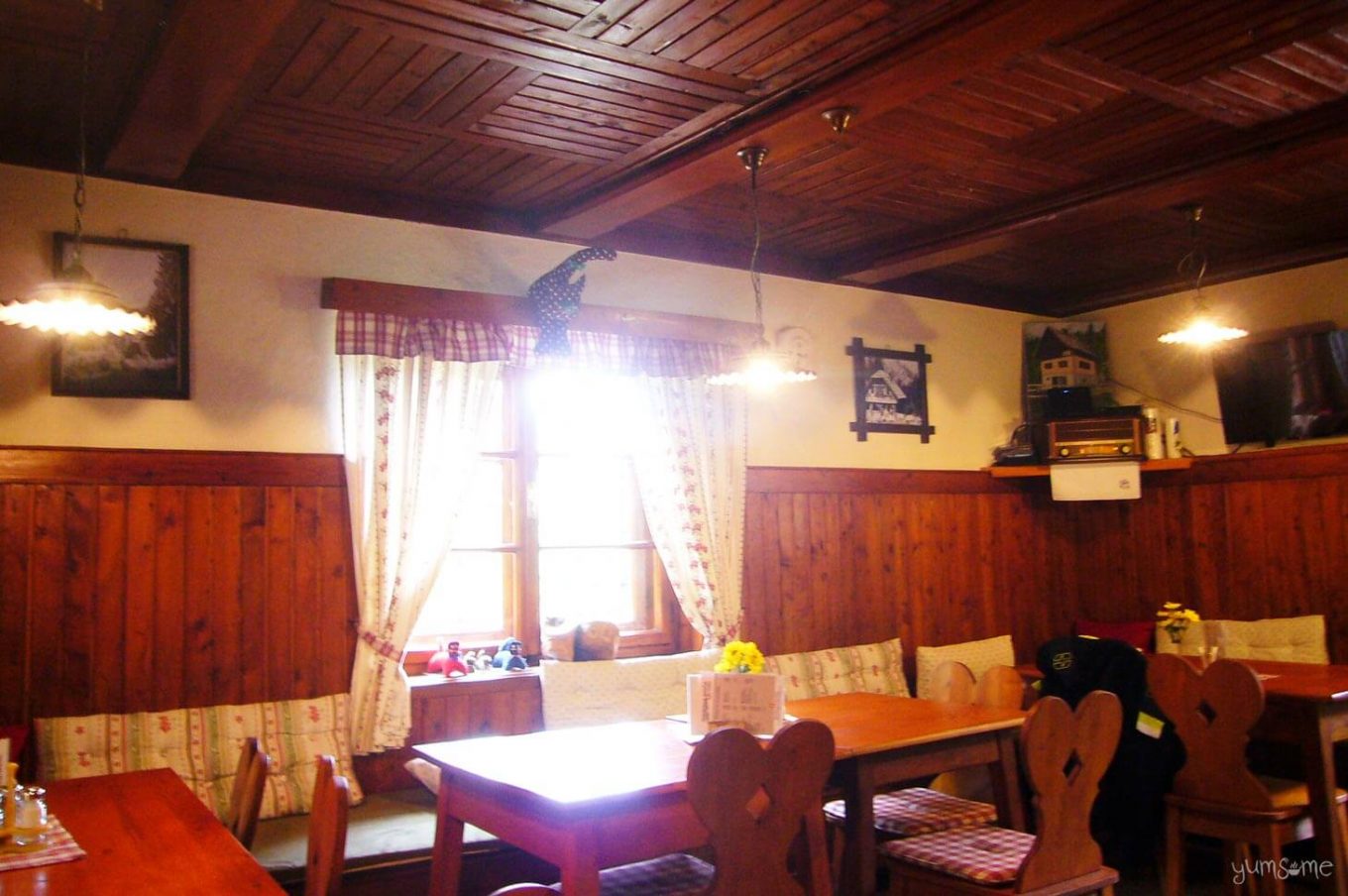 We discovered meat-free jota on the menu, so of course, had to have some.
It would have been rude not to, right?
After that, I was completely sold on sauerkraut, and now I eat it on a regular basis. Nothing, though, comes close to the sauerkraut made by my Bosnian friend, Desa. My mouth is watering, just thinking of it! In the autumn, she makes huge bucketfuls of sauerkraut. After having eaten kraut all over the place - and making it myself - I can honestly say that Desa is the queen of kraut!
As for the jota... in addition to being insanely easy to make from sauerkraut, beans, and potatoes, plus a bit of vegetable broth, it's also really frugal. It's typical cucina povera - the best kind of food, in my opinion! It freezes well, and will keep in an airtight container in the 'fridge for up to a week; in fact, this vegan jota is even better 2-3 days after it's been made. I also sometimes add my sausages to the jota, which works really well.
Fun fact: did you know that Cleveland (USA) has the largest urban Slovene population outside Slovenia's capital, Ljubljana?
Vegan Jota (Slovenian Sauerkraut & Bean Stew)
Is...
hearty
filling
warming
diet-friendly
gluten-free
soy-free
nut-free
dairy-free
economical
what autumn and winter were made for!
insanely delicious!
I really hope you enjoy this hearty Slovenian stew.
Dober tek!
Have you ever had jota - vegan or otherwise?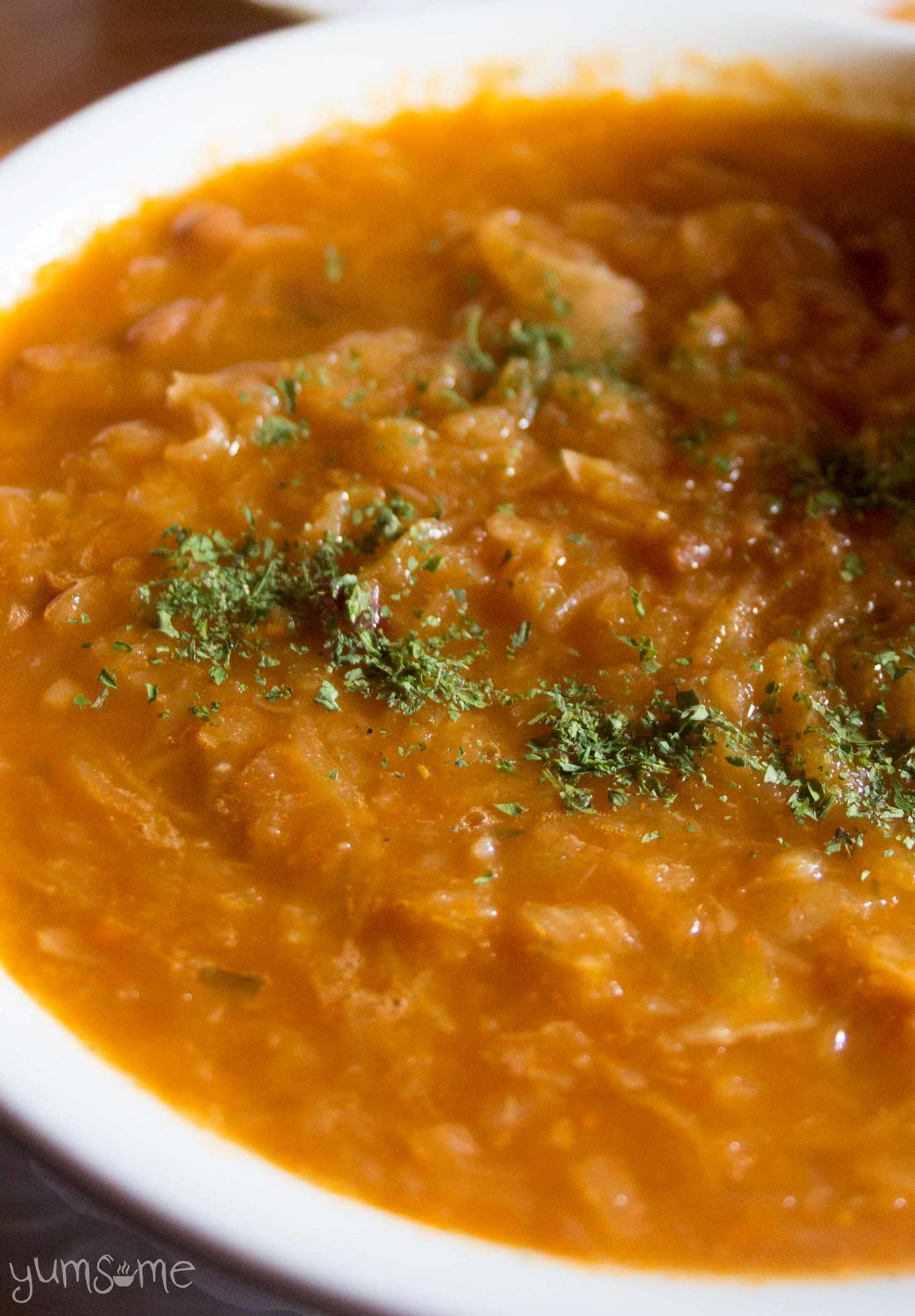 📖 Recipe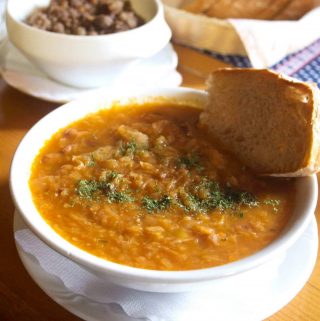 Vegan Jota
My vegan jota is a hearty smoky bean and sauerkraut hotpot, is simplicity itself to make, and is perfect during cooler weather.
Print
Pin
Rate
Makes (slide to adjust):
6
servings
Ingredients
1

large onion

finely chopped

1

tablespoon

oil

6

fat cloves garlic

smashed

1

tablespoon

plain flour

gluten-free if necessary

750

ml

vegetable broth

4

tablespoon

passata

2

teaspoon

smoked paprika

500

g

potatoes

scrubbed and cut into small chunks

500

g

sauerkraut

drained and rinsed

250

g

cooked beans

(note 1)

Salt and pepper

to taste
Instructions
In a large pan, fry the onions over a medium heat until they become translucent.

Add the garlic, and continue to cook for another couple of minutes.

Mix in the flour, and cook for a minute, stirring all the time.

Mix the passata and the paprika with the vegetable broth, and add to the pan. Mix well.

Stir in the potatoes and sauerkraut, bring everything to the boil, then reduce the heat and simmer, uncovered, until the potatoes are soft.

Add the beans, and continue to simmer for another 10 minutes.

Taste, season, and serve with fresh bread and

žganci

(made without lard and cracklings, of course!).
Notes
Almost any type of beans will work; white, cannellini, borlotti, pinto, navy, speckled. I usually use white or pinto because they're the ones most readily available to me.
Nutrition Facts
Vegan Jota
Amount Per Serving (1 portion)
Calories 270
Calories from Fat 72
% Daily Value*
Fat 8g12%
Sodium 610mg25%
Carbohydrates 50g17%
Protein 12g24%
* Percent Daily Values are based on a 2000 calorie diet.
Did you make this recipe?
Do mention @yums0me and/or tag #yums0me - I'd love to see how yours turned out!
Disclaimer
Measurements in parenthesis are approximate; it is beyond the scope of yumsome to be able to provide pinpoint-accurate ingredient quantities for every type of measuring utensil. As a guideline however, I make the assumption that:
1 cup = US cup = 240 ml
1 tablespoon = US/UK = 15 ml
1 fl oz = US = 30 ml
Further information may be found here
If you like this vegan jota recipe, you're sure to love these other Balkan yums!