Under 150 calories per serving, this mild Burmese eggplant curry recipe, with its deliciously silky eggplant in a creamy, piquant gravy, is a perfect blend of sweet, sour, and spicy flavours.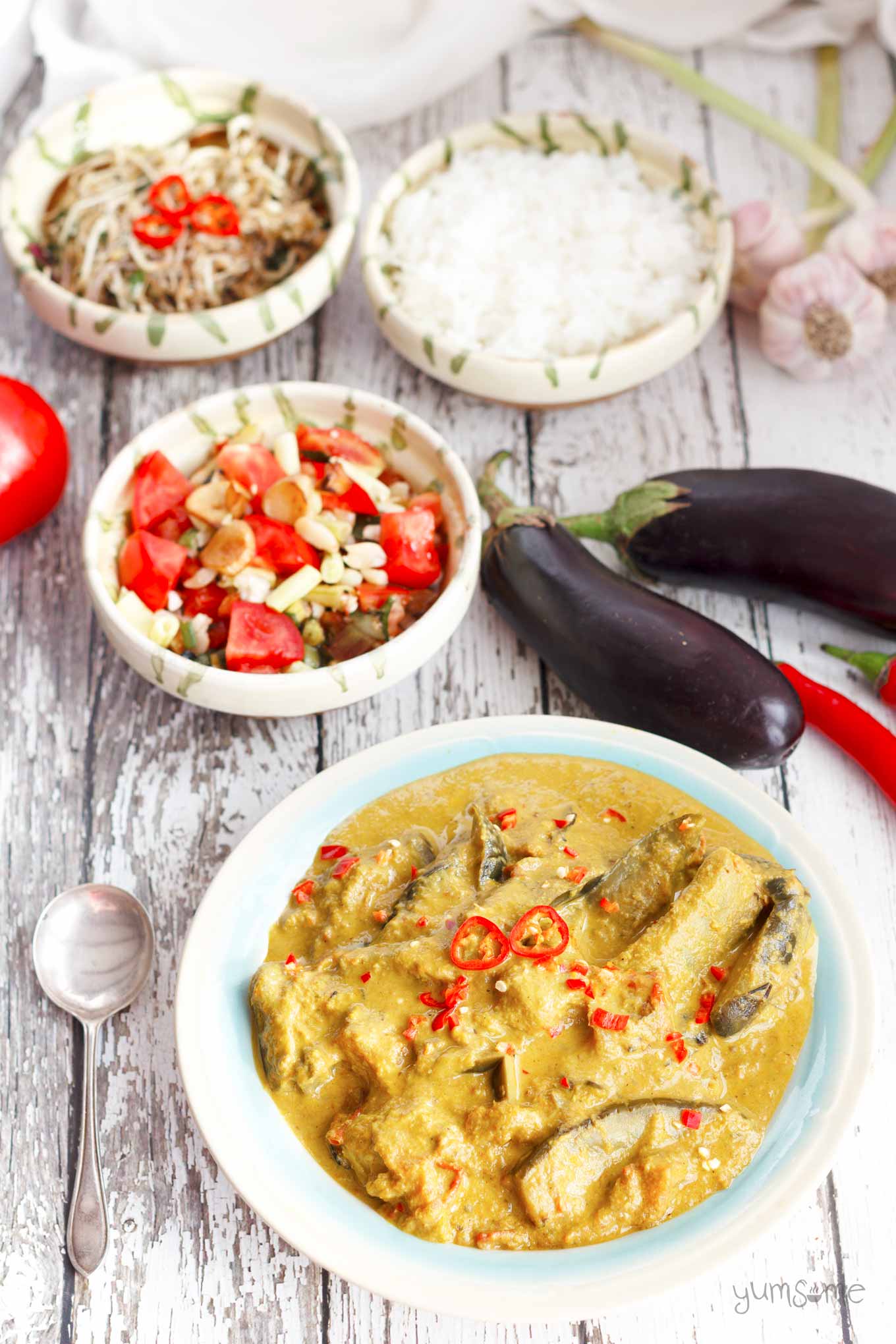 This post contains affiliate links. For more information, please see my privacy policy.
I, like a lot of the Shan people, prefer my curries to be mild, with only a little kick... but you can make yours as hot as you like. A word of warning though, if you're using Thai chillies, don't be fooled by the size or colour; tiny green bird's eye chillies can pack a huge punch, whereas very often, the large red ones can be quite mild. My advice, unless you have a high tolerance for Thai chillies, stick with the ones you know!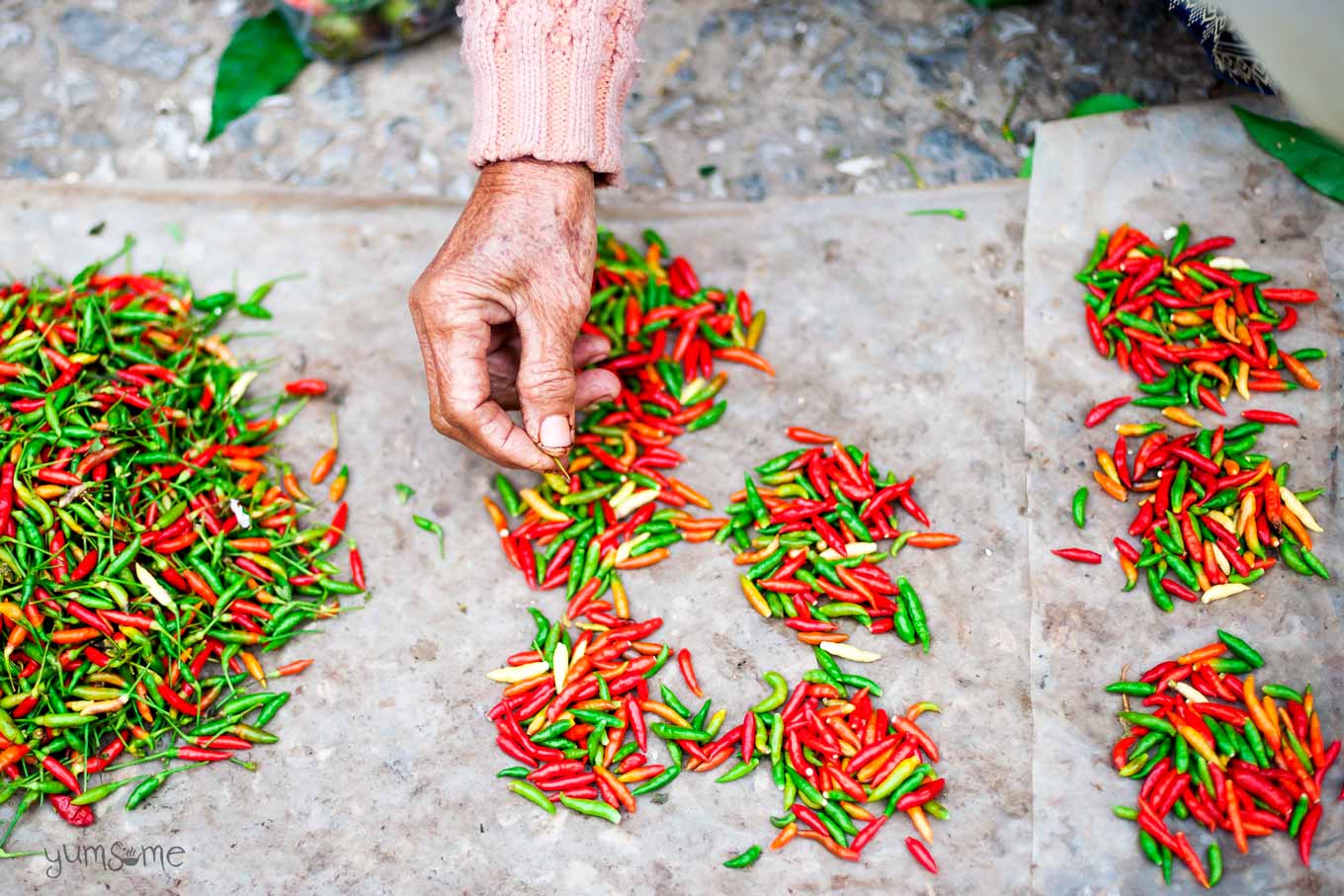 Burmese food in Chiang Mai
One of our favourite places to eat when we lived in Chiang Mai was a really cheap hole-in-the-wall Burmese café; it was very basic but goodness, the food they served there was out of this world. For around £2 ($3), we could have two curries, two portions of rice, and an enormous bowl of lentil soup, plus all the water we could drink.

(That's £2 for the two of us, not each!)

I miss that place sooo much!

(Sorry for the poor quality of the following couple of pics - I took them a few years ago with my very ageing iPhone 3GS!)
I'd love to tell you that I learned to make this Burmese curry while spending time in Myanmar but the truth is that there were plenty of Burmese people in Chiang Mai from whom I could learn. Most of them were construction workers and their families - some of whom I taught while volunteering at the Baan Dek Foundation.

One of the cooks there, Jeni, was the first person to teach me to cook SE Asian food, and I will always be grateful to her for introducing my tastebuds to a whole new world of flavours!
Try these Southeast Asian recipes, too!
You'll love my Burmese eggplant curry
Because it's...
creamy
mild
tangy
quick and easy to make
low-calorie
gluten-free (if you use tamari)
oil-free
soy-free (if you use coconut aminos)
full of goodness
completely scrumptious
Serve this curry with a little rice and a couple of Burmese salads, and you'll have a feast fit to grace any table! Enjoy!
📖 Recipe
Burmese Eggplant Curry
This mild Burmese eggplant curry recipe, with its deliciously silky eggplant in a creamy, piquant gravy, is a perfect blend of sweet, sour, and spicy flavours.
Print
Pin
Rate
Makes (slide to adjust):
4
servings
Ingredients
Curry paste
1

Thai chilli

sliced (note 1)

6

medium-large spring onions

white and green parts, chopped

3

large cloves garlic

roughly chopped

1

stalk

fresh lemongrass

sliced finely

5

cm

fresh ginger root

roughly chopped (note 2)

2.5

cm

fresh galangal root

roughly chopped

1

tablespoon

all-purpose soy sauce

(note 3)

1

tablespoon

palm sugar

1

tablespoon

water

1

tablespoon

tamarind paste
The rest:
500

g

small eggplants, sliced

2

medium tomatoes

chopped into chunks

1

teaspoon

ground turmeric

400

ml

canned coconut milk

1

dash

salt

optional (note 4)
Equipment
food processor

blender

immersion blender

wok
Instructions
Steam the eggplant slices for around 5 mins, until soft.

While they are steaming, make the curry paste by blitzing the ingredients in the first section together in a food processor, blender, or by using an immersion blender with a mini food processor attachment.

Add the tomatoes to a hot wok over a medium heat, and dry-fry for 3-4 mins, until they begin to soften.

Add the eggplant and turmeric, stir well, and continue to cook for another minute.

Stir in the curry paste, making sure that everything is well-coated. Stir-fry for three or four minutes, until the 'raw' smell has gone.

Mix in the coconut milk, turn down the heat, and allow to simmer for around 10 minutes, until the gravy has thickened.

Taste, and season with a smidge of sea salt if necessary.

Serve immediately. (Any leftovers can be kept in an airtight container in the 'fridge for up to 3 days.)
Notes
Add more chillis if you like a bit more heat.
If your ginger is very fresh, there's no need to peel it; however, if the skin is a bit thick, scrape it off with the edge of a teaspoon.
If you can't have soy, use coconut aminos. If you can't have gluten but soy is fine, use tamari.
Salt is not included in the nutritional breakdown because I have no way of knowing whether you'll use it, and if so, how much. However, if your sodium intake is something you're keeping an eye on, you can factor it in using something like Cron-O-Meter.
This curry is not suitable for freezing.
Nutrition Facts
Burmese Eggplant Curry
Amount Per Serving
Calories 149
Calories from Fat 54
% Daily Value*
Fat 6g9%
Sodium 390mg16%
Carbohydrates 23g8%
Protein 5g10%
* Percent Daily Values are based on a 2000 calorie diet.
Did you make this recipe?
Do mention @yums0me and/or tag #yums0me - I'd love to see how yours turned out!
Disclaimer
Measurements in parenthesis are approximate; it is beyond the scope of yumsome to be able to provide pinpoint-accurate ingredient quantities for every type of measuring utensil. As a guideline however, I make the assumption that:
1 cup = US cup = 240 ml
1 tablespoon = US/UK = 15 ml
1 fl oz = US = 30 ml
Further information may be found here