Fragrant and spicy, this vegan tom yum (aka tom yam) - a delicious hot and sour soup - is deservedly one of Thailand's most famous dishes. After phad Thai, of course!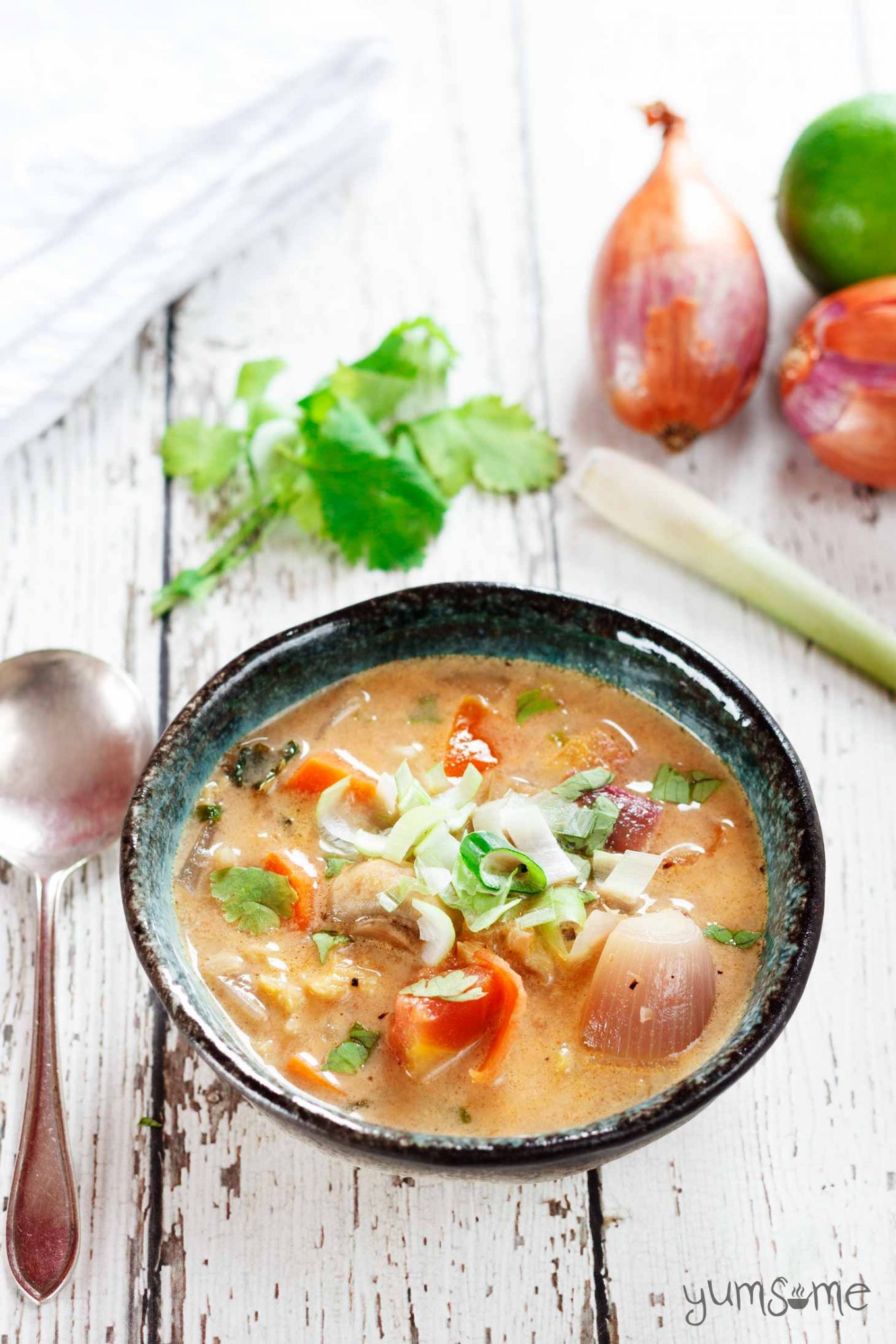 This post contains affiliate links. For more information, please see my privacy policy.
Tom yum
No matter where you are in the world, if you come across a Thai restaurant, it will have tom yum on the menu. And for good reason too; this delicious soup is quick and easy to make, and it's easily tailored to local tastes and ingredients.
That said, although there are several ways to make tom yum (some people swear by using condensed milk, some use coconut milk, and some don't use any at all, preferring a clear broth), the three things you absolutely have to include are the aromatics. Lemongrass, galangal, and kaffir lime leaves. These are non-negotiable.
And depending on where you are in Thailand, lime juice or tamarind may be used as a souring agent, onions instead of shallots, fresh chillis instead of nam prik pao. And of course, there is the option of having it with chicken (tom yam gai) or prawns (tom yum goong).
tom = to boil, yum = spicy salad
When we were living in Thailand, my friend, Aye (who owns Anchan Vegetarian), taught me how to make vegan tom yam. Outside my own kitchen, Anchan is the only place I've ever been able to eat it, due to it normally being far too hot for me. Aye is fantastic in that he will, if asked, cook dishes to customers' specifications. My food is probably the wimpiest he ever had to prepare!
Thai food isn't difficult to make!
Some people seem to be under the impression that Thai food is difficult to cook, or that it's difficult to cook well, and so make Westernised versions of Thai dishes. However, I feel this is unnecessary, and if I'm honest, a bit wrong. Why bother to make food from a certain cuisine if you're just going to Westernise it? Why not just invent your own dishes instead?
If you love Thai food, then make real Thai food!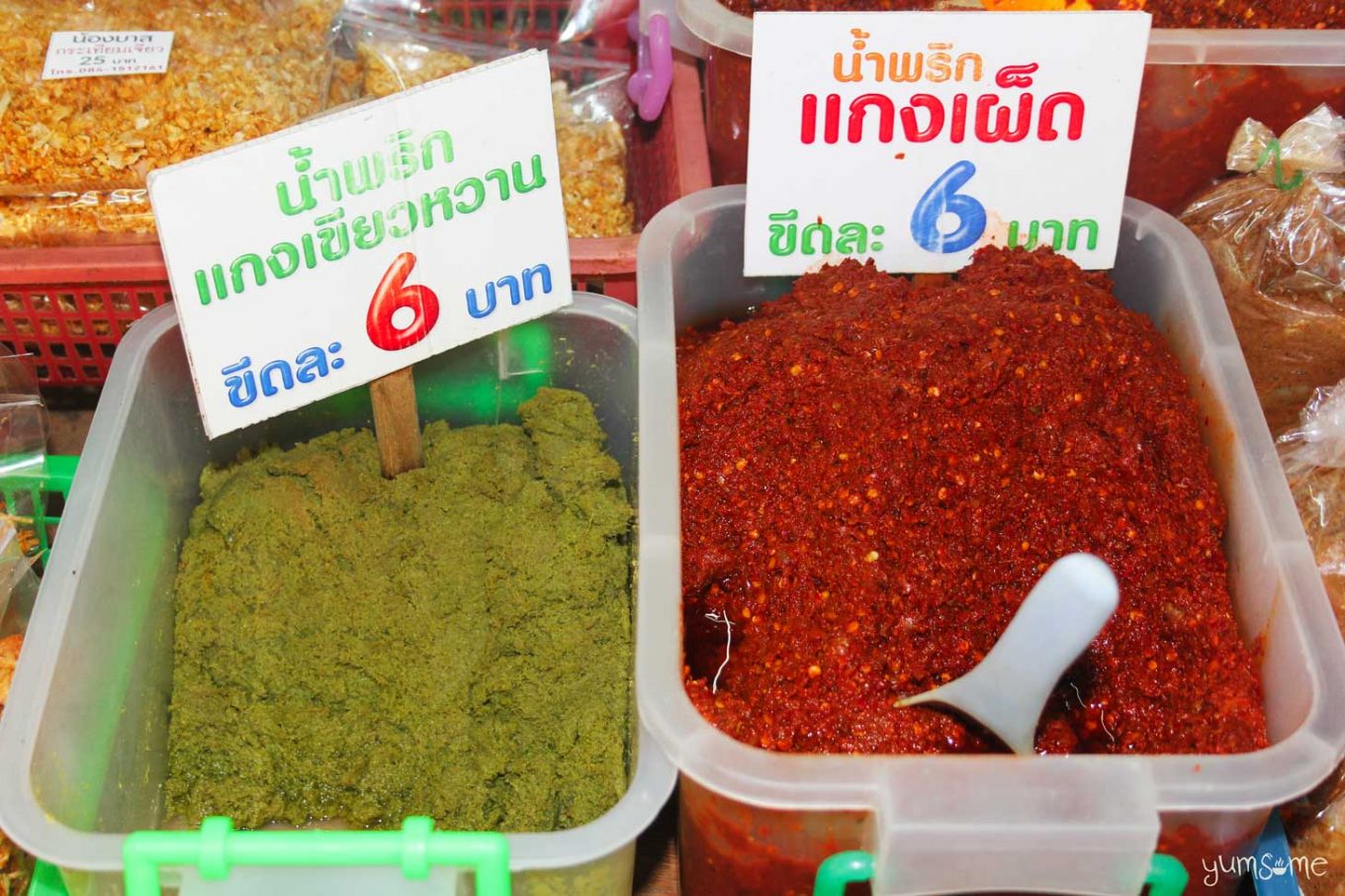 Easy Thai food
Thai food is really - I mean, really, really - simple to make. And most dishes are pretty quick too, especially if you already have the requisite pastes, sauces, and condiments to hand.
In Thailand, pre-made pastes, sauces etc. abound, and are incredibly cheap to buy but unless you can find some that are made without shrimp or fish sauce, it's probably better to make your own.
To make Thai cooking even easier, markets also sell bundles and packs of aromatics, with which to make soups, such as tom yum and tom kha.
Tom yum vs tom kha
Before I go any further, I'd like to clear up a misconception that many Westerners have. Tom kha is not tom yum with the addition of coconut milk. I really wish people - Western food bloggers in particular - would get this into their heads!
Tom kha just means boiled galangal (kha = galangal). It does not mean 'tom yum with coconut milk'!
(Actually, I wish more Western food bloggers would actually research the international food they blog about, especially what the names mean. But that's another story entirely!)
Tom yum and tom kha are very different soups. While tom kha is always made with coconut milk, tom yum, as I mentioned earlier, can be made with or without.
What is the difference between tom yam and tom kha?
Tom kha is made with fresh chillies, whereas tom yum uses nam prik pao and sometimes, dried chillies.
Tom kha is more fragrant than tom yum. It uses far more aromatics, including about 8 times the amount of galangal!
Tom kha also needs double the fish sauce (or vegan equivalent), and twice as much coriander leaf.
In short, the two actually taste very different to each other. Western food bloggers, please take note - stop giving your readers false information! 😉
Thai mushrooms
Although when I lived in Central Europe, there were a lot of local people selling produce they'd grown themselves, or even - as was the case when we lived in Serbia - foods they'd foraged themselves, nothing came close to the magnificence of the mushrooms the Thai and Burmese hill tribe women pick. Which were then brought down from the mountain to sell in the markets.
Unfortunately, we get nothing nearly as exotic here. We do sometimes get oysters, chanterelles, porcini, and shiitake though, as well as normal white and chestnut but I do miss Asian ones, especially cloud ear, straw, and eringi mushrooms.
By the way, if you're buying straw mushrooms, don't buy any that have opened - they're no good for you.
When I make tom yam here, I use whichever mushrooms I can get my hands on. As long as they are fresh, it doesn't really matter what you use, the soup will still be wonderful.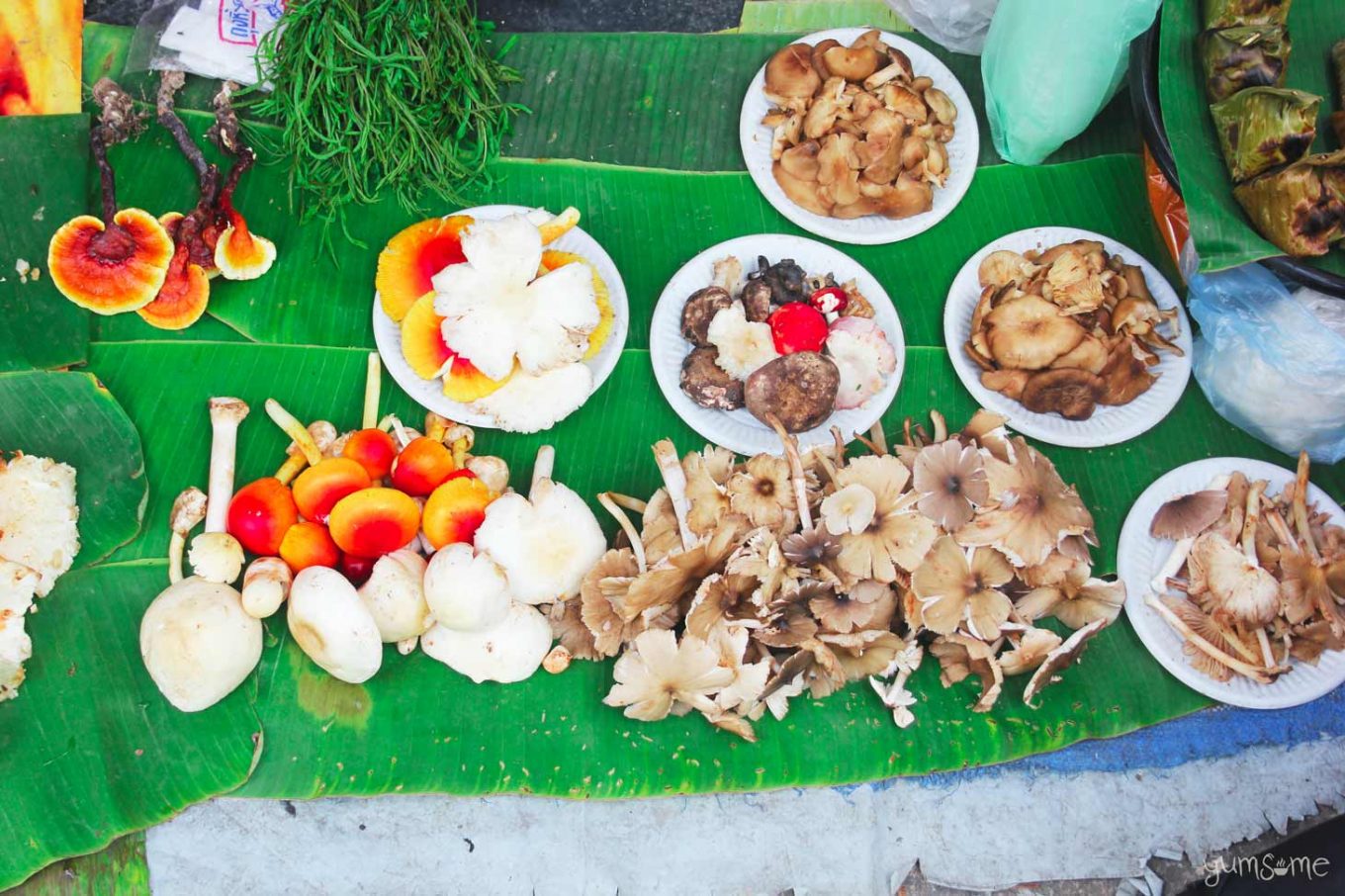 How to make tom yum
To make tom yum, simply boil your aromatics...
Add the veggies. (Feel free to add your own selection, and tofu too if you like.)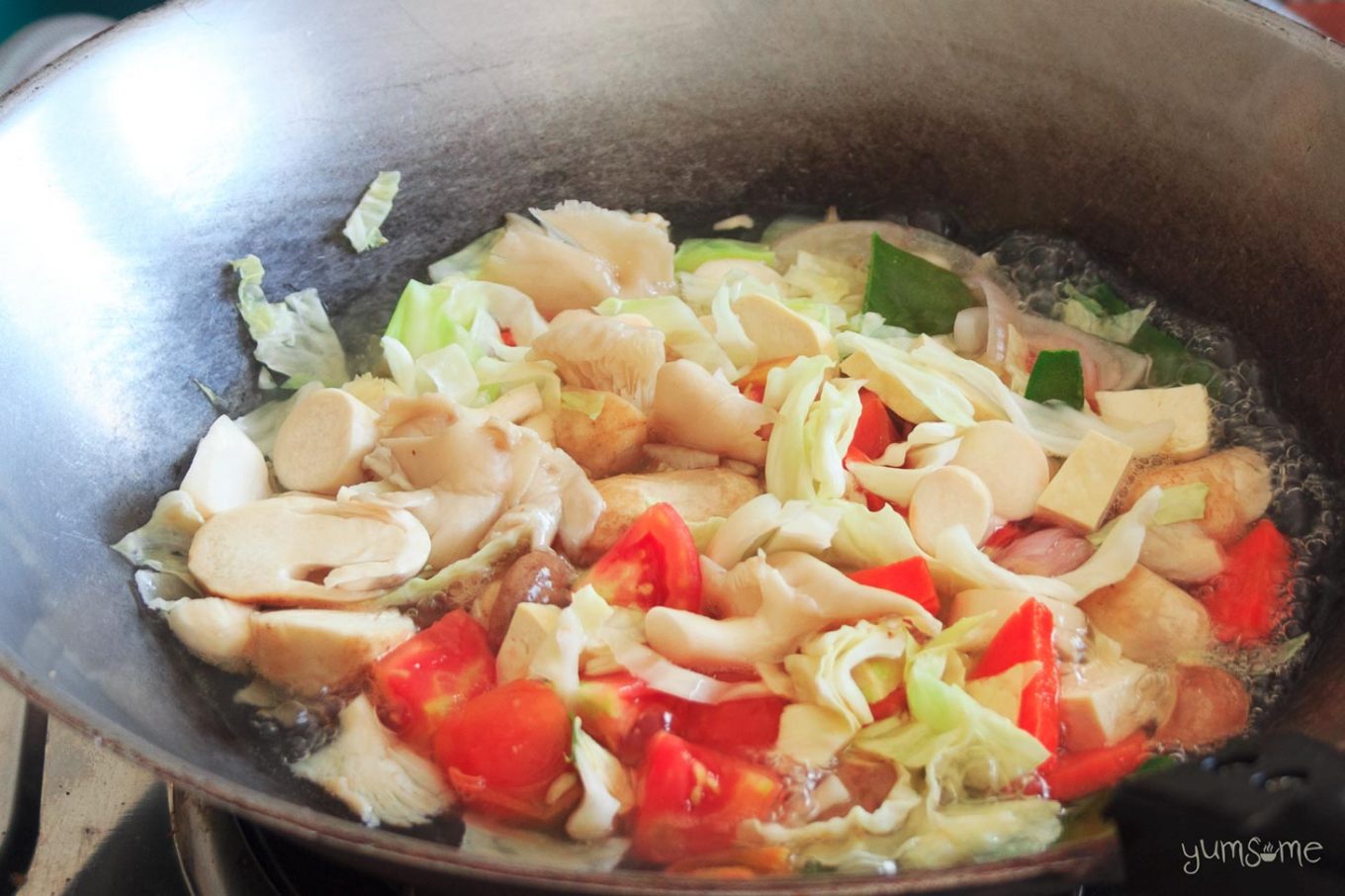 Then add the coconut milk (if using)...
Balance the hot, sour, salty, sweet flavour cycle, and away you go. Simple! Gin hai aroi ka!
Check out these other Thai recipes while you're here!
📖 Recipe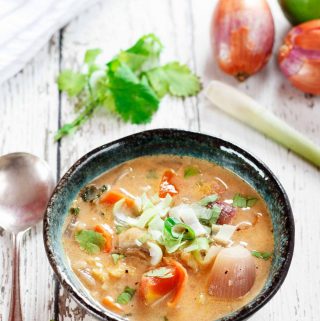 Quick 'n' Easy Vegan Tom Yum
Fragrant and spicy, this vegan tom yum - a delicious hot and sour soup - is deservedly one of Thailand's most famous dishes.
Print
Pin
Rate
Makes (slide to adjust):
2
servings
Ingredients
500

ml

water

4

slices

fresh galangal root

, (c.5mm/¼" thick)

4

small red shallots

, (or 1 small red onion)

3

fresh kaffir lime leaves

1

stalk

fresh lemongrass

, sliced lengthways

100

g

small mushrooms

, halved

75

g

carrot

, diced

1

large tomato

, cut into rough chunks

50

g

savoy cabbage

, shredded

1

tablespoon

torn coriander leaf (cilantro)

, divided

½ 

teaspoon

sea salt

1-2

teaspoon

palm sugar

2

tablespoon

lime juice

2

teaspoon

nam prik pao

(Thai chilli jam)

A few slices of spring onion
Instructions
Place the water, galangal, shallots, lime leaves, and lemongrass into a wok, and boil for a few minutes to release the fragrances.

Add all of the vegetables, and continue to boil until al dente.

Stir in the coconut milk (if using), and season to taste with the salt, sugar, and lime juice. There should be a balance between sour, salty, and sweet. If not using coconut milk, just continue with the seasoning.

Add the nam prik pao and coriander. Taste, and adjust the seasonings if necessary.

Continue to boil the tom yam for another minute.

Serve immediately, garnished with a few slices of spring onion and some torn coriander leaves.
Notes
Although I've given quantities for the seasonings (salt, sugar, lime juice, and nam prik pao), you may find you need to adjust them to suit your own taste.
If you don't like a lot of heat, start out with one teaspoon of nam prik pao, taste, then add more if desired. Conversely, if you like it really spicy, add more nam prik pao.
If you want to be really Thai, serve tom yam with a separate bowl of steamed rice. I really like to drizzle the soup over my rice, while some of my friends add the rice to the soup. Some folk don't do either!
If you want to eat the aromatics, they won't do you any harm but it's not usual to consume them!
Nutritional information does not include the optional coconut milk.
Nutrition Facts
Quick 'n' Easy Vegan Tom Yum
Amount Per Serving
Calories 141
Calories from Fat 18
% Daily Value*
Fat 2g3%
Sodium 738mg31%
Potassium 843mg24%
Carbohydrates 28g9%
Protein 5g10%
Vitamin A 8468IU169%
Vitamin C 38mg46%
Calcium 139mg14%
Iron 2mg11%
* Percent Daily Values are based on a 2000 calorie diet.
Did you make this recipe?
Do mention @yums0me and/or tag #yums0me - I'd love to see how yours turned out!
Disclaimer
Measurements in parenthesis are approximate; it is beyond the scope of yumsome to be able to provide pinpoint-accurate ingredient quantities for every type of measuring utensil. As a guideline however, I make the assumption that:
1 cup = US cup = 240 ml
1 tablespoon = US/UK = 15 ml
1 fl oz = US = 30 ml
Further information may be found here