Fasole bătută is a creamy Transylvanian vegan white bean purée, topped with a pile of sticky, gooey, sweet caramelised onions. It's traditionally served with sausages and pickles, plus home-made bread (pâine de casă), of course. It makes for a fantastically filling and simple frugal meal, especially when there's not much in the way of fresh produce around.
When we lived in Băiţa, once autumn had set in, our garden was no longer producing enough vegetables, fruit, and herbs to sustain us, so we had to supplement our diet by using the local growers' market in Reghin, about 15 mins' drive away. Most of the village is made up of subsistence farmers but the difference between us and our neighbours is that we didn't have animals to rely on to keep us fed throughout the autumn and winter! Still, until about the end of October, we feasted every day on the bounty from our garden, and for that I was very grateful.
Because most of Romania is still incredibly, breathtakingly, beautifully rural, and people largely live off the land, food follows the seasons. In the summer and early autumn, salads abound, and there's a wealth of fresh fruit and vegetables, while in the winter and early spring, preserved foods make their presence felt. I bet there's not a rural family who doesn't make their own zacuscă, mixed pickles, jams, cheese, and cured meats.
Plus wine. liqueurs, and țuică, of course!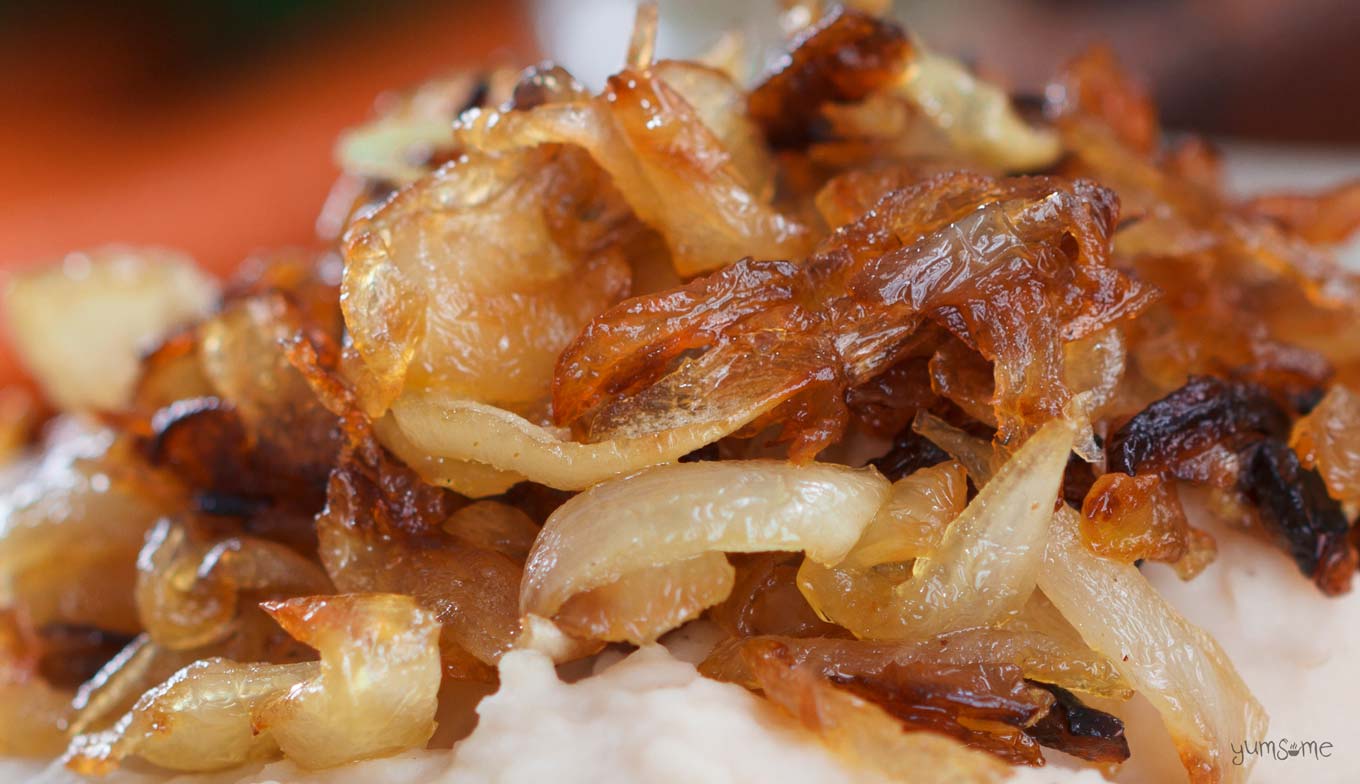 Transylvanian traditions
As a lifelong fan of hummus, when I first came across fasole bătută, it was love at first sight! This meal of white bean purée with fried onions, sausages, and pickles (fasole bătută cu ceapa prăjită, cârnați și muraturi) seems to me, the epitome of Transylvanian families making sure they have enough to eat during the lean months, with the recipe passed down from mother to daughter for generations.
As someone who spent several decades doing experimental history, giving public demonstrations and classes for historical food and home crafts ranging from early medieval (i.e. Viking/Saxon) to the early modern period (eve of the last English civil war), I am truly fascinated, and eager to learn more about local culinary traditions in the places I live.
In Băiţa, we were surrounded by people who are keeping these traditional practices alive, not because it's fashionable to do so but because if they didn't, they'd quite possibly starve. It's a sobering thought, and it reminds me of when my children were small, and we lived in a similar way. I was a single parent, and always strapped for cash. I worked three jobs (teaching assistant, cycling instructor, and freelance journalist), grew most of our own food, baked bread every day, plus cooked and preserved absolutely everything from scratch. It was hard work but I did have the huge advantage of having modern Western conveniences. And an oven with a timer.
(I suspect that most of my Transylvanian neighbours have modern cookers too, in addition to their traditional stoves and wood-fired bread ovens!)
How to make fasole bătută
Traditionally, this fasole bătută is made with dried beans, soaked overnight, and by all means, you can make it like this if you wish - I have done - but it does require a bit of forethought (and a couple of hours' cooking time), which is why I tend to go for tinned beans. I'm not always that good at planning ahead. >ahem<
Once cooked, the beans are puréed with a little of the cooking stock, plus onion and garlic, and then topped with caramelised onions.
I've been told that some people add butter and/or cream to their fasole but to be honest, taste-wise, I don't believe it needs it. Also, when fasole is eaten during the four fasting periods of Lent, Apostles, Repose of the Virgin Mary, and Christmas (Nov 15-Dec 24) - dairy isn't used.
That said, I can see why, if you need to have calorie and fat-laden foods to help replenish you after a day of hard manual labour, and to help keep you warm in the winter, making this dairy-rich would do the job nicely.
However, sitting on my butt, writing blog posts, no matter how much it seems to the contrary at times, can in no way be called hard labour... which is why my fasole bătută recipe doesn't contain a whole lot of fat!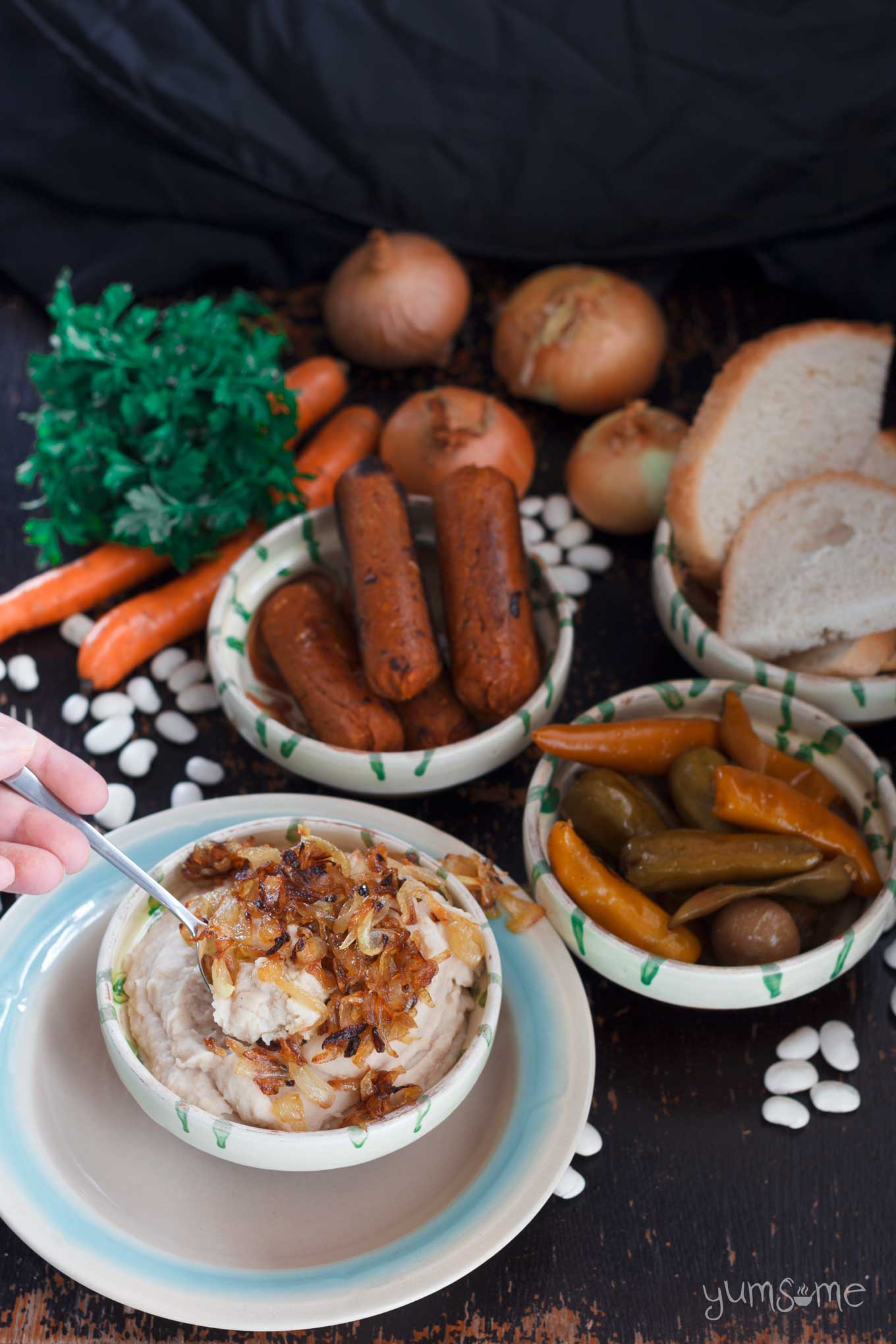 You'll love this fasole bătută
Because it's...
easy to make
wholesome and full of Vitamin A
packed with protein and fibre
gluten-free, soy-free, nut-free
comforting and creamy
incredibly delicious
Enjoy this fasole bătută recipe with sausages and pickles, with bread, on crackers... or however you like. I'm sure you'll love it! Poftă bună!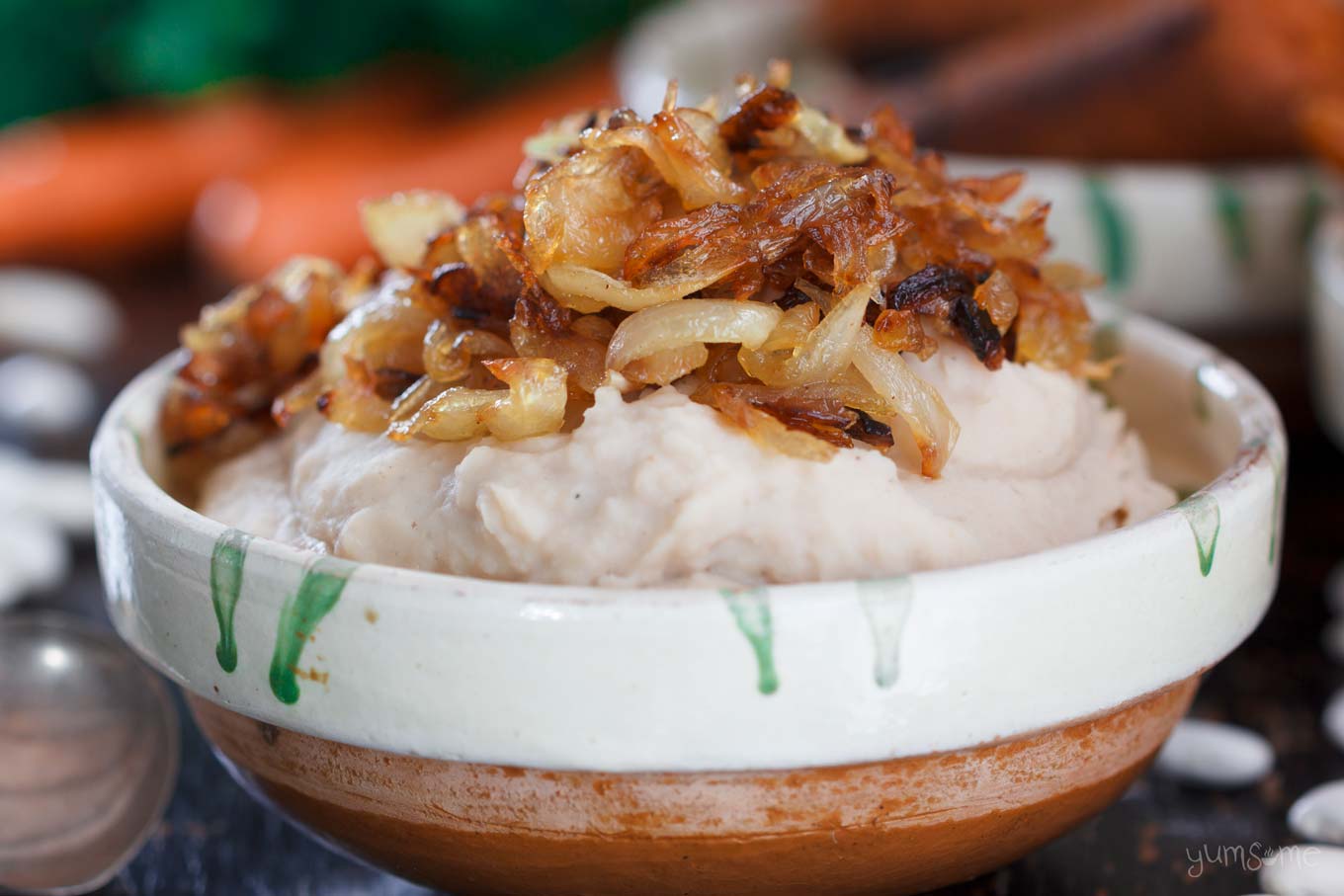 📖 Recipe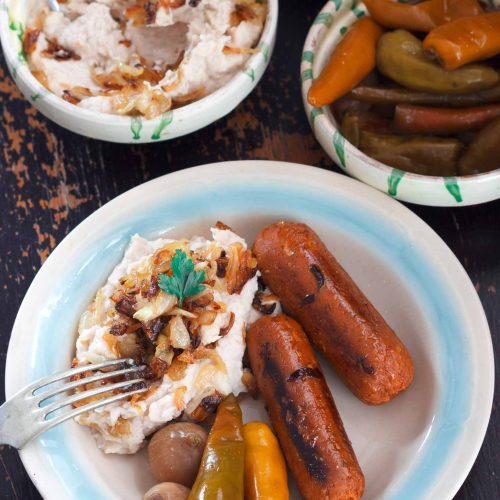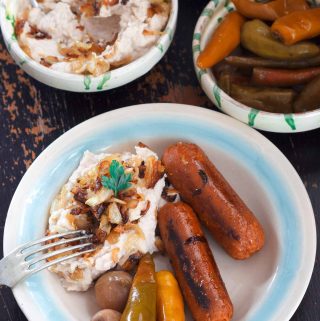 Fasole bătută: Transylvanian White Bean Purée & Fried Onions
Fasole bătută is a creamy Transylvanian white bean purée, with a pile of sticky, gooey, sweet fried onions on top. It's traditionally served with sausages and pickles  - and home-made bread of course. It makes for a fantastically filling, and simple frugal meal.
Print
Pin
Rate
Makes (slide to adjust):
4
servings
Ingredients
For the bean purée:
500

g

cooked white beans

1

litre

water

1

large onion

peeled and left whole

4

cloves

garlic

1

medium carrot

1

bay leaf

6

black peppercorns

2

tablespoon

sunflower oil

Dash

sea salt

Dash

ground black pepper
For the fried onions:
2

tablespoon

sunflower oil

2

large onions

sliced

½

teaspoon

brown sugar

2

teaspoon

sweet paprika
To serve:
Mixed pickled vegetables

Fresh bread
Instructions
Place the cooked beans, water, the whole onion, garlic, carrot, bay leaf, and peppercorns into a large pan or stockpot, bring to the boil, then reduce the heat, and simmer for 20 mins.

While they are simmering, heat 2 tablespoon oil in a heavy frying pan (e.g. a cast iron skillet), and gently fry the rest of the onions and the sugar over a low heat, until they have started to caramelise. Once cooked, mix in the sweet paprika.

Once the beans are soft enough to purée, remove the pan from the heat, and drain into a colander over a large bowl. (Don't throw away the cooking stock - it's great to use as a soup base.)

Remove half of the the onion, all of the carrot, and the bay leaf from the colander, and place the rest of the 'solids' into a food processor, high-speed blender, or back in the pan if using an immersion blender.

Add the rest of the sunflower oil, and blend until you have a very smooth purée. Add a tablespoon or two of the cooking stock if necessary. Season with sea salt and freshly ground black pepper.

Top the bean purée with the fried onions, and serve with sausages, mixed pickled vegetables, and some fresh bread.
Notes
I use my Optimum VAC2 Air Vacuum Blender for this recipe; if you want to try out this great blender for yourself (more information in my review), Froothie is offering yumsome readers an extra £20 discount, in addition to free shipping. Simply add the following code into the comments box when you check out, or if you order by 'phone, relay the code to the person taking your order. The discount will be refunded to your credit or debit card.
In addition, Froothie offers a no-risk 30 day trial, plus a no-deposit, interest-free payment plan on every blender on the Froothie website. The VAC2 is often on special offer, with up to £200 off the usual price.
AMBASSADOR CODE 5252 + AMB20: £20 Discount
By the way, I get a small commission - at no extra cost to you - for every sale made using my affiliate code, so if you are thinking of buying something from the
Froothie website
, I'd really appreciate it if you use my link. Thanks so much! Affiliate sales and advertising, BTW, fund yumsome - without them, I wouldn't be able to provide you with free content.
Nutrition Facts
Fasole bătută: Transylvanian White Bean Purée & Fried Onions
Amount Per Serving (1 portion)
Calories 349
Calories from Fat 126
% Daily Value*
Fat 14g22%
Sodium 60mg3%
Carbohydrates 44g15%
Protein 14g28%
* Percent Daily Values are based on a 2000 calorie diet.
Did you make this recipe?
Do mention @yums0me and/or tag #yums0me - I'd love to see how yours turned out!
Disclaimer
Measurements in parenthesis are approximate; it is beyond the scope of yumsome to be able to provide pinpoint-accurate ingredient quantities for every type of measuring utensil. As a guideline however, I make the assumption that:
1 cup = US cup = 240 ml
1 tablespoon = US/UK = 15 ml
1 fl oz = US = 30 ml
Further information may be found here
If you like my fasole bătută recipe, check out these other Balkan yums!