The sweetness of the peppers, the slightly spicy filling, the thick, rich tomato gravy, and a mound of fluffy mashed potatoes - Croatian stuffed peppers are Heaven on a plate!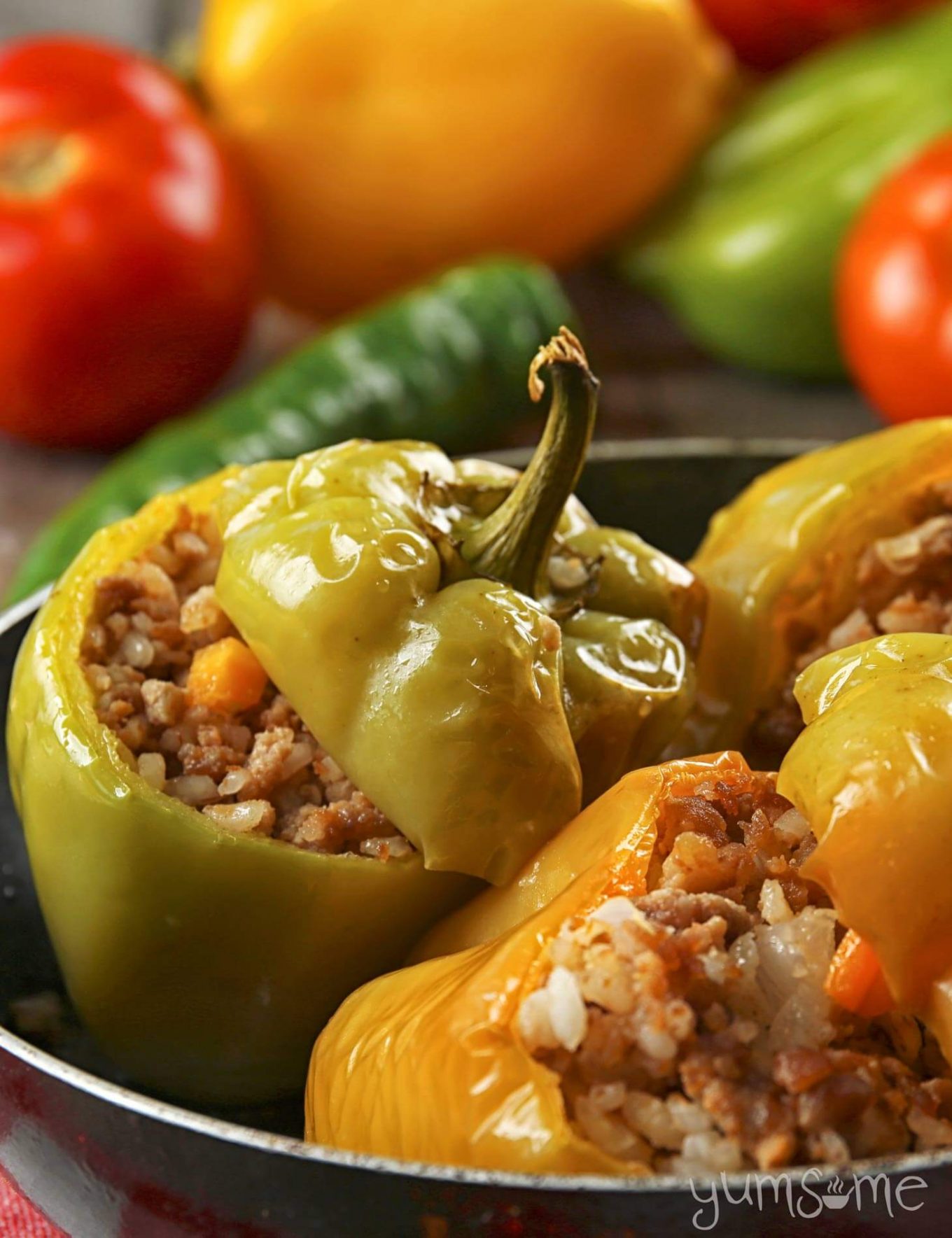 Punjene paprike, as they are called in Croatia, are total comfort food, and really easy to veganise.
There are many, many things I adore about living a nomadic lifestyle, not least, discovering new foods. I much prefer to be wandering around a food market than sunning myself on a beach, and I would far rather discover local food, made and eaten by local people, than dine at a swanky restaurant.
Not because of any attempt to be pretentiously 'authentic', or some notion of 'keeping it real' (whatever either of those mean), but because from experience, I have found that there's often a world of difference between dishes aimed at foreigners, and those enjoyed by locals.
Sometimes this is no bad thing; when we lived in Thailand, for example, there was absolutely no way I could cope with the amount of chilli that most of the Thais were chowing down on, especially in salads such as yum som-o and som tam.
Even small kids at the children's home I volunteered at completely put me to shame with their ability to eat really hot foods.
>le sigh<
Even after living in Thailand for 18 months, and building up an amount of tolerance, I still had to ask for my food to be 'mai phet' (not spicy), or 'phet farang' (foreigner-spicy – i.e. wimpish). Hence having to learn how to cook Thai food for myself, despite it generally being far cheaper to eat out!
While it's understandable in places where the culinary tradition relies heavily on chilli (yes, Thailand, I'm looking at you), unfortunately, in the West, all too often I've found that restaurants in tourist locations offer 'toned down' (read; bland) versions of local foods - either as a one-size-fits-all, in the belief that it will be better suited to the 'average' palate of their foreign customers, or 'tarted up' versions because the originals might not visually reflect the image (and often hefty price tag) of the eatery.
Whenever possible, I try to avoid anywhere which boasts a 'tourist' menu but there have been occasions where I've been caught out, and have unwittingly been subjected to dull and uninteresting food, and even in one time in Slovenia, soup which came from a packet.
>le groan<
It's a shame because I don't feel that these types of establishments accurately reflect, nor do justice to, what are often truly wonderful local cuisines. A bowl of bean and barley stew, for example, may not look as pretty as cheese lollipops, nor have the dubious novelty value of something served on a shovel in a London gastropub, but it's good, honest food. It's cheap, it's nutritious, it's filling. And most importantly, it's delicious too.
Surely these things are what's important?
Stuffed Peppers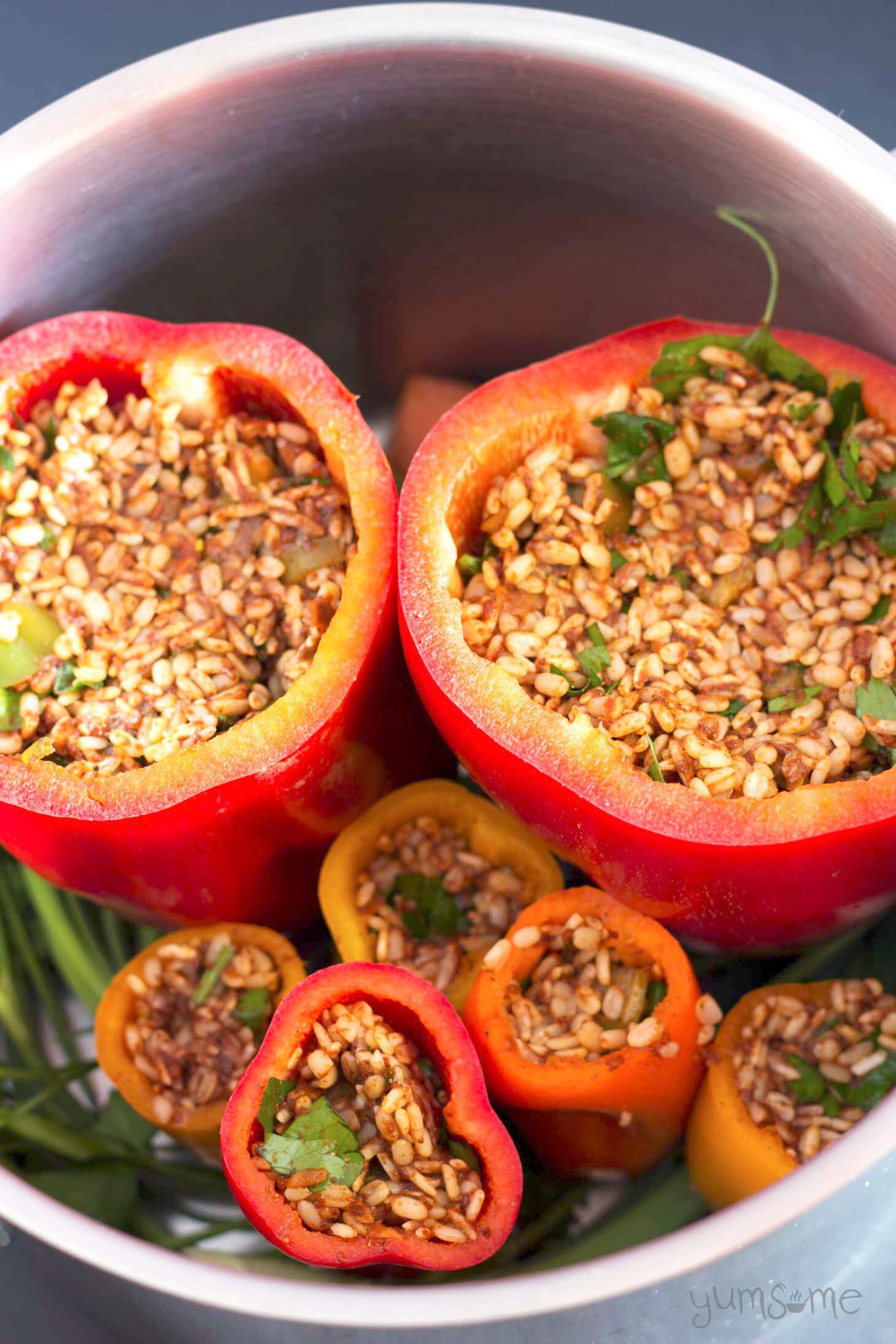 Stuffed peppers come into the same category of food as jota in Slovenia, hotpot in the UK, dal fry in India, or even Tuscan bean soup in Italy – all examples of cucina povera at its finest.
Croatian stuffed peppers do not need jazzing up in order to make them delicious, and veganising notwithstanding, they certainly don't need to be adapted to suit the tastes of tourists (restaurant owners take note – foreigners like to try local foods... the kind eaten by local people).
Served with a wodge (yes, that's a word - shush now) of fluffy, creamy mashed potato, with some of the cooking sauce slathered over the top, they are perfect as they are.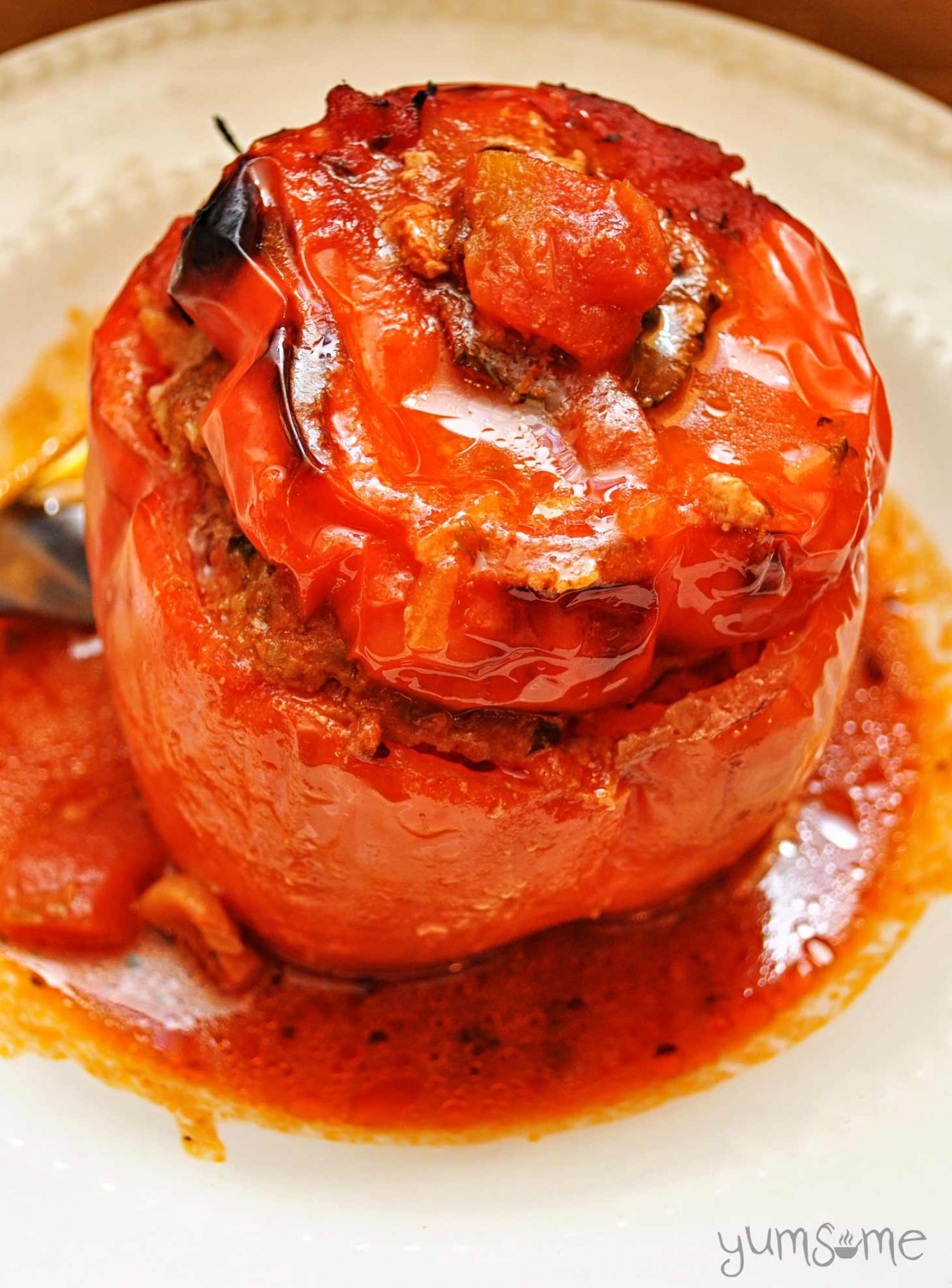 Having said that, I have to admit to being a tad partial to occasionally topping my stuffed peppers with some vegan mozzarella or cheddar, plus a slice of tomato, and placing them under a hot grill (broiler) for a few minutes to bubble and brown.
Oh my!
Croatian Stuffed Peppers
Are...
filling
frugal
gluten-free
soy-free
nut-free
nutritious (Vitamin A 164%, Vitamin C 304%, Calcium 9%, Iron 26% RDV)
packed with protein and fibre
comforting
hearty
easily adaptable
delicious
I urge you try these stuffed peppers for yourself, I'm sure you'll love them.
Dobar tek!
Have you ever had Croatian stuffed peppers before?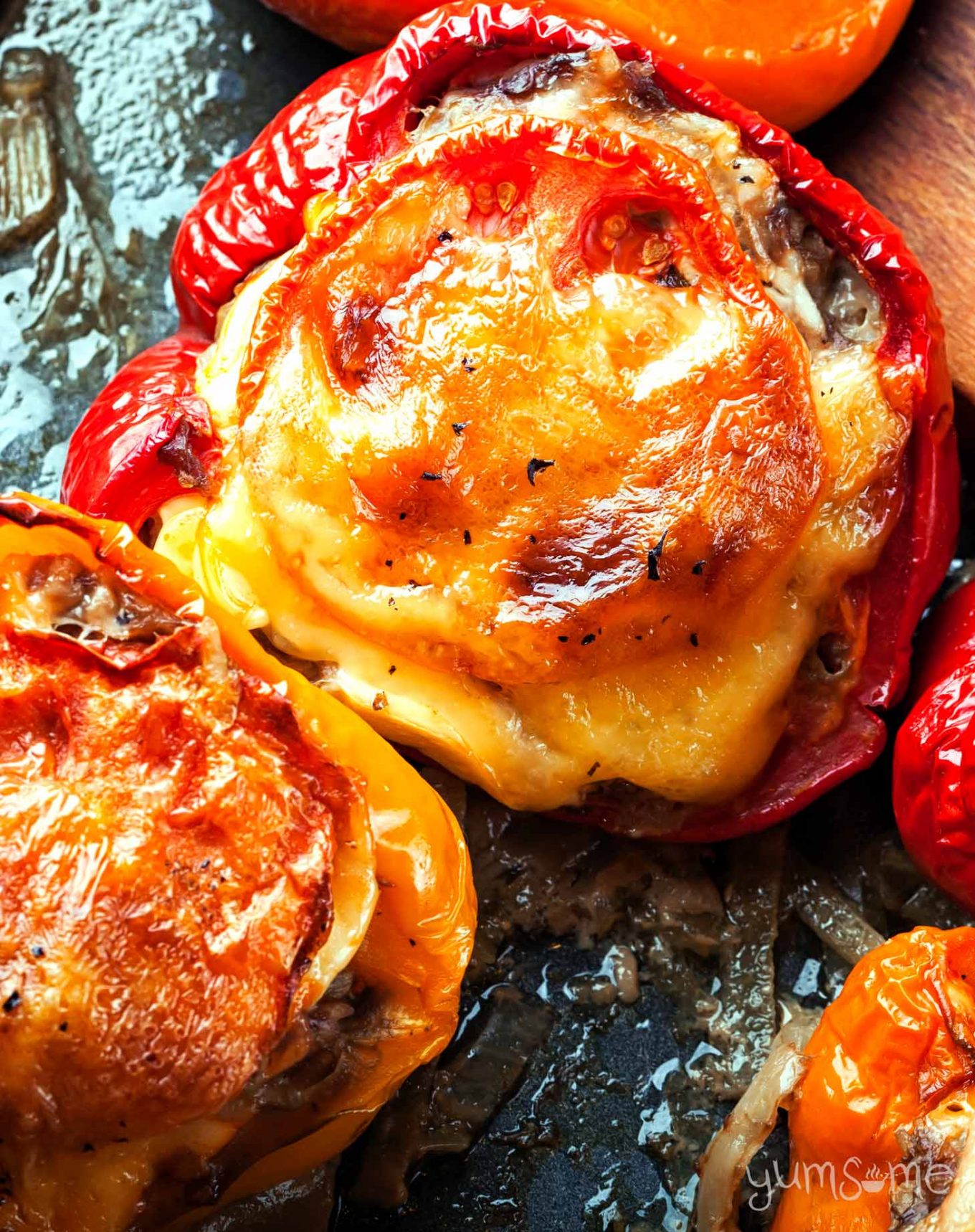 📖 Recipe
Croatian Stuffed Peppers… Veganised!
The sweetness of the peppers, the slightly spicy filling, the thick, rich tomato gravy, and a mound of fluffy mashed potatoes - Croatian stuffed peppers are Heaven on a plate!
Print
Rate
Makes (slide to adjust):
4
servings
Ingredients
For the gravy:
4

tablespoon

tomato purée

1

litre

vegetable broth

½

teaspoon

Vegeta

1

teaspoon

fresh savory leaves

or ½ teaspoon dried

2

teaspoon

fresh rosemary needles

or 1 teaspoon dried

2

tablespoon

olive or pumpkin seed oil

1

large onion - finely chopped

4

fat cloves garlic - smashed

4

tablespoon

flour

use gluten-free if you need to

Salt and pepper

to season
For the stuffed peppers:
4

medium sweet peppers

100

g

red lentils

100

g

raw rice

1

tablespoon

ground flax seed

2

fat cloves garlic - smashed

4

tablespoon

parsley - finely chopped

1

large fresh red chilli - de-seeded and finely chopped

1½

tablespoon

smoked paprika

1

tablespoon

liquid smoke

½

teaspoon

black pepper

Dash

sea salt
The rest:
2

bay leaves

1

small stick celery

1

small carrot

washed but not peeled
Instructions
Cook the lentils:
Rinse and drain the lentils, then place into a

saucepan

, and add enough cold water to cover. Bring to the boil, and then reduce to a low-medium heat, and cook for around 20 minutes, until they begin to soften. You don't want to fully cook them as they will finish cooking inside the peppers.

Once cooked, drain, and rinse under cold, running water.
Make the gravy:
While the lentils are cooking, mix the tomato purée, Vegeta, savory, and rosemary with the vegetable stock, and set aside.

Gently fry the onion in the oil in a

large skillet

, until it starts to become translucent.

Add the garlic, and continue to cook for a couple of minutes, until the raw smell has gone.

Mix in the flour, and cook for another minute or so, stirring all the time.

Stir in the stock, a little at a time, and keep stirring as the gravy comes to the boil, and has thickened.

Taste, and season, then turn the heat off, and set aside while you prepare the peppers.
Prepare and stuff the peppers:
Cut off the top of each pepper, being careful not to break them as it they will be used as lids once the peppers have been stuffed. Remove the pith and the seeds from each pepper. Set aside.

Firmly pack the stuffing into each pepper, until it's a couple of centimetres from the top. Don't overfill or the peppers will split, due to the rice expanding as it cooks.

Place the peppers into a saucepan or

stockpot

which is just large enough to fit them in while standing upright. If the pan is too large, they'll fall over, and the filling will come out, so it's better to use a pan which gives a snug fit, rather than too much room. Don't put the tops on yet.

Carefully pour the sauce over and around the peppers, the put a top onto each pepper.

Add the celery, carrot, and bay leaf to the pan, cover with a tightly-fitting lid, and bring to the boil.

Reduce the heat to low, and gently simmer for around 2 hours.

Once the peppers are cooked, turn off the heat, uncover, and allow to rest in the pan for 10-15 minutes.

Serve with a pile of mashed potatoes, with the gravy poured over the top of both the peppers and the mash. Or serve with thick wedges of fresh bread.

Store any leftovers in an airtight container in the 'fridge for up to two weeks.
Notes
Firm lentils, such as green, brown, Puy, or urad dal, work best in this recipe – red ones have a tendency to go mushy.
If you can't get savory, you can use thyme or rosemary instead. 
Unlike the lentils, the rice does not need to be pre-cooked - it will cook perfectly in the gravy once it's been used to stuff the peppers.
VARIATION:
Instead of using lentils, you can use veggie mince (as in the lead image), barley, or some ground-up seitan sausages or burgers. I also sometimes add mushrooms and/or carrots too.
This was originally published in 2015 but has now been updated with an improved recipe.
Nutrition Facts
Croatian Stuffed Peppers… Veganised!
Amount Per Serving
Calories 378
Calories from Fat 81
% Daily Value*
Fat 9g14%
Sodium 547mg23%
Carbohydrates 64g21%
Protein 13g26%
* Percent Daily Values are based on a 2000 calorie diet.
Did you make this recipe?
Do mention @yums0me and/or tag #yums0me - I'd love to see how yours turned out!
Disclaimer
Measurements in parenthesis are approximate; it is beyond the scope of yumsome to be able to provide pinpoint-accurate ingredient quantities for every type of measuring utensil. As a guideline however, I make the assumption that:
1 cup = US cup = 240 ml
1 tablespoon = US/UK = 15 ml
1 fl oz = US = 30 ml
Further information may be found here
If you like these Croatian Stuffed Peppers, you're sure to love these other Balkan yums!