This meltable vegan mozzarella is super-easy to make, behaves like dairy mozzarella when cooked, and tastes fantastic! The lactic acid gives it a lovely, slightly tangy edge, while the nutritional yeast flakes lend a hint of a cheesy flavour.
This vegan mozzarella is great on lasagne, in panini (it's fab with avocado), and anywhere else you'd normally melt mozzarella. It's also fab in caprese salad too. I use it in my parmigiana di melanzane and on pizze, such as this vegan sausage and red pepper one...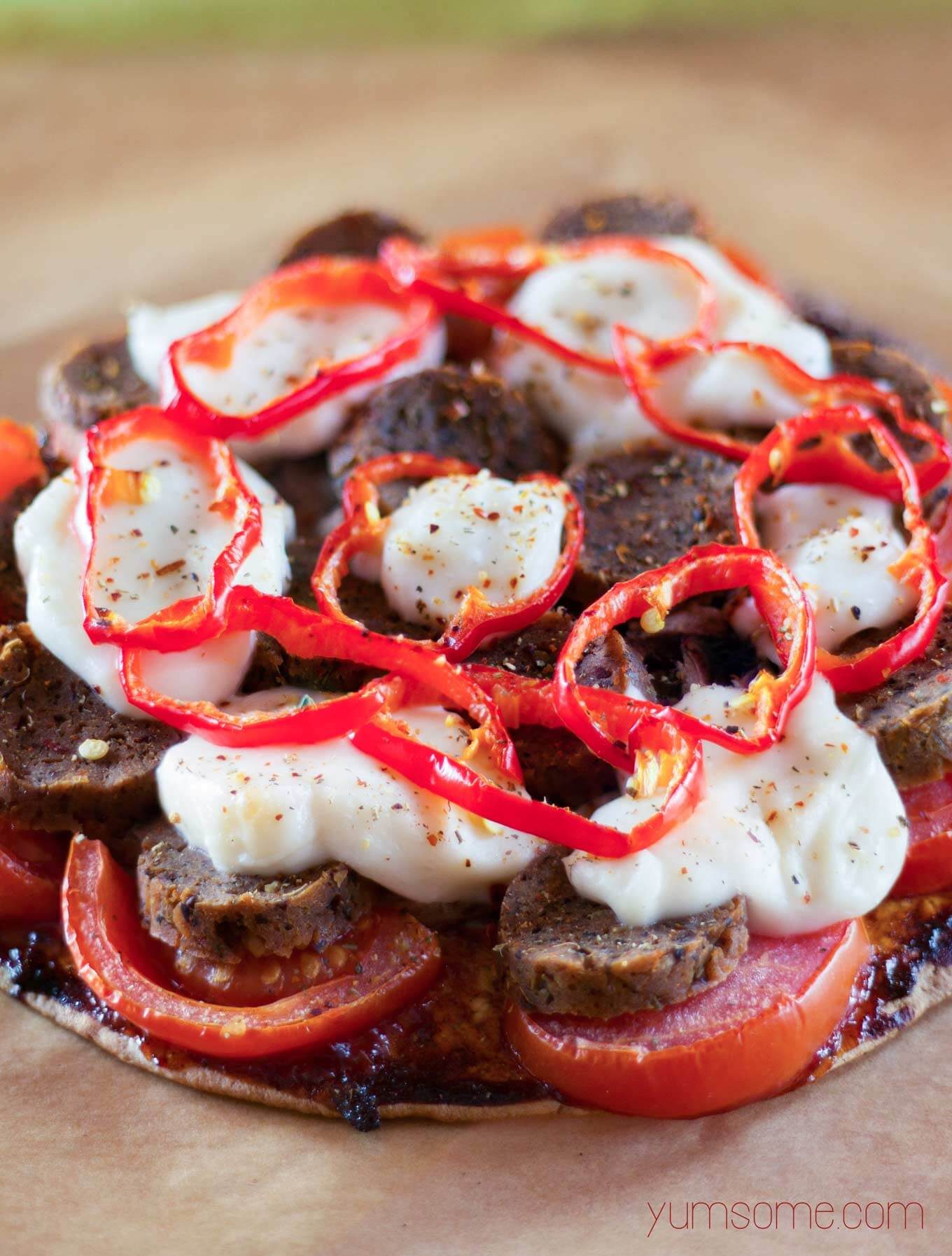 Vegan mozzarella ingredients
In case you're wondering about the ingredients; the tapioca flour gives the mozzarella a nice sheen and some stretch. Lactic acid imparts a slightly 'sour milk' taste. Nutritional yeast gives a slightly cheesy flavour, and the carrageenan solidifies the cheese, yet enables it to melt when heated.
I should point out though, that this mozzarella is not exactly the same as its Italian dairy counterpart. No plant-based cheese can ever be a carbon copy - but it's a great substitute for anyone wishing to cut down on, or eliminate dairy from their diet.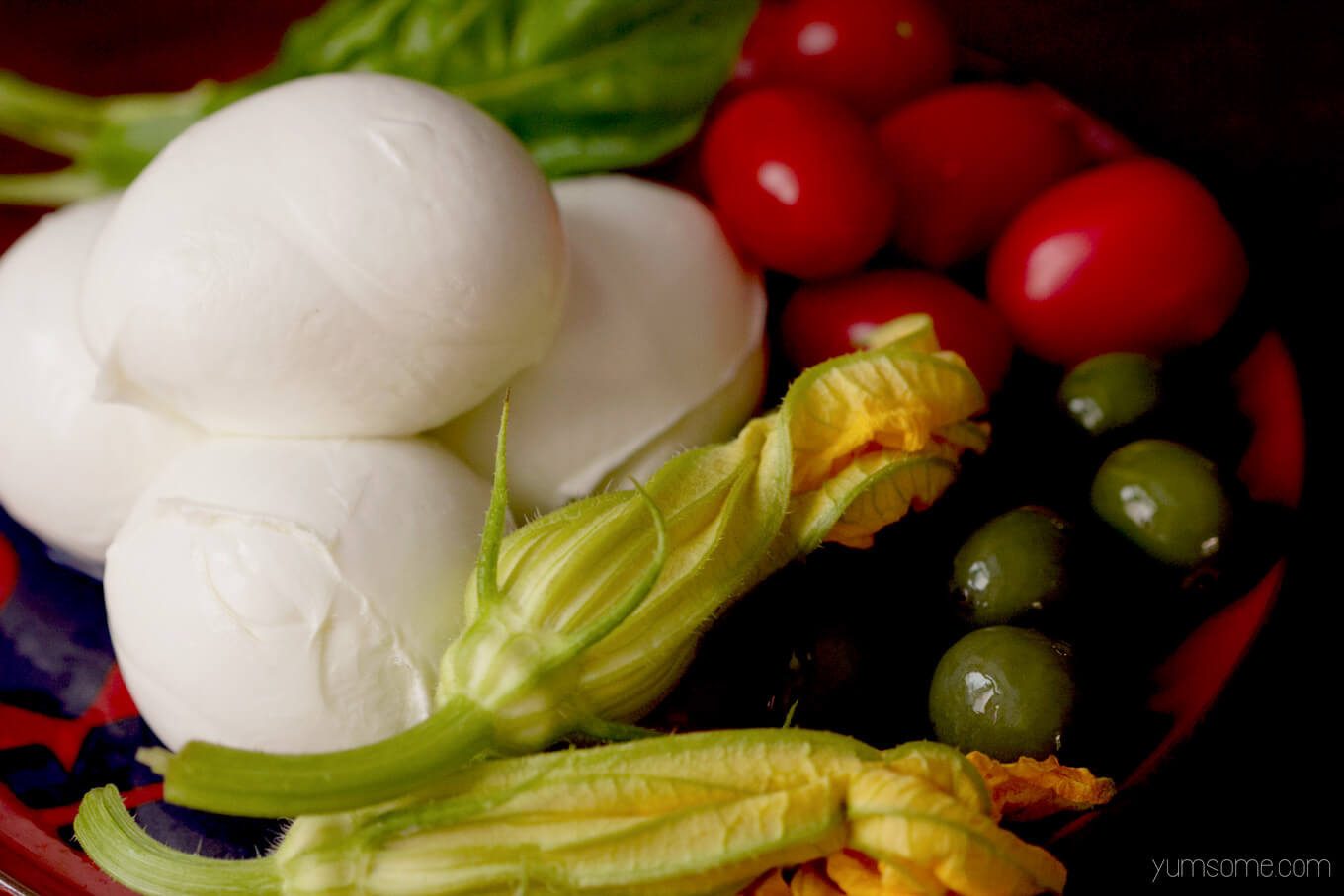 Carrageenan Controversy
I realise that there has been some concern of late, and dare I say it, even demonising of carrageenan. However, as far as I know, there is no scientific evidence to support claims that carrageenan is in any way harmful to humans.
Poligeenan however, is claimed to have caused gastro-intestinal inflammation in small lab animals. Again, there is little scientific evidence to back up these claims.
Carrageenan is not the same as poligeenan but if you want to find out more to make up your own mind, then please do check out the research online. In fact, Skye Conroy has a good article (with sources), which can be found on his website, here.
Follow Your Heart has also conducted research on the matter, and their findings also make interesting reading.
As anecdotal 'evidence', I have suffered with IBS for around 25 years, yet I have never once had a flare up after consuming food or drink containing carrageenan.
Of course, this is not proof that it's safe, so you have to decide for yourself whether to consume it or not. I always err on the side of my tummy, so if it doesn't cause problems for my overly-sensitive digestive system, I'm good with it!
If you like my mozzarella recipe, why not try these ones too?
I really hope you enjoy this vegan mozzarella as much as I do. Buon appetito!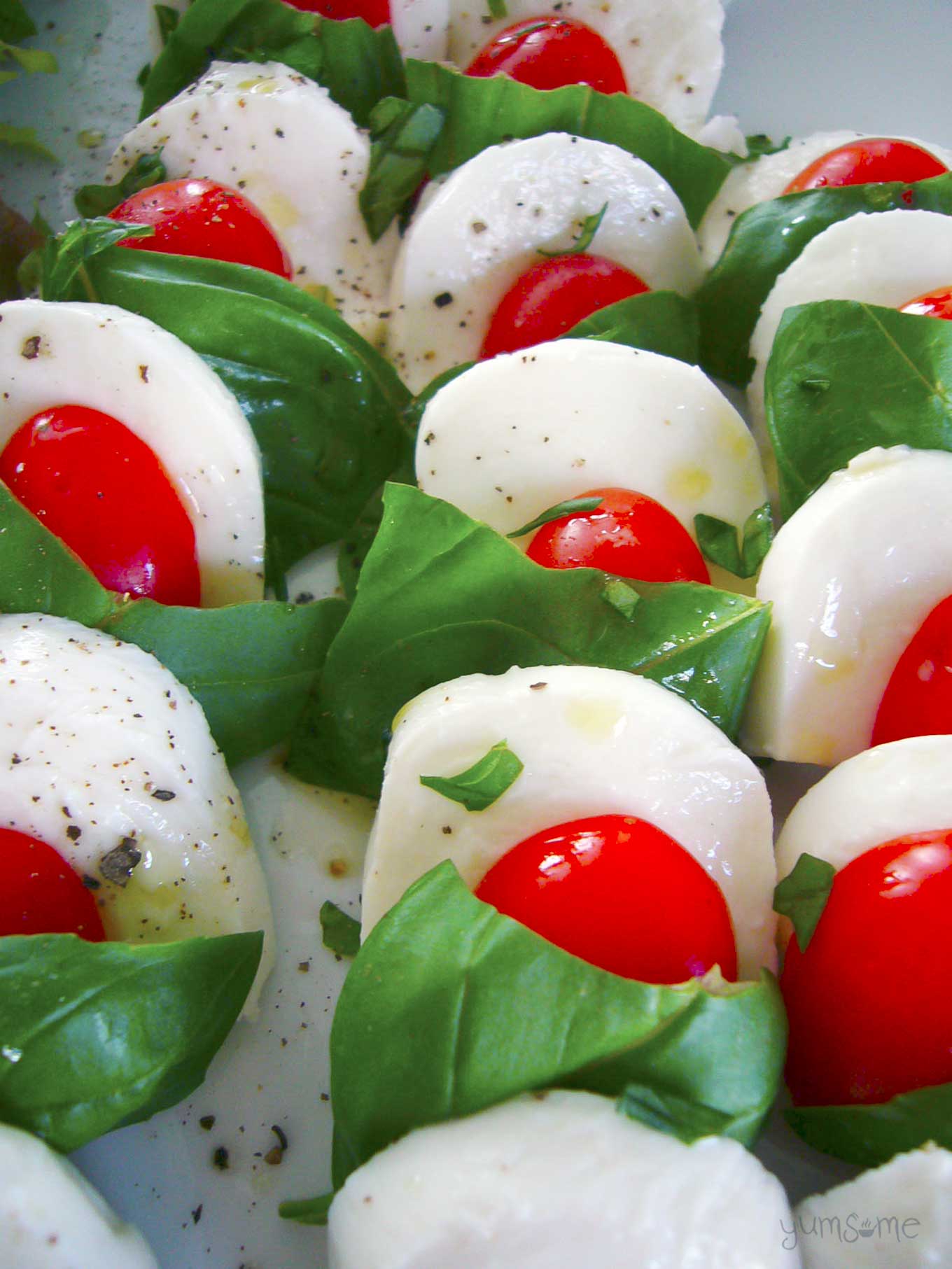 📖 Recipe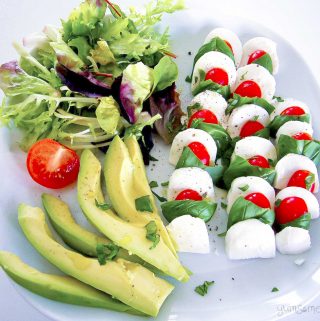 Easy Meltable Vegan Mozzarella
This meltable vegan mozzarella is great on pizza, in toasted sandwiches, lasagne, or anywhere else you'd normally melt mozzarella.
Print
Rate
Makes (slide to adjust):
6
75g balls
Instructions
Use a

blender

to mix the yoghurt, oil, salt, nutritional yeast flakes, and water until thoroughly combined.

Set aside for 24 hours to culture; it will thicken a little, taste a bit more sour, and look a little curdled, depending on how warm your home is.

Once it's cultured, pour the yoghurt into a heavy-bottomed, medium-size pan, and whisk in the tapioca flour, carrageenan, and lactic acid until smooth.

Cut six pieces of cling film, about 30cm (12") long, and lay them out on the counter or table.

Add a couple of teaspoons of salt to a large bowl of iced water to make a brine.

Cook the mozzarella mixture over a medium heat, stirring all the time, until it becomes thick and lumpy. This should take around 5-7 minutes.

Keep cooking and stirring for another 5 mins until the mixture becomes smooth and glossy, and starts to come away from the sides of the pan.

Remove the pan from the heat, and place a few scoops of mozzarella onto the centre of a piece of cling film. Flip each side over to cover the cheese, then carefully pick the whole thing up by the ends of the wrap, and twirl to make a sausage shape. Tie each end together to form a ball, and then drop into the brine.

Repeat for the rest of the mixture.

Leave the mozzarella in the brine for around 30 mins to cool (the longer you leave the it in, the firmer it will become).

Unwrap, and use straight away, or store (unwrapped) in some of the brine in an airtight container or plastic bag in the 'fridge for up to a week.
Notes
You can use any neutral oil - e.g. canola, sunflower, rice bran - but as a general rule, I prefer to use coconut oil for most of my cooking (both refined and virgin). This is just my personal preference - the mozzarella isn't going to be affected, either by taste or texture, by the oil you use, unless you use a strongly-flavoured one.
If you do use coconut oil however, do make sure you use the refined stuff - unless you want your mozz to taste of coconut. I've tried it, it's a singularly odd experience. And not one I recommend!
Nutritional information does not include brine.
This post has been updated, and new photos added.
Nutrition Facts
Easy Meltable Vegan Mozzarella
Amount Per Serving (25 g)
Calories 59
Calories from Fat 36
% Daily Value*
Fat 4g6%
Sodium 263mg11%
Carbohydrates 4g1%
Protein 1g2%
* Percent Daily Values are based on a 2000 calorie diet.
Did you make this recipe?
Do mention @yums0me and/or tag #yums0me - I'd love to see how yours turned out!
Disclaimer
Measurements in parenthesis are approximate; it is beyond the scope of yumsome to be able to provide pinpoint-accurate ingredient quantities for every type of measuring utensil. As a guideline however, I make the assumption that:
1 cup = US cup = 240 ml
1 tablespoon = US/UK = 15 ml
1 fl oz = US = 30 ml
Further information may be found here