Big, beefy, heavy, and solid, the Froothie Optimum VAC2 Air Vacuum Blender is a great piece of kit, and makes it a cinch to produce a variety of foods. From soups to sorbets, nut butter to flour, and much more, the Optimum VAC2 really does deserve a place in every cook's kitchen.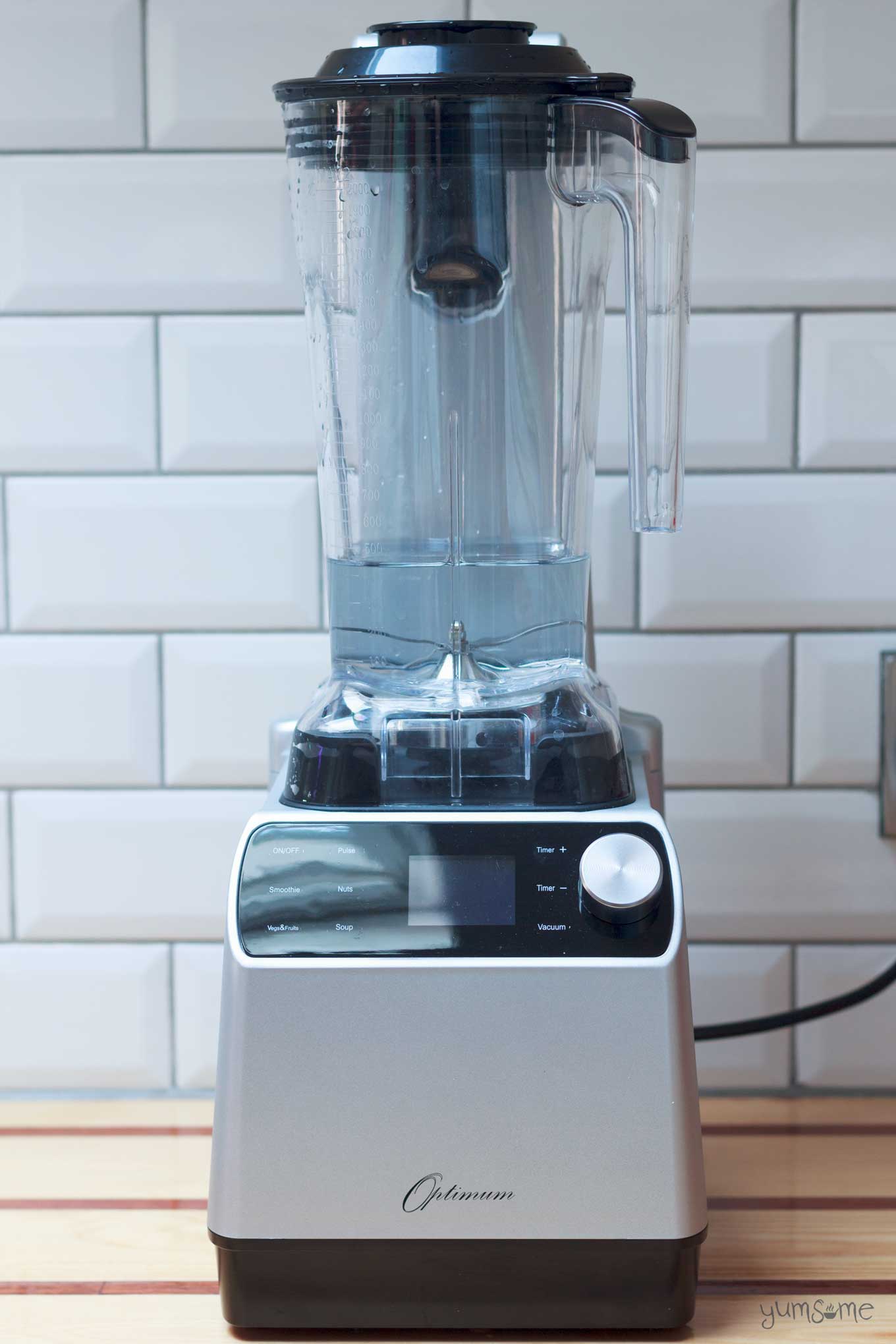 I was recently contacted by Froothie, and invited to become one of its ambassadors; in return for trying out products, giving feedback, and writing reviews, I get to play with (and keep) fab kitchen gadgets. Nice!
This post contains affiliate links. For more information, please see my privacy policy.
Now, you may think this isn't a particularly big deal but when you're a cook who's spent the last six years travelling the world, with only barest minimum of gadgetry to make your life easier, let me tell you, there comes a point when you start to dream of food processors, blenders, slow cookers, and the like. Especially when you see your friends sharing recipes for all the things they can whip up in seconds... things which take you ages because you have to do it all by hand. (Yes, falafels, I'm looking at you.)
So naturally, when Froothie asked...
Hey Nico, how would you like us to send you our brand-spanking new Optimum© VAC2 Air Vacuum Blender?
...I was like a dog with four lamp posts.
No, really, this is not an exaggeration - I was genuinely overjoyed. Since I returned to Britain, a little over a month ago, I've been like some kind of famished gadgetvore; I've retrieved my bread-maker, I've dug out my nifty potato ricer, my mother-in-law bought me a swanky all-singing, all-dancing CrockPot for Chrimbo, and I treated myself to made a legitimate business investment of a new stand mixer.
Dog. Lamp posts.
(Bonus points if you read that in a Nick Fury voice.)
What's in the Optimum VAC2 box?
A few days after the initial contact with Froothie UK, I took charge of a box that's actually almost as big as my toddler granddaughter, and felt like it weighed considerably more.
And, to be brutally honest, it's a heck of a lot more useful in the kitchen. (Although admittedly, Raven's far more skilled at playing the flappy-oven-gloves game.)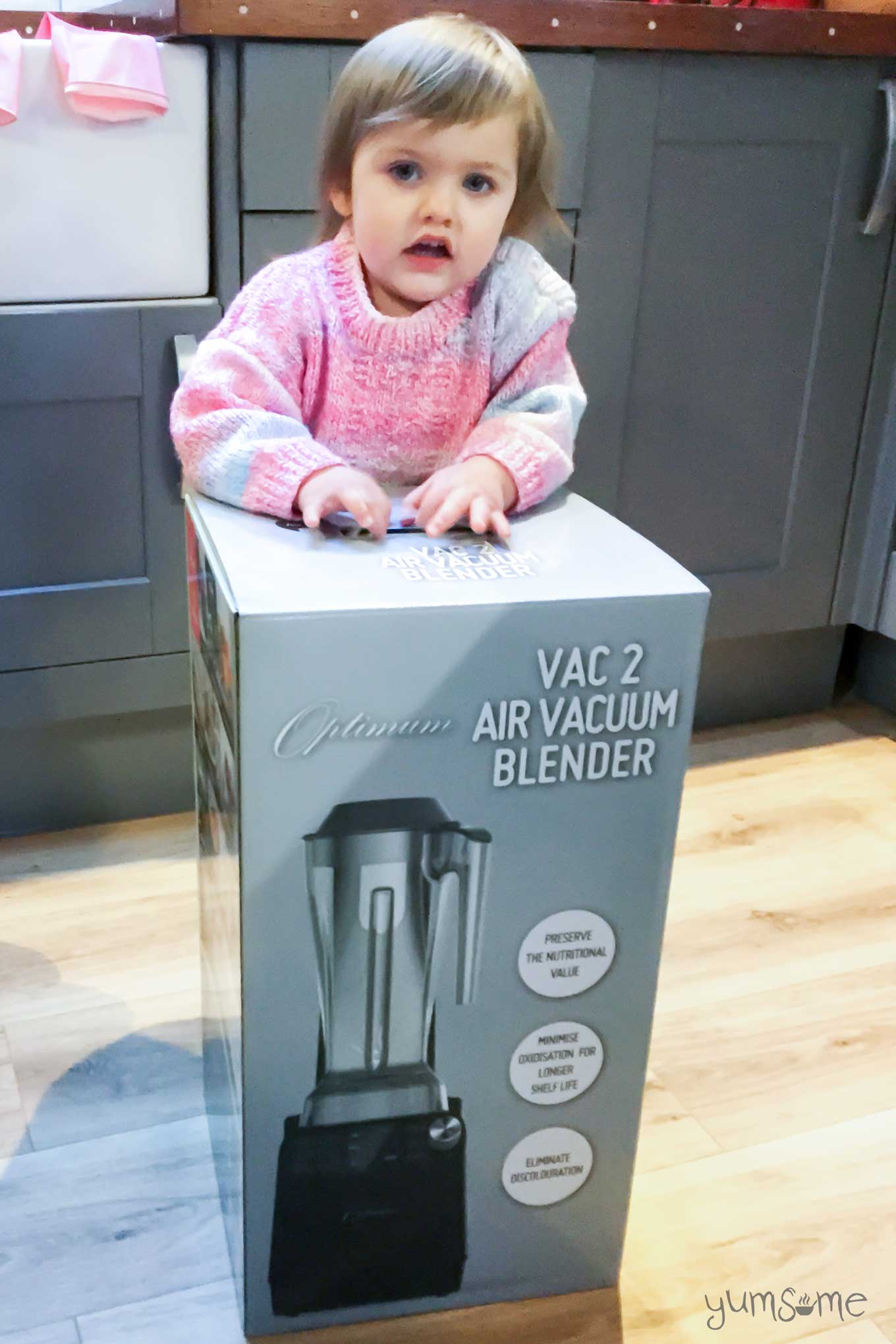 Upon opening up the box, I was greeted with a large lump of polystyrene (there was another at the bottom of the box, too), which I was disappointed with; moulded paper-pulp packaging would have been more eco-friendly, and just as sturdy.
On the plus side, the packing peanuts are the type made from corn... I think it's corn. They're like loads of Cheesy Wotsits but without the flavouring and colouring. In fact, actually, I once bought some 'healthy' vegan corn puffs when I lived in Slovenia, which looked just like the ones in my VAC2 box. The VAC2 packaging tastes similarly bland.
Don't ask me how I know.
Packaging aside, inside the box was a silver blender base, 2L jar, two-part lid, tamper tool, a full-colour recipe book (containing 70+ mostly vegan recipes), instruction manual, two spare vacuum seals, and three spare vacuum seal buttons.
BTW, while the VAC2 is also available in black and red, I'm very, very happy to have received a silver one.
First impressions of the Froothie Optimum VAC2 Air Vacuum Blender
As I unboxed the blender, amato mio did actually call out to me from his office, asking whether I was okay - there may have been a few oohs and aahs coming from the kitchen. Heheh. Needless to say, I was instantly pretty impressed with the Optimum VAC2.
Weighing in at a hefty 6 kg (c.13¼ lbs), it's heavy... very heavy indeed, boys.
(Bonus points if you read that in an Arthur Weasley voice.)
The build quality seems to be superbly solid too.
At first, when I knew I was being sent the Optimum VAC2, I researched the model, and I was a bit concerned that the jar is made from plastic; however, having now used it, I totally get why it's not made from glass. It would just add so much to the overall weight. My other blender has a glass jar - it's smaller than the one for the VAC2 - and it gives me a very good workout if I'm doing a lot of blending, so on reflection, I'm glad to not have the extra weight to deal with on a day-to-day basis. My borked shoulder is especially pleased.
Although the jar is plastic, Froothie says that it's BPA-free, which apparently means that no nasties are going to leak into my food, and unlike other plastic blenders I've used, it isn't brittle. It's hard to explain what it feels like but it's kind of softly smooth... while being totally solid, of course. Kind of like the difference between velour and velvet. Anyway, take it from me, it's a nice jar!
As I mentioned earlier, the Optimum VAC2 comes with a tamper, which makes blending frozen fruit into smoothies, sorbet, and FroYo really easy. My other blender doesn't have a tamper, and it's a pain in the neck to have to keep stopping the machine, taking off the lid, pushing down the fruit, replacing the lid, then blending again. Sometimes three or four times. The Optimum VAC2 makes blending frozen smoothies a breeze.
I haven't made any nut butters in the VAC2 yet but I shall. Soon.
Speaking of lids, the VAC2 lid, is, I admit, a pain in the rear to remove. I don't have very large hands, so I can't grip and twist it off - I have to wrestle with it every time. It's a bit of a faff.
EDIT: Undoing the centre part of the lid first helps. A lot.
Back to the good stuff though... the jar has a generous two litre capacity (around eight cups), which means you can, for example, easily blend enough soup for 4-6 people.
Unless you're a bit oinky, in which case, enough for three people.
The VAC2 jar has six blades; two horizontal, two angled, and two extra below the main blade unit. The blades are longer than in my other blender (which, like most blenders, only has four upper blades), which means they have a further reach, and thus blend all the things.
No things are left unblended. Not even the frozen mango cubes I sceptically* chucked in last night to make emergency sorbet.
What? You don't have emergency sorbet situations? ORLY?
(*I admit, I've been trying out things which make other blenders fail, and I've had zero luck so far.)
Unlike my other blender (which now sits alone in a dark cupboard, singing about eating worms), the Optimum VAC2 jar doesn't have a removable blade unit, which means it can be a bit fiddly to get anything that's not a liquid out from the bottom but I have a thin flexible spatula, which is now justifying taking up space in my kitchen. It remains to be seen whether nut butters present a problem.
UPDATE - MARCH: The lack of removable base could actually be a bit of a problem if you don't have a flexible spatula. Or small enough hands to get in there, and scoop everything out. Avoiding the blades, of course.
Ever safety-conscious, me.
I was concerned that not having a removable bottom (ooerrr, missus) would mean that cleaning would be a bit of a pain in the... well, bottom... but actually, it's fine. I just half-fill the jar with warm water, give it a blitz, and any lurking scraps are history. I then give it a proper wash, and it's good to go for its next round of punishment culinary adventuring.
Froothie says that you can actually clean the jar by adding washing up liquid and water, and then blitzing it, but TBH, that's not entirely true; using this method can still leave behind stubborn grotty bits, especially when making my nacho cheese. I prefer to wash it properly because swooshing soapy water around the inside isn't going to ensure that the pouring lip gets cleaned, nor the grooves in the lid. Or the outside.
UPDATE - MARCH: Having now used this almost daily for a couple of months, the jar looks like it's been sandblasted. What was once crystal clear and lovely is now permanently frosted. On reflection, no matter how heavy it would be, a glass jar would be infinitely preferable. The discolouration however, doesn't affect the blender's ability to do its job - it just doesn't look as aesthetically pleasing as when I first started using it.
Something I really do like is the way the jar attaches to the VAC2 base. The motor housing is covered in a rubber cushion pad, which, as well as helping to absorb vibration - and thus leading to quieter blending (and believe me, at 83 decibels, every little helps in that respect) - it makes for a nice, snug fit when the jar is in place. I also like the design of the jar base itself; because it's square, there's no fiddling around, trying to rotate it until it clicks into place.
(Are you listening to me, old blender? No of course you're not, you're too busy singing about eating worms.)
Using the Froothie Optimum VAC2 Air Vacuum Blender
Operating the blender is really easy; it has a large, bright LED display, and comes with four one-touch presets; smoothie, veg & fruits, nuts, and soup. In addition, there are manual functions which allow you to pulse, set the timer and blender speed via a large dial, and of course, the vacuum option too.
I was a bit disappointed to discover that you have to set the timer in order to just simply use the blender, even without the vacuum function - that does feel a bit tricksy to me; however, it could actually be that it's a failsafe to ensure the motor doesn't burn out through over-enthusiastic use.
More information about the VAC2's functions can be found on its product page at the Froothie UK and Ireland website.
As I said, I haven't actually made any nut or coconut butter yet but I have made dosa batter, and I can tell you that in just over a minute at full speed, it comes out perfectly smooth. No residual gritty bits at all. In fact, it's the smoothest dosa mix I've ever made… and I say this as someone who used to use a pretty awesome Mixie to make it when I lived in India. As I write this, my batter is fermenting but I'll be able to share the recipe in a few days' time.
UPDATE - MARCH: Yes, I know I said I'd be sharing the recipe soon but guess what? Since writing this review, I have made masala dosa seven times, and in every instance, the vultures have descended, and I've not had a chance to photograph it. Amato mio is going to be spending a few days away soon, and I'm not inviting anyone 'round, so I flimmin' well will make some to blog. And then scoff it all myself. Heh.
What Is Vacuum Blending?
What the heck is that all about? I hear you ask. Okay, get this; allegedly, vacuum blending sucks out the air before the blending even starts. It's claimed that those irksome free radicals - y'know, the stuff that's responsible for turning fruit brown once it's exposed to oxygen, and depleting its nutritional value - have no environment in which to wreak their mischief. What vacuum blending supposedly means for us is that more nutrients are kept where they belong, in the food we're blending. And then in our tummies. Yum!
Plus, Froothie says that smoothies (for example) keep their colour and stay looking pretty for ages. If you're the type of person** who Instagrams smoothie bowls that are basically works of art, then the Optimum VAC2 could be your new BFF.
(**I'm not, I hasten to add - my attempts at making smoothie bowls make Polyjuice Potion look pretty. Dammit Jim, I'm a cook, not an Instagram artist.)
(Bonus points if you read that in a... oh, never mind.)
The Optimum VAC2 also blends non-frozen fruit into smoothies in a jiffy; plus, the 'vacuum' function (which takes around 70 seconds to complete) and 2238W high-speed motor homogenise the ingredients, meaning that smoothies don't tend to separate as they do when made with some other blenders.
(You listening, o' wormy one, with your paltry 1000W?)
Froothie also claims that as long as the jar stays sealed, the food within will keep most of its nutrients, so for example, you could make your food in advance, and leave the jar in the fridge (after moving all the shelves around to accommodate the rather tall jar, of course), until you're ready to eat or drink it, safe in the knowledge that it's not going to go bad any time soon. Obviously, you can't leave it indefinitely but certainly, having experimented with my mango lassi, leaving it for a day or so isn't, in my experience, going to present any problem.
It should be noted that not all of the Optimum VAC2's functions can be used with the vacuum, not least because then you wouldn't be able to tamper nuts, frozen fruit, etc.
UPDATE - MARCH: OK, I've made smoothies with and without the vacuum function, and to be completely honest, there's absolutely no difference whatsoever. In addition, I'm not entirely convinced about the ability to suck the air out of the jar. This really is a good high-powered blender but the vacuum function... let's just say I have my doubts. I'd actually like to see the inner workings before I'd be comfortable saying one way or the other whether this is a true vacuum blender, or a gimmick.
Also, contrary to the claim on the box, the VAC2 absolutely does not make dough. I was sure it wouldn't but I still wanted to test it. NO. It's a lie. Not even an exaggeration, it's actually a complete falsehood.
Making soup with the Froothie Optimum VAC2 Air Vacuum Blender
Okay, I admit I was very sceptical about the VAC2's ability to make soup; however, I decided to give it a try, and guess what? Yep, it totally works.
WTAF?
I first made the Nutty Mushroom Soup from the handy recipe booklet which comes with the blender, and to say it was easy would be an understatement. I literally just had to prep the veggies, which took about a minute, chuck them into the blender jar, along with some hot water, cashews, herbs, and half a teaspoon of Vegeta seasoning, then select the soup preset, and wait for 6 mins. The instructions in the book say to use the buttplug tamper if necessary but it wasn't. After the six minutes were up, the soup was beautifully smooth and creamy, and steaming hot. I measured the temperature, and it was 71°C/160°F.
BUT... I did use hot water (from the tap, not kettle), and not warm or room temperature.
Delicious hot soup in a few minutes! I don't ever buy soup but I suspect that it would take longer to open a can or carton, decant into a suitable pan, and then heat on the stove. And of course, it wouldn't be nearly as good.
Colour me seriously impressed.
My mother-in-law has a soup maker, which is roughly the same size as the VAC2, and it takes ages to make soup. First you have to sauté the veggies (e.g. onions and garlic), then add the rest of your ingredients. After that, the programme heats the soup, cooks the ingredients, and then blends everything. The whole operation, if I recall from the last time I used it, took about an hour, and I came to the conclusion that it was actually much more efficient to make soup 'by hand' as it were. The VAC2 so far seems to knock my MIL's soup maker into a cocked hat!
When I made the mushroom soup, there was easily enough for four mugs, and it worked out to just under 130 calories per mug. In addition, the mushroom soup is high in protein, and packed with essential vitamins and minerals. What I was particularly impressed by was that I got a very definite flavour cycle, which I'm absolutely certain that had I cooked the exact same recipe on the stove, and then blended it, I wouldn't have. But I guess that because it's essentially a raw soup, all the ingredients kept their flavour, and didn't all meld together to make a single, albeit scrumptious, one.
I also made vegan broccoli and cheese soup - it takes just six minutes in the VAC2 to go from raw ingredients to piping hot soup. Look at it, doesn't it look deelish?!
I'll be making a lot more soup in this blender in the future.
Froothie Optimum VAC2 Air Vacuum Blender - Offers, Support, and Warranty
Optimum VAC2 warranty: Firstly, the Optimum VAC2 comes with a five year domestic*** warranty as standard, however, you have the option to upgrade this - for a fee - to 10 years. (***For commercial use, the warranty is 12 months.)
Optimum VAC2 New Year New You special offer: The Optimum VAC2 is on special offer at the moment, with a hefty discount, which means it's currently £299 (and in my opinion, worth every penny), instead of £499.
Froothie 24/7 support: If you have any problems or queries relating to your VAC2 blender, Froothie offers 24 hour a day, seven days a week support, via a free telephone number.
Froothie finance offer: Paying several hundred pounds in one go is big outlay for some, so Froothie offers 0% finance (with a 10% deposit) on all blenders retailing at £299+.
Froothie Guarantee: In addition, Froothie offers a 30-day money back guarantee, which essentially means you get to trial your appliance for a month, and if you decide it's not for you, you can simply return it in its original packaging (including the shipping carton), and receive a full refund, no questions asked. Froothie pays for the return shipping too.
All of this means that - in this instance - for around £30, you can trial the Optimum VAC2, risk-free, for 30 days, which to me, seems like a very good deal. If you decide to keep the blender, you then have 6-12 months in which to pay the rest.
If you fancy trying out the Optimum VAC2 Air Vacuum Blender for yourself, Froothie is offering yumsome readers free shipping and an extra £20 discount. Simply add the following code into the comments box when you checkout, or if you order by 'phone, relay the code to the person taking your order. The delivery charge will be refunded to your credit or debit card.
AMBASSADOR CODE 5252: FREE DELIVERY + AMB20: £20 Discount
By the way, I get a small commission - at no extra cost to you - for every sale made using my affiliate link, so if you are thinking of buying something from the Froothie website, I'd really appreciate it if you use my link. Thanks so much! Affiliate sales and advertising, BTW, fund yumsome - without them, I wouldn't be able to provide you with all this awesome free content!
In conclusion
I absolutely love my new Froothie Optimum VAC2 Air Vacuum Blender: it's solidly-built, really simple to use, tackles tough jobs with ease, and is relatively easy to clean too (with the aforementioned caveats). Assuming you only use it once a day, the standard 5-year guarantee and current special offers mean that effectively, the VAC2 costs around 6p per use, which I think is actually pretty bargainous, don't you? I have to tell you though, if you're anything like me, you'll be using it far more!
Questions about the Froothie Optimum VAC2 Air Vacuum Blender? Leave me a comment below!