Ready in just 20 mins, this mildly-spiced dal fry (lentil curry) is really easy to make, frugal, filling, and comforting, plus it's only 182 calories per serving!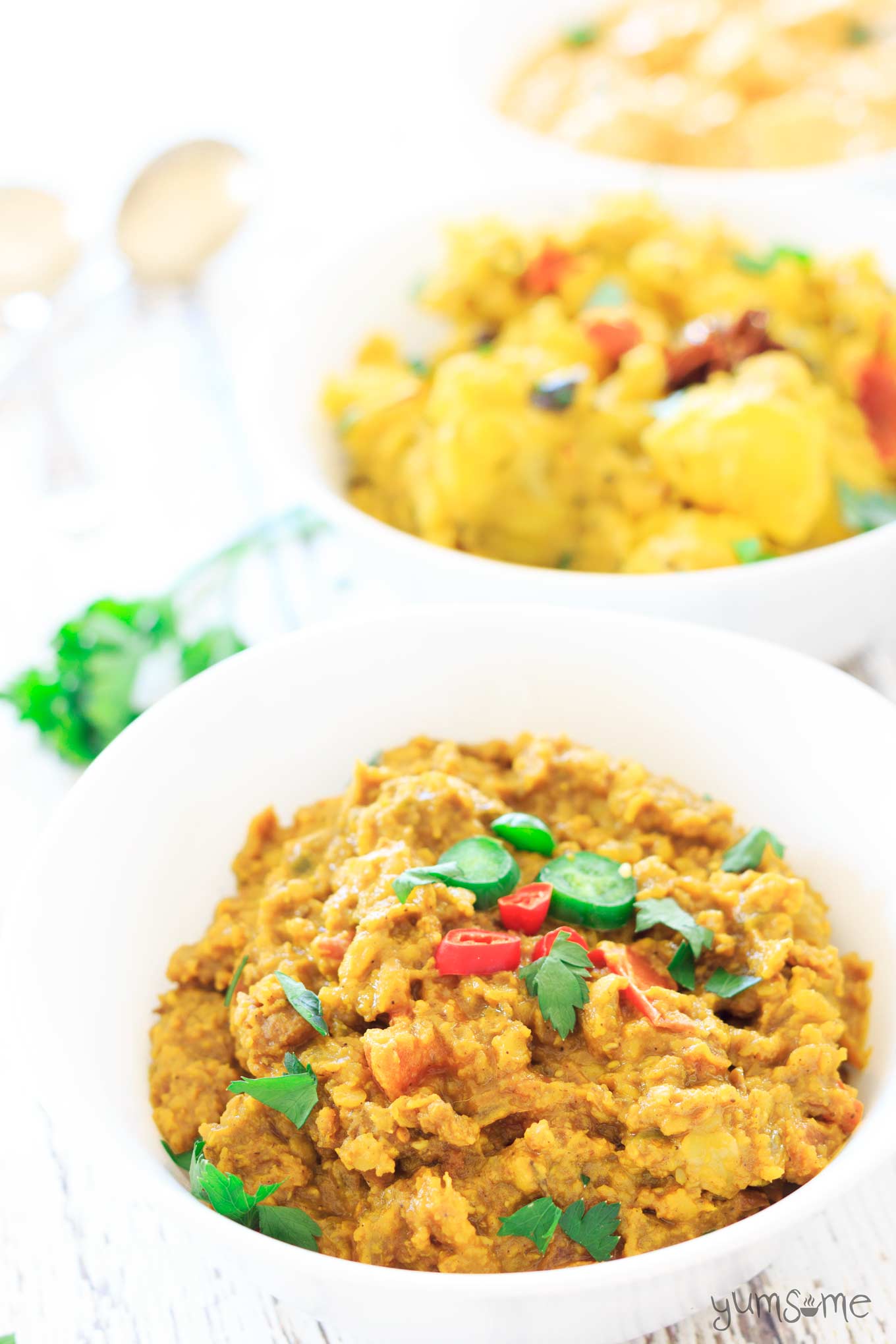 Last year, you may recall, I had to have some extensive dental surgery to rebuild my upper jaw - for several weeks, I was unable to eat anything other than really soft foods (yay, ice cream!), so soups, such as mulligatawny or leek and potato, and avocado hummus (by the spoonful, of course) became de rigeur.
Chewy, chunky foods were right out, which of course meant that I immediately wanted to eat all the things!
(Yes, sausages, I'm looking at you!)
Fortunately, when I lived in Thailand, I'd learned to make juk (congee), which kept me going for a while but (wo)man cannot live on juk alone.
Dal fry to the rescue! It's another recipe taught to me by my friend, Usha, when I was living in Fort Kochi. In fact, it was one of the first recipes she taught me.
As well as being super-easy to make, dal fry is also highly-nourishing, and packed with essential Vits and Mins. One of the things that I love about this dish is that it can be made as thick or thin as you like, so as my jaw healed, I was able to go from making this almost like a soup, to something far more substantial, while still being soft enough to not hurt my mouth.
International Year of Pulses
Last year, the Food and Agriculture Organisation of the United Nations (FAO) declared 2016 the Year of Pulses. How cool is that? I know there is a popular notion that those who don't eat meat live on nut loaf and lentil curry but actually, anyone with an ounce of nous knows that pulses are jam-packed with essential nutrients. Which, given that pulses are seeds, from whence new plants spring, makes sense that each one would be a little powerhouse of goodness.
In addition to pulses being really good for us, they are good for the planet too; a kilo of lentils, for example, takes only 50 litres of water to produce, opposed to a kilo of beef, which needs 13,000 litres. It doesn't take a rocket scientist to work out the ecological implications of that. Pulses also have a smaller carbon footprint, plus they provide a source of income (as well as nutrition) for some of the world's most impoverished people.
Forget the current overpriced fashionable (alleged) superfoods like goji berries, hemp hearts, and chia seeds, pulses are what the smart folk have been eating for centuries, and will be eating long after the current rash of trendy foods has passed.
For more information about International Year of Pulses, please visit the FAO website.
My dal fry
Is...
comforting, filling, and hearty
mildly spicy
full of flavour
full of goodness
soy-free
nut-free
low-fat
super-delicious!
Dal fry is great with rice, naan, appam, chapati, or paratha, and as a side dish for spicier, more robust Indian dishes. It's also fantastic on its own.
We absolutely love this - I bet you will too! Enjoy!
📖 Recipe
Dal Fry - A Super-Comforting Lentil Curry
Ready in just 20 mins, this mildly-spiced dal fry (lentil curry) is really easy to make, frugal, filling, and comforting, plus it's light on calories too.
Print
Pin
Rate
Makes (slide to adjust):
4
servings
Ingredients
100

g

red lentils

2

tablespoon

coconut oil

½

teaspoon

cumin seed

1

medium onion

4

cloves

garlic

smashed into a paste

½

teaspoon

turmeric

½

teaspoon

salt

½

teaspoon

chilli powder

½

large green chilli pepper

1

teaspoon

ground coriander

1

teaspoon

garam masala

1

medium tomato

2

teaspoon

fresh coriander

(cilantro leaf), chopped
Instructions
Begin by rinsing the lentils (dal), then placing them in a medium-sized pan, with enough water to cover. Bring to the boil, reduce the heat, put a lid on the pan, and allow the lentils to simmer until they're soft, and have absorbed the water.

While the lentils are cooking, heat the coconut oil in a large skillet, wok, or kadai over a high heat.

Add the cumin seeds, and allow to splutter for 30 seconds or so.

Add the onion, and sauté for 2-3 minutes.

Add the garlic, stir well, and continue to fry for another five minutes or so, until the raw smell has gone.

Lower the heat slightly, and stir in the turmeric, salt, chilli powder, and green chilli, and give everything a thorough stir.

Mix in the ground coriander and garam masala, plus the chopped tomato, and stir-fry for 2-3 minutes.

Add the cooked lentils, and gently mix in well, taking care not to break up the lentils too much.

Add the water (if using).

Stir-fry for another 30 seconds or so, then add the chopped coriander.

Stir-fry for another minute, and then serve.

Leftovers can be kept in the 'fridge in an airtight container for up to three days.
Notes
You can also use yellow lentils or urad dal (black lentils... although they're white once the skins have been removed). I don't recommend puy lentils though because they tend to be too firm.
Nutrition Facts
Dal Fry - A Super-Comforting Lentil Curry
Amount Per Serving
Calories 183
Calories from Fat 72
% Daily Value*
Fat 8g12%
Sodium 309mg13%
Carbohydrates 24g8%
Protein 7g14%
* Percent Daily Values are based on a 2000 calorie diet.
Did you make this recipe?
Do mention @yums0me and/or tag #yums0me - I'd love to see how yours turned out!
Disclaimer
Measurements in parenthesis are approximate; it is beyond the scope of yumsome to be able to provide pinpoint-accurate ingredient quantities for every type of measuring utensil. As a guideline however, I make the assumption that:
1 cup = US cup = 240 ml
1 tablespoon = US/UK = 15 ml
1 fl oz = US = 30 ml
Further information may be found here
If you like this Dal Fry recipe, why not check out these other Indian yums while you're here?
I'm linking up my Dal Fry recipe to these link parties, hosted at the following blogs - do click on the pics to find more yummy delights!