If you've never made ice cream with frozen bananas, you're in for a treat. A healthy treat. A very quick, completely delicious, and healthy treat. Bananas and peanut butter are a match made in heaven. Add some chocolate, and something magical happens.
I'm not joking.
I love ice cream but it doesn't love me. A sad but true fact. It can play havoc with my tummy, give me intense headaches, and, unless the weather is really, scorchingly, meltingly hot, if I have any, I have to wrap myself up in a duvet because my internal thermostat is rubbish, and consuming cold food or drink has been known to send me into a fit. Literally.
IKR!
Fortunately, in between massive lightning storms, heavy downpours, and hailstones, we've had glorious 32C sunshine, which is my cue to break out all the ice cream!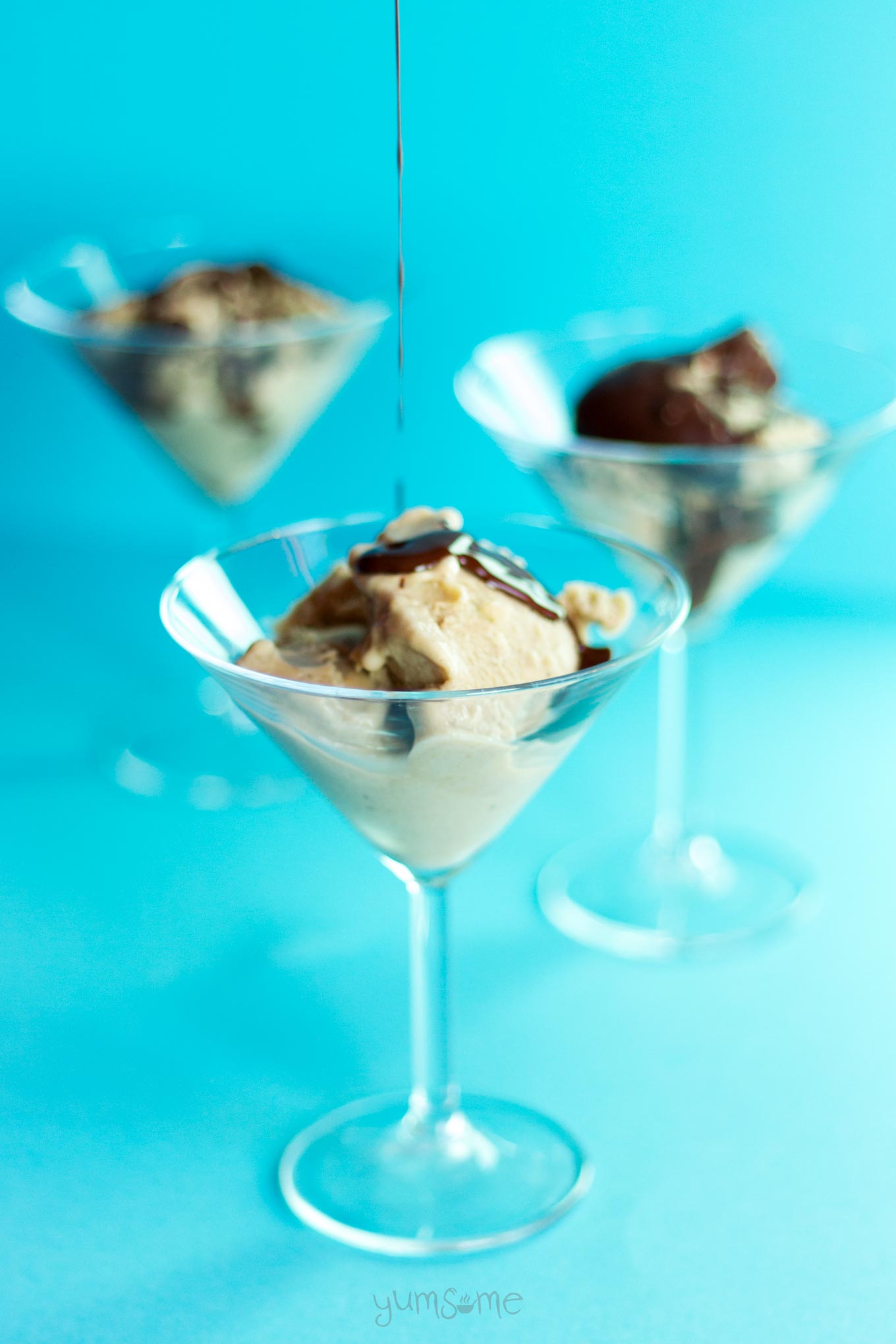 The only way my peanut butter and banana ice cream could be easier to make is if someone else does it for you. Yes, it really is that easy.
Just chuck some frozen banana chunks and peanut butter into a food processor or blender, whizz to within an inch of their lives, drizzle over some home-made chocolate magic shell, and then scoff to your heart's content.
4-Ingredient Vegan Banana and Peanut Butter Ice Cream
Is...
quick and easy
free from added sugar
gluten-free
soy-free
dairy-free
low-cal
good for you
totally deelish!
If you're watching your weight, and want to make this even more low-cal, omitting the chocolate magic shell will bring this down to a mere 97 calories per portion. Who said diet food is boring? Enjoy!
What's your favourite vegan ice cream?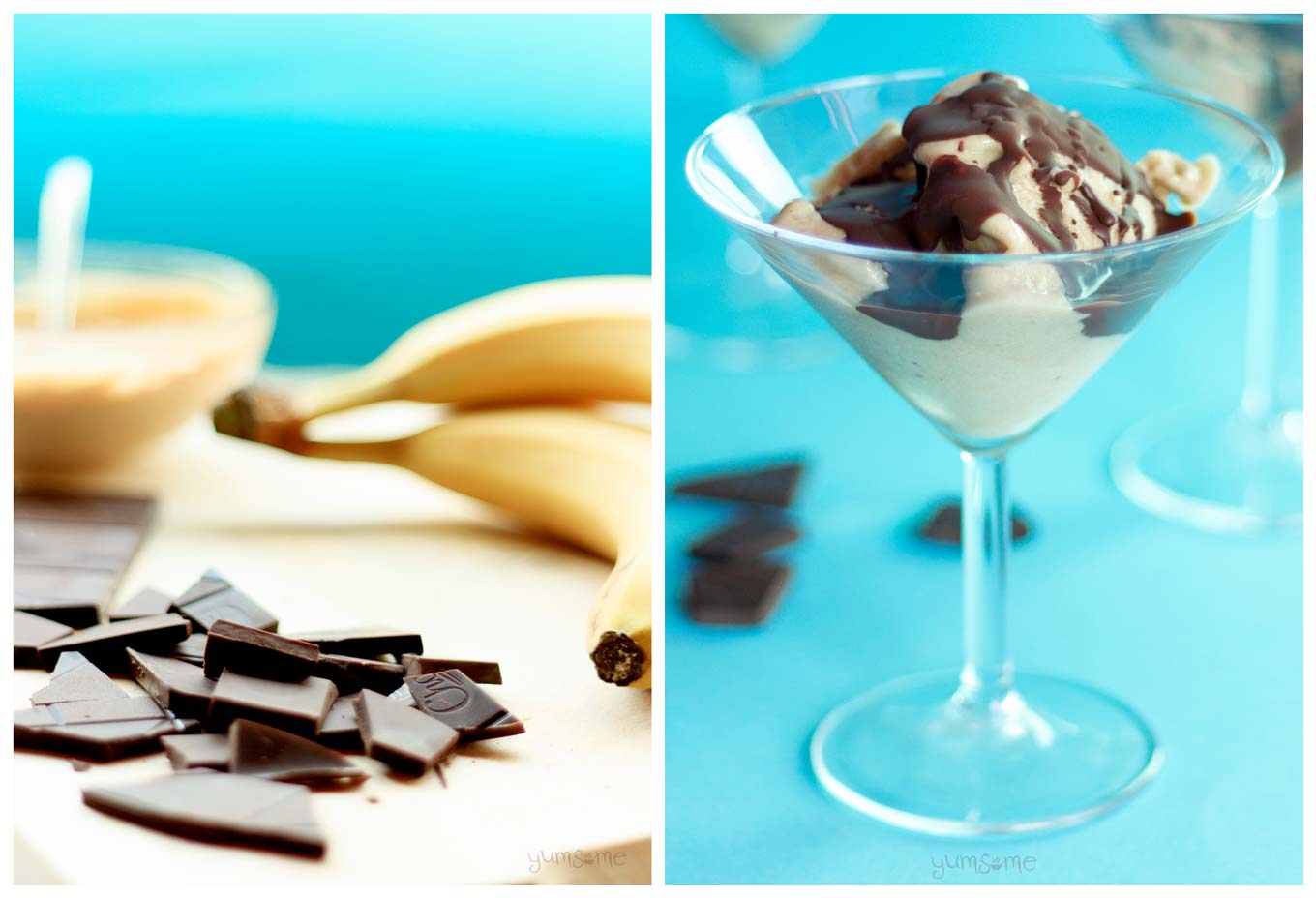 📖 Recipe
4-Ingredient Vegan Banana and Peanut Butter Ice Cream
This is the easiest, peasiest* banana and peanut butter ice cream you'll ever make. It's rich, it's sweet, it's a little decadent… plus it's completely vegan. You're going to love it!
*Does not contain peas
Print
Pin
Rate
Makes (slide to adjust):
8
servings
Ingredients
6

frozen bananas

roughly chopped (note 2)

8

tablespoon

peanut butter

made with 4 tablespoon peanut flour + 6 tablespoon water (note 3)
For the chocolate magic shell:
Equipment
High-powered blender

Food processor
Instructions
Whizz the bananas and peanut butter together for a few minutes in a food processor or high-powered blender until it reaches a smooth consistency. You may have to scrape the sides down a couple of times.

Place in the freezer for 10 minutes, while you melt the chocolate.

Place the chocolate and coconut oil into a heatproof bowl over a pan of water. Gently bring to a simmer (don't let the water boil, or it will spoil the chocolate.)

Once melted, remove the bowl from the pan, and stir the chocolate and coconut oil together.

Remove the ice cream from the freezer, serve into bowls, and drizzle over the chocolate sauce, where it will almost immediately form a lovely crisp shell.

Store any leftovers in the freezer in an airtight container for up to a month. Remove from the freezer 10 mins before you want to serve it.
Notes
Brown bananas are great for freezing and making ice cream with, plus they are apparently better for you than their pallid counterparts.
To freeze bananas, simply peel, chop into chunks, place in an airtight freezer-proof container (or freezer bag), and chuck into the freezer or ice box. It's really as simple as that.
If you don't have peanut flour, you can of course, use normal peanut butter from a jar... but if you're watching your calorie or macro intake, you'll have to adjust the nutritional info accordingly.
If your blender or food processor can't cope with frozen banana chunks, either defrost them slightly in the microwave for 20-30 seconds, or leave out at room temperature for 10-15 mins to soften slightly.
Nutrition Facts
4-Ingredient Vegan Banana and Peanut Butter Ice Cream
Amount Per Serving
Calories 149
Calories from Fat 36
% Daily Value*
Fat 4g6%
Sodium 5mg0%
Carbohydrates 27g9%
Protein 2g4%
* Percent Daily Values are based on a 2000 calorie diet.
Did you make this recipe?
Do mention @yums0me and/or tag #yums0me - I'd love to see how yours turned out!
Disclaimer
Measurements in parenthesis are approximate; it is beyond the scope of yumsome to be able to provide pinpoint-accurate ingredient quantities for every type of measuring utensil. As a guideline however, I make the assumption that:
1 cup = US cup = 240 ml
1 tablespoon = US/UK = 15 ml
1 fl oz = US = 30 ml
Further information may be found here
Why not check out these other sweet yums while you're here? (Not all are diet-friendly!)