My sausage, fennel, and bean casserole is completely vegan, and is incredibly simple to make, yet is bursting with rich tomato and fennel flavours. Plus, has a tiny little chilli kick to liven things up!
Who remembers Poldark in the '70s? I loved it so much. And I loved Robin Ellis too. He was so perfect in the role. I honestly don't remember how or when I first came across Robin's blog - it was certainly long before the lovely Aiden Turner donned the Poldark mantle - but a couple of years back, when Robin published a recipe for his fennel, tomato, and white bean casserole, I thought,
Huzzah, I've found the first of the Great Bean Usey-Uppy Quest recipes!
Because I seemed to have hoarded a load of legumes.
(Nothing has changed in the intervening years.)
I say 'seem to have' as though I'm unsure how I came to have the bean and pulse mountain of Europe.
Of course, I could pretend that the 'slight' over-buy is all part of my cunning plan to make sure we have enough food in the house for when the snows come. I mean, really, look – who would want to go out shopping in that?
But hey, I no longer live in Slovenia... so I guess I'd best admit that my not inconsiderable hill o' beans is entirely due to aquafaba, meringues, and my love affair with veganaise.
It's a very good job that dried beans and pulses have a long shelf life. And that they travel well on international flights, because they've been all over Central and Eastern Europe with me, and have even picked up a few friends along the way.
Ahem.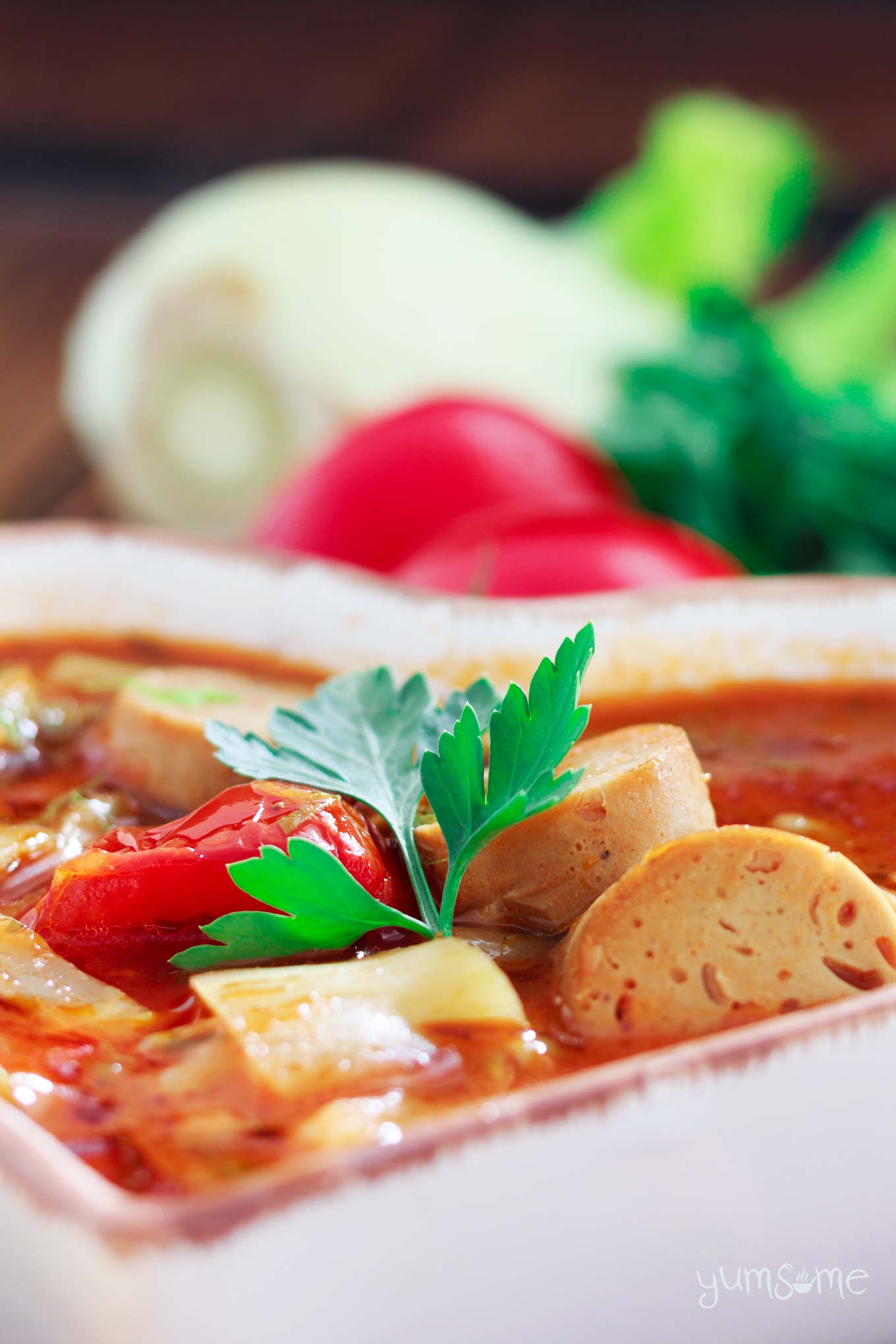 To be honest, I have a gazillion beany recipes squirrelled away in my mind palace (thank you, Sherlock) but I'm always up for exploring new dishes, and I love that while Robin's recipe has chilli in it, it's not too much.
Despite having spent several years living in Thailand and India, I remain very much a complete chilli wimp, and always have to tone down the amount of chilli in recipes.
In fact, some of my Thai friends became too embarrassed to eat out with me because of my wimpishness.
Mai phet farang kha!
... they used to say to street food vendors and café owners, which means, 'foreigner - not spicy', or, as one of my chums once said,
Pathetic enough to not make her cry.
I wish I were joking.
Moving swiftly along…
Making Sausage, Fennel, and Bean Casserole
Although I used the same amount of chilli as Robin, I did however, cut down on the amount of fennel because amato mio is not a fan of liquorice-type flavours, so I thought if I put too much in, he might not like it, and I wanted him to at least try it before being completely repulsed.
Needless to say that I ditched the fennel seeds too. I also doubled the garlic because honestly, who only uses three cloves? Sorry Robin but really? Three cloves? You live in France - is that even legal there?
I'm really pleased to report that not only did amato mio not mind the fennel at all, he positively wolfed down the casserole. I didn't tell him until afterward that it contained a bulb of fennel – not because I set out to deceive him but rather because we were both enjoying the meal so much that I completely forgot until he asked me afterward what was in it.
Fennel has now made the list of things-we-hated-as-kids-because-someone-didn't-cook-them-well-but-now-we-like-them! Amato mio recently added beetroot to his list, while I added red cabbage.
I have yet to be convinced about boiled or steamed sprouts, though…
Vegan Sausage, Fennel, and Bean Casserole
Is...
chunky
meaty
filling
nourishing
packed with lovely veggies
high in protein and fibre
super-delicious!
Anyway, enough rambling! I hope you love this dish as much as we do, and that this sausage, fennel, and bean casserole will find its way to your table, and into your tummies.
Serve the casserole in a dish, with a pile of caramelised onions and a sausage on top.
Bon appétit!
Couldn't you just tuck into a bowl of this vegan sausage, fennel, and bean casserole?!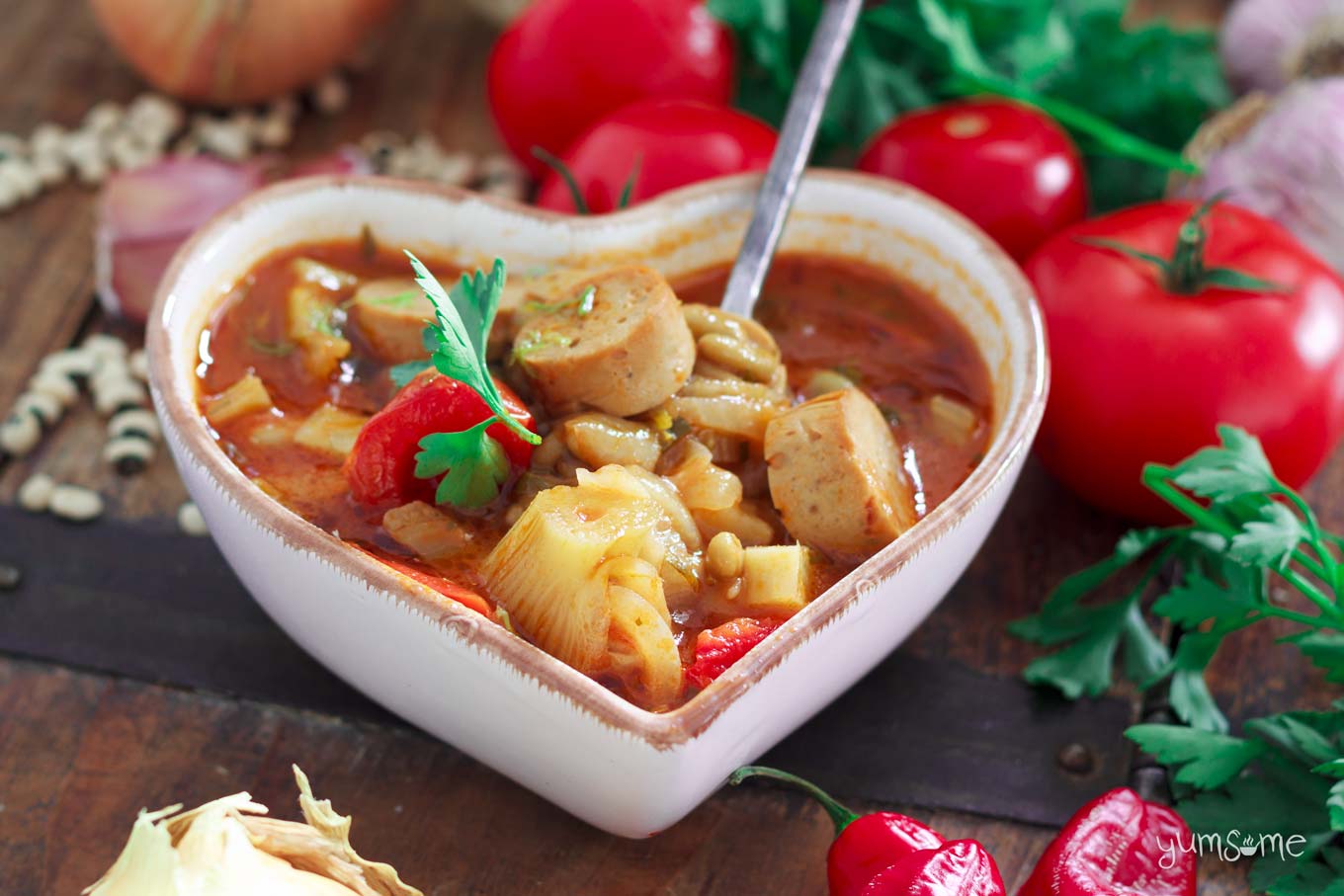 📖 Recipe
Vegan Sausage, Fennel, and Bean Casserole
My sausage, fennel, and bean casserole is completely vegan, and is incredibly simple to make, yet is bursting with rich tomato and fennel flavours. Plus, has a tiny little chilli kick to liven things up!
Print
Pin
Rate
Makes (slide to adjust):
4
servings
Ingredients
2

large onions

thinly sliced

3

tablespoon

extra virgin olive oil

1

large bulb fennel

trimmed and sliced

6

fat cloves garlic

smashed

2

large fresh red chillies

finely chopped

2

large plum tomatoes

roughly chopped

250

g

passata

3

tablespoon

vegetable broth

4

vegan sausages

sliced

250

g

cooked and drained flageolet or haricot beans

(don't throw away the 'juice' – it makes an astonishingly good vegan egg replacer)

Juice of one lemon

Sea salt and freshly ground black pepper

to taste
Instructions
Heat 3 tablespoon oil a heavy skillet, over a medium-high heat, then sauté the onions for around 5 mins, until the begin to turn translucent.

Add the fennel, and continue to sauté for another 5 mins or so.

Add the garlic and chilli to the skillet, turn the heat down to medium, and continue to fry - stirring occasionally - for another 5 mins, until the raw garlic smell has gone.

Mix in the chopped tomatoes, passata, broth, sliced sausages, and beans. Cover the pan, turn the heat down to low, and  simmer for around 20 minutes, until the fennel has become tender.

Stir in the lemon juice, taste and season as necessary with sea salt and black pepper, then serve immediately with your favourite carb (I recommend mashed potatoes!).

This will keep in the fridge in an airtight container for up to a week, or in the freezer for three months.
Notes
This is easily made in a slow cooker too. Gently fry the onions and fennel for 10 mins, then add everything to the pot, and cook on high for 4 hours, or low for 8.
Nutrition Facts
Vegan Sausage, Fennel, and Bean Casserole
Amount Per Serving (1 serving)
Calories 402
Calories from Fat 117
% Daily Value*
Fat 13g20%
Sodium 235mg10%
Carbohydrates 49g16%
Protein 26g52%
* Percent Daily Values are based on a 2000 calorie diet.
Did you make this recipe?
Do mention @yums0me and/or tag #yums0me - I'd love to see how yours turned out!
Disclaimer
Measurements in parenthesis are approximate; it is beyond the scope of yumsome to be able to provide pinpoint-accurate ingredient quantities for every type of measuring utensil. As a guideline however, I make the assumption that:
1 cup = US cup = 240 ml
1 tablespoon = US/UK = 15 ml
1 fl oz = US = 30 ml
Further information may be found here
If you like my Vegan Sausage, Fennel, and Bean Casserole recipe, check out these other simple yums while you're here!