Level up your desserts with this vegan miso caramel sauce! Bringing a fantastic depth of flavour and richness, the Asian umami flavour bomb that is miso is the perfect partner for this sweet and silky caramel sauce.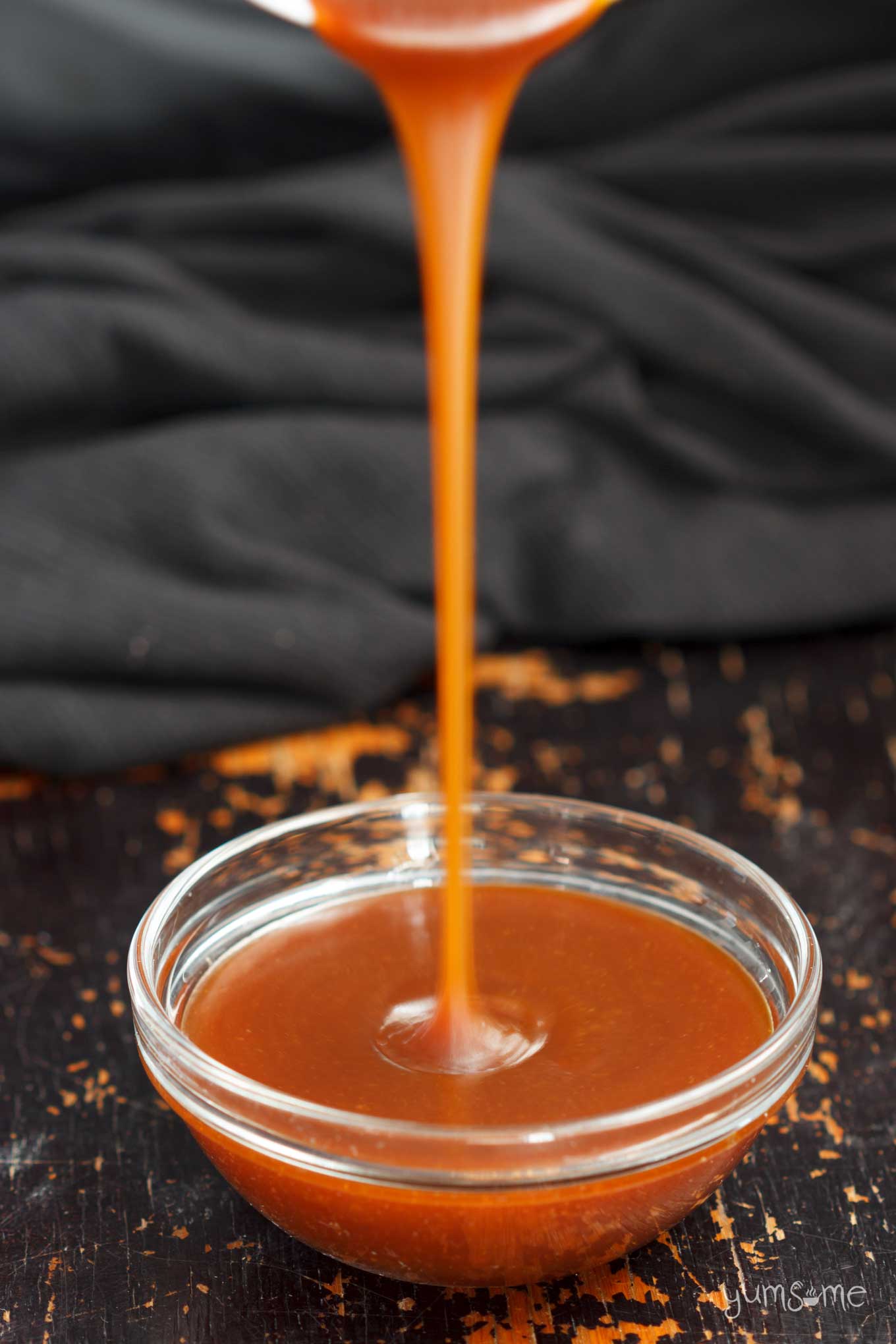 "What's this?" I hear you ask, "Miso caramel sauce? WTH?"
But stop and think about it for a moment... miso is salty and a little sweet, caramel is sweet - you can see where I'm going...
We all love salted caramel, right? So why not use miso instead of salt? While we all need salt, miso does offer a greater range of health benefits. It's..
generally probiotic*, which helps keep the gut healthy, and is believed to aid digestion
full of B Vitamins, including the elusive B12
a great source of Vitamins E & K
beneficial to those who have anaemia, as it's a good source of iron (1 tablespoon provides c.3% of an average adult's daily needs)
rich in essential minerals
full of protein (1 tablespoon contains around 4% of an average adult's daily needs)
Miso also contains the nine essential amino acids we need, which means it's a complete protein.
*(Some brands aren't probiotic, so do check before buying.)
What is miso?
So what exactly is this amazing Asian staple? Used across East Asia for several millennia, in general, miso (dòujiàng/doubanjiang in China, doenjang in Korea) is made from ground and fermented soya beans, some grains (barley, rye, rice), salt, and koji (a starter culture made from wood ash and rice mould spores). It comes in many varieties, of varying strengths and colours, including hatchomiso, which is grain-free, and therefore suitable for those avoiding gluten.
For all of my cooking which requires fermented bean paste, I use just three types...
Shiro miso (sweet, salty, light beige to medium light brown, AKA white) - Japanese
Doenjang (less sweet, more salty, brown) - Korean
Doubanjiang (aka Pixian/Pi Xian) (salty, very hot, red, made with broad beans) - Chinese
In some recipes I use more than one (e.g. Asian sauces), in others, I stick to a single miso... e.g. for this miso caramel sauce, I use shiro miso.
One thing to note is that cooking will kill off the 'friendly' bacteria, so if you're consuming miso for its tummy benefits, then add it to the dish at the end of cooking. Taste-wise, it makes no difference when you add it, so if you're not bothered about probiotics, add it whenever.
Of course, miso doesn't have to only be used for cooked foods; my salad dressings almost always contain a tablespoonful, and I'm rather partial to just eating a teaspoon of shiro miso on its own.
Yep, I just admitted that.
For more information about miso, check out the Wikipedia page.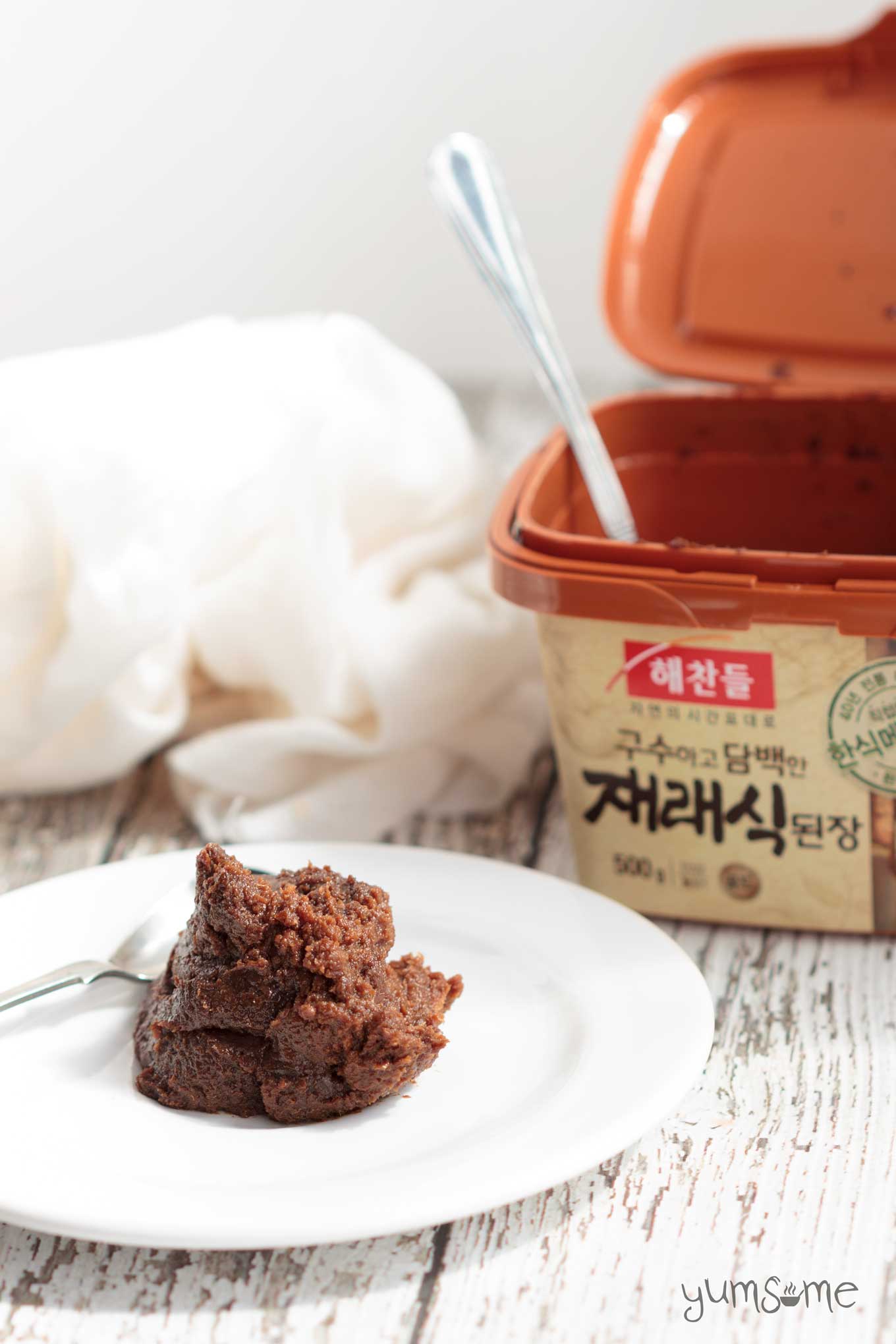 Miso caramel is made in much the same way as my salted caramel sauce, and is totally gorgeous on all kinds of desserts but especially with ice cream, apple pie, fruit salsa, baked apples, oatmeal, etc.
And of course, straight out of the jar!
Vegan Miso Caramel Sauce
Is...
sweet
salty
full of umami yumminess
easy to make
dangerously more-ish
Whatever you have it with, I know you're going to love this caramel sauce!
Enjoy!
What would you have vegan miso caramel sauce with?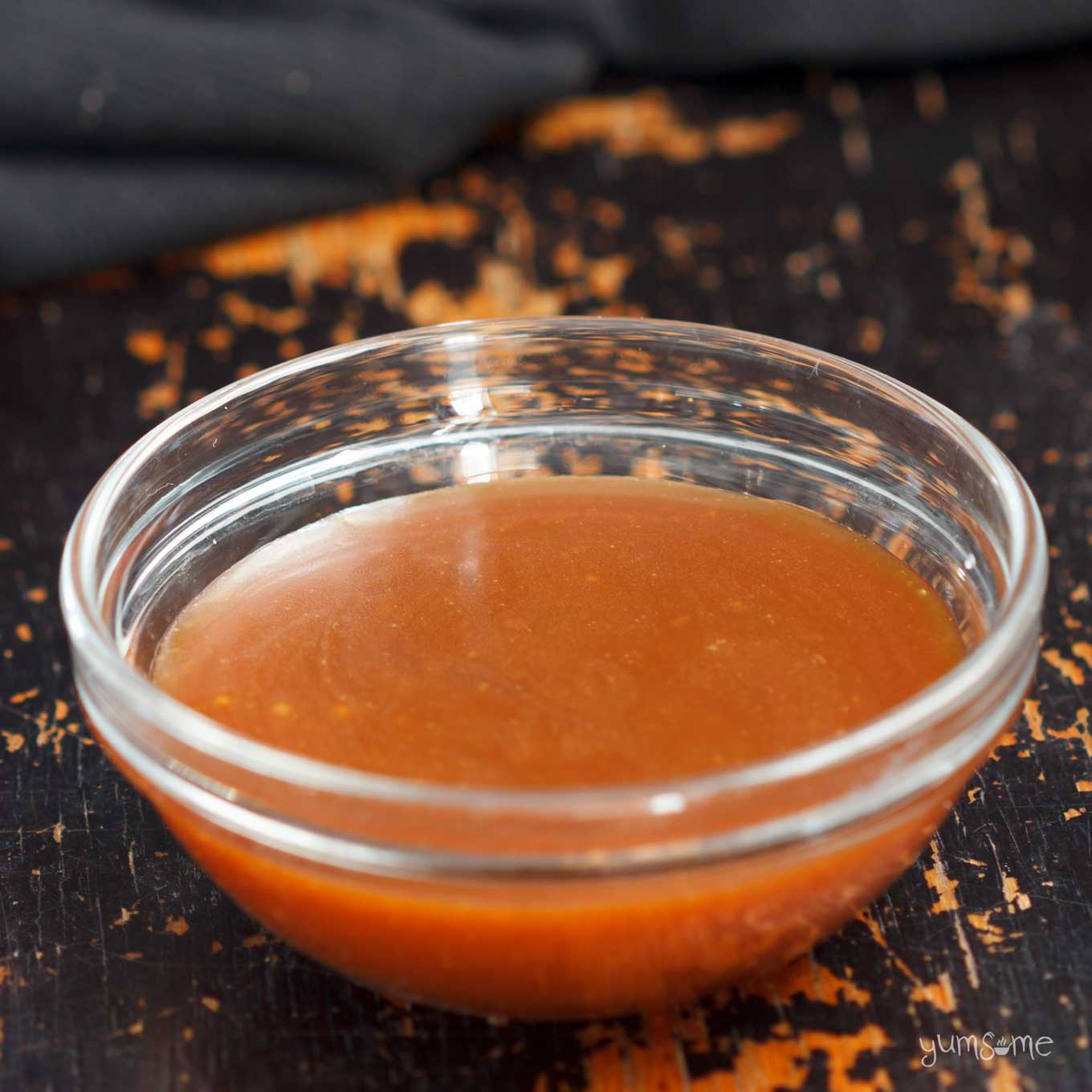 📖 Recipe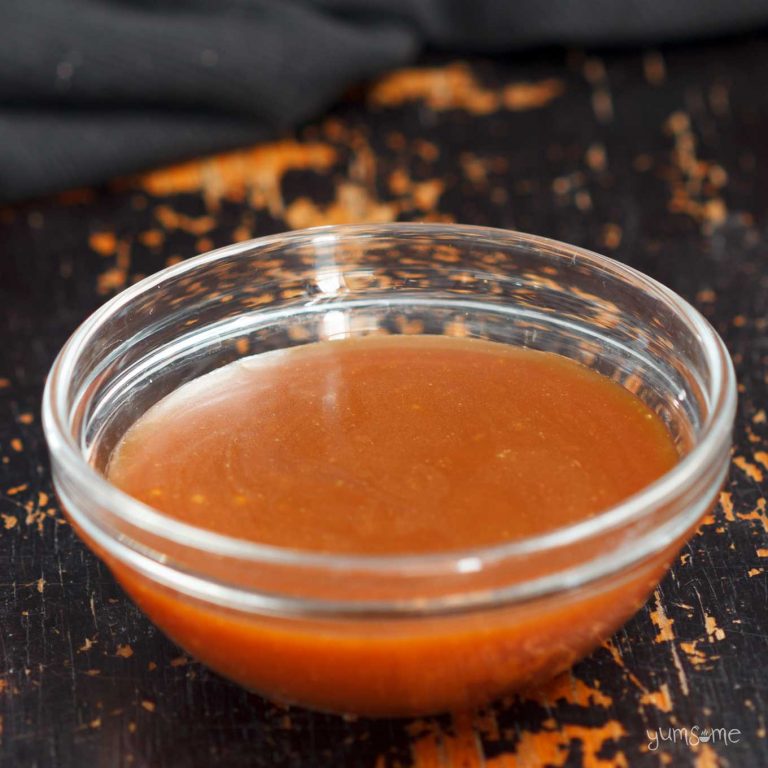 Vegan Miso Caramel Sauce
Bringing a fantastic depth of flavour and richness, the Asian umami flavour bomb that is miso is the perfect partner for this sweet and silky caramel sauce.
Print
Rate
Makes (slide to adjust):
95
Ingredients
200

g

sugar

100

g

vegan butter or margarine

120

ml

cashew milk

3

tablespoon

white miso paste
Instructions
Add the sugar to a heavy-based pan, over a low heat. If necessary, use a diffuser.

Leave to melt and caramelise - don't stir. This will take around 10-15 minutes.

Once the sugar has melted, stir in the vegan butter until you have a smooth caramel.

Whisk in the cashew milk, and simmer for 1-2 mins, until the caramel sauce has thickened.

Remove the pan from the heat, and whisk in the miso.

Decant into a sterile jar, cap, and leave to cool at room temperature before storing in the 'fridge.
Notes
If you use margarine, you'll find that the water separates out, and makes the caramel claggy. It's not an insurmountable problem but it does mean that you'll have to work harder to incorporate it.
Because of the sugar content, this caramel sauce will keep for several months in the 'fridge. Not that it has any chance of being around that long!
Nutrition Facts
Vegan Miso Caramel Sauce
Amount Per Serving (1 tsp)
Calories 14
% Daily Value*
Sodium 17mg1%
* Percent Daily Values are based on a 2000 calorie diet.
Did you make this recipe?
Do mention @yums0me and/or tag #yums0me - I'd love to see how yours turned out!
Disclaimer
Measurements in parenthesis are approximate; it is beyond the scope of yumsome to be able to provide pinpoint-accurate ingredient quantities for every type of measuring utensil. As a guideline however, I make the assumption that:
1 cup = US cup = 240 ml
1 tablespoon = US/UK = 15 ml
1 fl oz = US = 30 ml
Further information may be found here
If you like my vegan miso caramel sauce, check out these sweet treats too!