Jam-packed with plump, moist, sultanas, this tea loaf is as delicious as it is easy. Made with just seven basic pantry ingredients, this cake is vegan, fat-free, and nut-free too.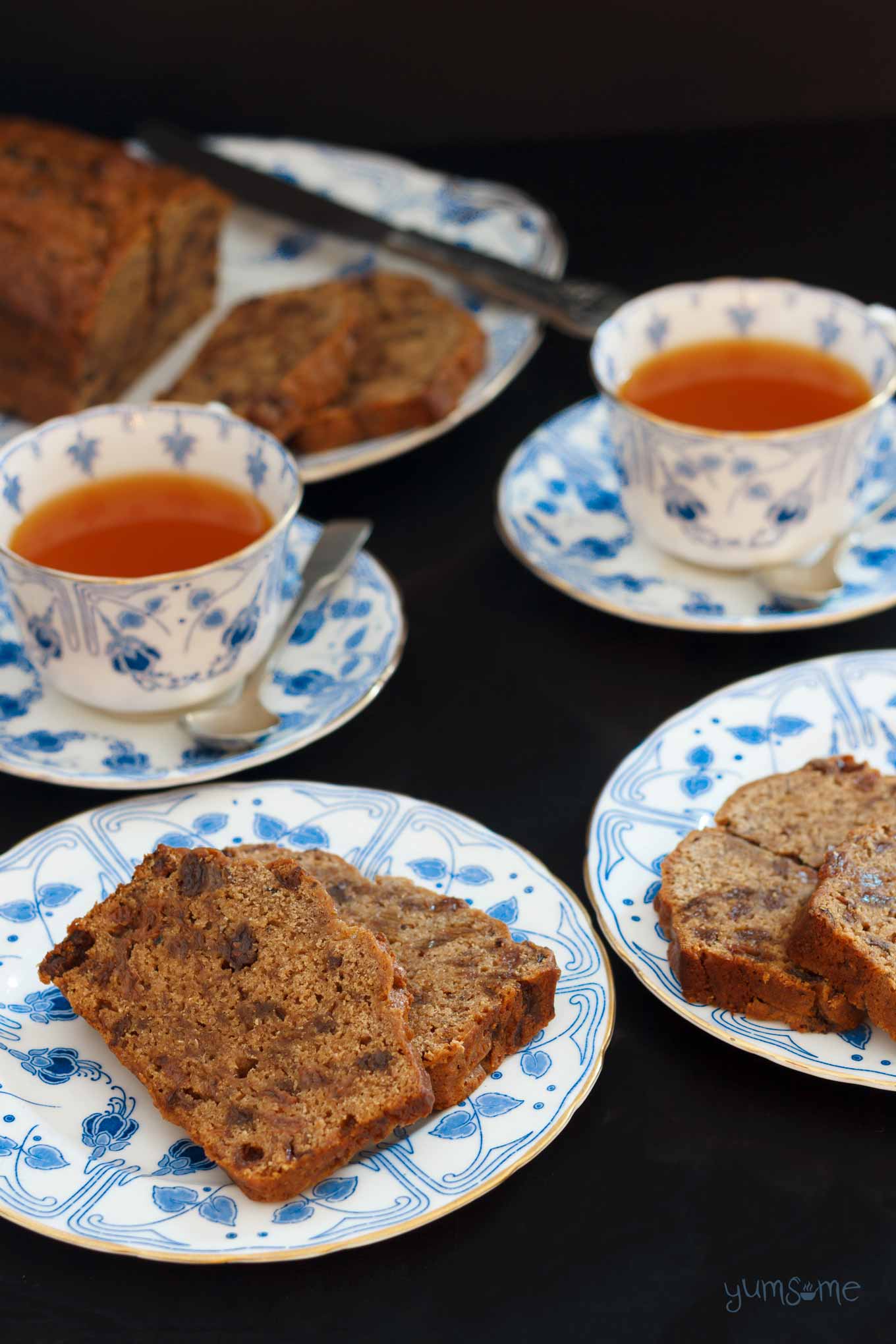 This post contains affiliate links. For more information, please see my privacy policy.
Childhood memories
This cake is the stuff of childhood memories. Of cosy winter evenings in front of a roaring fire. Of tea and crumpets for supper. Of reading fairy tales from a book my granddad had made me. And of simply being enveloped in the warmth of my grandparents' love.
I really, really love old-fashioned English tea loaf, and more than anything, it reminds me of going to visit my Auntie Rose and Uncle Fred, who lived right by the railway, on the Caledonian Road in London. Their flat was at the top of an old dark Victorian townhouse, accessed by a gazillion steep wooden stairs. Whenever a train went by, the whole house shook. Or so it seemed to my very young self!
I loved that flat, especially the sitting room. It was huge, and at one end it had a very large dining table, sideboard, and whatnot stands, complete with aspidistras. At the other, a big fireplace, over which was an ornate mantelpiece, which was home to several ornaments, and dominated by a sizeable dark wood clock. An obligatory mirror oversaw the whole room.

Immediately in front of the fire was a large deep brown leather Chesterfield sofa, with two matching armchairs off to each side. In true Victorian style, that front room was dark, and richly-furnished. I felt so at home there!
Whenever we went to visit, Auntie Rose, who was in a wheelchair, and therefore housebound, always put on a huge spread. There was jelly, ice cream, fish paste sandwiches, salad, hors d'oeuvre, and of course, tea loaf.

I loved it all, and relished every single morsel!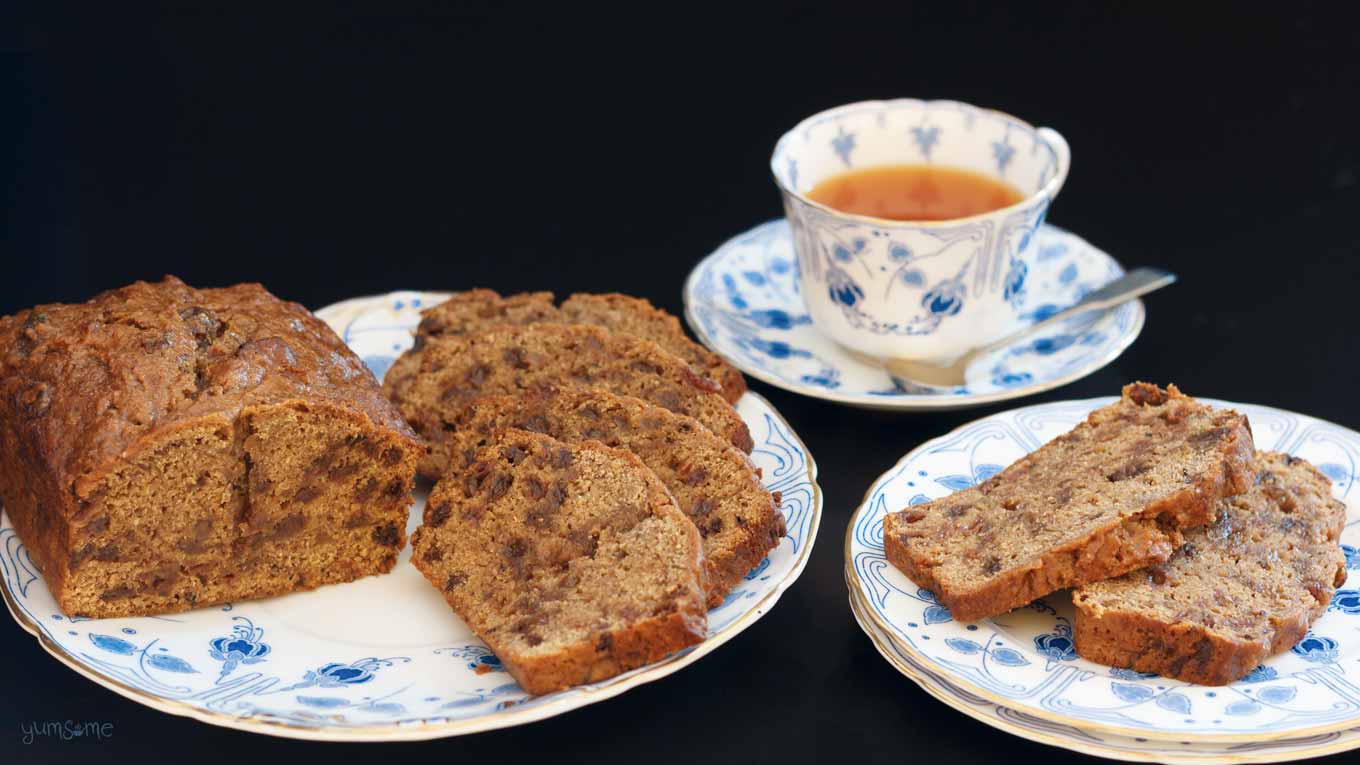 Like my grandparents, my aunt and uncle are long gone, as is, I suspect, their house. Until I returned to Britain, it felt like an eternity since I made my own tea loaf - since I've been back though, I make it at least once a month, and for several local cafés too. Everyone loves it so much!
Ingredients for this tea loaf
This tea-time favourite is made with seven simple ingredients, and requires no eggs, dairy, or any kind of fat. And no egg replacers, such as aquafaba, either! In fact, like Auntie Rose's tea loaf, this is made with nothing but basics you'll find in your pantry.

You just need some dried fruit soaked in strong tea, some flour and baking powder, a bit of jam, some brown sugar, and a couple of teaspoons of my masala chai spice blend!
How to make old-fashioned English tea loaf
Soak your dried fruit in a cup of very strong tea.
Mix with all the other ingredients to form a batter.
Transfer to a loaf pan, and bake for just over an hour.
Set aside to cool for a bit, then enjoy with a nice cuppa!
Tips for making this cake
Which type of tea to use?
A good English breakfast tea works very well, as does Darjeeling (later harvests... don't use a first flush). Earl Grey is good, too.
Any tea I shouldn't use?
I wouldn't use oolong, green tea, sencha, white tea or any first flushes because the flavour will be far too delicate. Plus I think it's a bit of a waste to use such nice teas in a cake!

I also don't recommend using lapsang souchong as its smoky flavour really would not work in this recipe.
Which dried fruit to use?
I prefer sultanas as they are nice and fat and juicy! However, it's really up to you what you use. When I make this at Christmas time, I sometimes use dried cranberries and cherries (not glacé cherries!).
Are there any jams that are best to use for this cake?
To be honest, I usually keep a jar of the cheapest supermarket jam I can buy, just for making tea loaf. Tesco sells one that costs about 30p!

I did use my Mother-out-Law's home-made rhubarb and ginger jam once, and it was completely lost. I envisioned a lovely ginger tang but no... it made no difference! So use whatever you have to hand.
I don't have masala chai spice - what I can use instead?
Well, firstly, why have you not made any? Ha ha! Secondly, bog-standard mixed spice from the supermarket is absolutely fine. Or you could use something like an apple or pumpkin pie spice mix. Or mix up your own blend!
Want more deliciousness?
Apparently, in Yorkshire, tea loaf is eaten with a goodly spreading of butter, much like malt loaf. However, I prefer to eat it naked, as it were, with a cup of Earl Grey and lemon. What about you?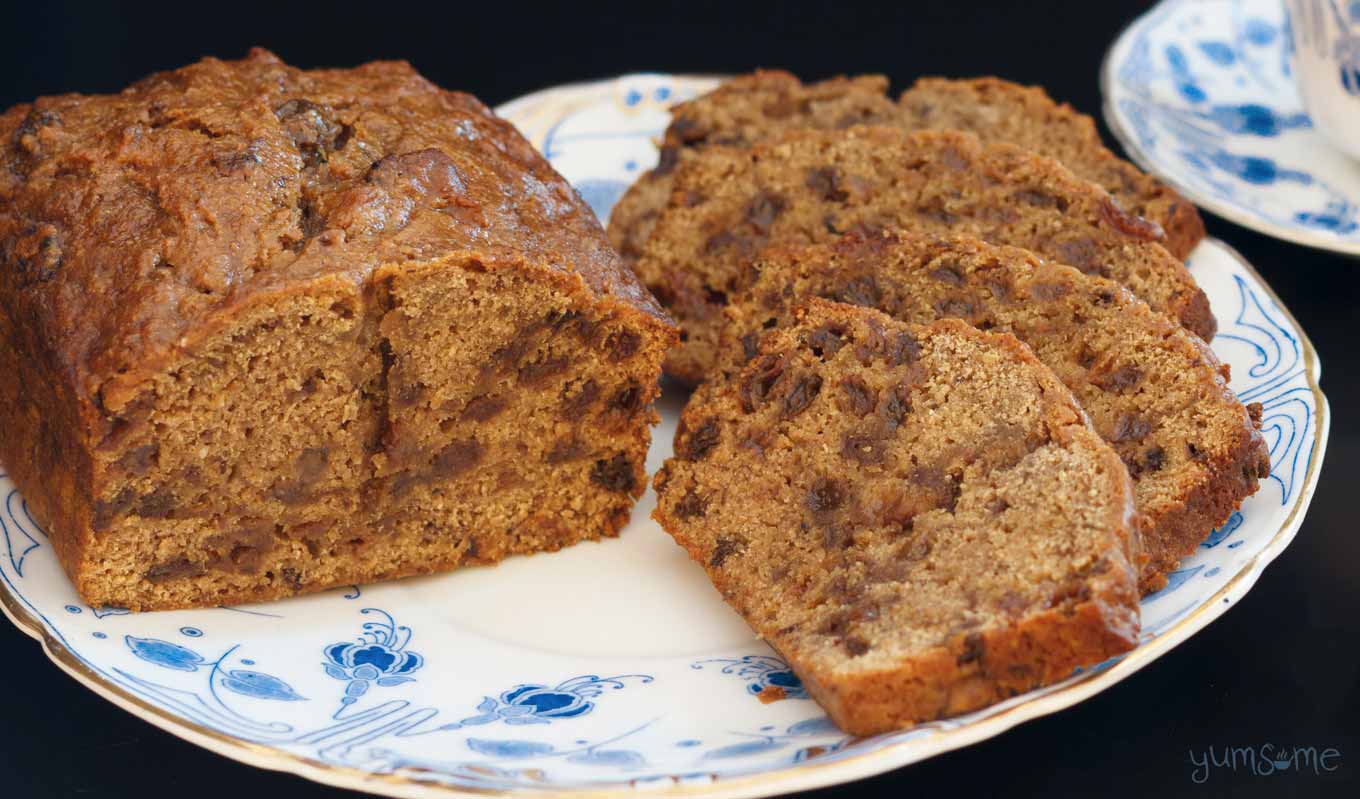 📖 Recipe
Old-Fashioned English Tea Loaf
This old-fashioned English tea loaf is jam-packed with plump and moist sultanas. It's as delicious as it is easy to make, and as wonderful today as when I first had it 50+ years ago!
Print
Pin
Rate
Makes (slide to adjust):
10
slices
Ingredients
300

ml

strong black tea

(made up with three tea bags or 3 teaspoon loose leaf tea)

225

g

sultanas

110

g

demerara sugar

1

tablespoon

jam

(use whatever you have)

225

g

wholemeal spelt flour

2

teaspoon

masala chai spice mix

2

teaspoon

baking powder
Instructions
Soak the sultanas in the tea for at least 6 hours. Overnight is better.

Preheat your oven to 160°C (320°F/gas mark 3).

Place a non-stick loaf pan liner into a 1 kg (2 lb) loaf pan. If you don't have any liners, grease the pan, and line the bottom with baking parchment.

Place the soaked fruit and any tea that's left into the bowl of a stand mixer, along with the sugar and jam. Set the mixer to slowly run. (You can also do this by hand in a large mixing bowl.)

Slowly add the rest of the ingredients, and continue to gently mix for a minute or so, until everything is just incorporated. Don't over-mix or you'll end up with a heavy cake.

Pour the cake batter into the prepared loaf pan, and bang on the counter a couple of times to remove any air pockets and to level the top.

Bake in the centre of the oven for 1¼ hours, until an inserted toothpick comes out clean.

Remove from the oven, and set aside to rest in the pan for 30 minutes before turning out onto a wire rack to cool.

Serve at room temperature with a nice cup of tea!

Store in an airtight container at room temperature for up to a week, or freeze for up to three months.
Notes
This recipe was inspired by Bit of the Good Stuff. My version is the result of several adaptations until I felt I had the perfect cake!
Nutrition Facts
Old-Fashioned English Tea Loaf
Amount Per Serving (1 slice)
Calories 193
Calories from Fat 9
% Daily Value*
Fat 1g2%
Sodium 16mg1%
Carbohydrates 46g15%
Protein 4g8%
* Percent Daily Values are based on a 2000 calorie diet.
Did you make this recipe?
Do mention @yums0me and/or tag #yums0me - I'd love to see how yours turned out!
Disclaimer
Measurements in parenthesis are approximate; it is beyond the scope of yumsome to be able to provide pinpoint-accurate ingredient quantities for every type of measuring utensil. As a guideline however, I make the assumption that:
1 cup = US cup = 240 ml
1 tablespoon = US/UK = 15 ml
1 fl oz = US = 30 ml
Further information may be found here