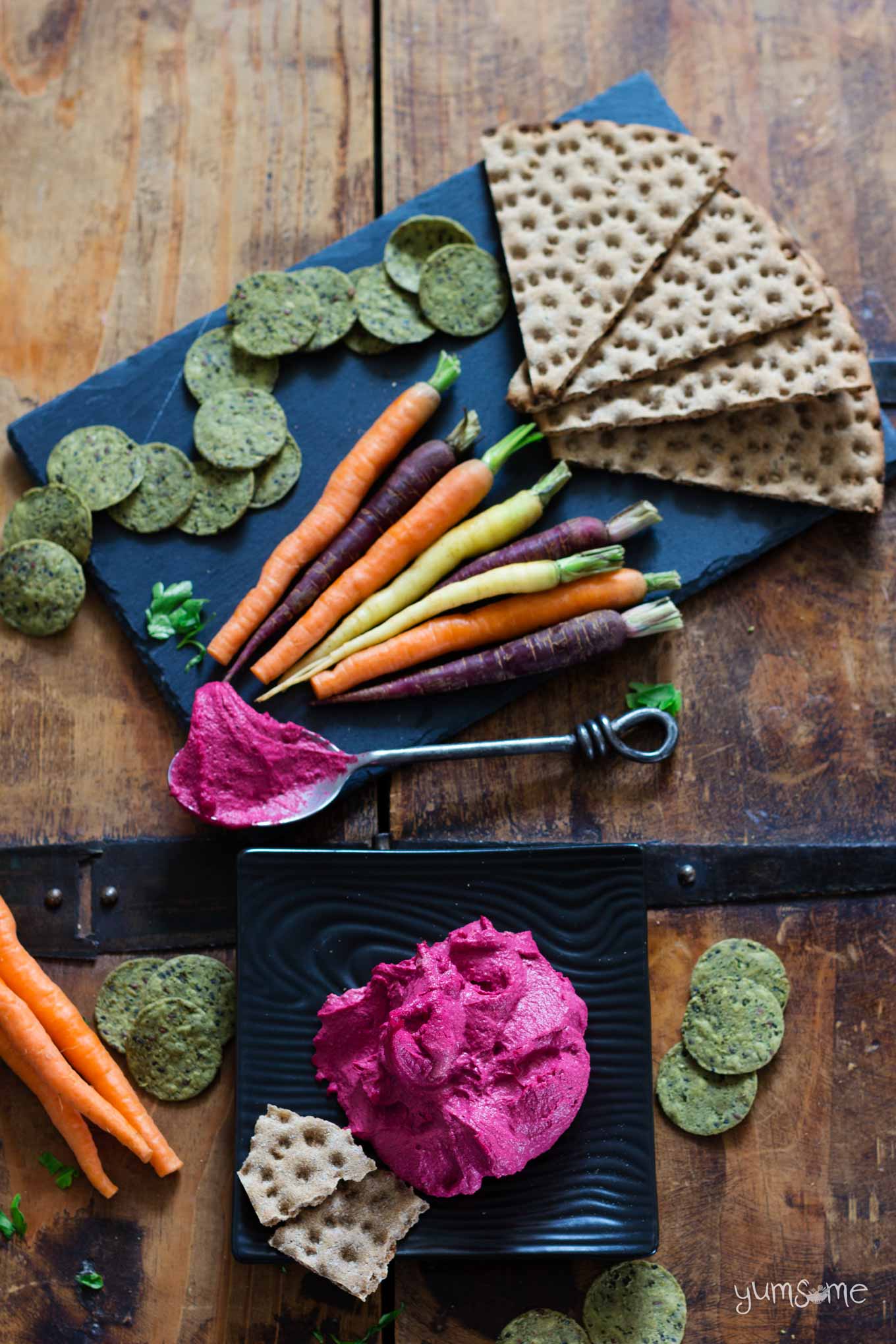 Creamy and smooth, my simple beetroot hummus couldn't be easier to make. It's naturally vegan, plus, it can be frozen too!
As you'll know from my perfectly smooth hummus and avocado hummus recipes, hummus (or houmous, depending where you're from) is ridiculously easy to make at home.
Does hummus need olive oil?
Unlike a lot of recipes, which call for the addition of a fair amount of olive oil, I don't add any to mine. I prefer to use the aquafaba from the can of chickpeas. Not only does it make this hummus frugal, it keeps the calories down. Plus, aquafaba makes it even more creamy, in my opinion.
If you're on an oil-free diet, then this beetroot hummus is the one for you.
Making beetroot hummus
I could tell you that I soak the chickpeas overnight, boil them for an eternity the next day, roast the beetroot, etc, etc. But it would be a lie. Truth be told, I used canned chickpeas and vacuum-packed cooked beets from the store.
If you're going to do the same, do make sure you buy the beets which are not packed in vinegar. The ones I buy have no additives or anything. They're just beets in a little of their natural juice.
What is better, a food processor or a blender?
I always used to use a food processor to make hummus but since I've had my Froothie Optimum VAC2 I can't bring myself to use anything else. It really only takes five minutes from start to finish.
This kind of speedy efficiency is crucial when I'm catering for large gatherings and local cafés. And of course, at home. After cooking all day for others, if I can just throw something together in a few minutes instead of reaching for cookies or a brownie, you can bet your life I'm going to be all over it!
5-minute hummus
And 'throwing something together' is pretty much the only instruction you need to make this beetroot hummus because you put everything into the blender jar, blend for a couple of minutes, and you're done. The most complicated part of this recipe is opening the can of chickpeas!
And BTW, I've said it before, and I'll say it again, contrary to what some people will tell you, unless you're making hummus the traditional way in a mortar and pestle, there really is no need to remove skins from the chickpeas in order to get smooth and creamy hummus. The blender or food processor makes skinning unnecessary because it all gets well and truly smooshed.
Ingredients
cooked chickpeas
cooked beetroot
aquafaba
tahini
lemon juice
salt & pepper
How to make beetroot hummus
Place all the ingredients into a blender jar, and process on full power for 2-3 minutes, until the hummus has reached your desired smoothness.
Tips
If you don't have enough aquafaba from your can of chickpeas, it's fine to add some water to make up the difference.
If your blender has a tamper, you may find it useful to push all the ingredients down as they are being blended. If not, and your blender is not a high-speed one, and you find that not everything is getting blended evenly, you may need to stop it, and push things down with a spatula.
This will keep in an airtight container in the fridge for up to a week, or in the freezer for up to three months.
A serving is 50g (3 tablespoon / ¼ cup).
My favourite way to eat this hummus is in a bowl with a bunch of crackers or crispbreads to dip in (currently, RW Garcia and Leksands), or some toasted pita slices. You could also serve it with crudités, nacho chips, pieces of toast, etc.
📖 Recipe
Simple 5-minute Beetroot Hummus
Creamy and silky-smooth, my simple 5-minute beetroot hummus really couldn't be easier to make. It's perfect for using up all those beets that come in the weekly veg box, plus, it can be frozen too!
Print
Pin
Rate
Makes (slide to adjust):
18
servings
Instructions
Place all the ingredients into a blender jar, and process on full power for 2-3 minutes, until the hummus has reached your desired smoothness.

This beetroot hummus will keep for up to a week in an airtight container in the 'fridge, or up to three months in the freezer.
Nutrition Facts
Simple 5-minute Beetroot Hummus
Amount Per Serving (50 g)
Calories 69
Calories from Fat 36
% Daily Value*
Fat 4g6%
Sodium 300mg13%
Potassium 82mg2%
Carbohydrates 5g2%
Protein 3g6%
Vitamin A 50IU1%
Vitamin C 1.7mg2%
Calcium 380mg38%
Iron 0.2mg1%
* Percent Daily Values are based on a 2000 calorie diet.
Did you make this recipe?
Do mention @yums0me and/or tag #yums0me - I'd love to see how yours turned out!
Disclaimer
Measurements in parenthesis are approximate; it is beyond the scope of yumsome to be able to provide pinpoint-accurate ingredient quantities for every type of measuring utensil. As a guideline however, I make the assumption that:
1 cup = US cup = 240 ml
1 tablespoon = US/UK = 15 ml
1 fl oz = US = 30 ml
Further information may be found here