Stuck for what to make over Easter? Put some yum in your tum with these 10 amazing vegan mains!
With the abundance of chocolate recipes recently, I was really keen to explore which savoury dishes other people have been coming up with. Surely I can't be the only one who's not drooling at all the sweet treats at this time of year!
I don't know about you but I'm definitely suffering from chocolate overload. It's everywhere! All over the blogosphere, in all the shops, right across social media. I feel a bit overwhelmed by it all, to be honest. And then there's all the cakes. As far as the eye can see!
On the plus side, it feels a bit like aversion therapy, and I have zero desire to indulge in any sweet treats this Easter. Yay, go me!
('Scuse me while I polish my halo.)
I put out some feelers, and appealed to my fellow bloggers for their yummy Easter mains recipes to share with you. I'm happy to report that my chums came up trumps, and provided me with a load of savoury goodies. So without further ado, I invite you to feast your eyes... and then stuff your faces! Ha ha!
Gunjan's Orange Habanero Pasta looks amazing, doesn't it? I love that Gunjan uses quinoa pasta in this recipe, which of course, means it's suitable for anyone who can't have gluten. In addition, it's low in calories too - the entire dish comes in at only 231 calories. I call that a win!
Staying with the spicy theme, Sarah's Stuffed Squash With Curried Lentils ticks all of my boxes; it's got squash (yum!), lentils (double yum!), spices (triple yum!), and it's really easy to make too. What's not to love?
If that's not enough spice for you, how about my own Vegan Butter Chicken? Granted, it's not hugely spicy but it is full of flavour, and rich and creamy too. Just right for any celebration!
If that is enough spice for you, how about The Best Vegan Quiche Ever from Elena, over at Happy Kitchen Rocks? Seriously, this quiche deserves its name... and guess what? There's not one thing I'd change about it - it's perfect. It's soy-free too, which makes a really nice change.
Sarah from My Darling Vegan is also totally rocking the quiche vibe with her Sun-Dried Tomato and Asparagus Quiche. Like Elena's, this quiche is totally amazeballs. The recipe is for eight servings... I'm not convinced I'd want to share though!
Because I love asparagus, I have to include this Vegan Cobb Salad With Green Tahini Dressing from Karlie over at Karl Cooks. It would be rude not to, right? Packed with chickpeas, quinoa, asparagus, avocado, AND coconut bacon, plus of course, Karlie's green tahini dressing, this is the stuff that dreams are made of. At least, my dreams are. **fans self**
Continuing with spring veggies, how about Cassidy's Wild Garlic & Spring Veg Pot Pie? Mmmmmm... pie. Am I wrong to want to keep this all to myself? No? Thought not. I mean seriously, all the veggies, the wild garlic (come to mamma), and a goodly dollop of pesto - really, what's a gal to do... except scoff the lot!
Who here loves mushrooms? Me too. I mean, I really, really love mushrooms. So does Jac, over at Tinned Tomatoes. Her Creamy Chestnut Mushroom and Fresh Herb Pasta Salad looks wonderful, doesn't it? This has my name written all over it. No, really it does. My name. Not yours. Go and make your own.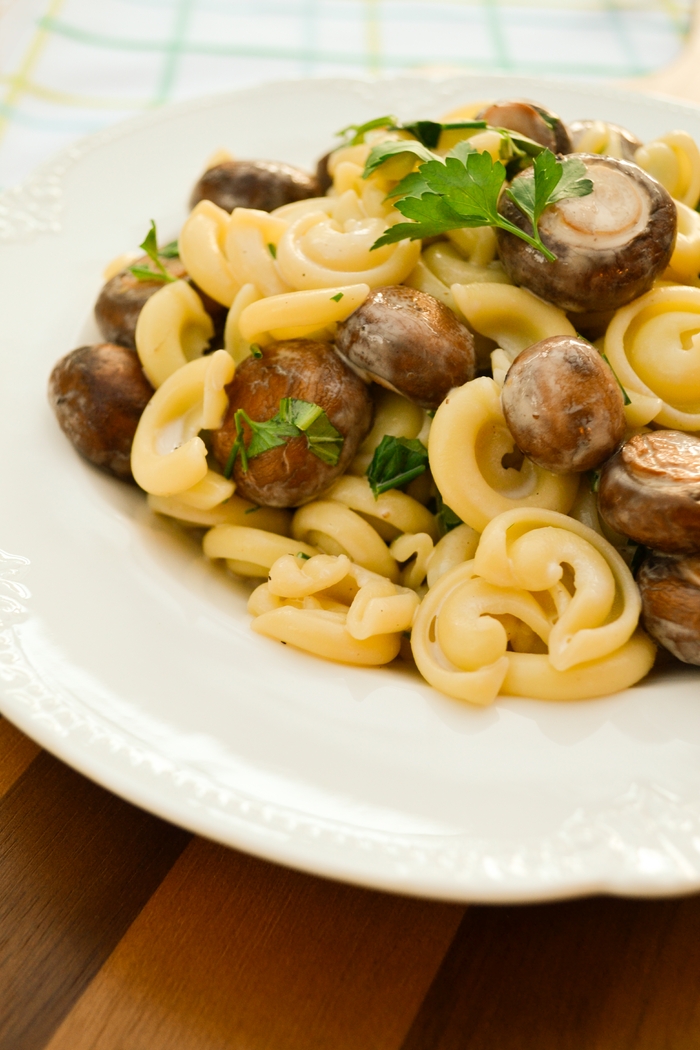 Still with Italian noms, if you're looking for something a wee bit on the fancy side, what about Cadry's Polenta stacks with BBQ squash & cashew cream? As a huge polenta fan, I just love everything about this recipe. I love that although it has several components, it's actually really easy to make, and I love that it looks so impressive. In fact, the only hard thing about this recipe is not eating it before it gets to the table!
Finally, here's A Virtual Vegan Mel's Miracle No Knead Focaccia with Rosemary & Sea Salt. Sure, it's not a main course but this is such a fantastic recipe that I wanted to share it with you because it's one of my favourite breads, and I firmly believe that everyone should make it at least once!
Even if you don't celebrate Easter, I really hope this post has made your tummy rumble... mine is playing a veritable symphony right now. A timpani symphony!
(Note to self: don't write blog posts before dinner.)
What will you be having this Easter? Tell me in the comments below!
Want more Easter inspiration? Check out these other yums while you're here!
I'm linking up 10 Amazing Vegan Mains for Easter to these link parties, hosted at the following blogs - do click on the pics to check out more amazing recipes!