Rich, sweet onions nestle inside a crisp cheesy and herby wholemeal pastry crust, making this vegan caramelized onion tarte tatin such a great summertime lunch or supper, and it's perfect for picnics too!
This post contains affiliate links. For more information, please see my privacy policy.
Vegan caramelised onion tarte tatin recipe
I have a garden full of onions. OK, slight exaggeration, I have roughly a quarter of a garden full of onions... of several varieties. There are fiery hot red spring onions, mild and sweet shallots, fledgling leeks, some huge - as yet - unidentified beastie onions, and lots of lovely, flavoursome brown ones.
We've had a ton of storms this past month - and actually, as I sit here typing, the tocsin is ringing out, warning people out in the fields that another - the second today - is about to hit, so they'd best find shelter, and make sure their animals are safe.
(Actually, I've also been told that the reason the tocsin rings is because people believe it dissipates the clouds, making the storm pass quickly.)
The thunder is almost deafening, the lightning spectacular, and the rain torrential. Thor is very definitely making his presence felt today!
But I digress...
All the storms we've had, while being great for most of the garden, have taken their toll on the alliums, and some of them are just two storms away from starting to rot in the ground. So today I pulled a couple of kilos of onions, and about a kilo of shallots... The latter of which I left out on the veranda to dry out.
Yeah, that hasn't happened yet.
The brown ones I thought I'd make this onion tarte tatin with - something I've not made for donkeys' years. And now that I've made one again, and my kitchen is filled with the most delicious onion, herb, and baked pastry aromas, I'm wondering why this is something I don't make more often.
What do I need to make this tarte tatin?
You don't need any fancy ingredients to make this onion tarte tatin - just a handful of regular stuff you can pick up from the grocery store and produce market (or your own garden!):

onions
herbs
flour
vegan butter or margarine
vegan Cheddar
nooch (nutritional yeast flakes)

Plus a little balsamic, olive oil, sugar, and salt & pepper, of course! The vegan cheese and nooch are entirely optional.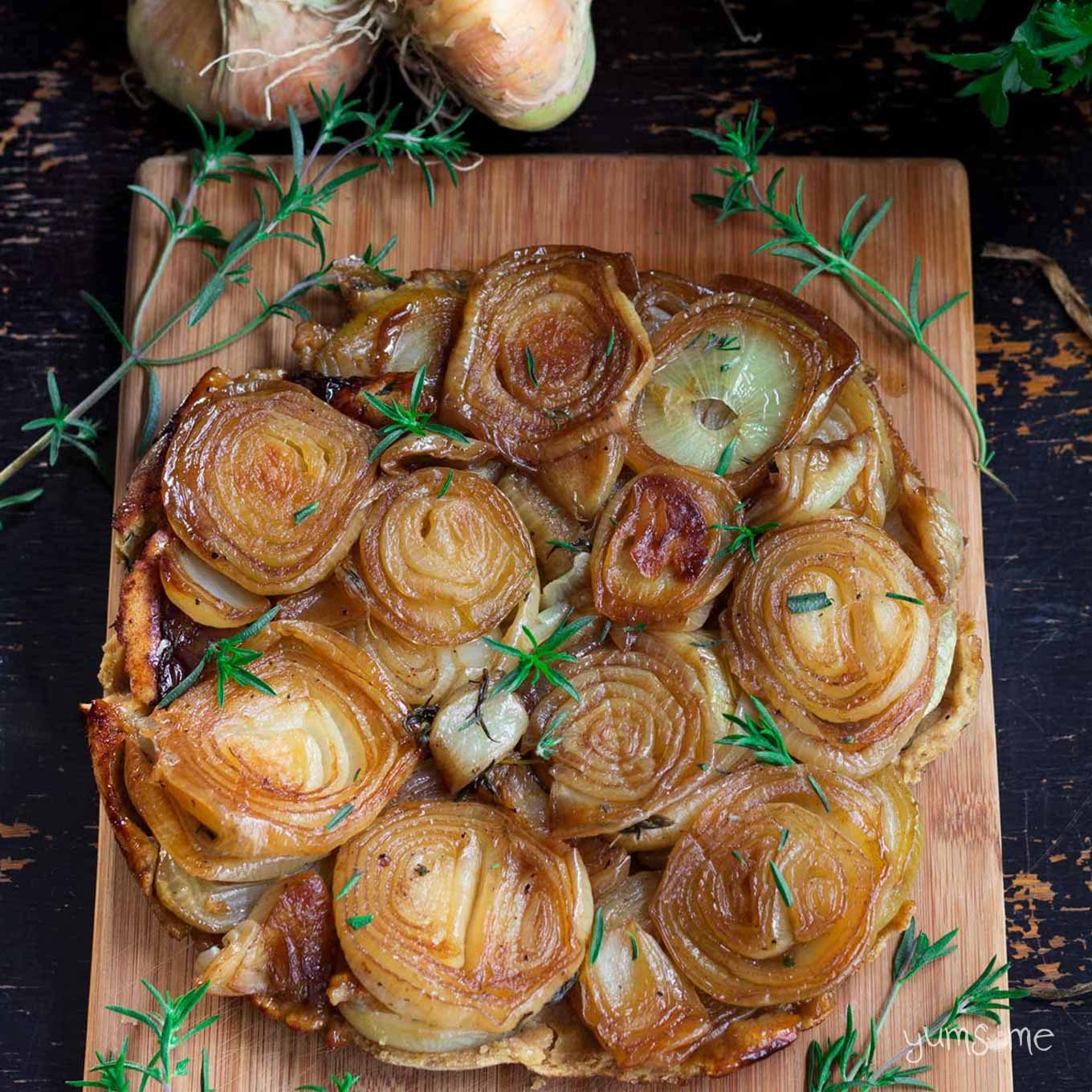 Making caramelized onion tarte tatin
Although at first glance it seems like a bit of a faff to make this caramelized onion tart but it's actually very easy to make, and there's very little actual hands-on work to be done, as most of the cooking is done in the oven.
In fact, once you've peeled and cut your onions, you simply have to arrange them in a little olive oil in a pan, leave them to slowly start to caramelise for 10 mins on the hob, then cover them over, and bake in the oven for another 40.
While the onions are baking, make some pastry, and bung it in the 'fridge to rest until the onions are done. Then once they're out of the oven, and you've reduced the juices (again, just leave the pan over a medium-low heat for 10 mins), pop on the pastry case, tuck it in, and chuck the whole thing back in the oven for 20-25 mins.
This caramelized onion tarte tatin really is very simple to make. Plus, it's so yummy, even people I know who don't like onions love this.
Oh wait, no, I don't actually know anyone who doesn't like onions... Because what kind of dang fool wouldn't? Hurr hurr.
Notes for making this tarte tatin
What is savory?
Savory (Satureja hortensis) is a fragrant herb. Summer savory is an annual, and as its name suggests, is at its peak during the summer months. Winter savory (Satureja montana), however, is a shrub that grows all year round. Although the flavour is almost the same, summer savory is sweeter than its perennial counterpart, and is hugely popular in Eastern European cooking, such as sarmale. I also use it in my Mediterranean summer vegetable tart.
I can't get fresh savory, what can I use instead?
If you live in an area with an Eastern European community, you'll be able to buy dried summer savory. For cooking the onions, use 1 tablespoon dried, and for the pastry, ½ tsp.
You could also use fresh or dried thyme or rosemary instead of savory. Quantities as before.
Do I have to use coconut palm sugar?
No, not at all - you could use some soft brown sugar instead. I just prefer to use coconut because I like the taste of it, and it's a bit more healthy than regular granulated. But really, use what's most convenient for you.
Which type of balsamic vinegar should I use?
Normally, I'd say to go for a balsamic that's been aged for at least 12 years, comes in a bulbous bottle, and has the words, Aceto Balsamico Tradizionale di Modena or Aceto Balsamico Tradizionale di Reggio Emilia on the label; however, in this case, a reasonably decent one will be fine. Just try to avoid any that list ingredients other than grape must and vinegar. Sometimes the label will state that there are naturally occurring sulphites/sulfites - they're fine. You really don't want balsamic which contains added sugar, caramel, and 'natural flavours'.
I don't want to use vegan Cheddar or any kind of cheese, so will the pastry be dry?
If not using cheese, you'll need to add an extra 10g vegan butter/margarine.
I have gaps in between my onions - they don't fit into my skillet properly!
If necessary, cut some of the onions into quarters in order to fill the gaps.
How can I make sure the onions don't burn instead of caramelizing?
Depending on your hob, it may take a little more or less time to caramelize your onions, so do keep an eye on things. A diffuser comes in very handy if you cook on gas.
How long will this onion tarte tatin keep?
Like any caramelized onion tart, this is best eaten on the day it's made; however, it can be covered over, and stored at room temperature for 24 hours - just be aware that the pie crust may well soften.
Can I freeze this onion tart?
I haven't tried, and to be honest, I wouldn't either. It may be OK but I have a feeling that the onions would turn watery, and the pastry wouldn't crisp up again.
Why not check out these other vegan summer recipes while you're here?
You'll Love This Vegan Caramelized Onion Tarte Tatin
Because it's...
sweetly savoury
rich
light yet filling
easy to make
frugal
perfect for picnics and parties
full of B12 and Vitamin C
soooo delicious!
What should I serve with this onion tarte tatin?
This goes really well with my buckwheat and mung bean salad, and my loaded potato salad too. Or just have it on its own with a selection of crisp green leaves.
Bon appétit!
📖 Recipe
Vegan Caramelized Onion Tarte Tatin
With rich, sweet caramelized onions nestling inside a crisp cheesy and herby wholemeal pastry crust, this vegan onion tarte tatin makes for a great summertime lunch or supper, and is perfect for picnics too!
Print
Pin
Rate
Makes (slide to adjust):
6
servings
Ingredients
For the caramelised onions:
1200

g

medium onions

2

tablespoon

olive oil

1

teaspoon

palm sugar

5

sprigs

fresh savory

Dash

sea salt

Dash

ground black pepper

1

tablespoon

fresh savory leaves

1

tablespoon

balsamic vinegar
For the pastry:
75

g

wholemeal (wholewheat) flour

50

g

rye flour

50

g

vegan butter or margarine

25

g

grated vegan Cheddar

(optional)

4

tablespoon

nutritional yeast flakes

(optional)

1

teaspoon

chopped fresh savory leaves

3

tablespoon

cold water
Instructions
Caramelize the onions:
Place a sturdy baking sheet (or roasting pan) into your oven, and pre-heat to 180°C (350°F, gas mark 4).

Peel and top & tail the onions, then cut them in half widthways (i.e. perpendicular to the root and stalk ends)

Place a shallow non-stick ovenproof pan (e.g. a 25cm/10" cast iron skillet) over a medium heat, and add the oil and the palm sugar. Once it starts to sizzle, add the sprigs of savory.

Place the onions, cut side down, into the pan, and arrange them so they all fit in, and season with the salt and pepper.

Drizzle in the balsamic vinegar, and then sprinkle the savory leaves over the top.

Reduce the heat (using a heat diffuser if necessary), and gently cook the onions for 10 mins.

Cover the pan with a lid or some tinfoil, and then place onto the baking sheet, and bake in the centre of the oven for 40 mins. Test by sticking a skewer into the onions - they should be soft but still have some texture. If they're not quite ready, give them another 5 mins or so.

Once the onions are cooked, remove the pan from the oven (leaving the baking sheet inside), and place on the hob over a medium heat for 10 mins or so, until the  juices have reduced, and you're left with sticky onions in a small amount of syrup.

Raise the oven temperature to 200°C (400°F, gas mark 6).
Make the pastry:
While the onions are in the oven, make the pastry by rubbing together the flours with the butter until you have what looks like breadcrumbs.

Mix in the nutritional yeast and vegan Cheddar (if using), and savory leaves, and then bind it together with 2-3 tablespoon of cold water, to make a soft dough. Wrap, and place in the 'fridge for 30 minutes to rest.
Putting it all together:
While the onions are reducing, roll out the pastry into 25cm (10") circle.

Once the juices have reduced, turn off the heat under the pan, and carefully place the pastry over the top of the onions, making sure you tuck the edges down around them. Please don't burn yourself!

Place the tarte onto the baking sheet in the centre of the oven, and bake for around 25 mins, until the pastry is crisp, and has turned a deeper-brown.

Remove from the oven, and set aside to cool for 15 mins.
Finishing:
Place a chopping board or large plate over the pan, and flip the whole thing over. Do wear oven gloves!

Give the pan a bit of a shake to loosen its contents, and the tarte should come away cleanly. Any onions which have been left behind can be gently lifted with a flexible spatula, and placed into their respective gaps.
Nutrition Facts
Vegan Caramelized Onion Tarte Tatin
Amount Per Serving (1 portion)
Calories 253
Calories from Fat 81
% Daily Value*
Fat 9g14%
Sodium 86mg4%
Carbohydrates 38g13%
Protein 8g16%
* Percent Daily Values are based on a 2000 calorie diet.
Did you make this recipe?
Do mention @yums0me and/or tag #yums0me - I'd love to see how yours turned out!
Disclaimer
Measurements in parenthesis are approximate; it is beyond the scope of yumsome to be able to provide pinpoint-accurate ingredient quantities for every type of measuring utensil. As a guideline however, I make the assumption that:
1 cup = US cup = 240 ml
1 tablespoon = US/UK = 15 ml
1 fl oz = US = 30 ml
Further information may be found here