Simple, yet so satisfying, this delicious mayo-free loaded potato salad is brimming with nourishing spring veggies, and perfect for al fresco dining and barbecues.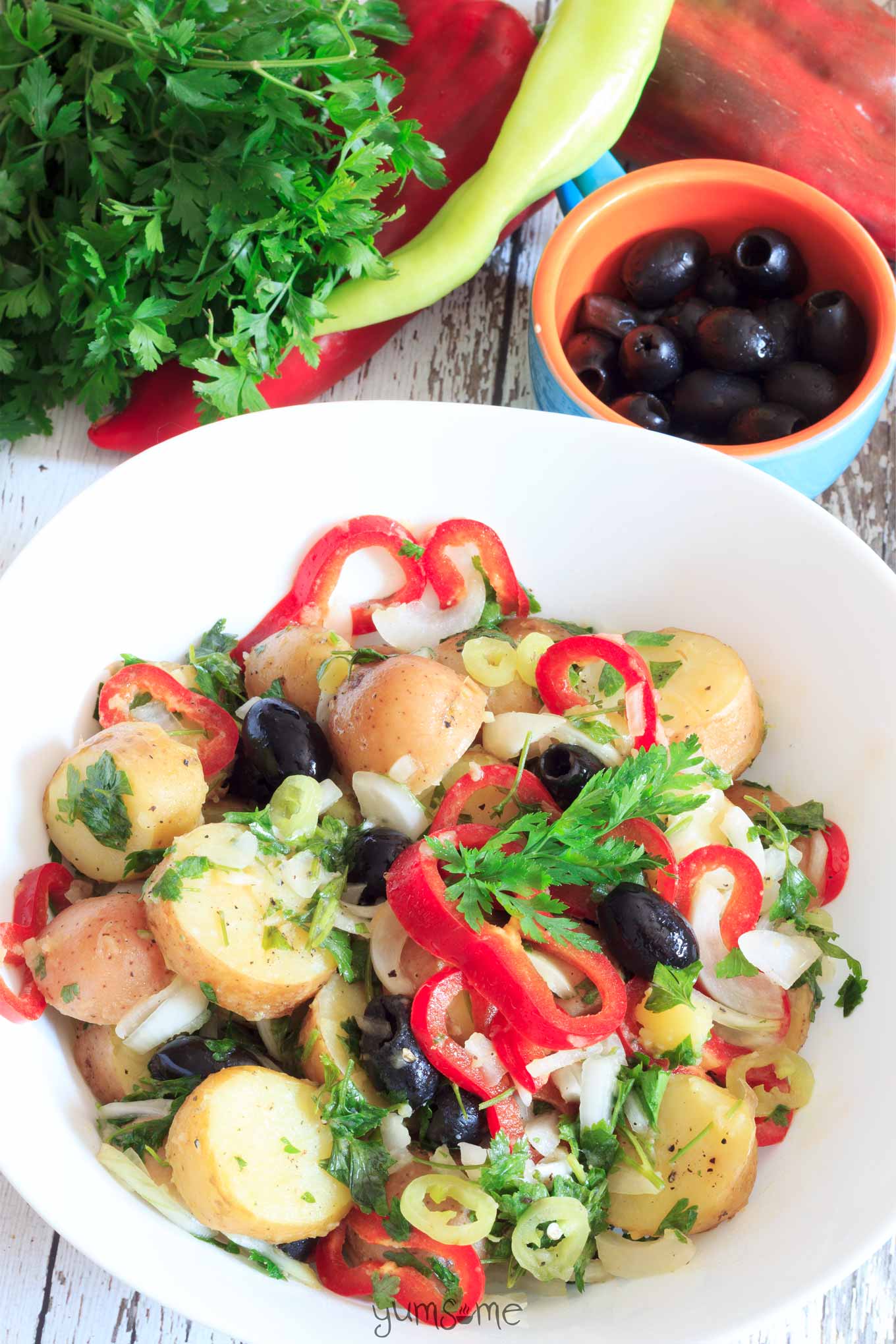 Apparently, May is National Loaded Potato Month and National Salad Month, so what better way to celebrate than with a super-healthy combination of both?
I love traditional British potato salad, I love Venetian potato salad, and I adore this loaded potato salad too.
When I sat down to write this post, I was tempted to write something along the lines of, "And with summer just around the corner,"... but then I remembered that this time last year, this happened...
So it's probably best to not tempt fate, right?
Despite having had gloriously warm sunshine throughout March and the first 10 days of April, we had torrential rain in Kašelj last week, and this week we're in Britain, where it's also been chucking it down. It's currently very chilly and soggy in this little Cambridgeshire village!
Still, I'm not in any way complaining - I actually love the rain. While I'm not keen on getting caught out in a downpour in cooler climates, when we lived in South Asia, I never minded getting a soaking!
Monsoon season was so welcome; in India, load-shedding is a regular thing but with power being provided by hydro-electric facilities, the closer we got to monsoon, the more power cuts we had. By the time the rains were a week away, we'd be chasing the electricity around Fort Kochi in order to find cafés to work from!
In Thailand, the rainy season brings a respite from the hot and humid weather, cleanses the last vestiges of the burning season from the air, and fills the paddies (as it does in India), kicking off a flurry of rice-planting activity.
When we lived in Morocco, in Taroudannt, not far from the Western Sahara, rain was a rarity, and when it came (usually only for one or two days a year), it was cause for celebration. Overnight, the land would transform from a barren, arid, dusty wasteland to a verdant, lush, fertile garden. It was truly remarkable.
No one ever complained about the rain because they understood that rain brings life. For the people of the Souss Valley, life is hard. Really hard. The rain makes it a little less so.
Unfortunately, it would have to rain a lot longer than two days to re-fill the river in Taroudannt...
Or to make Guelmim-Es Semara as fertile as these fields in Britain.
Whether it's a lot or a little, no matter where I live, I never cease to appreciate the rain.
But I would also appreciate having some lovely, warm weather again, to go with this dish!
Loaded Potato Salad
Is...
filling
hearty
packed with veggies
garlicky
spicy
adaptable
mayo-free
gluten-free
nut-free
oil-free
vegan (of course!)
full of goodness
simple to make
truly delicious
This is a great meal to have on its own, and it's also fab with a crisp green salad plus some protein. However you choose to have yours, I'm sure you'll absolutely love this loaded spring potato salad.
Enjoy!
How do you make your potato salad?
📖 Recipe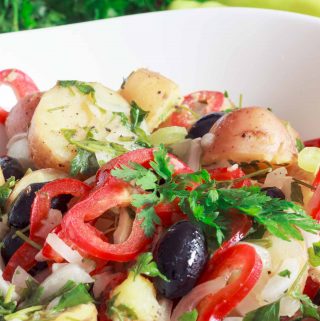 Loaded Potato Salad
Full of yummy veggies, and bursting with flavour, this simple to make loaded potato salad is just the thing to bring a little sunshine to your meals
Print
Pin
Rate
Makes (slide to adjust):
4
servings
Ingredients
Salad:
600

g

new potatoes

275

g

canned sweetcorn

1

large red pepper

1

jalapeño

(or other large mild chilli pepper)

1

large onion

2

tablespoon

chopped parsley

100

g

black olives

Dash sea salt

ground black pepper
Instructions
Place the lime juice and garlic into a cup, and set aside to steep while you cook the potatoes.

Bring a pan of water to the boil.

Wash the potatoes, cut any large ones into bite-sized pieces, and place into the pan of boiling water. Cook for around 20 minutes, until soft. Once cooked, drain, and then place into a large bowl.

While the potatoes are cooking, slice the pepper into rings, discarding the stalk, innards, and seeds.

Cut the chilli into rings, finely slice the onion, and chop the parsley.

Add the chopped veggies, herbs, and olives to the potatoes.

Push the garlic and lime juice through a sieve into a bowl, add the rest of the dressing ingredients, and whisk together.

Pour over the salad, and mix well, making sure everything is coated.

Season with salt and pepper.

This potato salad can be served immediately but it will also keep for a couple of days in an airtight container in the 'fridge.
Notes
The acidity of the lime juice alters the Ph of the raw garlic, removing the harsh bitterness, and leaves behind all that lovely, garlicky sweetness.
I keep the seeds and pith in the chillis, as they add to the flavour (and the heat) but do feel free to remove them if you like.
If you can't have gluten, use tamari instead of all-purpose soy sauce. 
If gluten-free, check the miso label, not all miso is gluten-free.
I find it easiest to mix the salad with my hands... clean, of course!
Nutrition Facts
Loaded Potato Salad
Amount Per Serving
Calories 260
Calories from Fat 36
% Daily Value*
Fat 4g6%
Sodium 667mg28%
Carbohydrates 53g18%
Protein 7g14%
* Percent Daily Values are based on a 2000 calorie diet.
Did you make this recipe?
Do mention @yums0me and/or tag #yums0me - I'd love to see how yours turned out!
Disclaimer
Measurements in parenthesis are approximate; it is beyond the scope of yumsome to be able to provide pinpoint-accurate ingredient quantities for every type of measuring utensil. As a guideline however, I make the assumption that:
1 cup = US cup = 240 ml
1 tablespoon = US/UK = 15 ml
1 fl oz = US = 30 ml
Further information may be found here
Why not check out these other yums while you're here?