Perfect as gifts for Christmas, Easter, birthdays, or just to say "I love you", these vegan raspberry chocolate truffles are simple to make, and bursting with flavour. Keep them for yourself, or present them to your nearest and dearest - either way, they're guaranteed to be a hit!
As we're now in the run-up to the holidays, I've been thinking about edible gifts for our families and friends; I've made chutneys and jars of ajvar, and will be making some Romanian treats too. Obviously lots of Turkish Delight will be made, and a whole bunch of these raspberry chocolate truffles too.
If you've read my matcha truffles post, you'll know that making and giving chocolate truffles as gifts is kind of a thing for me, so I've been playing around with different flavourings, courtesy of Foodie Flavours, and these raspberry chocolate truffles are not only my favourite but my chief guinea pig's (aka amato mio) too.
Making truffles is simplicity itself, and only requires a handful of ingredients. Plus, the real beauty of these is that if you don't want to add any flavourings to them, they are still 100% amazing, 'naked', as it were.
Oo-err missus.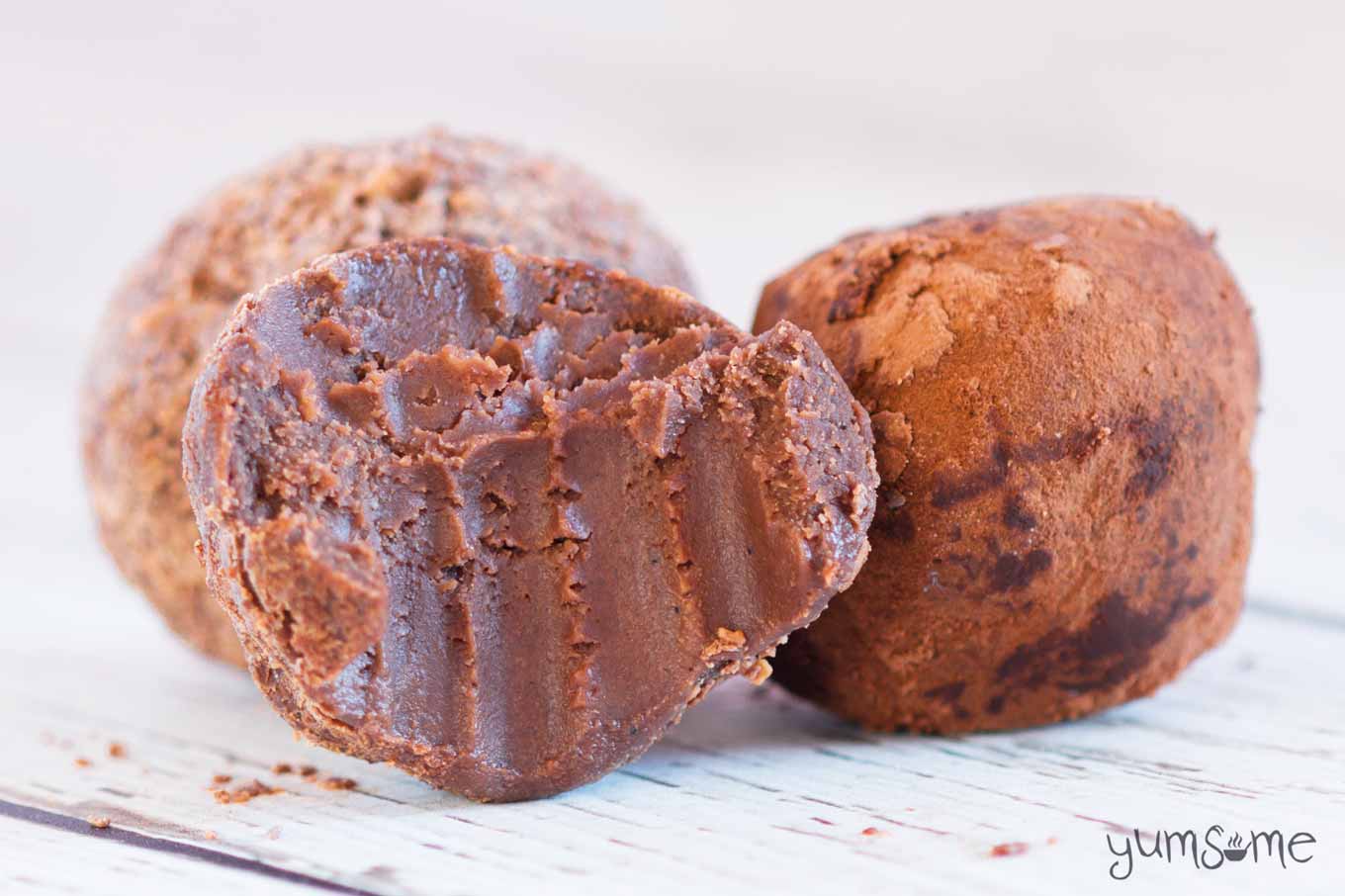 Vegan Raspberry Chocolate Truffles
Are...
creamy
velvety
fruity
soy-free
gluten-free
full of protein, calcium, and iron
easy to make
really delicious
ideal for pressies
Whether you keep these for yourself or wow your friends and family by giving them as gifts, these vegan raspberry chocolate truffles are bound to be a hit. Enjoy!
Tell me about your favourite vegan chocolate truffles!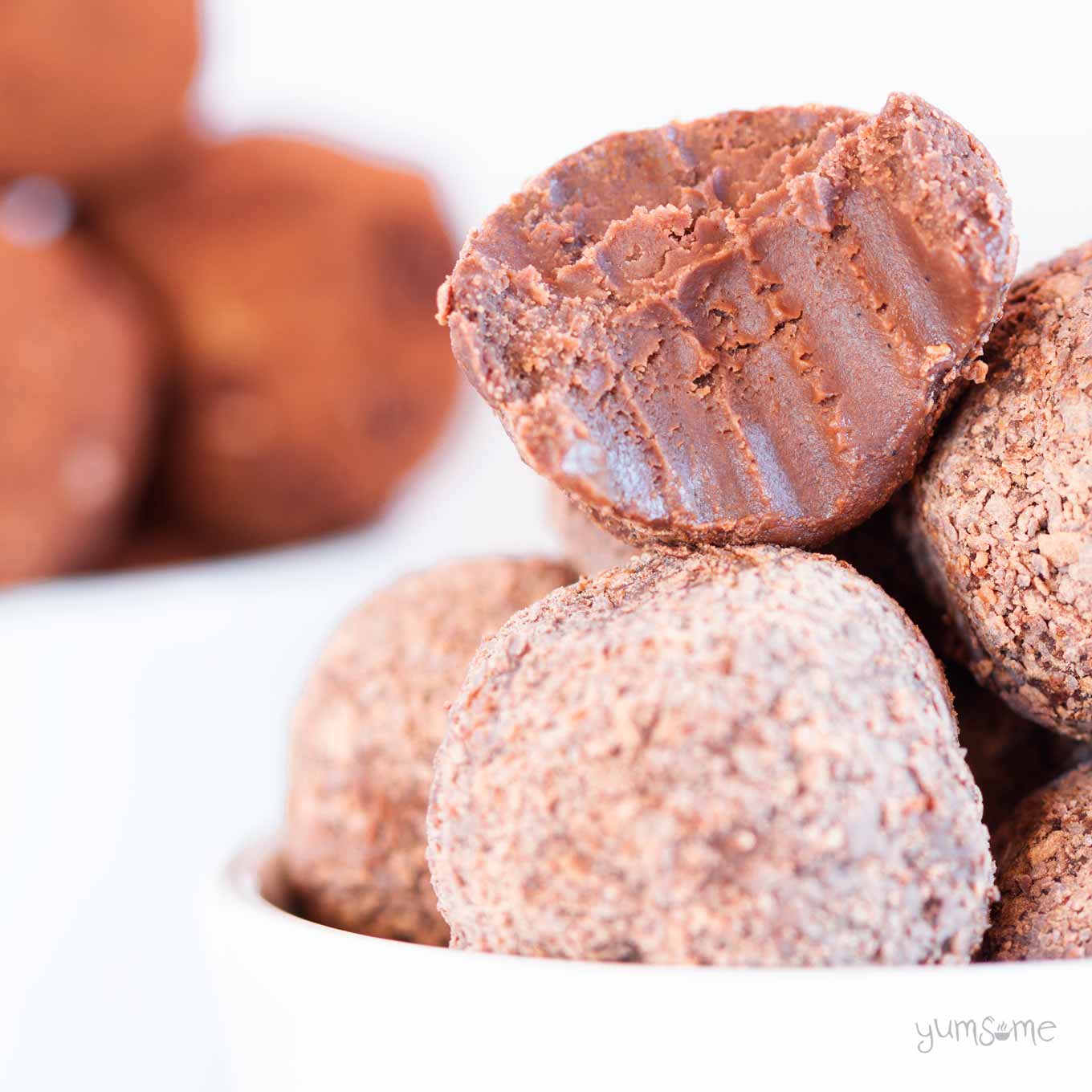 📖 Recipe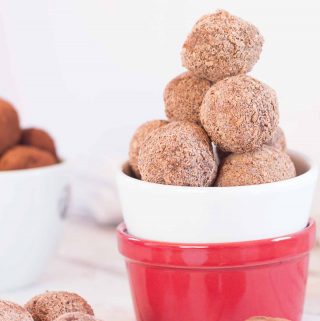 Vegan Raspberry Chocolate Truffles
Perfect as gifts for Christmas, Easter, birthdays, or just to say "I love you", these vegan raspberry chocolate truffles are simple to make, and bursting with flavour. Keep them for yourself, or present them to your nearest and dearest - either way, they're guaranteed to be a hit!
Print
Pin
Rate
Makes (slide to adjust):
40
truffles
Instructions
 Bring a

small saucepan

of water to a boil, add the cashews, and simmer for 15 minutes.

While the cashews are softening, put the cocoa butter into a small heatproof bowl, and place on top of the cashew pan. Remove as soon as the cocoa butter has melted, and set aside. (note 2)

Remove 1 tablespoon of the simmering water, and mix with 2 tablespoon cold water and the raspberry flavouring. Add to a

high speed blender

jug or

food processor

bowl.

Drain and rinse the cashews under cold running water, then add to the blender/processor, and blitz to a smooth paste.

Add the melted cocoa butter, 9 tablespoon cocoa powder, maple syrup, vanilla, and sea salt. Blitz well, until you have a smooth paste.

Remove from the blender/processor, and decant into a bowl or storage container, then place in the 'fridge for a couple of hours to firm up.

Once firm enough to handle, divide into 40, and roll into balls.

Put the remaining cocoa powder and grated vegan chocolate into two plastic bags, add half of the truffles to each, and give the bags a good shake, ensuring the truffles are all coated.

Store in an airtight container at room temperature for up to two weeks. 
Notes
I'm sure at some point, someone will ask whether other nuts can be used instead of cashews, I can tell you that almonds, peanuts, hazelnuts, and walnuts don't work particularly well because just aren't creamy enough, and the walnuts are too bitter. I haven't tried other nuts though but I have a feeling that macadamias may work. If you try, do let me know in the comments below.
Instead of using a saucepan with a bowl on top, you could use a small double boiler. Or place a double boiler insert over a normal pan.
Nutrition Facts
Vegan Raspberry Chocolate Truffles
Amount Per Serving (1 truffle)
Calories 43
Calories from Fat 27
% Daily Value*
Fat 3g5%
Sodium 5mg0%
Carbohydrates 4g1%
Protein 1g2%
* Percent Daily Values are based on a 2000 calorie diet.
Did you make this recipe?
Do mention @yums0me and/or tag #yums0me - I'd love to see how yours turned out!
Disclaimer
Measurements in parenthesis are approximate; it is beyond the scope of yumsome to be able to provide pinpoint-accurate ingredient quantities for every type of measuring utensil. As a guideline however, I make the assumption that:
1 cup = US cup = 240 ml
1 tablespoon = US/UK = 15 ml
1 fl oz = US = 30 ml
Further information may be found here
Foodie Flavours
A while back, Foodie Flavours sent me a selection of their professional-grade flavourings to try out. Some I haven't been too keen on but others, such as this raspberry one, are fantastic. They're very convenient and easy to use, although I do recommend dispensing the flavourings onto a teaspoon, before mixing into the rest of the ingredients... I accidentally went a little bit overboard with one recipe - it wasn't good.
In fact, as a note of caution, do be careful when using these flavourings because just a little too much can result in a nasty, chemical aftertaste. Even though Foodie Flavours' USP is that they only use all-natural flavouring, propylene glycol is used as a carrier and preservative, and it's this, I suspect, which can leave a nasty taste in your mouth.
By the way, I wasn't expected to write a favourable review - although of course, Foodie Flavours hoped I would!
The Xmas Pudding, Mulled Wine, Mixed Spice, and Almond flavourings are particularly lovely... just right for putting into Christmas cookies!
The pineapple flavouring, while having a bit of an overpowering scent, is absolutely brilliant in biryani, and far superior to the pineapple essence I used to buy when I lived in India. Rose is another flavour used in biryani but I haven't used Foodie Flavours' version; however, if it's anything like the others that I've tried, it would also be fantastic. And in my Turkish Delight too.
Foodie Flavours uses nothing but natural extracts and oils to create its high strength professional-grade flavourings. They're all free from added sugar, are gluten-free, contain no artificial ingredients, and are 100% vegan. Most are kosher and halal too. Do check before buying though if you need to be aware of such things.
Because Foodie Flavours' flavourings are approximately ten times stronger than you'd buy in your local supermarket, a little really does go a long way, which makes these pretty great value for money. A 15ml bottle of raspberry flavouring, for example, costs just £3.99, and contains around 300 drops. That's an awful lot of cupcakes! And marzipan! (Recipes to follow soon.)
It's recommended to start with just a couple of drops per 100g of food; for some of the flavourings, I found that this was nowhere near enough, and for others, it left a bit of a nasty taste. I recommend, therefore, to err on the side of caution, then add more if needed. Foodie Flavours also recommends that you add the flavourings to liquid ingredients or dilute in a little water before adding to the rest. Having tried both ways - adding directly to the ingredients and into liquid first - (see my comment above!), this is by far the best idea, and means the flavourings disperse evenly. Trust me, suddenly coming across a concentrated bit of flavouring in a truffle isn't pleasant!
While these flavourings are definitely easy to use, they can be a little tricky to get just the right amount of flavour, so a degree of experimentation is required, and as I've already mentioned, not all of the flavourings are created equal. I suggest that you keep notes to save you having to fiddle around every time you want to use them. I would also suggest downloading the MSDS product sheets from Foodie Flavours' website... but the links seem to be broken right now. So don't do that. 😉
Despite having to play around with flavouring amounts, once I'd worked them out, the rest really was plain sailing, and the results have been consistent time and time again.
Perhaps what really sets Foodie Flavours apart from the competition is their Flavour Creation service.
We will work from your brief, to provide natural or organic flavours and extracts to enhance your food or drink products and support your brand. You will benefit from our experience of NPD projects covering savoury, bakery, confectionery, desserts, beers, ciders and more.
Although I haven't tried it, I have no doubt that it's a cool option to provide, and I have to admit that the idea of creating flavoured beers and ciders has me salivating! (There is a section on the site for standard flavourings which are suited to acohol.)
In conclusion then, would I recommend Foodie Flavours to home cooks? Yes, absolutely... but with the caveat that you need to be prepared to do a bit of playing around. Do I think they're good value? Yes, definitely. Would I buy more? I expect I will, particularly as I'm planning on making more liqueurs in the not-too-distant future.
Now, if you'll excuse me, I'm off to experiment with the butterscotch flavouring, and make some Butterbeer!
If you like these Vegan Raspberry Chocolate Truffles, do check out these chocolatey yums too!