Baba ghanouj (pronounced bubba gan-oosh) is a traditional Levantine meze; I had it a gazillion times when I lived in Morocco as well (where I learned to make it), and and in Turkey and Oman as well. There's an excellent Lebanese restaurant in Ljubljana too, where they make absolutely gorgeous baba ghanouj - I could eat it all day!
Incidentally, baba is Arabic for 'papa', and ghanouj loosely translates as 'pampered'. Pampered Papa - not the first thing that springs to mind when I think of this dip!
Although baba ghanouj is often made with finely chopped onions and tomatoes, and sometimes other vegetables, I prefer it Egyptian-style, which is very simple, and flavoured with tahini, lemon juice, garlic, parsley, a little cumin, and a dash of salt.
In the Levant and Armenia, when made like this, it's called mutabbal but in Egypt, it's still baba ghanouj.
When I lived in Morocco, I had a gas cooker, and was able to cook my aubergines directly over the flame, until they were soft, and their skins were blackened. This gave a wonderful smoky edge to their flavour; however, here in Slovenia, I have a halogen hob, so I cook the aubergines in the oven. Obviously, this doesn't give that smoked taste, so sometimes I add a teaspoon of liquid smoke. It's up to you whether you do or not.
Authentic Baba Ghanouj
Is...
mildly spiced
creamy
smoky
tangy
gluten-free
soy-free
nut-free
oh-so delicious!
My favourite way to eat this is with a pile of warm pitta, with which to scoop up dollops of baba ghanouj... and to clean the dish afterward. I also love it with crudités, fresh granary bread, toast, and of course, falafels. It's also fab on baked potatoes!
Whatever you have this baba ghanouj with, you'll love it, I'm sure. Enjoy!
Do you love baba ghanouj? What's your favourite meze?
📖 Recipe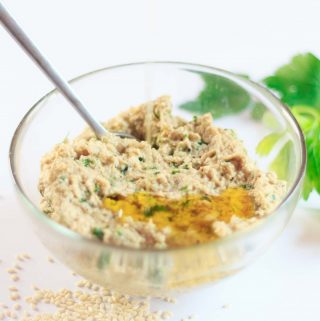 The Best Baba Ghanouj
Baba ghanouj is a creamy vegan Levantine meze, traditionally served with flatbread or pitta. It's really simple to make, and utterly delicious!
Print
Rate
Makes (slide to adjust):
2
servings
Ingredients
1

large aubergine

2

tablespoon

lemon juice

2

tablespoon

tahini

1

clove

garlic

1

teaspoon

ground cumin

Small handful of flat-leaf parsley

1

teaspoon

liquid smoke

optional

½

tablespoon

extra virgin olive oil
Instructions
Heat your oven to 200C (390F) and line a baking tray with baking parchment.

Wash and dry your aubergine, cut in half lengthways, prick all over, then place onto the baking tray in the centre of the oven.

Bake for around 35 minutes, until the aubergine is really soft.

Remove from the oven, and carefully remove the flesh from the skin.

Place the aubergine flesh into the bowl of your food processor, along with the other ingredients, barring the oil, and whizz for a couple of minutes, until you have a semi-smooth paste.

Decant into a suitable dish or plate, and drizzle the oil over the top.

Serve immediately.
Nutrition Facts
The Best Baba Ghanouj
Amount Per Serving
Calories 219
Calories from Fat 138
% Daily Value*
Fat 15.3g24%
Sodium 25.7mg1%
Carbohydrates 19.7g7%
Protein 5.3g11%
* Percent Daily Values are based on a 2000 calorie diet.
Did you make this recipe?
Do mention @yums0me and/or tag #yums0me - I'd love to see how yours turned out!
Disclaimer
Measurements in parenthesis are approximate; it is beyond the scope of yumsome to be able to provide pinpoint-accurate ingredient quantities for every type of measuring utensil. As a guideline however, I make the assumption that:
1 cup = US cup = 240 ml
1 tablespoon = US/UK = 15 ml
1 fl oz = US = 30 ml
Further information may be found here
If you like this Authentic Baba Ghanouj recipe, you'll love these other Levantine yums!