If you're looking for Christmas cookie ideas, why not make some pryaniki? These soft gingerbread cookies are easy to make, and taste similar to German lebkuchen or Slovenian medenjaki.
This post contains affiliate links. For more information, please see my privacy policy.
What is pryanik?
Although it's often referred to as gingerbread, or Russian gingerbread, pryanik is more accurately described as Russian honey bread. Even though it's not bread as we know it today (much like banana bread, I suppose)!

A staple in Russia since around the 4th century, these gingerbread cookies were originally made with just rye flour, berry juice, and honey. Hence, honey bread (medovy khleb)!
By around the 12th century, thanks to trade routes with India and the Middle East, using spices in these soft gingerbread cookies had become de rigeur. For the true pryanik aficionado, however, ginger is still not used! I actually like ginger in mine.
The most commonly-used pryaniki spices are:
black pepper
cardamom
cinnamon
cloves
coriander
cumin
nutmeg
star anise
By the 17th century, making honey bread with spices had become the norm, and the name was changed to pryanik, which comes from the Russian word for spices, pryanost.
Pryanik, BTW, refers to a single gingerbread loaf, while the plural, pryaniki, is used for the cookies.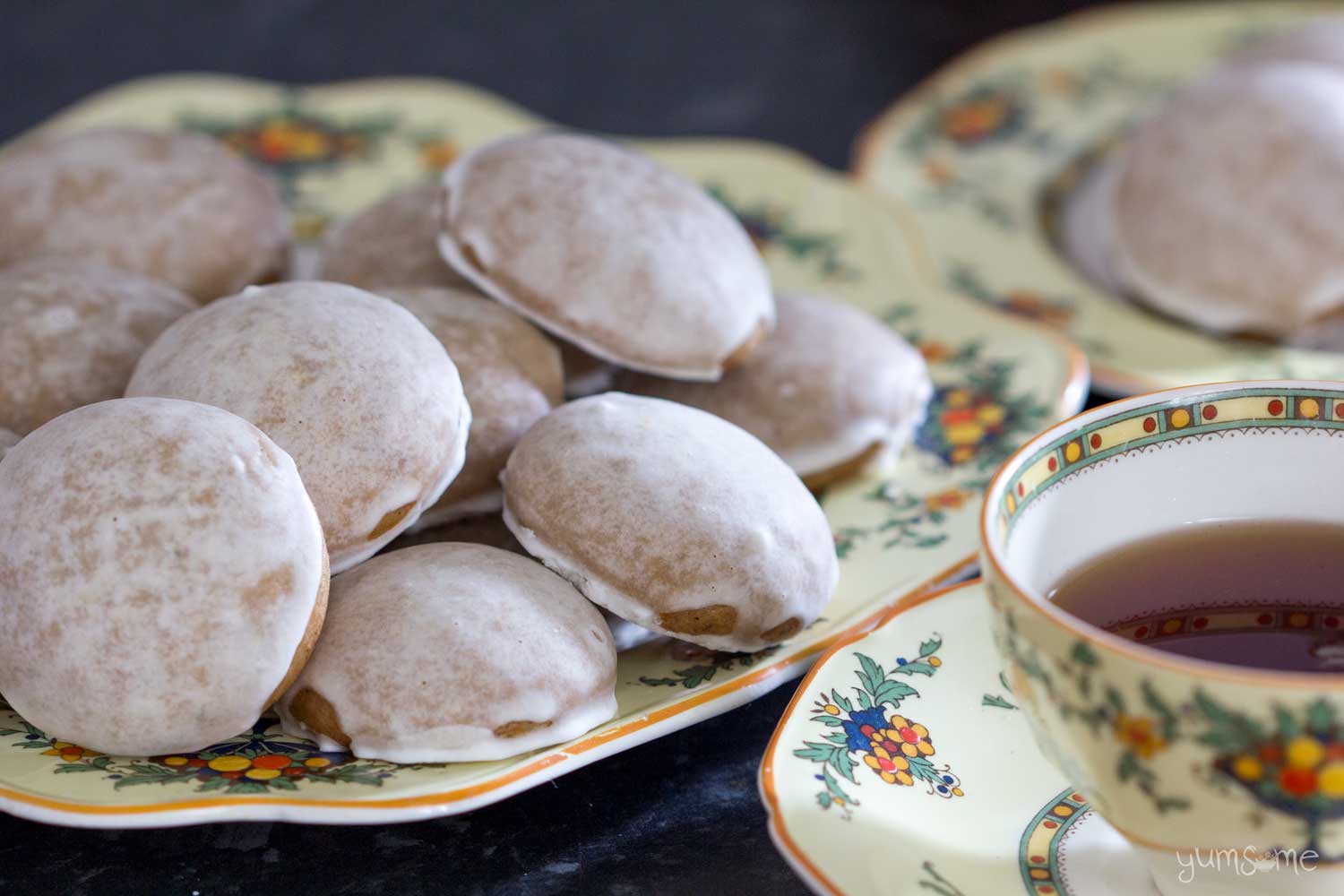 Different types of pryanik
While the combination and quantities of spice vary from person to person, pryanik generally falls into three categories. Ones that are pressed into moulds, ones with designs imprinted upon them, and ones that are cut or rolled into shape. These may all be plain or filled with varenye or jam. I prefer plain hand-rolled pryanik. Glazed of course!
Tula pryanik
Perhaps the most famous imprinted pryanik is from the city of Tula, to the south of Moscow. In fact, the city is so renowned for its gingerbread, it even has a monument to it. And a museum!
Tula pryanik comes in a variety of designs, from simple ones with just the name of the city, to state buildings and heraldic imagery, to scenes of bucolic idyll from an romanticised rural history.
And if you ever thought that Russians don't have a sense of humour (spoiler, they do!), one of the most popular designs is 'razgonnyy' pryanik, which is allegedly given to guests when they've hung around too long, and you want them to go home. Loosely translated, it means, 'goodbye'!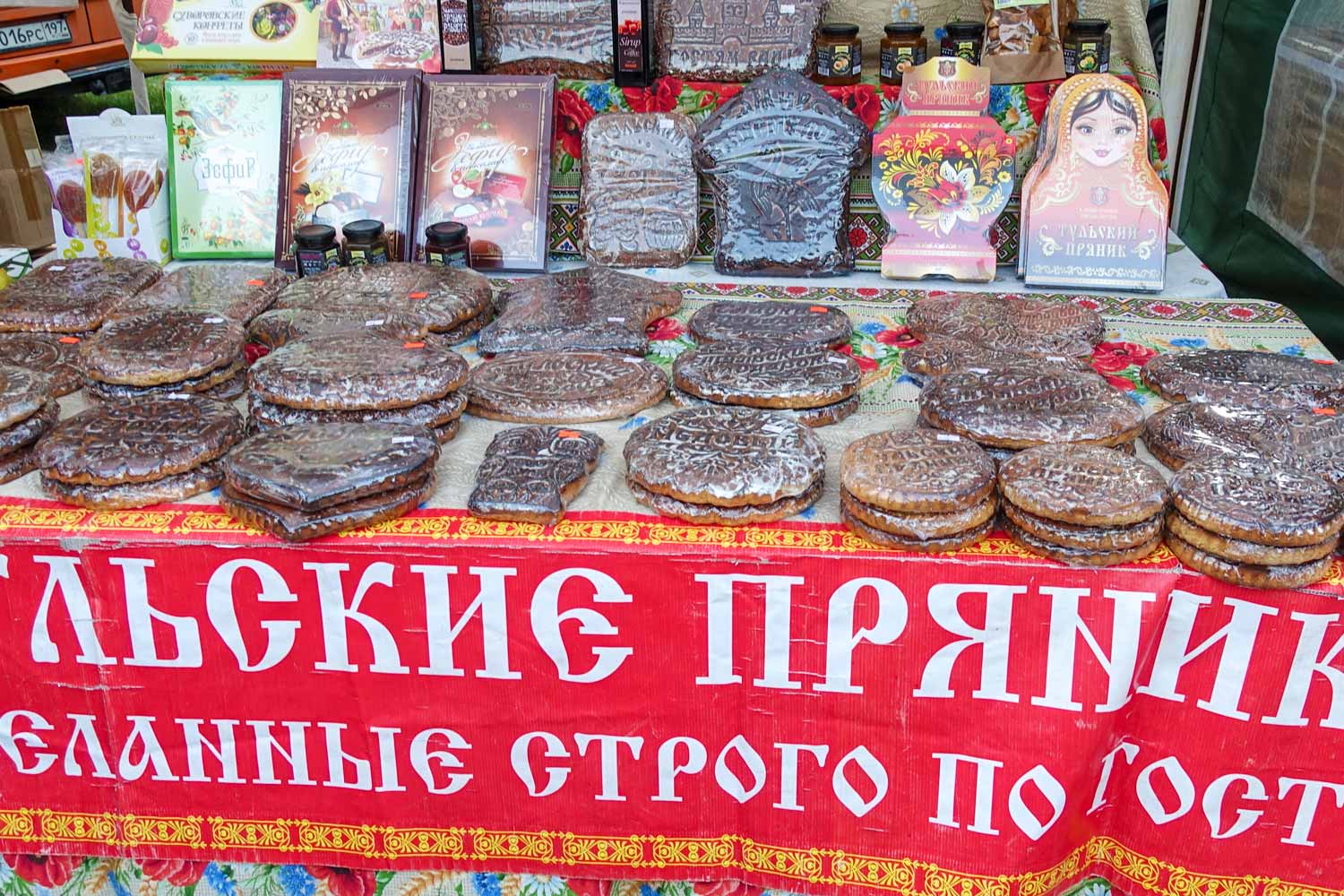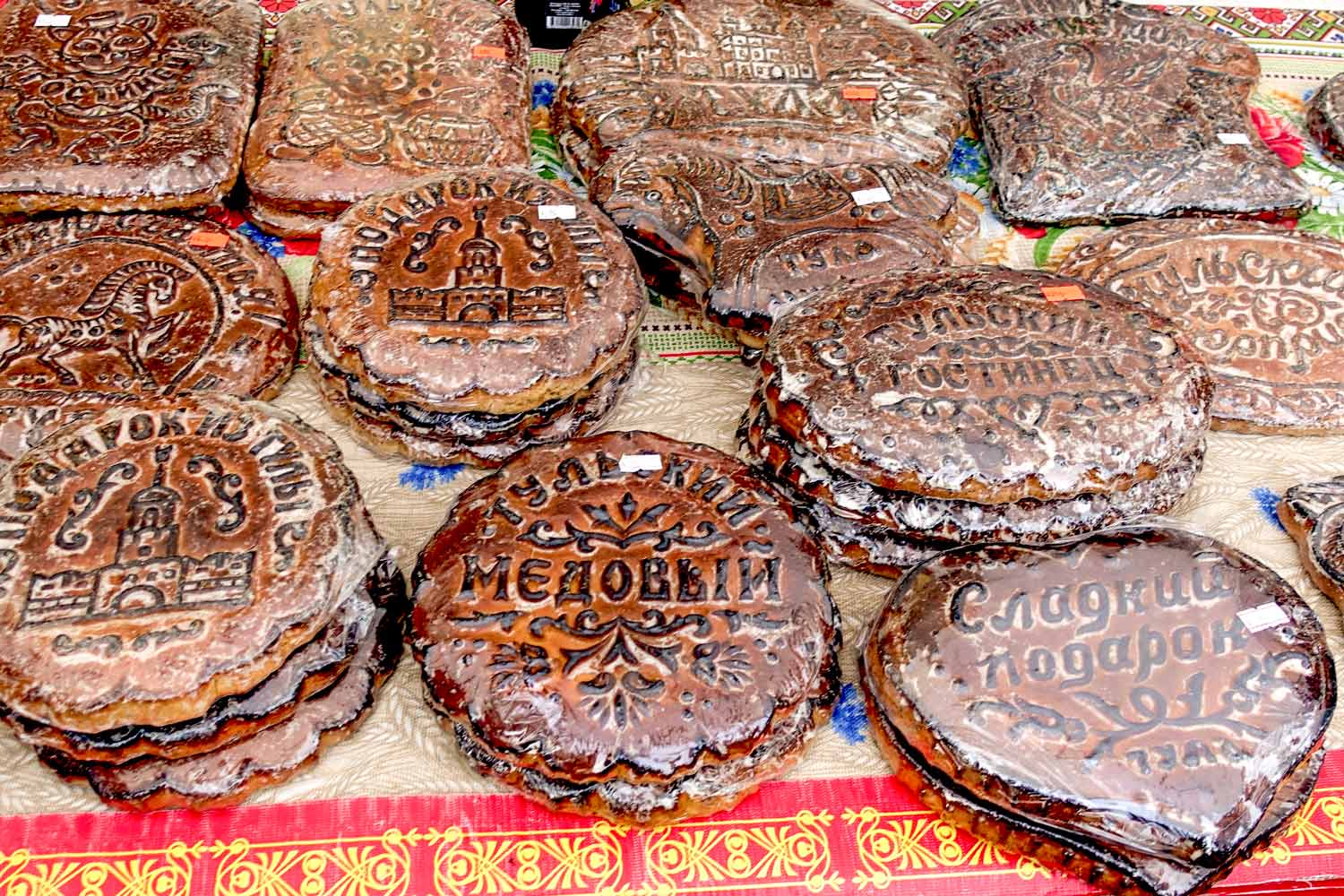 Why not try these other Christmas recipes while you're here!
Stuffed seitan roast
Mushroom gravy
Maple roast roots
Christmas pudding
Turkish delight
Mozartkugeln
Luxury mincemeat
Nutella liqueur
Soft gingerbread cookie recipe
Ingredients
honey
butter
sugar
spices (ginger, cinnamon, cardamom, coriander, nutmeg, cloves)
vanilla extract
egg
flour
plus baking soda, vinegar, and salt
How to make gingerbread cookies
Start by melting the honey, butter, and sugar together.
Mix the ground spices and the salt with the flour.
Whisk some vanilla extract and an egg into the honey mixture, and then add some baking soda mixed with vinegar.
Mix in the flour until you have a very stiff dough, then cover and set aside overnight for all the flavours to develop.
Place walnut-sized balls of dough onto a cookie sheet, then bake at 325°F (170°C / gas mark 3) for 15 minutes.
Set aside to cool completely, then glaze with a thin icing sugar and milk mixture.
Leave the glaze to harden before storing in an airtight container at room temperature for a few weeks. You can also freeze pryaniki for up to three months.

Tips and notes
This recipe is not suitable for making with a stand mixer, unless it's very heavy-duty. The dough is very stiff, and you could end up burning out the motor of your mixer.
Instead of using several different spices, you could use the equivalent amount of mixed spice. Or even better, use my chai masala. It works really well!
You can actually leave the dough for up to three days, as long as it's in a cool place.
Some people say it's traditional to glaze the bottom of the pryaniki, and some say it isn't. As a rule, I don't. I like having the contrast between glazed and unglazed cookies!
To make vegan gingerbread cookies
Use maple or agave syrup instead of honey.
Use vegan butter or margarine instead of butter. I haven't tried with oil but if you want to go this route, you'll only want to use 88g (which is 80% of the 110g because butter is only 80% percent fat, whereas oil is 100%).
Use a flax or chia egg instead of a hen's egg. To make, mix together 1 tablespoon ground flax or chia with 3 tablespoon warm water. Set aside to become gelatinous before using.
For the glaze, use your favourite plant milk instead of dairy.
Eat all the cookies!
Although pryaniki are often given as birthday and wedding gifts, they are perhaps most popular at Christmas time.
Not only are these the best Christmas cookies ever (in my not at all humble opinion!), you'll find these festive treats adorning Christmas trees too. Especially in Northern Russia, where apparently, old traditions die harder.
(See what I did there? Die Hard... traditional Christmas movie! Ha ha!)
To be perfectly honest with you though, these are such easy Christmas cookies to make, that you may well find that like me, you'll be making them on a whim at other times of the year, too!
Прия́тного аппети́та!
(That's the Russian equivalent of bon appétit! Pronounced priyat-nuh-vuh ap-pee-tee-tuh!)
📖 Recipe
Christmas Gingerbread Cookies (Pryaniki)
Pryaniki are soft gingerbread cookies that are really easy to make, and taste similar to German lebkuchen or Slovenian medenjaki.
Print
Pin
Rate
Makes (slide to adjust):
45
pryaniki
Ingredients
For the gingerbread dough
240

g

honey

110

g

butter

100

g

granulated sugar

450

g

plain flour

(all-purpose)

1

teaspoon

ground ginger

1

teaspoon

ground cinnamon

1

teaspoon

ground cardamom

1

teaspoon

ground coriander

½

teaspoon

ground nutmeg

½

teaspoon

ground cloves

pinch

salt

1

teaspoon

vanilla extract

1

egg

1

teaspoon

baking soda

1

teaspoon

white vinegar
For the glaze
250

g

icing sugar

(confectioners' sugar)

2-3

tablespoon

milk
Instructions
Dough
Melt the honey, butter, and sugar in a large heavy-bottomed pan over a medium heat. Stir occasionally.

In a bowl, mix the ground spices and the salt into the flour.

Once the honey mixture has melted, set aside to cool for 10 minutes.

Once cooled a little, stir well, then whisk in the vanilla extract and egg.

Add the vinegar to the baking soda, and immediately stir into the mixture.

Gradually add the flour and spice mix to the pan, mixing well to make sure everything is incorporated, and there are no pockets of flour. You should now have a stiff dough.

Place the dough into a large bowl, cover and leave overnight in a cool place.

When you're ready to cook the pryaniki, pre-heat your oven to 325°F (170°C / gas mark 3).

Tear off small pieces of dough, and roll into walnut-sized balls.

Place onto a parchment-lined cookie sheet, leaving about 2" (5cm) between each one).

Bake in the centre of the oven for 15 minutes.

Remove from the oven, and transfer the cookies to a wire rack to cool down.
Glaze
Once the gingerbread cookies are completely cool, mix together the confectioners' sugar and milk to make a smooth glaze.

Holding each cookie at the base, dip the top into the glaze, then remove, and allow the excess to drip back into the bowl. Place the cookies back on the wire rack (covered with parchment), and leave until the glaze has hardened.

Once the glaze has set, the cookies can be stored in an airtight container at room temperature for several weeks. Pryaniki can also be frozen for up to three months.
Nutrition Facts
Christmas Gingerbread Cookies (Pryaniki)
Amount Per Serving (1 cookie)
Calories 62
Calories from Fat 9
% Daily Value*
Fat 1g2%
Cholesterol 4mg1%
Sodium 27mg1%
Potassium 16mg0%
Carbohydrates 20g7%
Protein 1g2%
Vitamin A 5IU0%
Vitamin C 1mg1%
Calcium 4mg0%
Iron 1mg6%
* Percent Daily Values are based on a 2000 calorie diet.
Did you make this recipe?
Do mention @yums0me and/or tag #yums0me - I'd love to see how yours turned out!
Disclaimer
Measurements in parenthesis are approximate; it is beyond the scope of yumsome to be able to provide pinpoint-accurate ingredient quantities for every type of measuring utensil. As a guideline however, I make the assumption that:
1 cup = US cup = 240 ml
1 tablespoon = US/UK = 15 ml
1 fl oz = US = 30 ml
Further information may be found here