Stan's rhubarb crumble shortbread bars are a yummy twist on that British summer favourite, rhubarb crumble, and are named for my maternal grandfather, who adored rhubarb. And puddings.
The crispy crumble topping covers a layer of sweet blueberries and slightly tart rhubarb, spread upon a base of delicious, buttery shortbread.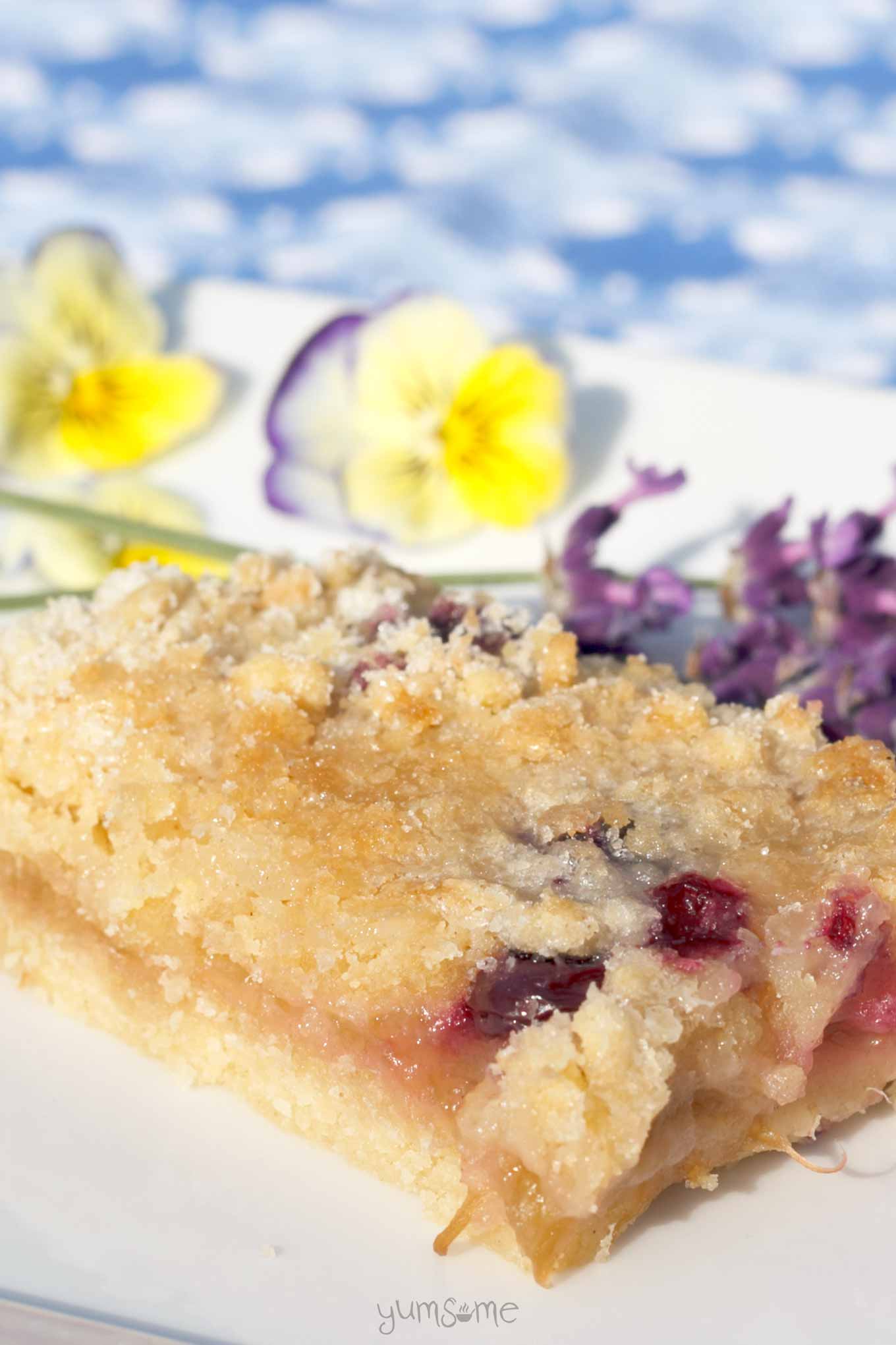 Rhubarb is not something we ever came across when we lived in Asia or Africa, and rarely in central, southern, and eastern Europe, so when amato mio and I were in Britain a while back, staying with his mum, and I had the opportunity to get my hands on this most delicious of fruits, I jumped at the chance of making a very 'English' treat.
My mother-out-law's (MoL) neighbours often drop off produce they've grown themselves (and preserves they've made too) - they are very generous like that - and if we're there when someone brings around some rhubarb, my eyes light up, my tummy begins to rumble, and I imagine all the gorgeous rhubarby yums I could make...
And then MoL gets to it before me. No so this time though - I was in like Flynn!
Stan... who loved rhubarb
My grandfather, whom I worshipped, adored rhubarb, and the day I first made these rhubarb crumble shortbread bars (July 25th), would have been his birthday (he'd be almost 108 now; sadly, he passed away on my 20th birthday). This recipe is my way of honouring him.
Over the past few years, I've had no shortage of guinea pigs to test these bars out on; amato mio, our niece and nephew, MoL, and amato mio's sister & her husband. The verdict is unanimous - everyone loves them.
I'm sure my grandfather would have loved them too.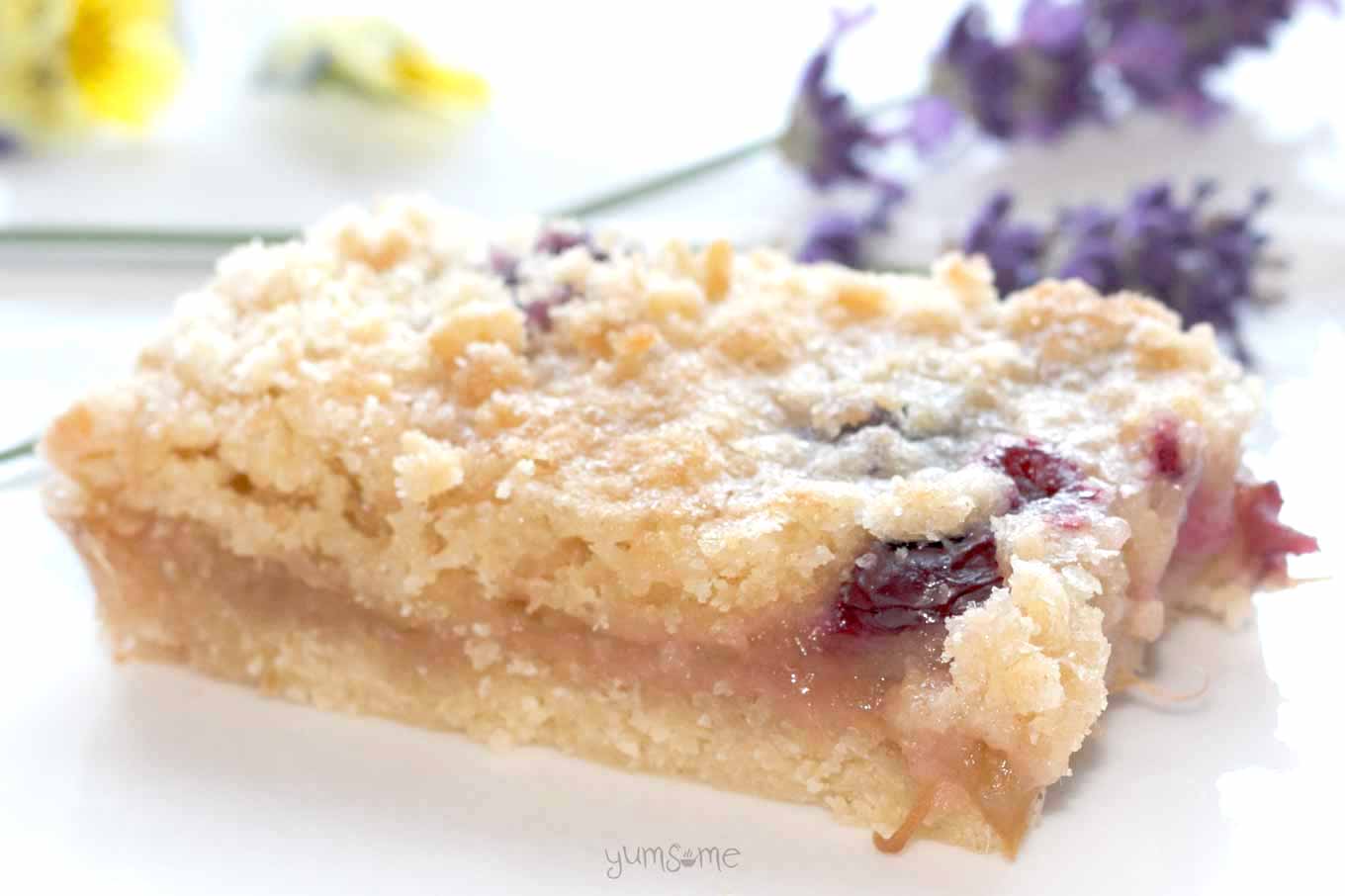 Stan's Rhubarb Crumble Shortbread Bars
Are...
sweet
slightly tart
comforting
summery
easy to make
really yummy
and not entirely bad for you either! (Vitamin A 4%, Vitamin C 5%, Calcium 5%, Iron 10% RDV)
Do make sure you keep the rhubarb juice, BTW, because it makes a delicious drink when added to sparkling mineral water. Or Prosecco. Or gin. Or punch. Enjoy!
Do you like rhubarb crumble and shortbread? What's your favourite thing to do with rhubarb?
📖 Recipe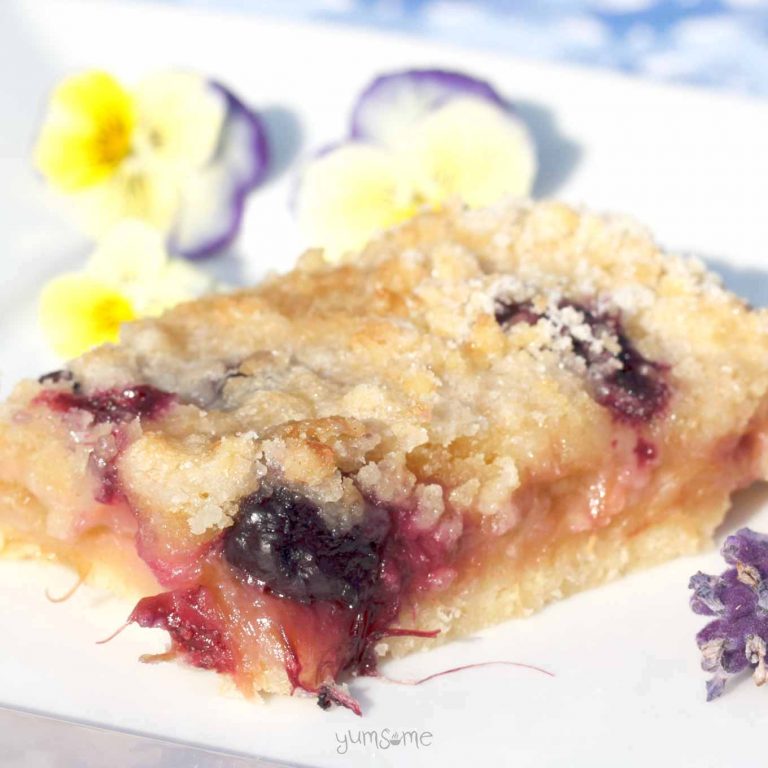 Stan's Rhubarb Shortbread Crumble Bars
Stan's rhubarb crumble shortcake bars are a yummy twist on that British summer favourite, rhubarb crumble, and are named for my maternal grandfather, who adored rhubarb. The crispy crumble topping covers a layer of sweet blueberries and slightly tart rhubarb, spread upon a base of delicious, buttery shortbread.
Print
Rate
Makes (slide to adjust):
12
bars
Ingredients
Shortbread Base
125

g

vegan butter (note 1)

60

g

sugar

180

g

plain flour (all-purpose)
Fruit Centre
500

g

rhubarb

100

g

blueberries

100

g

sugar

3

tablespoon

water
Crumble Topping
150

g

plain/all-purpose flour

75

g

vegan butter

100

g

sugar
Instructions
Preheat the oven to 190°C (375°F/gas mark 5), and line a

roasting pan

/baking tin or

oven dish

, which is at least 5cm (2") deep, with baking parchment.

Wash the rhubarb, and cut up into big chunks. Place into a

large saucepan

, cover with the sugar, add around 3 tablespoon water, put the lid on, bring to the boil, and rapidly steam for 5 mins.

Using a

sieve

or

conical/chinoise strainer

, drain the rhubarb over a large bowl, gently pressing down with the back of a spoon to ensure as much liquid as possible is removed. Leave the fruit in the sieve, over the bowl, to cool. (

note 2

)

To make the shortbread, cream together together the butter and sugar, then add the flour, and mix together to form a smooth dough. I find it easiest to use my hands for the last part.

Rest the dough in the 'fridge for 30 mins, then turn out onto a lightly-floured board, and carefully roll out until it's about 1.5 cm (c.½") thick, and the same shape as your baking tin. (note 3)

Place the dough into the baking tin, and bake for around 20-25 minutes or so, until the shortbread is a pale golden brown.

Remove from the oven, turn the heat up to 200°C (400°F/gas mark 6), and set the shortbread aside to cool.

Make the crumble topping by rubbing together the butter and flour until it resembles breadcrumbs, and then stir in the sugar.

Put it all together by spooning the rhubarb evenly over the shortbread base, sprinkle over the blueberries, and then cover everything with the crumble topping. Return to the oven, and bake for around 15 minutes, until the crumble starts to turn golden.

Once cooked, remove from the oven, and leave in the tin to cool down. When it's cool, remove from the tin, and cut into 12 bars.

Store in an airtight container... if it lasts that long!
Notes
I rarely buy vegan spread or butter now, instead I make my own. One of my most used recipes is from my friend, Mel, over at A Virtual Vegan. Check out her easy vegan butter.
Do make sure you drain the rhubarb properly once it's cooked, or else you will end up with a bit of a soggy bottom. It will still be delicious of course, but these bars should be soft, not sludgy!
If you find that the shortbread dough is fragile, and breaks when you move it, roll it out on some parchment, and then carefully slide the whole thing onto the baking tin.
This recipe has been updated, and new images added.
Nutrition Facts
Stan's Rhubarb Shortbread Crumble Bars
Amount Per Serving (1 bar)
Calories 316
Calories from Fat 117
% Daily Value*
Fat 13g20%
Sodium 128mg5%
Carbohydrates 46g15%
Protein 3g6%
* Percent Daily Values are based on a 2000 calorie diet.
Did you make this recipe?
Do mention @yums0me and/or tag #yums0me - I'd love to see how yours turned out!
Disclaimer
Measurements in parenthesis are approximate; it is beyond the scope of yumsome to be able to provide pinpoint-accurate ingredient quantities for every type of measuring utensil. As a guideline however, I make the assumption that:
1 cup = US cup = 240 ml
1 tablespoon = US/UK = 15 ml
1 fl oz = US = 30 ml
Further information may be found here
Why not check out these other sweet yums while you're here?