Glazed with a with a deliciously sticky barbecue sauce, and perfect for summer al fresco entertaining, these meaty BBQ seitan ribs are really simple to make, and practically guaranteed to keep everyone at your gathering coming back for more!
Firstly, please let me apologise for the lack of new yums recently; for the past couple of months I've been freelancing my cooking skills at Beet Bar, a vegan café here in Margate. I'm absolutely loving working there, meeting so many lovely, positive, and enthusiastic people, making new friends, and of course, putting smiles on people's faces by bringing yumsome's food to a wider audience!
Once I've gotten into my stride, and am no longer utterly pooped by the time I get home, normal service here will be resumed. Thank you all so much for your patience - you're lovely, all of you!
Oh, and in case you're wondering, this is Beet Bar. It really is as chilled as it looks, and there's even a lovely garden too!
Anyway, enough digression...
A little while ago, my friend, Fredi, emailed me to tell me that her husband had taken up the veggie mantle, and like most of us when we discover something shiny and new, was very enthusiastic, and keen to try all the things. Something he's been making a lot of, which has become firm family favourites at Chez Fredi et Dan are these meaty BBQ seitan ribs.
Since neither Fredi or Dan are bloggers, they asked me whether I'd like to share the recipe with you guys. Naturally, I'm more than happy to do so.
Somewhat coincidentally (or as a Timothy Leary would have it, an act of synchronicity), I was actually planning to share my own seitan ribs recipe soon, so when Fredi got in touch, I thought, why not include both recipes into one blog post!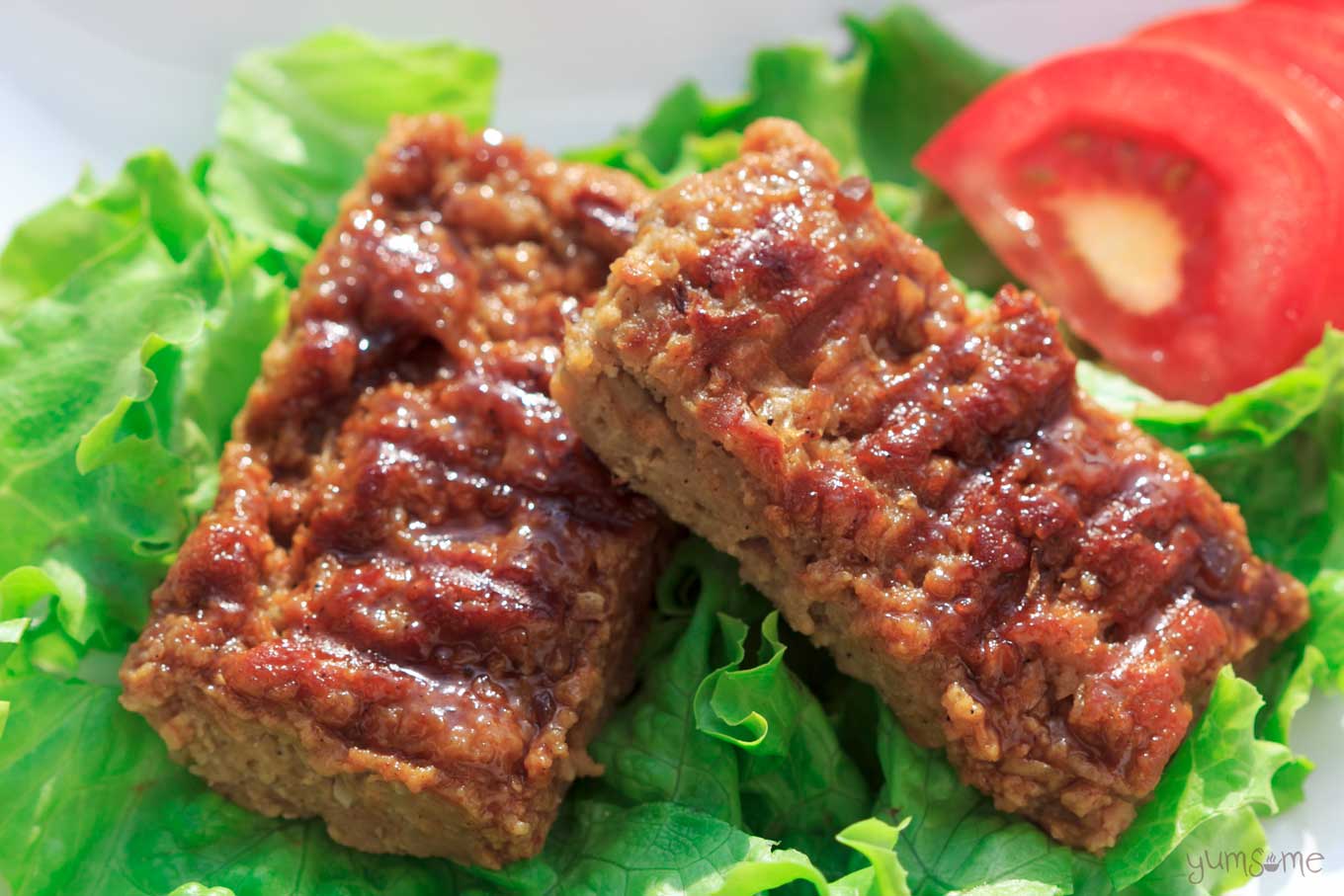 Making the seitan ribs is very easy, especially if you have a food processor, it's just a case of mixing the ingredients, and letting the processor knead the dough until it's smooth and elastic. This will give the ribs a really satisfying meaty texture. (Or you can do it by hand.)
Dan simmers his seitan in veggie stock for half an hour, lets it rest overnight before pan-frying, then continuing to sauté in barbecue sauce.
I actually prefer to bake mine - not least because it means less work (yay!); once I've shaped and basted the seitan with BBQ sauce, I just bake it in the oven, then once it's done, baste a bit more with sauce, caramelise under the grill, and serve.
Both ways yield deliciously meaty BBQ seitan 'ribs', so why not try both, and see which you prefer?
Whichever method you use to cook your ribs, they are even better when finished off on an actual barbecue to give them even more of a smoky flavour.
And speaking of barbecues, my vegan sausages are also fantastic for outdoor grilling. And my burgers too.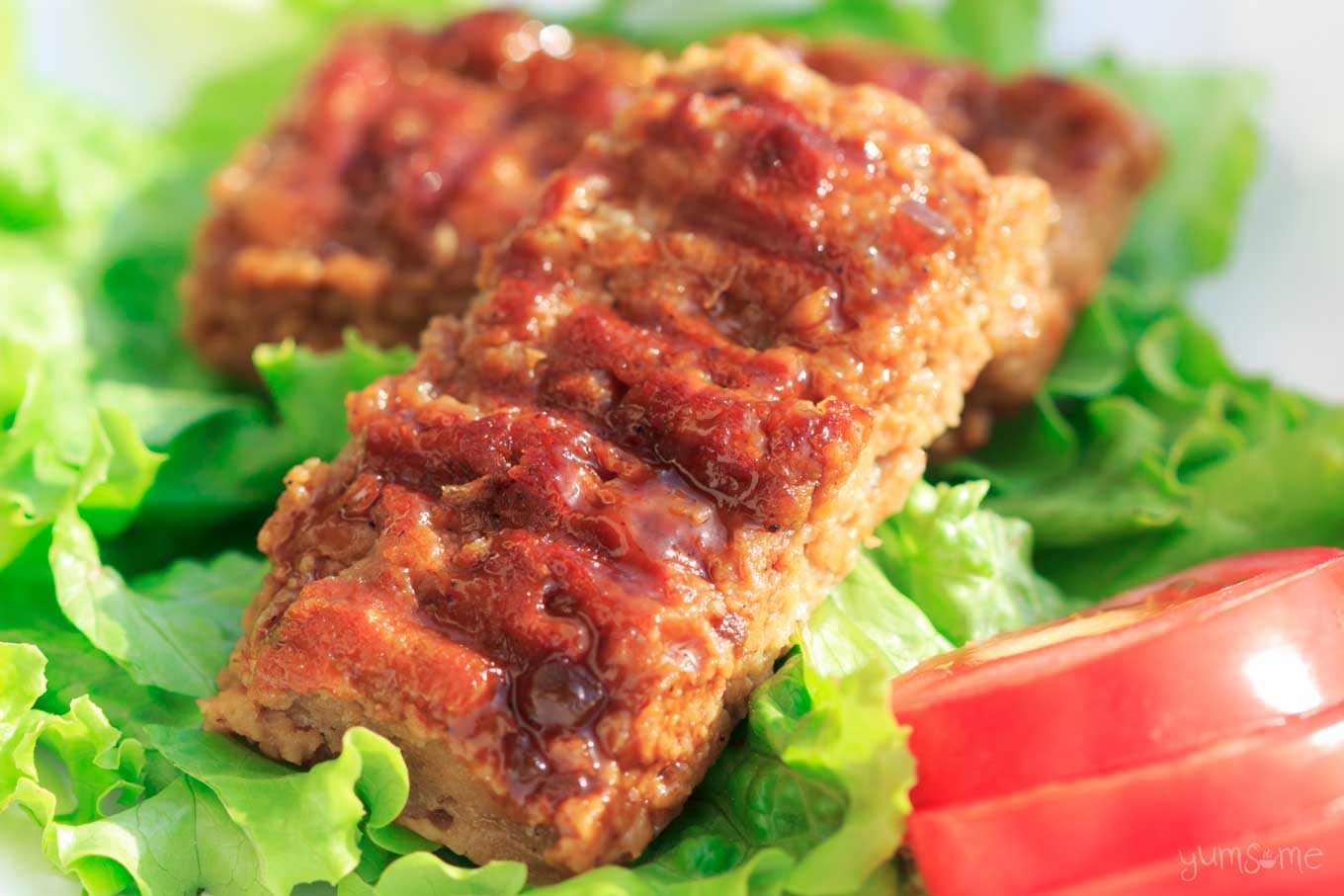 Meaty BBQ Seitan 'Ribs'
Are...
hearty
sticky
sweet n sour
toothsome
satisfying
simple to make
really, really delicious
Be sure to make lots of these meaty BBQ seitan ribs because everyone's going to love them!
Enjoy!
Have you ever had BBQ seitan 'ribs' before?
📖 Recipe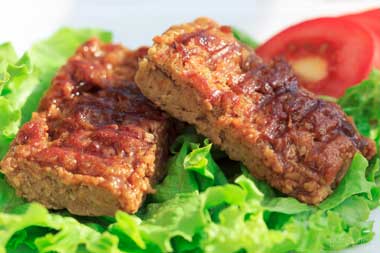 Meaty BBQ Seitan 'Ribs'
Guaranteed to keep vegans and non-vegans coming back for more, these sticky meaty BBQ seitan 'ribs' are simple to make, and perfect for al fresco entertaining!
Print
Pin
Rate
Makes (slide to adjust):
12
ribs
Ingredients
Instructions
Preheat the oven to 175°C (350°F, gas mark 4), and line a 20cm x 20cm (8"x8") baking tray with non-stick parchment or a silicone mat.

While the oven is heating, make the glaze: Heat the oil in a skillet over a medium-low heat, and gently fry the garlic for 4-5 mins, until the raw smell has gone.

Dilute the tomato purée with the water, and whisk in the sugar, balsamic, liquid smoke, soy sauce, mustard powder, tamarind, and Tabasco.

Add to the skillet, stir well, bring to the boil, then turn down to your hob's lowest heat, and allow to simmer until the sugar has dissolved (you may need to stir it occasionally). This should take around 5 mins. Once the glaze is done, set aside.

Make the 'ribs'

by blitzing the wet ingredients in a

blender

for 30 seconds or so.

Place the dry ingredients into a large bowl, and stir.

Add the contents of the blender to the bowl, and mix well, until all the dry ingredients have become incorporated.

Lightly knead for five minutes or so, to activate the gluten, then stretch out the dough so that it fills the baking tray.

Take a sharp knife and score the dough into 12 equal pieces (6 x 2) - you don't need to cut them all the way through.

Brush the top with a some BBQ glaze, lightly cover with foil, and bake for 30-35 mins, until springy to the touch.

Remove the baking tray from the oven, and set aside for a couple of minutes.

Turn on the grill (broiler), and brush the grill rack with oil to prevent sticking. Remove the seitan ribs from the baking tray, brush more glaze over the top, and place under the hot grill.

Once the top starts to caramelise, flip over, brush with more glaze, and repeat.

When they're done, cut along the score lines, and serve immediately.

If using a grill pan on the hob: heat the pan over a medium heat, and brush with a little vegetable oil.

Remove the ribs from the baking tray, and brush the top with more glaze, carefully turn out onto the grill, and then brush the new topmost side with glaze. As soon as the bottom of the ribs start to caramelise, flip over, and grill the other side.

If you're having a barbecue, you can finish the ribs off on the grill - obviously removing them from the baking tray first! Follow the instructions for using a grill pan.
Notes
Use liquid coconut aminos if avoiding soy.
Use chickpea flour (aka garbanzo bean flour or besan) instead of buckwheat.
Tomato purée is also known as tomato paste.
Use a tablespoon of smoked paprika instead of liquid smoke, if you prefer.
If you have a food processor, fit the blade, add the dry ingredients, then the blended wet stuff, and process on high speed for 3-5 minutes, until the dough becomes elastic.
Electric grills and panino presses work really well too, and mean you don't have to turn the ribs over!
Nutrition Facts
Meaty BBQ Seitan 'Ribs'
Amount Per Serving (1 rib)
Calories 146
Calories from Fat 36
% Daily Value*
Fat 4g6%
Sodium 360mg15%
Carbohydrates 15g5%
Protein 12g24%
* Percent Daily Values are based on a 2000 calorie diet.
Did you make this recipe?
Do mention @yums0me and/or tag #yums0me - I'd love to see how yours turned out!
Disclaimer
Measurements in parenthesis are approximate; it is beyond the scope of yumsome to be able to provide pinpoint-accurate ingredient quantities for every type of measuring utensil. As a guideline however, I make the assumption that:
1 cup = US cup = 240 ml
1 tablespoon = US/UK = 15 ml
1 fl oz = US = 30 ml
Further information may be found here
📖 Recipe
Dan's Vegan BBQ 'Ribs'
Just as delicious as my vegan BBQ 'ribs', these ones from Dan have a slightly different cooking and finishing method. 
Print
Rate
Makes (slide to adjust):
4
servings
Instructions
Mix the seitan ingredients together in a large bowl, and knead well until you have a springy dough, pulling it to make 'meaty' strands.

Bring a large pan of stock to a boil, break the dough into palm-sized chunks, add to the stock, reduce the heat, and simmer  for around 30 minutes.

Remove the pan from the heat, allow the seitan to cool in the stock to room temperature, then place into an airtight container, along with enough of the stock to cover. Place in the fridge for at least five hours - preferably overnight - to firm up.

When ready to glaze, remove the seitan from the fridge, and cut into slices.

Heat a large skillet over a medium heat, and fry the seitan in a little oil until lightly browned on both sides.

Add the BBQ sauce ingredients to the skillet, and stir continually, until the sauce has coated all of the seitan pieces, and is beginning to thicken.

Serve immediately.
Notes
If you can't get Dorsetshire Sauce, you can use vegan Worcestershire instead.
The seitan isn't heavily-flavoured, instead it relies on the BBQ sauce for its tastiness.
Nutrition Facts
Dan's Vegan BBQ 'Ribs'
Amount Per Serving (1 portion)
Calories 255
Calories from Fat 9
% Daily Value*
Fat 1g2%
Sodium 954mg40%
Potassium 204mg6%
Carbohydrates 31g10%
Protein 30g60%
Vitamin A 312.2IU6%
Vitamin C 7.4mg9%
Calcium 31.6mg3%
Iron 3.2mg18%
* Percent Daily Values are based on a 2000 calorie diet.
Did you make this recipe?
Do mention @yums0me and/or tag #yums0me - I'd love to see how yours turned out!
Disclaimer
Measurements in parenthesis are approximate; it is beyond the scope of yumsome to be able to provide pinpoint-accurate ingredient quantities for every type of measuring utensil. As a guideline however, I make the assumption that:
1 cup = US cup = 240 ml
1 tablespoon = US/UK = 15 ml
1 fl oz = US = 30 ml
Further information may be found here