This loaded vegan lasagne is chock-full of seasonal veggies, and brimming with my wonderfully creamy besciamella (béchamel). Its deliciousness completely belies the ease with which it is made, and is pretty much guaranteed to put a smile on the faces of all who eat it!
This post contains affiliate links. For more information, please see my privacy policy.
Loaded Vegan Lasagne Recipe
A few weeks ago, one of my friends said to me,
Nico, you're half Italian, why are there no pasta recipes on yumsome?
My response was that it's such an everyday food, why would I? Would she publish a recipe for beans on toast or a sandwich? To the latter, she looked at me, and in her best Loki voice, said...
Point taken!
So here it is - after three years of writing this blog, I present you with my very first yumsome pasta recipe. It's a good 'un. Go and make it. Like, now. 😉
Make this vegan lasagne with all the things!
I actually tend to call this my back of the fridge lasagne because it's basically full of those lurkers we all find hiding behind tubs of last week's leftovers.
Oh, admit it - you have them too!
Anyway, it basically means that this loaded vegan lasagne is inherently adaptable, not to mention frugal. Plus, if where you live is anything like where I am at the moment, this is the perfect excuse to not have to go out to buy ingredients for tonight's dinner.
Hmmm… instead of loaded vegan lasagne, maybe I should call it 'I-really-don't-want-to-go-out-because-the-weather-is-nasty' vegan lasagne. Doesn't really roll off the tongue though, does it? (Even though it's completely accurate!)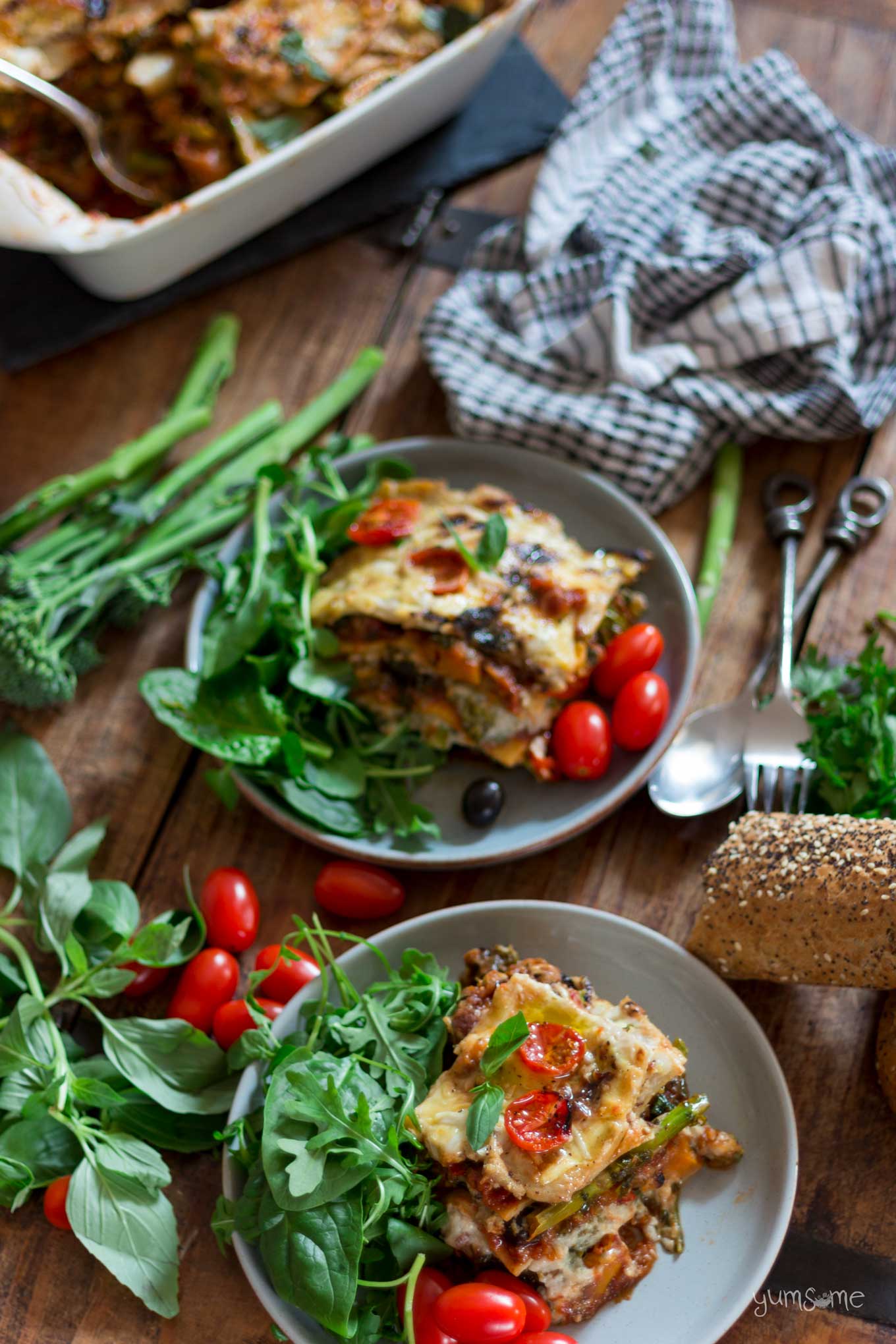 What goes into this loaded vegan lasagne?
In this recipe, I've used tenderstem broccoli, asparagus (OK, they weren't lurking, they were left over from a quiche I made for someone), half a butternut squash (leftover from making soup), leeks, red and yellow peppers, aubergine (left over from a curry), and sun-dried tomatoes (also not lurking but I had about a quarter of a jar taking up much-needed space in my ridiculously small food cupboard), as well as the ubiquitous onion and garlic combo.
Oh, and because I also needed to make some room in my also-ridiculously-small freezer for the raw cheesecake I've been working on, I chucked in half a large bag of kale too.
But really, you can use whichever veggies you have - this is a very forgiving recipe. Mushrooms and spinach work exceptionally well, for example… although I do fry the 'shrooms off first, otherwise they add too much liquid.
Vegan béchamel sauce
I know that some folk like to use a cheese sauce in their lasagne but I am generally not one of them; I prefer to keep with tradition, and use besciamella because it complements the flavours of the veggies, rather than overpower them. I save the cheese for the top!
I make my besciamella with Oatly Foamable, which makes it lovely and creamy… and of course, it has to have a goodly grating of nutmeg too.
Cheese sauce for lasagne
If you prefer a cheesy sauce, there's no real reason not to throw a few handfuls of store-bought grated vegan cheese, such as Violife, into the besciamella, and bolster it with some nooch. Or even better, melt some of my extra mature vegan cheddar into it.
You could even make a milder version of my nacho cheese. I've been known to thin out some I've had in the fridge with plant milk - it works brilliantly.
Or just use the sauce from my cauliflower cheese recipe!
While using a cheese sauce isn't completely authentic, the most important thing is to make this to your taste. And let's face it, the lack of a meaty ragù kind of renders this pretty far from being an authentic lasagne anyway!
Lasagne sheets
I could claim that I always make my own pasta but the fact of the matter is that after a day of being on my feet, cooking for clients, I really don't want to be slaving away in my own kitchen, so I very often use store-bought dried lasagne sheets.

(BTW, pasta for lasagne should never be made with egg - the lasagne is rich enough already.)
Do I need to pre-cook the lasagne sheets?
One thing I will say, is that even if you do buy the ones which claim to need no pre-cooking, don't believe it - they definitely need a couple of minutes in some boiling water before being added to the lasagne dish. If you don't do this, they won't cook through properly in the oven, and you'll have crunchy bits.
And don't - for the love of Carluccio - put oil in the cooking water! This is anathema to us, and only Wrongy McWrongpants of Wrongtown would do it.
Using a Crock-Pot or slow cooker
I like to caramelise the veggies to really bring out their sweetness; and my trusty Crock-Pot has a sauté function, which is perfect for this; not only do I not have spitty oil splashes to clean up, I can just chuck stuff in, give it a stir, put the lid on, and forget about it for half an hour.
I'm aware that some folk prefer not to use oil in their cooking, and that's fine - each to their own - but I do, and no amount of trying to persuade me otherwise is going to change my mind. Besides, as Ned Stark famously said…
Winter is coming... and we need a little extra fat to help keep us warm.
Oh, shush, he totally did say that - lookie, here's the proof…
Heheh.
If you like this loaded vegan lasagne recipe, check out these vegan Italian yums!
You'll love this loaded vegan lasagne
Because it's…
full of nourishing vegetables
rich
creamy
satisfying
easy to make
customisable
packed with goodness/li>
soy-free*
nut-free*
easily made gluten-free
super-delicious
This recipe will make enough for eight generous portions, and will keep in the fridge for around a week, provided it's tightly covered over or kept in an airtight container. It doesn't freeze brilliantly though, on account of the aubergines. If you don't use them, it should be fine to freeze.
I like to serve this lasagne with a simple green salad and some baby plum tomatoes but there's no reason you couldn't add a hunk of fresh bread too (yay, carbs!).
Buon appetito!
What would you serve loaded vegan lasagne with?
📖 Recipe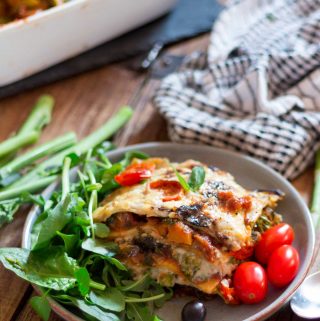 Loaded Vegan Lasagne
This loaded vegan lasagne is chock-full of seasonal veggies, and brimming with my wonderfully creamy besciamella. Its deliciousness completely belies the ease with which it is made, and is pretty much guaranteed to put a smile on the faces of all who eat it!
Print
Pin
Rate
Makes (slide to adjust):
8
servings
Ingredients
Filling: 
6

tablespoon

olive oil

2

large onions

finely sliced

1

large leek

coarsely sliced

6

large cloves garlic

smashed

2

large sweet peppers

diced

1

medium aubergine

diced

500

g

butternut squash

cubed (no need to peel)

150

g

sun-dried tomatoes

drained and roughly chopped

100

g

pitted black olives

2

servings Classic Italian Tomato Sauce

or c.500g store-bought/your own

Small handful of fresh basil leaves

roughly torn

¼

teaspoon

Vegeta

or ½ teaspoon of your favourite vegetable bouillon powder

black pepper

to taste

125

g

asparagus tips

ends trimmed if necessary

200

g

tenderstem broccoli

split thicker stems in half lengthwise

150

g

kale

de-stemmed and roughly chopped

12

sheets dried lasagne pasta

use gluten-free if necessary
Besciamella
1

large onion

finely sliced

2

large bay leaves

1,5

L

Oatly barista

1½

heaped tablespoon plain

all-purpose flour 

1

heaped tablespoon cornflour

aka corn starch

1

teaspoon

olive oil

¼

teaspoon

ground black pepper

or to taste

¼

teaspoon

grated nutmeg
Topping:
100

g

non-dairy cheese

grated (Violife parmesan works really well, or you could use my parmesan if you're ok with nuts!)

8

cherry or baby plum tomatoes

halved

black pepper

to taste

You will also need a large lasagne dish - mine measures 26cm x 22cm x 7cm

10" x 8" x 3"
Instructions
Heat the oil in a large pan, and fry the onions and leeks for around 5 mins, until they begin to turn translucent.

Add the garlic, and continue to fry for another 5 mins, stirring occasionally.

Add the peppers and aubergine, turn the heat to low, cover, and gently cook for 30 mins, until caramelised.

Add the butternut squash, sun-dried tomatoes, olives (plus a little brine), and tomato sauce, stir, then cover the pan, reduce the heat, and leave to cook for 20 mins or so, until the squash is soft. (I use the sauté function on my 

Crock-Pot

 to do all of this - it has five heat settings, and makes life so much easier!)

 Once the sauce is ready, stir in the torn basil, and season with Vegeta and black pepper.

While the sauce is cooking, make the besciamella: place the onion, bay leaves and Oatly into a large pan, cover, and infuse over a low heat for 10 mins.

Raise the heat, and allow to boil rapidly for another 2-3 mins. This is important, as it makes the besciamella really creamy.

Next, remove the bay leaves, and discard, then pour the milk and onion into a blender jar (I use my

Froothie Vac 2

), add the rest of the ingredients, and blend on the highest speed for 30 seconds.

Return the mixture to the pan, and bring back to a low boil for 5 mins, until thickened, and the flour has cooked in.

Taste, and add more nutmeg and black pepper if desired. Set aside.

Also while the sauce is cooking, pre-cook the lasagne sheets: boil a very large pan of salted water (this is essential to stop the pasta sticking together), and add 2-3 sheets, one at a time. Boil for a couple of mins, until the pasta is pliable. You want it leathery, not soft. Remove from the water, and place the sheets in in a single layer on a chopping board. Repeat for the rest of the pasta, topping up the water as necessary, and allowing it to come to the boil again before adding more sheets.
Pre-heat your oven to 200°C/400°F/gas mark 6.
Build the lasagne: once everything is ready, spread 2 ladlefuls of sauce over the bottom of your lasagne dish, then ⅓ of the chopped kale, and ⅓ of the raw broccoli and asparagus.

Ladle over enough besciamella to generously cover the veggies, and then place 4 lasagne sheets over the top. You may need to overlap them like shutters.

Repeat twice, finishing with the last of the pasta on top.

Ladle over the rest of the besciamella, sprinkle over the grated cheese/parmesan, if using, and arrange the halved tomatoes over the top. Finish with a few grinds of black pepper.

Bake in the centre of the oven for 35-40 minutes, until the top is golden, and the pasta is properly cooked through.

Remove from the oven, and leave to rest for 10-15 mins before serving - it will be far easier to cut up if you do!

Leftovers may be kept in the fridge for up to a week if tightly covered or in an airtight container. Freeze individual portions for up to three months, and reheat at 180°C/350°F/gas mark 4.
Notes
If making gluten-free, omit plain flour, and use 3 tablespoon cornflour instead, or sub your own favourite gluten free flour blend.
You may wish to add a little more nutmeg, depending on your personal taste. Don't add more than an extra ¼ teaspoon though, or else the besciamella will be bitter.
Nutrition Facts
Loaded Vegan Lasagne
Amount Per Serving (1 serving)
Calories 596
Calories from Fat 234
% Daily Value*
Fat 26g40%
Sodium 1900mg79%
Carbohydrates 70g23%
Protein 14g28%
* Percent Daily Values are based on a 2000 calorie diet.
Did you make this recipe?
Do mention @yums0me and/or tag #yums0me - I'd love to see how yours turned out!
Disclaimer
Measurements in parenthesis are approximate; it is beyond the scope of yumsome to be able to provide pinpoint-accurate ingredient quantities for every type of measuring utensil. As a guideline however, I make the assumption that:
1 cup = US cup = 240 ml
1 tablespoon = US/UK = 15 ml
1 fl oz = US = 30 ml
Further information may be found here
I'm linking up my loaded vegan lasagne recipe with...