Sweet and tangy, citrussy and minty, my refreshing, easy no-churn vegan mojito sorbet is made with just five simple ingredients, and requires no special equipment. Of course, if you do have an ice cream maker, it will cut down on the freezing time. Either way, this sorbet is the perfect way to cope with a hot and humid summer.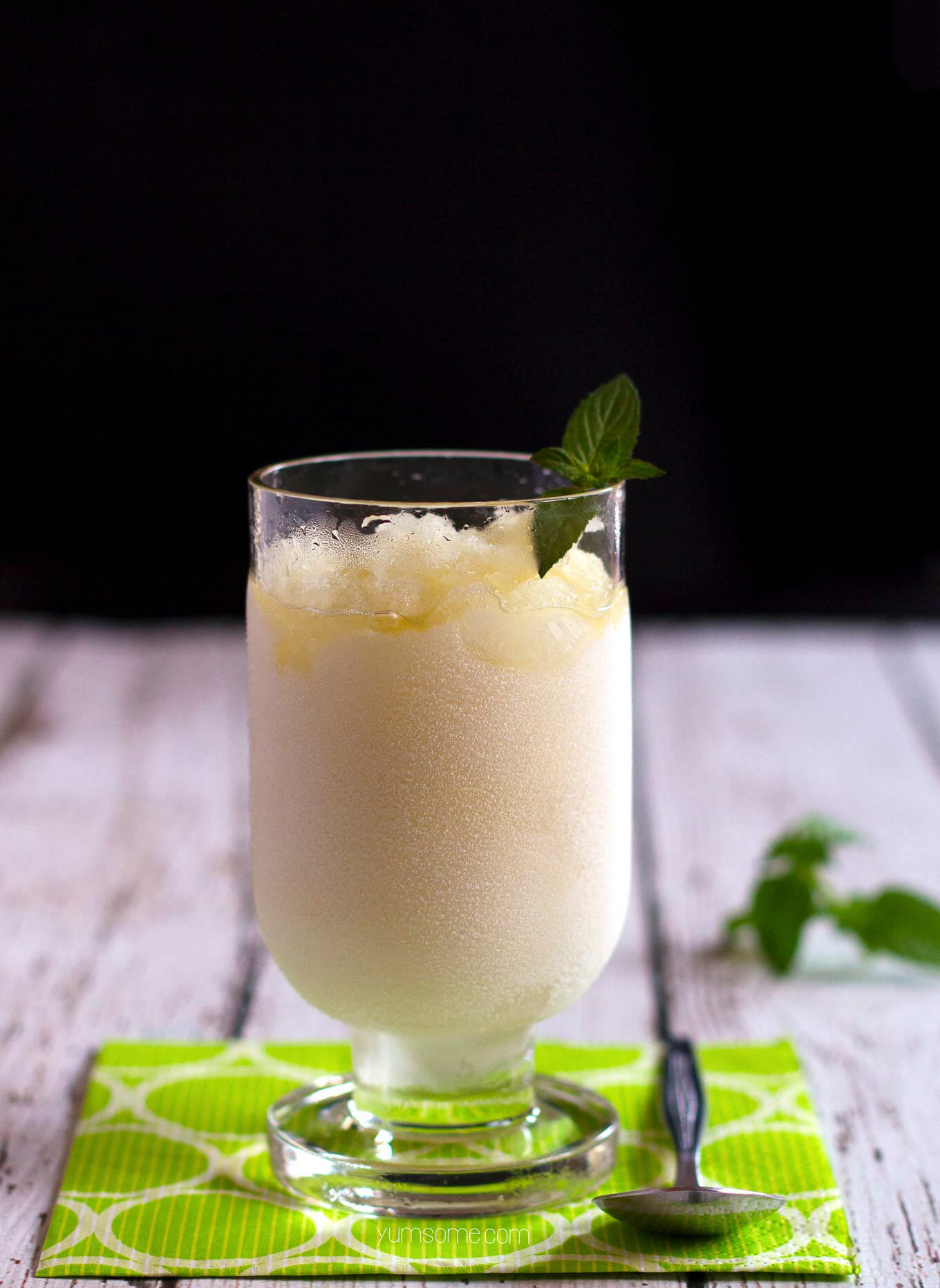 About three minutes' walk from our old apartment in Belgrade, there's a gelateria on Bulevar Kralja Aleksandra (King Alexander Boulevard), where they make and sell the most mouth-watering gelati I've had outside Italy.
One such gelato was a mojito-flavoured one, and honestly, were it vegan, I'd have been all over it like a cheap suit. Fortunately for my waistline, it was very firmly out of bounds. However, as the temperature continued to rise, my thoughts turned toward making something me-friendly that isn't banana ice cream.
My mojito sorbet was born!
My First Mojito
The first time I had a mojito wasn't in Cuba - it wasn't even in the Americas... it was in India!
It was actually a nojito, on account of there not being any rum in it (as I've spoken about before, alcohol is strictly controlled in Kerala). It was gorgeous; juices from sugarcane and limes, loads of mint (which would usually be strained out before the nojito arrived at the table, lest it clog up the straw), and topped up with club soda. And tons of ice, of course.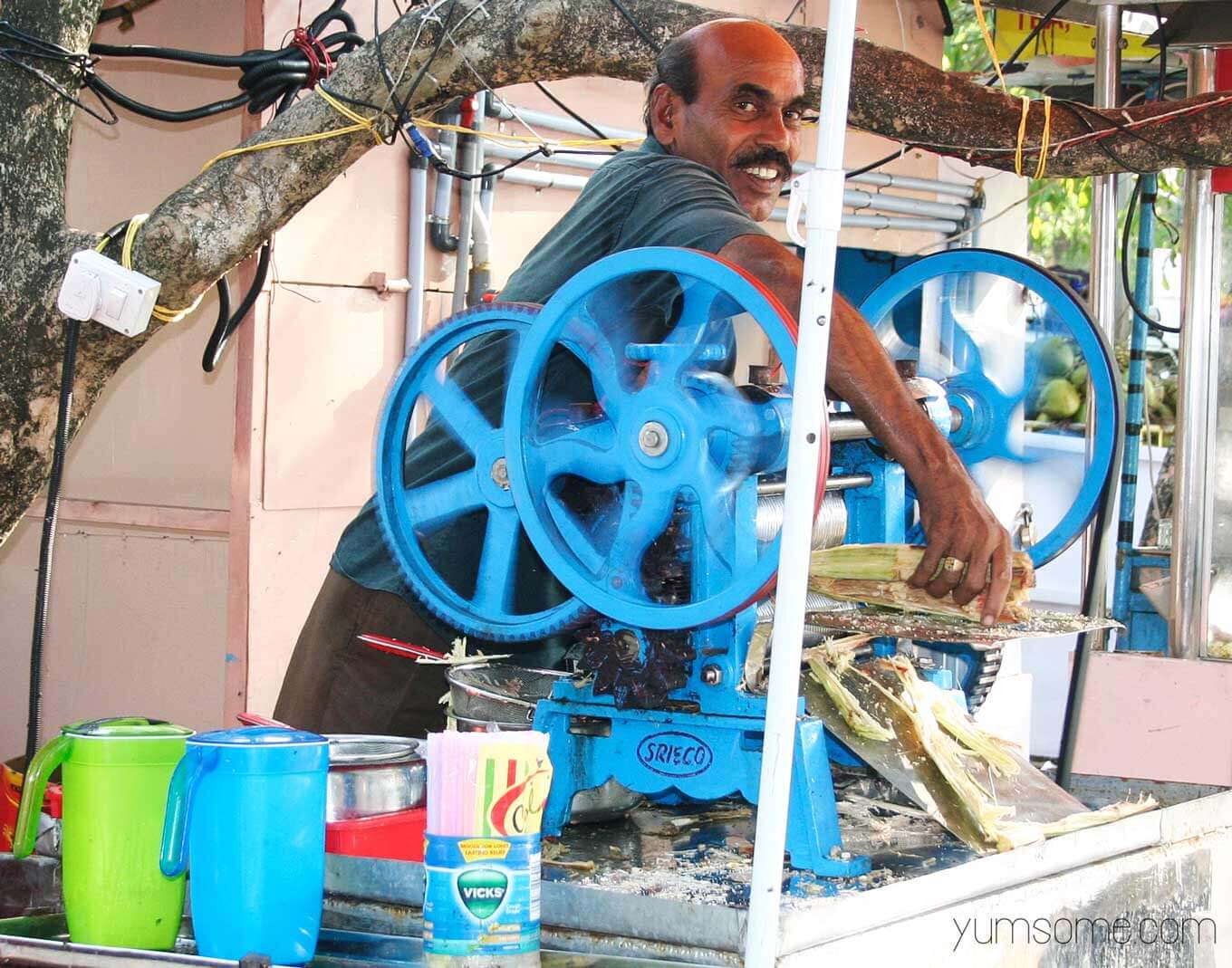 Although alcohol is freely available in Serbia, I wanted to make a non-alcoholic dessert - not least because amato mio is a lifelong teetotal. However, if you want to, there's nothing to stop you serving mojito sorbet with a slug of white rum drizzled over it.
¡Ay, caramba!
(Yeah, I know it's more Bart Simpson than Cuban but my Cuban only extends as far as knowing to ask your greengrocer for a frutabomba, and not a papaya!)
easy no-churn vegan mojito sorbet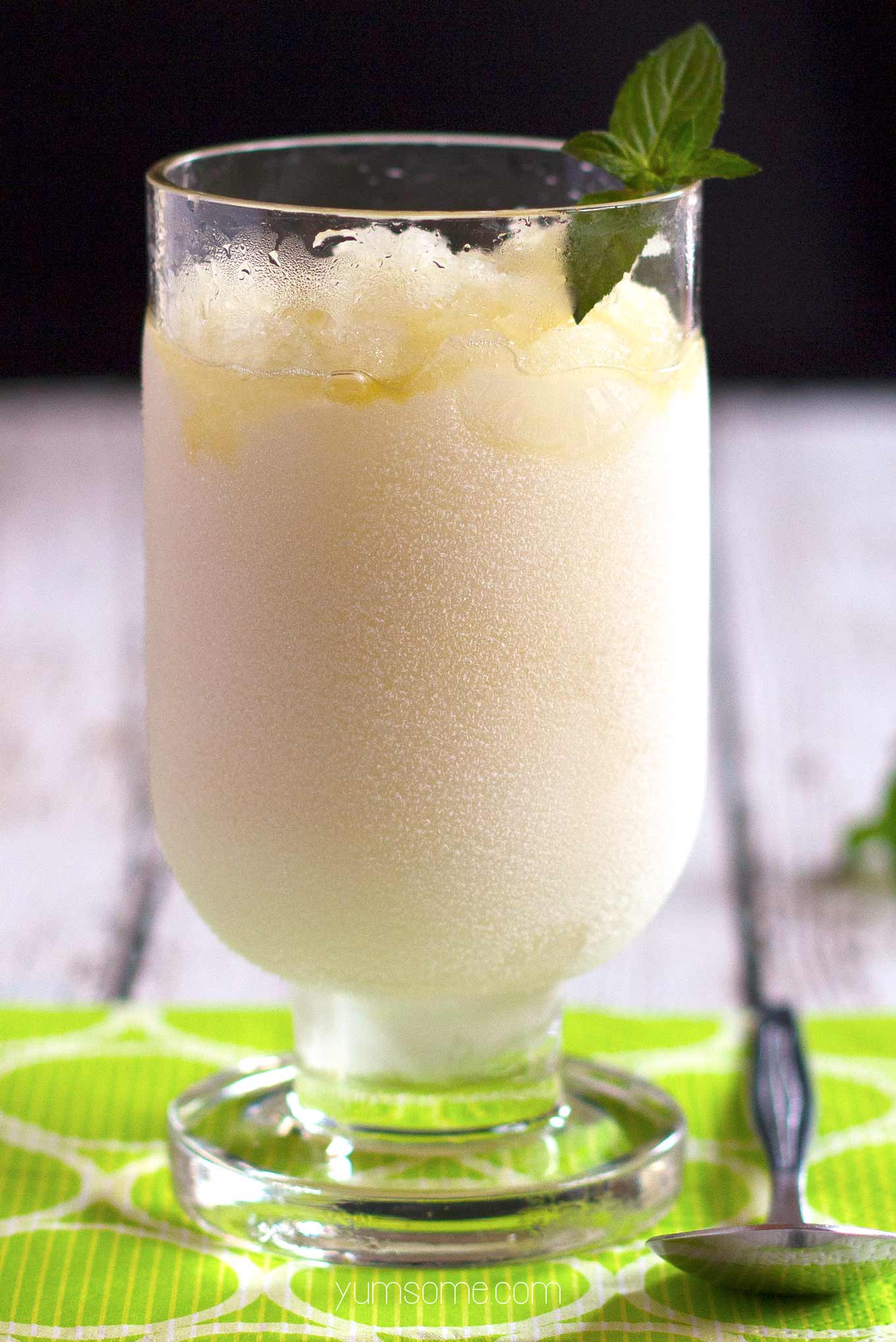 I've made enough sorbet, of all colours and flavours, to create the sorbet mountain of Europe, but I'd never dabbled in cocktail sorbets.
Until now.
Peeps, I have to tell you that this is what summer was invented for.
My vegan mojito sorbet
Is...
creamy
sweet
tangy
refreshing
dairy-free
soy-free
nut-free
gluten-free (duh!)(bandwagon, much?)(Eheheh.)
fat-free
Trust me, this needs to be a part of your summer repertoire.
And you know what other great Cuban export you need in the summer? Pérez Prado.
Dig those crayzeee sleeves, man!
Enjoy your mojito sorbet!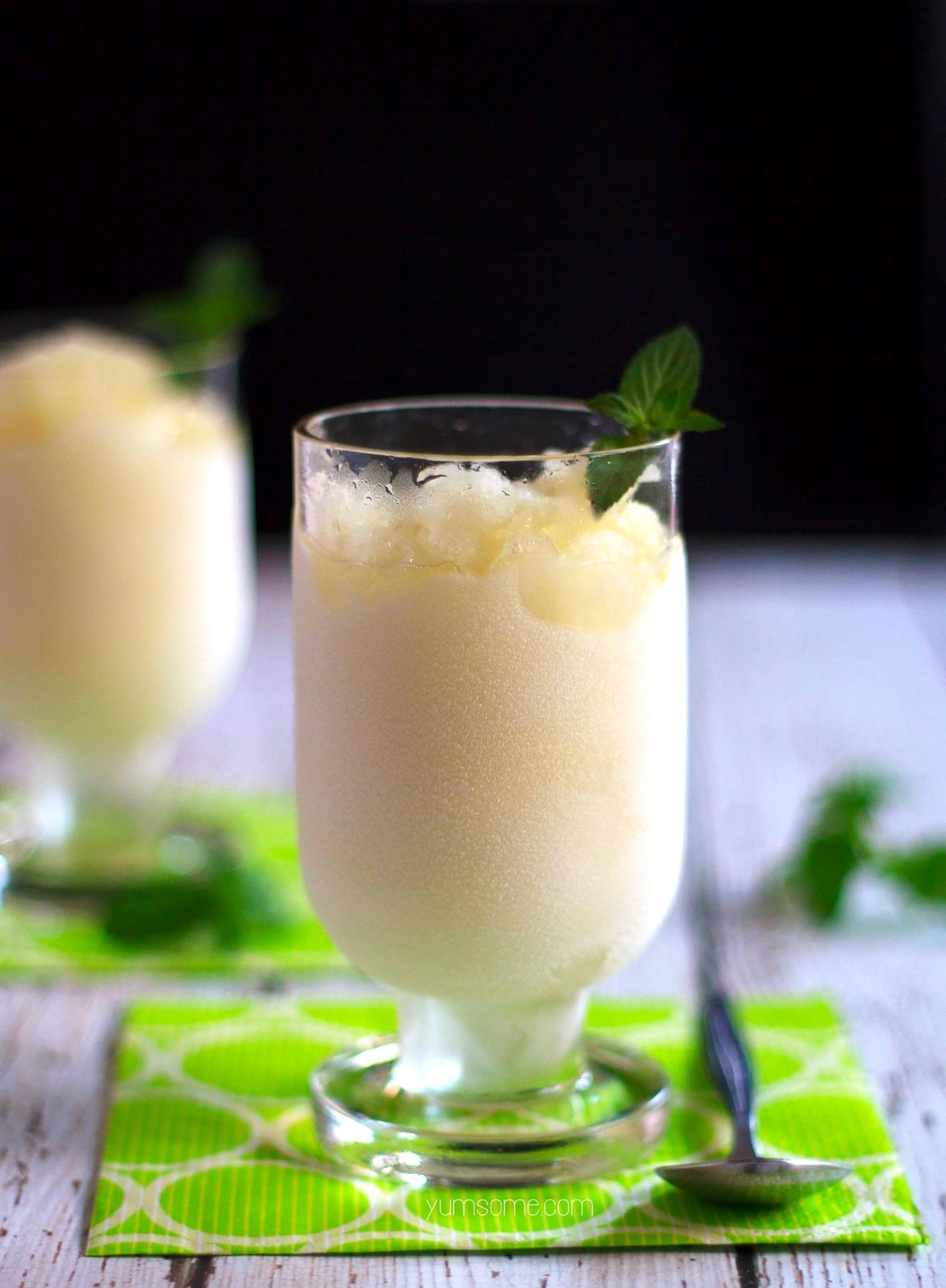 📖 Recipe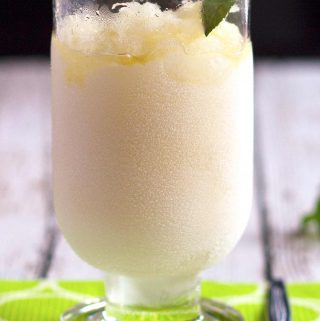 Easy No-Churn Mojito Sorbet
Sweet and tangy, my refreshing, easy no-churn vegan mojito sorbet is made with just five simple ingredients, requires no special equipment, and is the perfect way to cope with a hot and humid summer.
Print
Pin
Rate
Makes (slide to adjust):
15
Ingredients
500

ml

water

400

g

caster sugar

8

limes

(zest and juice)

50

g

fresh mint leaves, finely chopped
Optional equipment
Instructions
Place the sugar, water, and half of the lime zest into a heavy-based pan over a low heat.

Stir until the sugar has completely dissolved, and there is no grittiness.

Turn up the heat, and allow the syrup to boil for a minute or so, to thicken.

Add the rest of the zest, the lime juice, and the mint leaves.

Set aside to cool.

Once it's cooled, strain the liquid through a fine-meshed sieve, or piece of muslin, into a freezerproof container. Freeze for an hour.

Remove the sorbet from the freezer, and whisk to break up any ice crystals.

Return to the freezer, and whisk every half an hour or so, to prevent ice crystals forming. It should take around four to five hours to set properly.

Once set, remove from the freezer 10-15 mins before you want to serve.

If desired, drizzle a glug of white rum over the top when serving.
Notes
Caster sugar in the US is also known as bar sugar or superfine granulated sugar. If you don't have any, you can grind your own in a coffee or spice mill, or small food processor attachment. A blender might work too.
Prep and cook times do not include passive time for cooling and freezing.
Nutrition Facts
Easy No-Churn Mojito Sorbet
Amount Per Serving (100 g)
Calories 119
% Daily Value*
Sodium 3mg0%
Carbohydrates 30g10%
Vitamin A 300IU6%
Vitamin C 11.6mg14%
Calcium 20mg2%
Iron 1.1mg6%
* Percent Daily Values are based on a 2000 calorie diet.
Did you make this recipe?
Do mention @yums0me and/or tag #yums0me - I'd love to see how yours turned out!
Disclaimer
Measurements in parenthesis are approximate; it is beyond the scope of yumsome to be able to provide pinpoint-accurate ingredient quantities for every type of measuring utensil. As a guideline however, I make the assumption that:
1 cup = US cup = 240 ml
1 tablespoon = US/UK = 15 ml
1 fl oz = US = 30 ml
Further information may be found here
If you like this Easy No-Churn Mojito Sorbet recipe, you'll love these other summery dishes!