What could be better than vegan Nutella straight from the jar?
Apart from an intravenous drip. Duh.
Nutella liqueur, of course. Vegan 'Nutella' cream liqueur.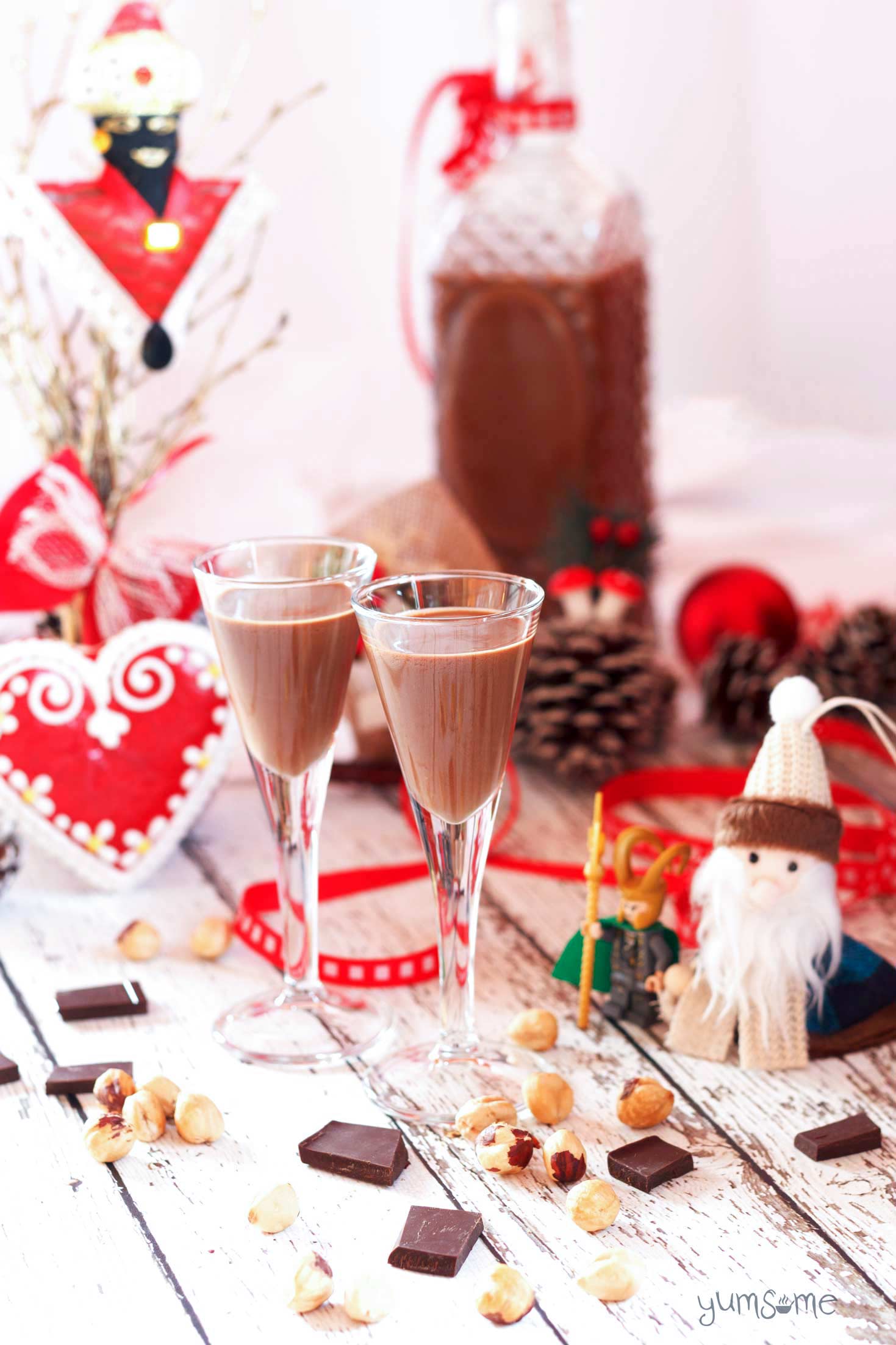 Or, more properly, vegan chocolate hazelnut cream liqueur.

Oh. My. Glob.
This post contains affiliate links. For more information, please see my privacy policy.
Vegan 'Nutella' Cream Liqueur Recipe
Guys, guys, this is amazeballs.
Who doesn't love cream liqueurs? Baileys, Amarula, Mozart Chocolate Cream.... But if you don't or can't have dairy, then there's a good chance you could be missing out at Christmas. Cream liqueurs just feel like an essential part of Christmas.
Unless, of course, you're not fond of them... in which case, why are you reading this post? 😉
How did I come up with this Nutella liqueur recipe?
When I first developed this recipe, I was making chocolate self-saucing pudding, and as I poured myself a drink, I began musing about the viability of making vegan chocolate liqueur.
From there, it was but a short step to grabbing a carton of rice cream from the 'fridge, having a play around with some of my chocolate hazelnut spread, and coming up with this, frankly, gorgeous vegan 'Nutella' cream liqueur.
Which vegan cream should you use?
I originally used rice cream, by the way, because back in 2016, I was living in Slovenia (as the Christmas decorations in the pics might suggest!), and rice cream was the only vegan cream I could find in the shops.
These days, having a couple of high speed blenders at my disposal, I sometimes make my own smooth cashew cream, adding more water to make it thinner. Or I use oat cream from... yes, you guessed it, my favourite oaty brand, Oatly!

(No, I'm not being sponsored or paid by Oatly to enthuse about the products - I'm just rather fond of 'em is all!)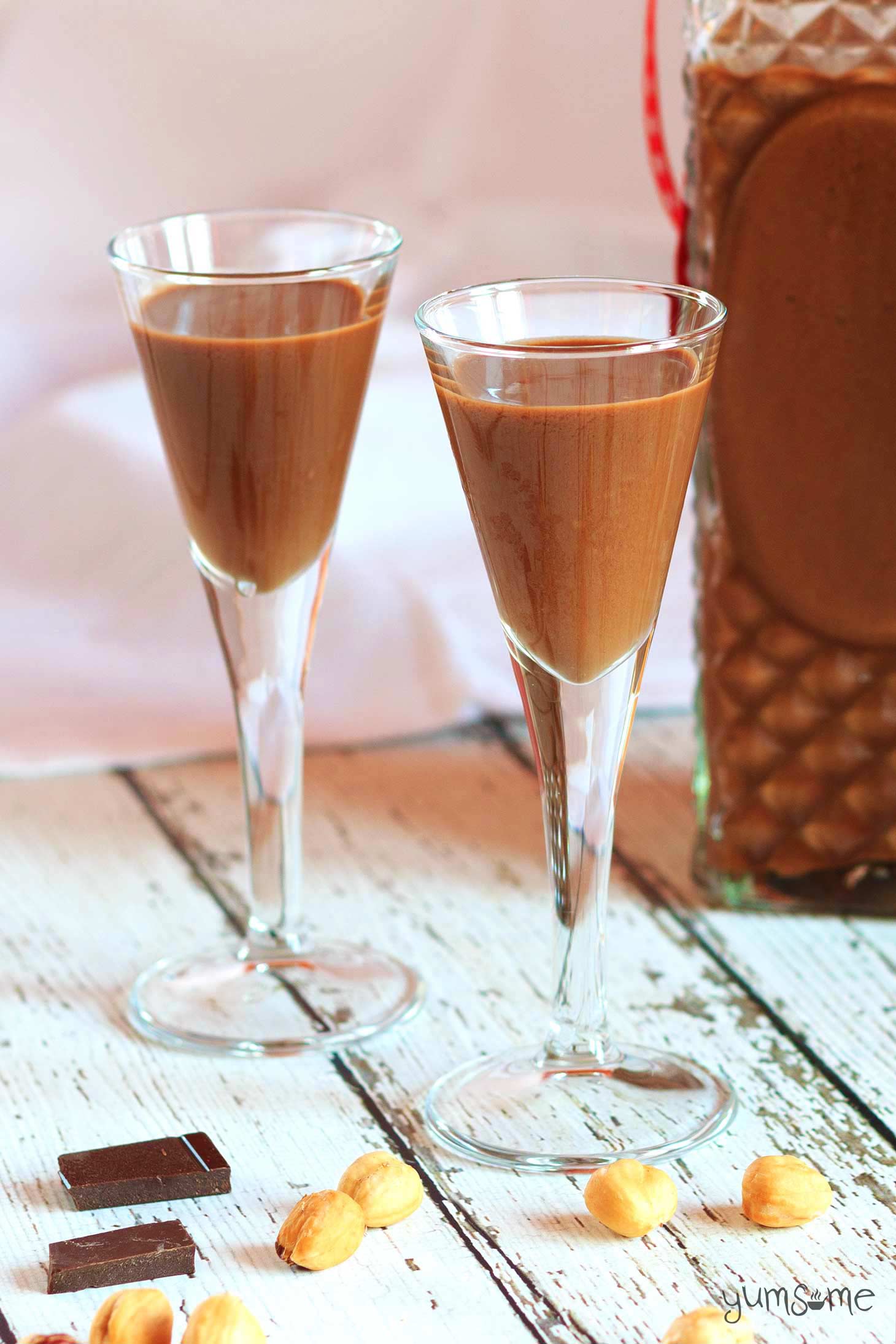 If you like my Vegan Nutella Cream Liqueur, do check out these other vegan Christmas recipes!
What do I need to make vegan 'Nutella' liqueur?
You only need a handful of easily-attainable ingredients to make my vegan 'Nutella' liqueur:
If you want to make sure that the vodka you use is vegan, you can check with
Barnivore
.
How to make vegan 'Nutella' cream liqueur
Easy-peasy! Simply melt together the vegan 'Nutella', chocolate, and sugar, then remove the pan from the heat, and whisk in the cream, and then the vodka.

After that, pour it into your mouth a sterilised bottle, and screw the cap on tightly. It'll keep in the 'fridge for up to a month, during which time it will settle a bit, so do make sure you shake the bottle well before pouring.
You'll love this vegan Nutella cream liqueur
Because it's...
boozy
chocolatey
creamy
dairy-free
soy-free
nut-free
gluten-free
delicious
more-ish
Christmassy
Assuming you have a degree of self-control, and don't just quaff it straight from the bottle (and no one would blame you if you did), this chocolate hazelnut liqueur is fantastic as a base for cocktails or poured over vanilla (n)ice cream. It's also pretty good drizzled over mince pies.
Indulgent, moi?
Whether you have it on its own, or as an accompaniment for other Christmassy noms, I'm pretty certain you'll fall head over heels in love with my vegan Nutella cream liqueur! Buon appetito!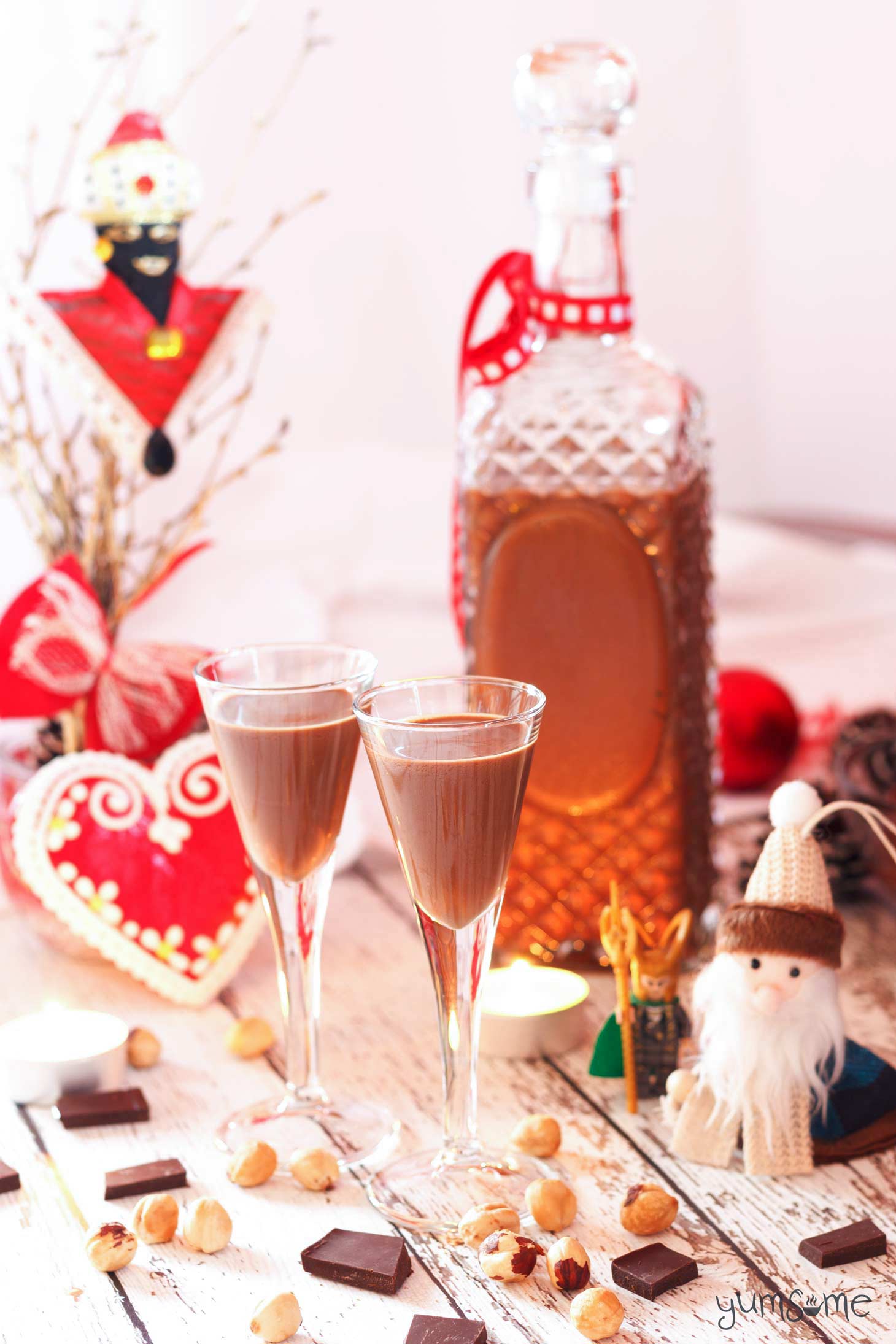 📖 Recipe
Vegan Nutella Cream Liqueur
Rich, creamy, and chocolatey, my vegan Nutella cream liqueur is the perfect Christmas tipple, and it's so easy to make, too!
Print
Pin
Rate
Makes (slide to adjust):
800
ml
Ingredients
100

g

60% dark chocolate

(65% cocoa solids)

50

g

sugar

500

ml

non-dairy single cream

(e.g. Oatly)

400

ml

vodka
Instructions
In a medium-large pan over a low heat, gently melt the chocolate hazelnut spread, dark chocolate, and sugar, stirring until the sugar has dissolved.

Turn off the heat, and whisk in the vegan cream.

Whisk in the vodka.

Pour into a sterilised bottle, cap, and store in the fridge for up to a month - assuming it will be around that long.

Shake well before using.
Nutrition Facts
Vegan Nutella Cream Liqueur
Amount Per Serving (1 shot (c.50 ml))
Calories 185
Calories from Fat 81
% Daily Value*
Fat 9g14%
Sodium 41mg2%
Carbohydrates 10g3%
Protein 4g8%
Vitamin A 5.69IU0%
Calcium 8.7mg1%
Iron 0.59mg3%
* Percent Daily Values are based on a 2000 calorie diet.
Did you make this recipe?
Do mention @yums0me and/or tag #yums0me - I'd love to see how yours turned out!
Disclaimer
Measurements in parenthesis are approximate; it is beyond the scope of yumsome to be able to provide pinpoint-accurate ingredient quantities for every type of measuring utensil. As a guideline however, I make the assumption that:
1 cup = US cup = 240 ml
1 tablespoon = US/UK = 15 ml
1 fl oz = US = 30 ml
Further information may be found here