Pico de gallo, or salsa fresca, is a wonderfully refreshing, crisp mix of chopped onion, tomato, coriander (cilantro), and fresh chillis, dressed with salt and lime juice.
It's the perfect complement to heavier dishes, such as my chocolate chilli, loaded nachos, tacos, fajitas, etc. One of my favourite go-to snacks is to have it on its own with plain nacho chips. Yum!
In Mexico, salsa fresca is known as pico de gallo, which literally translates as beak of rooster, or rooster's beak. I know not why the Mexicans call it that - possibly because it's a bit on the sharp side?
I'm aware that some folk claim that it's because people used to eat with their fingers, so the motion of plucking salsa from the bowl resembles a bird pecking at their food. I'm not buying that though, it sounds completely implausible!
And wouldn't it apply to all foods eaten with the fingers, not just this salsa?
Someone once told me that the spiciness of the chilli is like a chicken pecking your tongue... I have to wonder what kind of relationship he had with his chickens.
**shocked face**
I'm inclined to think that it's more of a play on words though; picante means hot or spicy, and so I suspect that because like a chicken, spicy food can give you a bit of a nip, this salsa was likened to said avian.
Picante, pico... makes sense to me.
If you know for sure though, do leave a comment, please.
Some people like the ingredients for their pico de gallo to be minced quite finely but I prefer mine rather more chunky. Plus, being perfectly honest, it's much quicker to make that way.
Yay for lazy salsa-making.
Hey, aren't we always being told we need to save energy?
What do you mean, not *that* kind of energy?
Oh, fine. 😉
If you'd rather mince, go right ahead - don't let me stop you!
By the way, plum tomatoes (aka Roma) are less watery than other varieties, and, in my not-so-humble opinion, make a better pico de gallo for use with chips. But if you can't get them, just use whatever tomatoes you like.
As long as they're fresh, and not from a tin. Duh.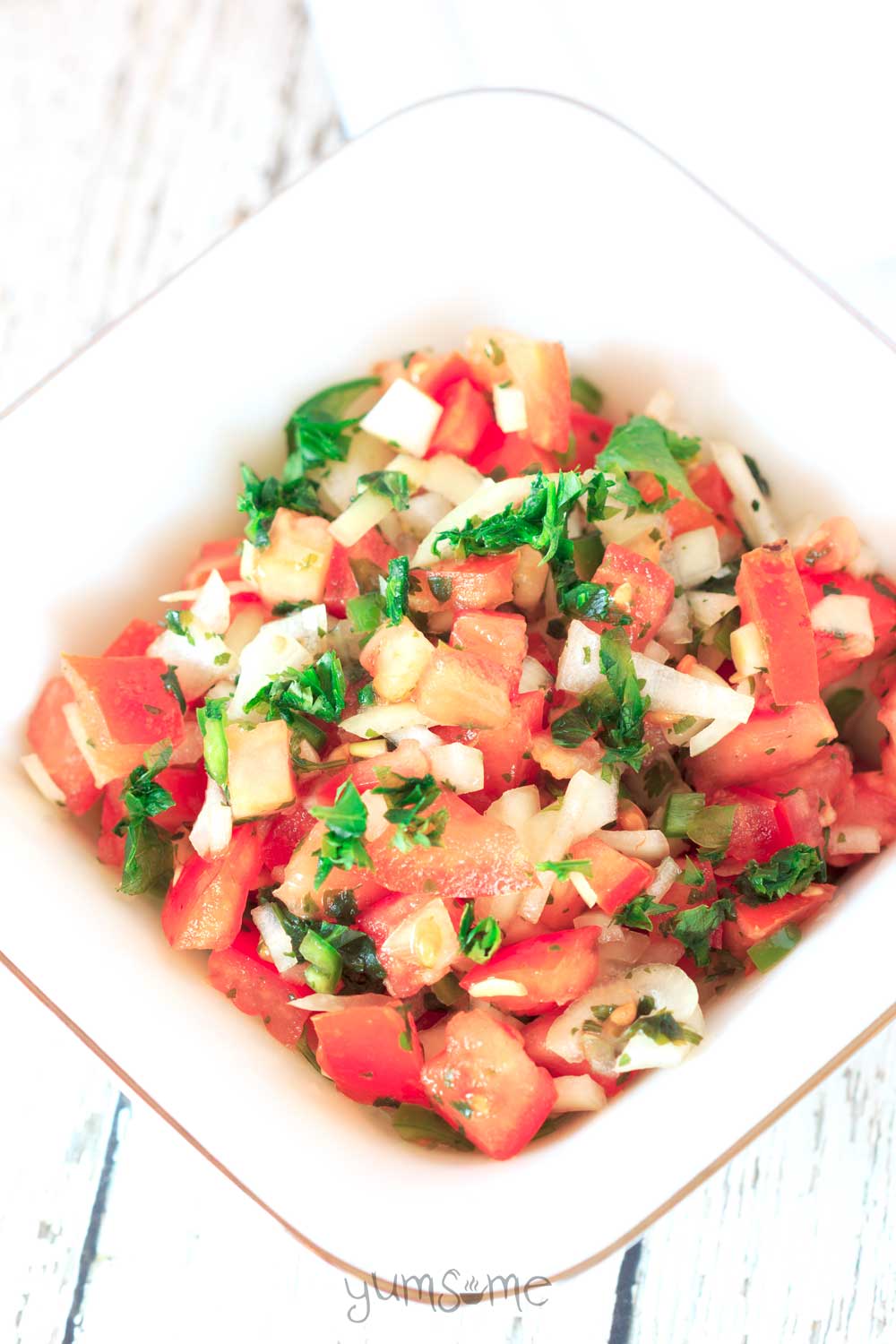 Refreshingly Simple Pico de Gallo
Is...
slightly sweet
slightly tart
slightly spicy
crisp
fresh-tasting
ridiculously easy to make
full of Vitamins A (19% RDV) & C (51% RDV)
low in fat & calories
high in flavour
Whether you have this as a simple appetiser with nacho chips, as a side, or as part of a larger main course, I'm certain that you'll love it. And because it's so quick and easy to make, it's an ideal way to add some zing to weekday meals too.
Buen provecho!
How would you eat pico de gallo?
📖 Recipe
Refreshingly Simple Pico de Gallo
This refreshingly simple pico de gallo perfectly balances the sweetness of tomatoes and onions with the heat of chilli, and the sharpness of lime.
Print
Rate
Makes (slide to adjust):
4
servings
Ingredients
2

large plum tomatoes

finely chopped

1

medium onion

finely chopped

1

large jalapeño chilli

finely chopped

Small bunch fresh coriander

cilantro, finely chopped

1

lime

zest and juice

Dash

sea salt
Instructions
Add everything, barring the salt, to a large bowl, and mix together.

Taste, and season with salt.

Either serve immediately, or cover with cling film, and place in the 'fridge for a couple of hours.
Notes
I don't generally remove the seeds and pith from chillies, as I believe they add to the flavour, so if I don't want the heat, I just use less chilli. It's up to you though - if you're in favour of removing the innards, go right ahead!
Nutrition Facts
Refreshingly Simple Pico de Gallo
Amount Per Serving
Calories 32
% Daily Value*
Sodium 43mg2%
Carbohydrates 7g2%
Protein 1g2%
* Percent Daily Values are based on a 2000 calorie diet.
Did you make this recipe?
Do mention @yums0me and/or tag #yums0me - I'd love to see how yours turned out!
Disclaimer
Measurements in parenthesis are approximate; it is beyond the scope of yumsome to be able to provide pinpoint-accurate ingredient quantities for every type of measuring utensil. As a guideline however, I make the assumption that:
1 cup = US cup = 240 ml
1 tablespoon = US/UK = 15 ml
1 fl oz = US = 30 ml
Further information may be found here
If you like my Refreshingly Simple Pico de Gallo recipe, do check out my other spicy yums!