At under 100 calories per glass, and with its zingy citrus kick, my quick and easy mango and lime lassi is creamy, tangy, and fruity, and whizzed up in a jiffy. It's the perfect accompaniment to any Indian meal!
Mango lassi
If you've been to Indian restaurants, and enjoyed a lassi or two, you know how well they go with some of the more fiery curries, and how well they cool the palate; however, even if you tend to stick with mild dishes, such as palak paneer or aloo gobi masala, a smooth and creamy lassi still works really well.
The trouble with lassi though, especially mango lassi, is that it slips down far too easily. I don't know about you but if I order one before my meal, by the time the food arrives, my glass is empty!
It was the same with milkshakes when I was a child - so much so that my grandparents eventually refused to let me order a shake until I'd finished my meal.
I think this is further proof that I haven't really got the hang of adulting yet.
When we lived in Fort Kochi, Amato Mio drank his bodyweight in mango lassi, not least because they were always made with mangoes straight from the tree, and therefore lacked that slight powdery texture you sometimes get in lassi made here in Britain.
Of course, since I make Indian food at home at least once a week, mango lassi is something that happens quite often in the yumsome kitchen.
BTW, you don't have to have this lassi with an Indian meal to enjoy it - it's just as fab on its own for breakfast or an afternoon pick-me-up to get over the three o'clock slump! And it's great way to cool down on a hot summer's day... not that I've experienced such a thing in Britain for almost a decade. 😉
Enjoy!
📖 Recipe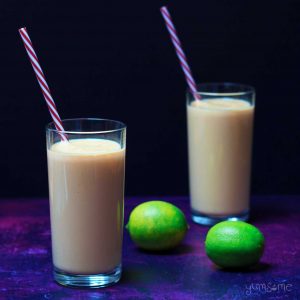 Quick And Easy Mango And Lime Lassi
My quick and easy mango and lime lassi is creamy, tangy, and fruity, whizzed up in a jiffy, and is perfect to have with Indian meals, or as a deliciously filling breakfast or snack.
Print
Rate
Makes (slide to adjust):
6
servings
Ingredients
750

g

mango flesh

(or 3 cups pulp/purée)

500

g

your favourite plain yoghurt

A handful of ice cubes

Juice of 3 limes

, c.6 tablespoon (note 1)

Dash

sea salt
Optional:
2

tablespoon

jaggery

, or sweetener of choice
Instructions
Dump everything into your high speed blender, and either choose the smoothie function, or blend on full power for 50 seconds, and serve immediately.

This mango and lime lassi can be kept in an airtight jar or bottle in the fridge for a couple of days.
Notes
If you roll the limes between your palm and a hard surface for around 30 seconds before cutting into them, it makes them give up their juice more readily. You'll know you've rolled them enough when you can feel that the fruits are much softer. Depending on the firmness and ripeness of your limes, you may have to press down quite firmly when rolling.
Nutritional information does not include any sugar or sweetener, as I have no way of knowing which, and how much you may use.
Nutrition Facts
Quick And Easy Mango And Lime Lassi
Amount Per Serving
Calories 98
Calories from Fat 18
% Daily Value*
Fat 2g3%
Sodium 109mg5%
Carbohydrates 17g6%
Protein 4g8%
* Percent Daily Values are based on a 2000 calorie diet.
Did you make this recipe?
Do mention @yums0me and/or tag #yums0me - I'd love to see how yours turned out!
Disclaimer
Measurements in parenthesis are approximate; it is beyond the scope of yumsome to be able to provide pinpoint-accurate ingredient quantities for every type of measuring utensil. As a guideline however, I make the assumption that:
1 cup = US cup = 240 ml
1 tablespoon = US/UK = 15 ml
1 fl oz = US = 30 ml
Further information may be found here