Chocolatey and rich, moist and fudgy, made with only 10 ingredients; my perfect vegan brownies are ready in just 40 minutes, and are everything a great brownie should be!
My quest for perfect vegan brownies has been ongoing for a few years now; I have made so many, and while most have not been disasters, there have nevertheless been few that I've been really, really happy with. The two recipes I've previously published on yumsome have been super-yummy… but they're far from being traditional brownies.
That's about to change.
Like, now.
Peeps, this is it – perfect vegan brownies. No weird ingredients. No pretence of being healthy or good for you. Just proper, delicious, honest-to-goodness brownies. Which happen to be vegan.
These are so filling that I actually made them a when we were living in Serbia, to keep us going during a road trip to Romania; the plan was that in case we had difficulty finding vegan food while on the road, we'd at least have yummy snacks to keep the wolf from the door.
By the way, speaking of wolves, look at these 'ferocious' Romanian border control guards... soppy pair!
And while still on the subject of animals we saw, we discovered that Romanian villages are full of storks and their nests, such as these ones on a telegraph pole outside a church. Cool, eh?
Unfortunately, I only took half a batch of brownies with us. Even more unfortunate was that we sort of ended up backing into a ditch, while looking for somewhere to stop to have a picnic.
Right. By. A. Risk. Of. Accidents. Sign.
Oops.
Fortunately for us, while Western Romanian roads are pretty empty (outside Timişoara, we hardly saw any traffic during the whole weekend - plenty of hitchhikers and horses and carts though)...
... there was a Hungarian man and woman in a lay-by, close to where we'd stopped, who, as well as towing us out, also very kindly gave us some plums and a couple of bunches of grapes that they'd just picked at their uncle's farm.
The grapes were the sweetest I've ever had in my life. And the freshest too.
We would have loved to share to our brownies with our saviours… but we'd nommed them all the day before. Yes, we felt pretty bad about it (kind of). I hope though, that we did at least provide them with a suitably entertaining story to regale their friends and relatives with on their return to Hungary.
On the plus side, the rest of the brownies were waiting for us when we got back to Belgrade.
Omnomnom.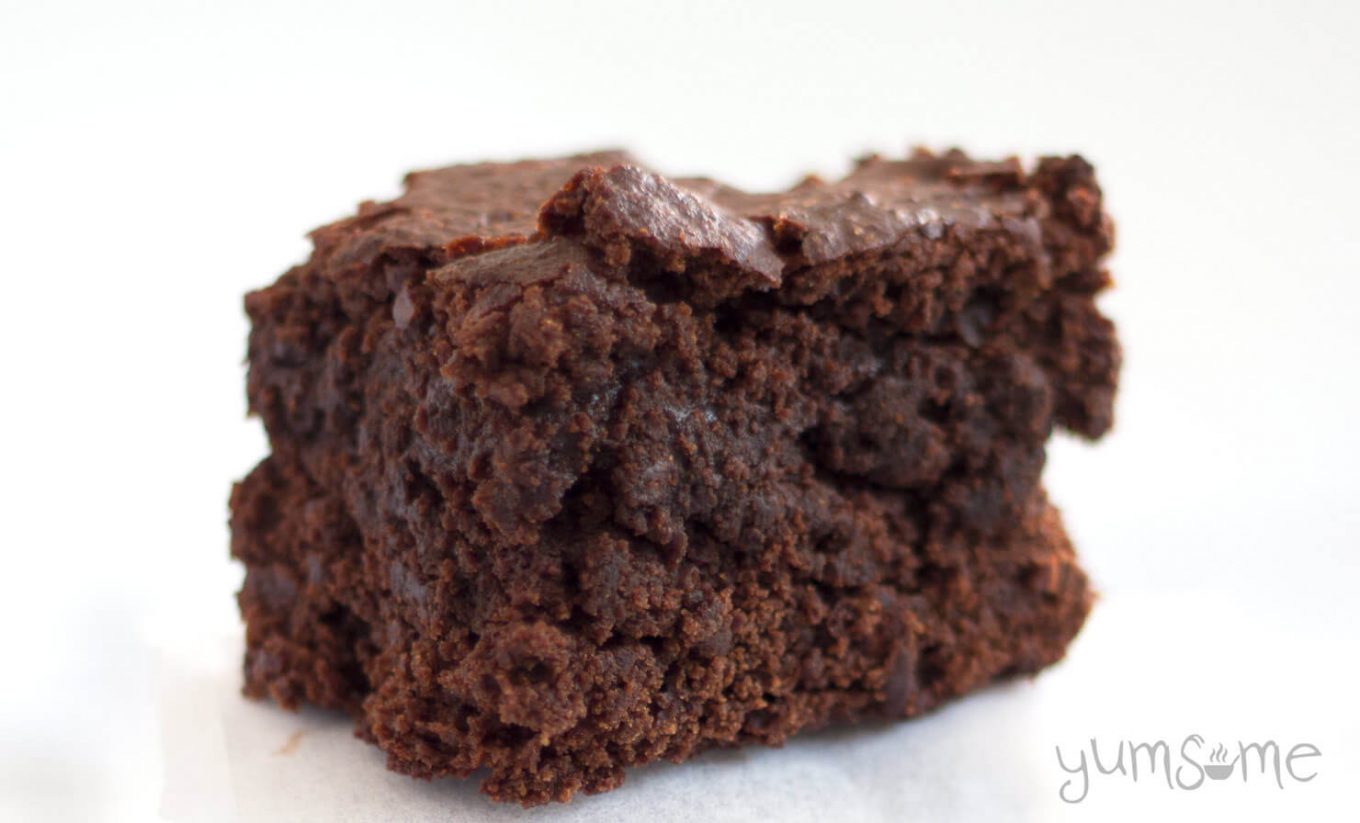 My Perfect Vegan Brownies
Are...
moist
fudgy
chocolatey
rich
sweet
delicious
simple to make
more-ish
filling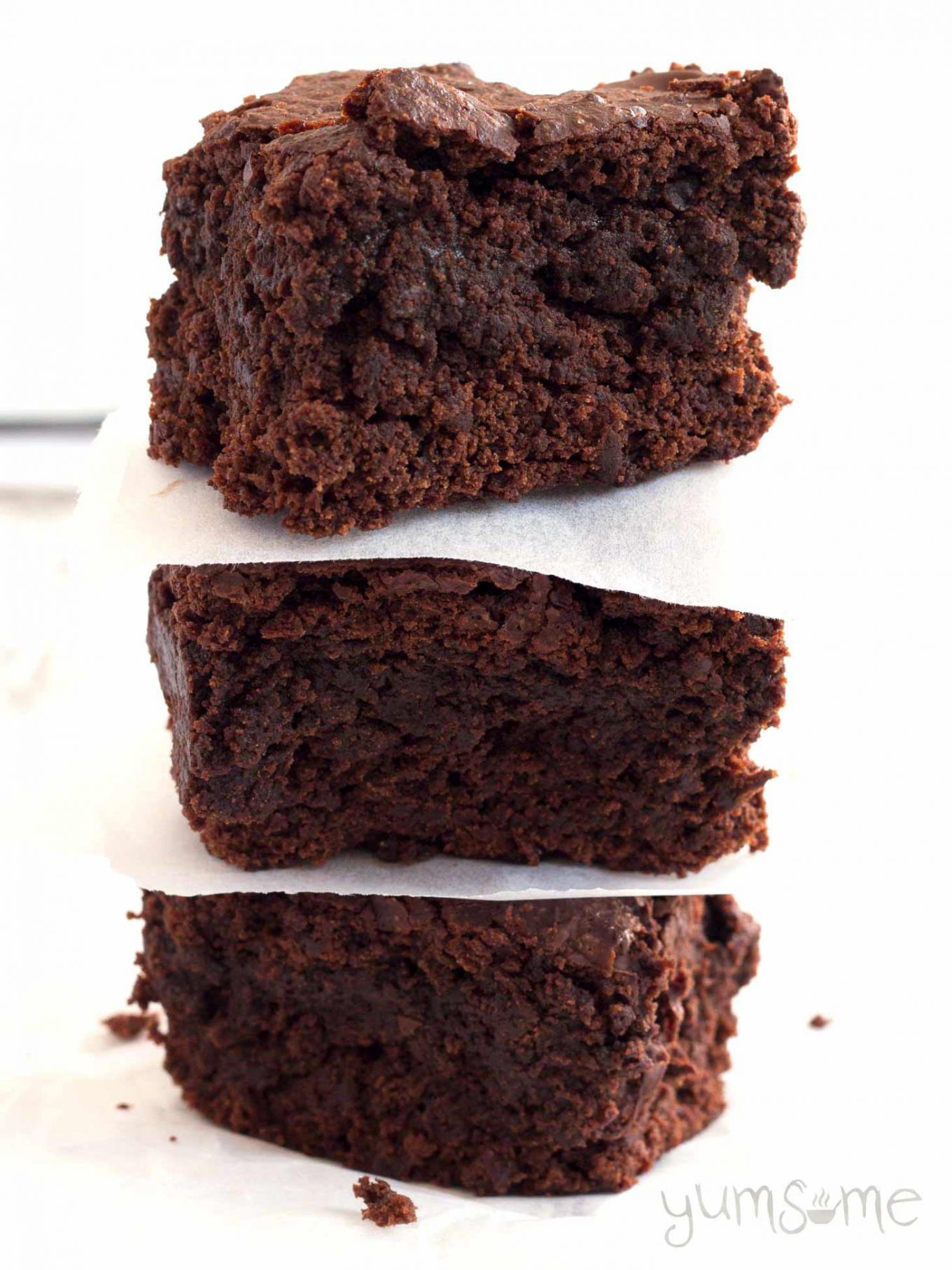 By the way, these are wonderful while still warm but honestly, I really would advise leaving them for a day in an airtight container before tucking in – that way they'll be even more fudgy. And if you can resist the temptation to have them for breakfast, lunch, and dinner(!), they'll stay perfectly moist for around a week.
Enjoy!
Tell me about your favourite brownies!
📖 Recipe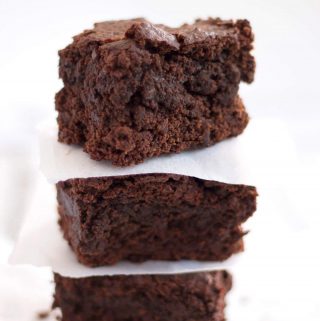 Perfect Vegan Brownies
Chocolatey and rich, moist and fudgy, and made with only 10 ingredients, my perfect vegan brownies are ready in just 40 minutes.
Print
Pin
Rate
Makes (slide to adjust):
18
brownies
Ingredients
200

g

60% dark chocolate

broken into chunks

150

g

vegan margarine

(eg Vitalite, Flora)

150

ml

plant milk

350

g

plain/all-purpose flour

100

g

cocoa powder

500

g

caster sugar 

(note 1)

2

tablespoon

ground flaxseed

¾

teaspoon

baking soda 

(note 2)

½

teaspoon

sea salt

6

tablespoon

water

3

tablespoon

aquafaba

(note 3)
Instructions
Heat your oven to 180°C (350°F/gas mark 4), and line an 18cm x 28cm (7" x 11")

oven dish

 or

brownie pan

with parchment paper.

Over a low heat, melt 150g chocolate and the vegan margarine in a medium-sized

saucepan

.

Once melted, whisk in the plant milk, until it's fully incorporated.

Mix together the flour, cocoa, sugar, ground flax seed, baking soda, and sea salt in a large bowl.

Add the chocolate mixture, water, and aquafaba to the dry ingredients, and mix well, until everything is incorporated, and you have a stiff batter. Add the rest of the chocolate. (I use a

stand mixer

.)

Tip the batter into your prepared oven dish.

Smooth the top with a wet spatula, so that it's even (or use the back of a large spoon).

Bake in the centre of the oven for 30 mins. The top will be firm but the centre will still be a bit gooey – this is intentional!

Leave the brownies to cool in the tray, then cut into 18 pieces. 

Store in an airtight container at room temperature for up to a week.
Notes
If you don't have caster sugar (sometimes called bar sugar or superfine granulated), you can make your own by whizzing normal granulated sugar in a food processor. The aim is have it somewhere between granulated and powdered.
Or use ½ teaspoon baking powder + ¼ teaspoon bicarbonate of soda instead of baking soda.
Re. thick aquafaba (AF): I find that butter beans yield the best AF, in terms of viscosity; however, if you only have thin AF, you can make it thicker it by rapidly boiling, in order to reduce it down.
Nutrition Facts
Perfect Vegan Brownies
Amount Per Serving (1 brownie)
Calories 295
Calories from Fat 99
% Daily Value*
Fat 11g17%
Sodium 196mg8%
Carbohydrates 47g16%
Protein 4g8%
* Percent Daily Values are based on a 2000 calorie diet.
Did you make this recipe?
Do mention @yums0me and/or tag #yums0me - I'd love to see how yours turned out!
Disclaimer
Measurements in parenthesis are approximate; it is beyond the scope of yumsome to be able to provide pinpoint-accurate ingredient quantities for every type of measuring utensil. As a guideline however, I make the assumption that:
1 cup = US cup = 240 ml
1 tablespoon = US/UK = 15 ml
1 fl oz = US = 30 ml
Further information may be found here
If you like my Perfect Vegan Brownies recipe, check out these choccy yums!