Deliciously creamy, super-easy to make, and ready in just 40 minutes, my vegan corn chowder is ideal for anyone avoiding dairy. It's also gluten-free, nut-free, and soy-free, and you can use your favourite plant milk. It's the perfect soup for everyone!
This post contains affiliate links. For more information, please see my privacy policy.
As soon as the weather warms up, I get lots of corn on the cob in my veg bag, and it always takes me back to when we were living in Transylvania; we had so much sweetcorn, we couldn't keep up! I really enjoy corn on the cob, especially grilled on the barbecue, but I really don't want to be eating it 'till it comes out of my ears.
Our freezer in Băița was tiny, so I froze some of the corn, and made a lot of soup (mostly Asian) with the rest. This simple vegan corn chowder was one I experimented with - a lot - and have made many, many times since. It never fails to remind me of those halcyon days in our Transylvanian village!
Is fresh or frozen corn best?
Although you can use fresh sweetcorn to make chowder, frozen is much quicker and far more convenient. You can use fresh if you'd prefer, though. Or even canned.
By using frozen sweetcorn in this easy corn chowder, you can enjoy those sweetly succulent little golden gems in a jiffy. No spending time removing fresh corn from the cob (and cleaning rogue kernels from every nook and cranny in your home for months to come), just chuck the corn into a pan with a handful of other ingredients, and voilà - corn chowder on the table 40 minutes later!
What is corn chowder?
American readers, you probably know this but a lot of my British readers may not. You can just go ahead, and skip the next few paragraphs!
The name, chowder, is most likely a corruption of chaudrée - a hearty fish soup from the west coast of France. I've always been under the impression that a chowder is simply a thick soup, made with milk or cream, and often containing seafood; however, I've recently been told that it's generally thickened with ground up or crushed crackers. A quick check of Wikipedia tells me that hardtack (ship's biscuits) was traditionally used, which would be entirely in keeping with the soup being made with fish or seafood. I'm not convinced though, that the dairy element is traditional to anyone but landlubbers, so I'm assuming that at sea, chowder would be made with some kind of fish stock or broth.
Corn chowder originates from New England, and to my knowledge, first appeared in a Boston cookbook in the late 19th century. The recipe included potatoes and salted pork, as well as crackers. Whether the crackers were added for a bit of bulk or because making a roux to thicken soups and stews wasn't a thing in New England, I don't know. Or maybe people just took the seafaring recipe, and made it at home, hence the crackers. By the beginning of the 20th century, dairy - in the form of butter and cream - had become popular additions. Naturally, this being vegan corn chowder, there's no dairy, fish, nor pork. (Ever one to state the obvious, me!)
BTW, I am in no way making any claims as to the authenticity of this chowder; it's something I had a few times in restaurants many years ago, and so based my recipe on what I remember of it. If this offends any of my American readers... just consider it payback for all the crimes your people have committed against Thai and Italian foods. Ha ha! 😉
#sorrynotsorry
Making chowder
The secret to this soup is to make a soffritto first, so your vegetable broth becomes infused with even more flavour, then once the chowder is cooked, blend some until smooth and creamy, and return to the pan, before adding the milk and corn. Making chowder this way means you get all the thickness, and creamy-tasting goodness, without the added fat and calorie load of using a ton of cream and butter.
I use Oatly for this chowder because it's really creamy. The barista (grey carton) or original whole (blue carton) are the best ones. Occasionally we have a dearth of Oatly around here, so I'll use unsweetened soy milk, or my home-made cashew milk. Oatly is my first choice, though.
I like to add a sprinkling of smoked paprika when serving but this is entirely optional; gochugaru (Korean chilli flakes) works very well too, as does sweet or hot paprika. You don't have to put extra corn kernels and parsley on top but I think it looks nice, and a bit more appetising than plain corn chowder. Plus, the parsley gives a little more of a flavour hit.
Although this really could be a meal in its own right, I like to have it with a hunk of fresh crusty bread. Because carbs are everything, right?
Enjoy!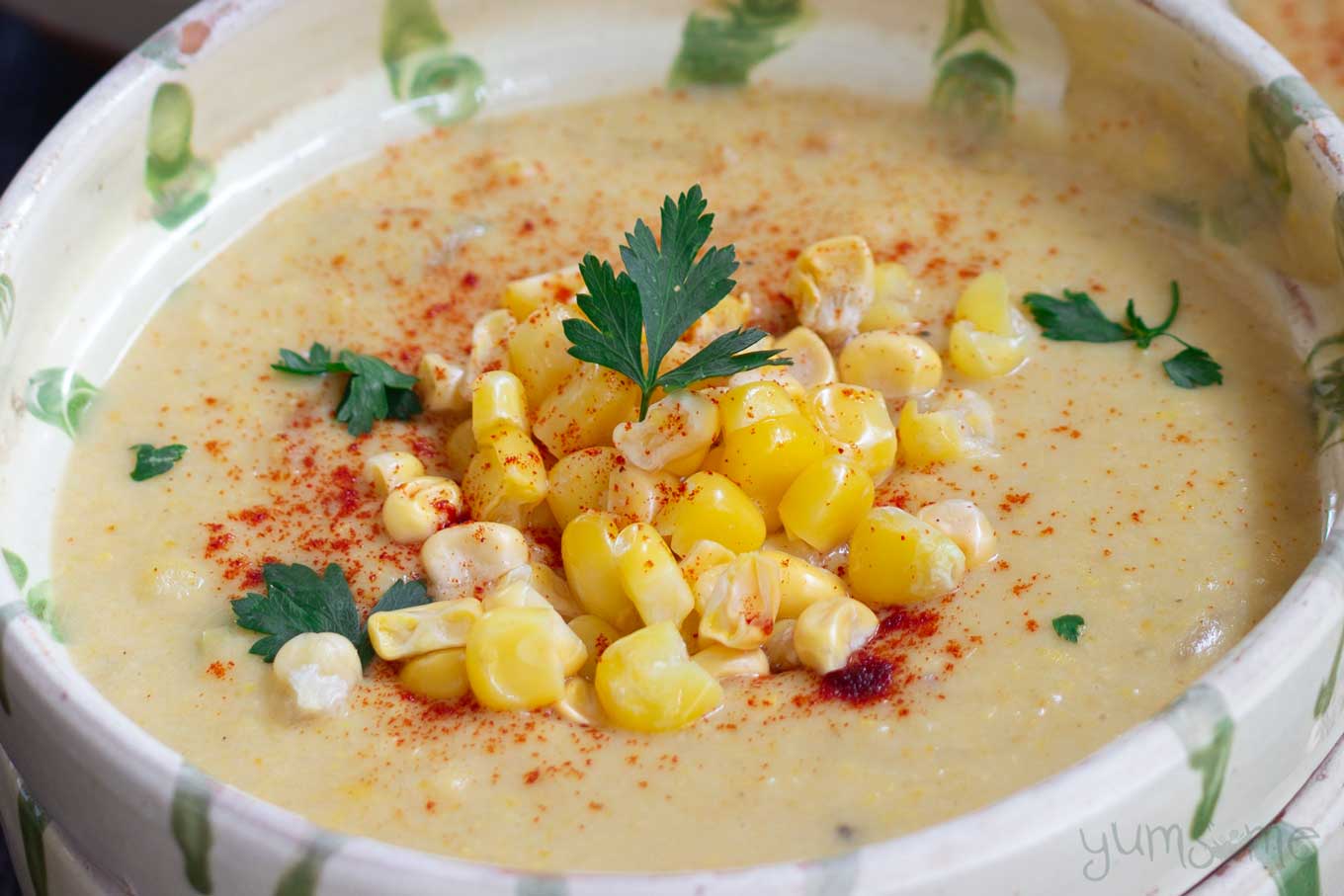 📖 Recipe
Easy Vegan Corn Chowder
Deliciously creamy, super-easy to make, and ready in just 40 minutes, my vegan corn chowder is ideal for anyone avoiding dairy. It's also gluten-free, nut-free, and soy-free, and you can use your favourite plant milk. It's the perfect autumn soup for everyone!
Print
Pin
Rate
Makes (slide to adjust):
4
Ingredients
Instructions
Make the soffritto
Heat the oil in a large heavy-bottomed pan, and fry the onion over a medium heat for a few minutes, until it begins to turn translucent.

Add the celery, carrot, bay, and rosemary, and continue to fry for another 5-7 mins, until the carrot starts to soften.

Add the garlic, and fry for another couple of minutes, until the raw garlic smell has gone.

Turn the heat down to low, give everything a good stir, then gently cook for another 5 minutes.

Season the soffritto with the smoked sea salt and white pepper.
Make the rest of the chowder
Remove the bay and rosemary, and add the vegetable broth and potatoes to the pan. Stir well, cover, raise the heat, and bring to the boil.

Once boiling, reduce the heat to medium, and cook for 15 mins or so, until the potatoes are soft.

Place half of the soup into a blender jar, along with half of the sweetcorn. Blend until smooth and creamy. Return to the pan.

Add the rest of the sweetcorn and the oat milk, stir well, and warm through for 5 mins or so.

Serve into bowls, topped with a few extra corn kernels, a sprinkling of paprika, and a few torn parsley leaves.

Leftovers may be kept in an airtight container in the fridge for 3-4 days. Freeze the chowder before adding plant milk - that should be added in when reheating.
Nutrition Facts
Easy Vegan Corn Chowder
Amount Per Serving (1 portion)
Calories 314
Calories from Fat 99
% Daily Value*
Fat 11g17%
Sodium 200mg8%
Potassium 686mg20%
Carbohydrates 43g14%
Protein 6g12%
Vitamin A 987IU20%
Vitamin C 17mg21%
Calcium 119mg12%
Iron 1mg6%
* Percent Daily Values are based on a 2000 calorie diet.
Did you make this recipe?
Do mention @yums0me and/or tag #yums0me - I'd love to see how yours turned out!
Disclaimer
Measurements in parenthesis are approximate; it is beyond the scope of yumsome to be able to provide pinpoint-accurate ingredient quantities for every type of measuring utensil. As a guideline however, I make the assumption that:
1 cup = US cup = 240 ml
1 tablespoon = US/UK = 15 ml
1 fl oz = US = 30 ml
Further information may be found here