Although not much like traditional dairy Cheddar, this vegan cheese is nevertheless delicious, melts really well, and is great for cheese and onion toasties!
I came across this recipe, when we were living in Chiang Mai, and a friend posted the link on our local vegetarian Facebook group. He promised to provide bread and chutney if someone else would make the vegan cheeze, and then we'd all have a picnic.
I couldn't resist a challenge like that - not least because at that point, I hadn't had chutney since amato mio and I were visiting his mum in the UK at the end of 2012. There's always a variety of home-made jams and preserves from mother-out-law and her friends & neighbours for us to tuck into when we visit, so we do tend to binge a bit.
To be honest, living in Chiang Mai at the time, I fully expected to have to substitute most of the ingredients but as it was, the only things from Mary's original recipe that I was unable to find was the smoked paprika and the tapioca flour - the latter of which was actually out of stock in our local Rimping supermarket. I did sub rice vinegar for balsamic because not only is balsamic hideously expensive in Chiang Mai (we're talking second mortgage expensive!), I happened to have a bottle of rice vinegar already. Plus, rice vinegar is milder and less sweet than balsamic.
Having made this with coconut milk, I'm keen to use other non-dairy milks to see how they compare - I think unsweetened soy milk would work. This one however, results in a delicious, creamy, very slightly sweet cheeze, which slices and melts very well. Don't expect vegan cheeze to taste the same as dairy cheese though - it doesn't - but it is still a great substitute, and I really like the taste and texture.
📖 Recipe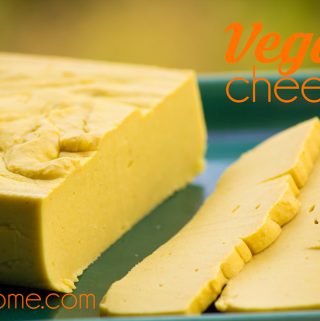 Vegan Cheeze
Although not actually much like traditional dairy Cheddar, this vegan cheese substitute is nevertheless delicious, and melts really well, and is great for cheeze and onion toasties!
Print
Rate
Ingredients
4

tablespoon

cornflour

800

ml

coconut milk

make sure it's full-fat or else the cheeze won't melt properly

1

teaspoon

mustard powder

½

teaspoon

turmeric powder

3

teaspoon

agar agar powder

1

teaspoon

rice vinegar

1

teaspoon

salt

½

teaspoon

liquid smoke

optional
Instructions
Using a little of the milk, slake the cornflour, and set to one side.

Pour the coconut milk into a pan over a medium heat. Whisk in the turmeric and mustard powders. Bring to the boil.

As soon as the milk is boiling, remove the pan from the heat, and whisk in the agar agar, vinegar, and salt. Make sure that everything is well-mixed in.

Bring the milk back to the boil, then whisk in the yeast flakes, liquid smoke (if using), and the slaked cornflour. The cheeze will immediately start to thicken. A lot! Keep whisking to ensure that everything is mixed in, and that there are no lumps.

Bring back to the boil, stirring all the time, then lower the heat, and leave to cook, stirring occasionally, for a further 10 minutes.

Remove from the heat, and then pour the cheeze into a lightly-greased container. Leave to cool, and then place in the 'fridge to set.
Did you make this recipe?
Do mention @yums0me and/or tag #yums0me - I'd love to see how yours turned out!
Disclaimer
Measurements in parenthesis are approximate; it is beyond the scope of yumsome to be able to provide pinpoint-accurate ingredient quantities for every type of measuring utensil. As a guideline however, I make the assumption that:
1 cup = US cup = 240 ml
1 tablespoon = US/UK = 15 ml
1 fl oz = US = 30 ml
Further information may be found here