Roast garlic is in a league of its own when it comes to richness of flavour. Put simply, it adds a whole new dimension anything it's used in, and while raw or fried garlic can sometimes be a little on the bitter side, their roast counterpart is unfailingly mild, with just a hint of sweetness.
I must admit that as well as using it in cooking, I am a huge fan of smearing roast garlic over hot toast, muffins, and crumpets. As well as... ummmm.... sucking it straight out of its skin. 😉
In addition to being a great spread (why not try it on my avocado bruschetta?) it makes a great accompaniment to roast dinners, and is a key ingredient in my hearty mushroom soup too.
Roast garlic is simplicity itself to make; simply put a bulb or two into a hot oven, forget about it, and then 20 minutes later, you have rich, sweet, succulent roast garlic.
I tend to roast several bulbs at once, and keep them in the 'fridge so that I always have some to hand. Why not do the same?
📖 Recipe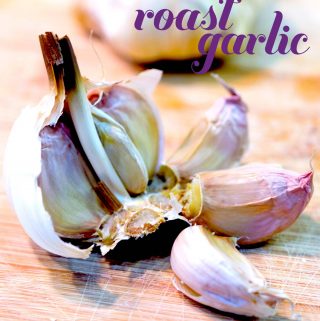 How To Roast Garlic
Instead of adding raw or fried garlic to a dish, why not add roast garlic instead? Creamy, rich, and with just a hint of sweetness, it's great on toast too!
Print
Rate
Makes (slide to adjust):
1
head
Ingredients
1

head of garlic - more if you wish
Instructions
Remove any excess paper, then place the whole bulb on an oven try in a pre-heated oven at around 220c (200c for fan-assisted ovens).

Cook for 20 minutes or so, until each clove is soft.

Remove, allow to cool, and then use as you would raw garlic.
Did you make this recipe?
Do mention @yums0me and/or tag #yums0me - I'd love to see how yours turned out!
Disclaimer
Measurements in parenthesis are approximate; it is beyond the scope of yumsome to be able to provide pinpoint-accurate ingredient quantities for every type of measuring utensil. As a guideline however, I make the assumption that:
1 cup = US cup = 240 ml
1 tablespoon = US/UK = 15 ml
1 fl oz = US = 30 ml
Further information may be found here